Consumer Reviews and Complaints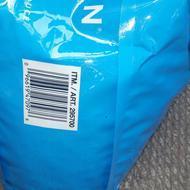 I had a healthy 11.5 yr old Border Collie who would still run 6 to 20 kms with me each day. Also a 4.5 yr old Great Dane x Cane Corso. I was told by a guy at work that Kirkland dog food was good and less expensive. So I looked it up said 5 out of 5 stars and same ingredients. So I thought great I'll save money. Big mistake. Within 2.5 weeks both dogs started acting different. Wouldn't eat. Wouldn't run as far.
I thought it was the heat. I went to do my 12 hr shift. My 13 yr old daughter called me crYing saying somethings wrong with Sable. I left work. Rushed her to emergency. The vet test and said pancreatitis. Gave her meds and pain killer because she was in pain. The vet said they've had lots of problems with that dog food.
Got her home. Changed the diet to rice. Was doing ok for a day and a half. Then took a turn for the worse. No energy. Couldn't breathe. Touched and she would wrench. She wrenching in pain while on pain killers. How bad is that. I rushed her to the vets. My young dog got sick but fought it off. My best friend of 11.5 years. I had to put down into much pain and wouldn't be able to pull through. Do not use this food.

My dog is getting on in years now, and needs good nutrition, so I compared ingredient labels between Kirkland and the more expensive brands sold by veterinary services. Observing a match, it's a simple case of Kirkland being fairly close to half the price of the more expensive veterinary brand.

Nature's Domain beef and sweet potato dog food. We have been using this brand for our St. Bernard and our little Havanese for about 5 years now. We purchased a bag on Friday 08/04/2017. Gave them their morning feeding Monday, within 1/2 hour, the St. Bernard puked all over the place, all the food, water, everything. We immediately switched them to boiled rice and beef, the vomiting stopped immediately. Tuesday evening, since the 'illness' seemed to pass, I started mixing in A 1/2 CUP of the food to the rice/beef mixture. Diarrhea commenced within a 1/2 hour after eating the dry dog food. I woke up this morning, and he had vomited the dog food all over the bedroom floor. We will immediately stop purchasing this dog food and pray we get a refund. My poor babies. I guess you actually get what you pay for.

Salmon and sweet potato grain free dog food - We used to get Taste of Wild food but went to Costco as the content of their dog food seemed to be the same as Taste of Wild! It is at least $30 cheaper! My dog got so sick I had to take her to the vet! $200 later and antibiotics now special food! I don't think we will buy Kirkland anymore, would rather spend a little more money and have a healthy dog!

Kirkland Signature Salmon and Sweet Potato exp date 5/18/2018. A couple of days after opening a new bag of the aforementioned food and feeding my dogs, one dog threw the food up the next morning and threw up sticky phlegm after her stomach was empty and stopped eating, was lethargic and had to be fed water. She would not take any other treats that she normally rushes to eat. Her hair was shedding at an alarming rate. The second dog followed with the same issues the next day. By this time the first had to be admitted to the clinic for 4 days to be fed intravenously. Various tests showed she had kidney and liver problem and her liver enzymes were off the chart. She is currently on pills to control the liver damage. Both dogs were on anti-nausea and appetite stimulants. I now make food for the dogs.
How do I know I can trust these reviews about Kirkland Pet Foods?
884,041 reviews on ConsumerAffairs are verified.
We require contact information to ensure our reviewers are real.
We use intelligent software that helps us maintain the integrity of reviews.
Our moderators read all reviews to verify quality and helpfulness.
For more information about reviews on ConsumerAffairs.com please visit our FAQ.

Fed my dog Purina pro dog food then switched to Kirkland brand dog food. After a few weeks she couldn't go the bathroom. Took her to the vet and they did x-ray's and she was filled with bladder stones. Surgery was performed. The only thing that was different was the change of dog food. At that time we did not know that it was the food that was causing the issue so continued to feed my dog Kirkland brand. 8 months later she had to have surgery again for bladder stones. The vet at that time told us to take her off the Kirkland food so we did. Went back to her original food and had follow-up x-rays performed three times and there were no stones! Will never feed my dog this food again and I suggest that no one else does either! Happy we were able to find out the problem before something worse happened!

Our 9 month old Great Dane was switched to Kirkland's Nature Domain Turkey and Sweet Potato about a month and a half ago and about a month ago she started getting bumps on her face like pimples. Took her to the vet. They said it was a bacteria infection - gave us antibiotics. Two and a half weeks ago she started pushing her food away and would not eat it. She went from 8 cups a day to 3... We didn't get it, thought it was the infection etc. Then last week she was lethargic, not active, then stopped drinking water. We took her to the vet. They had to inject her with water, antibiotics. They don't know what's wrong, lymph nodes are swollen, now testing for cancer? Took her home. I thought she was going to die... It was awful.
Then I saw the reviews here and took her off the Kirkland and put her on Wellness. She ate it right away, no fussing or pushing food around, like she was with Kirkland. She is much better than two days ago - still a little slow. We are taking her to vets this week to recheck and get the test results back. I don't know if it was the food? I guess time will tell. Just seems odd.

When I was last at Costco they no longer carried the Greenies brand of dog chews which I have given my dog for a couple years. I assumed the Kirkland brands were the same. This was a bad assumption! My dog got very ill and it took me about a week to realize it was from the Kirkland Chews. She very quickly got ill! She was both vomiting and had green slime diarrhea. She ended up at the vet getting fluids and anti-nausea medicine. We removed the Kirkland dental chews and now she is fine. It took a few days to clear her system. DO NOT give these to your beloved dog!

After reading all of the complaints/incidents of sick and dying dog, I am convinced that this dog food caused 2 of our healthy dogs to get cancer. We have never had a dog die prior to the age of 14 and these two were healthy until I switched to the Kirkland "Nature's Domain" brand dog food because it was more reasonably priced and the ingredients seemed healthy. PLEASE don't feed your animals any of this disgusting crap.

I had been giving my two dogs Earthborn grain free dog food for years with no problems, very healthy, healthy fur and full of energy. I decided to try Kirkland's grain free because it was less expensive. BIG mistake. My dogs have been on it for two months. They recently stopped wanting to eat it and started vomiting and having diarrhea off and on, are lethargic and not themselves. The ONLY thing that change was the dog food.
I noticed my male in particular would just turn his nose up at it and wouldn't eat until he was really hungry. Again thinking it was just the change of food. My female started having digestive issues too. I could hear their stomachs gurgling at bedtime.They both started having foul smelling gas when they started eating this food. I thought it was just due to the change. They still get foul smelling gas, something they never had on Earthborn food. I threw out this food and they are back on Earthborn grain free. I don't know what is in the Kirkland's dog food, but after seeing the reviews of dogs having the exact same problems my dogs had, I don't trust it and will never buy it again. My babies are worth the more expensive food.

I bought the Kirkland Nature's Domain Turkey and Sweet Potato around December, 2016 then the Salmon and Sweet Potato dog food around January, 2017. I thought I was doing a good thing for my dog, buying this high quality food for him; boy was I wrong! I regret that it took me so long realize that this dog food might be causing these issues. First in mid-January my dog (a healthy Brittany) started having eye problems. The glands in his eyelids were so swollen that while we were at the vet's office he started bleeding from the eyes! That was horrible and led to a month's worth of antibiotics, both oral and ointment, and a visit to the vet eye specialist who diagnosed it as blepharitis, probably an allergy. I thought it was related to stuff the homeowner's association put on the grass, so I kept my dog indoors most of the time.
Then, in mid-April, my friend and I were walking the dog and noticed that his pee looked red. Sure enough when I collected a sample his pee was dark brown, the color of prune juice! I was scared to death! More trips to the vet, more antibiotics, a urinalysis showing an infection, and the vet's recommendation to do over $800 worth of blood tests and x-rays, on top of over $690 in vet bills in the last 4 months. Fortunately, my husband researched brown pee online and found that other people had had problems with the Kirkland Nature's Domain Salmon and Sweet Potato product resulting in both eye issues and brown pee. Needless to say, we took our dog off the dog food immediately, and 3 days later his pee is now yellow.

I am involved in pet rescue therefore have dogs of different breeds and different ages. I switched to Kirkland's Nature's Domain Turkey Meal and Sweet Potato due to the bad publicity that Beneful was receiving. (Rather than wait for a problem, I decided to be proactive to avoid a problem.) Sadly, switching caused the very problem that I was trying to avoid. After being on the food for eight months, four of my dogs have had bloody, gel like, loose stools. The excrement is bloody and very foul in smell (not a normal odor). These same dogs have been eating grass and have since refused to eat their food. A person had donated IAMS food to me therefore I decided to feed the dogs exhibiting these symptoms the IAMS rather than the Nature's Domain, to see if it would alleviate the gastrointestinal problems.
After two days on the food, the diarrhea has stopped. Now I have two dogs vomiting bile. I plan to take all of my dogs off of it immediately as I am now convinced that it is the food. My dogs are all healthy; followed by a vet. This has been an "out of the ordinary" situation that has me convinced that it has to be the food as nothing else has changed for them.

We have a purebred pitbull terrier who has been eating the Kirkland puppy food chicken and rice formula for 4 months now. He seemed to be doing OK on this formula, until we had purchased a second bag and started noticing pretty alarming symptoms in our pup. He started becoming very depressed, followed by lack of energy. We had just had a new baby, and assumed he might have been feeling a little left out.
But then, our pup started having very, very loose stools and straining very hard when he had a bowel movement. Then his condition progressed to vomiting. While all these symptoms began showing, our pup had extreme gas, to the point I was stinking up the whole house. I contacted our vet, who recommended feeding him rice and yogurt mixed.
After 4 days of this, he started to get better. No vomiting, no gas, was passing stool and gained his energy back. Tonight we decided to try our pup on the Kirkland product again, and like clockwork his gas came back, and had a runny bowel movement. I decided to look up reviews on this brand of food, and came across alarming reviews, with many pet owners describing the exact same symptoms our pup is showing, and the common denominator being Kirkland dog food.

Per the above negative reviews, the original recall was in 2012. The recalled dog food has been off the shelves for several years now. I can tell you I have two dogs, a German wirehaired pointer & a short haired pointer, both eat the Kirkland Signature Domain Turkey & Pea stew in the red can. I mix it with the Kirkland Signature healthy weight dry food, use a 3-1 ratio of wet to dry. They love the food, and flatulence doesn't seem to be as much as a problem as there was with other brands (well at least for one of them). Anyway as we all know, all dogs are different & react different, but I would say, if you're hesitant to try the brand because of the 2012 recall, don't be. I hope the helps.

I want to know if any ingredients come from China! I would switch the food types around - all being the Kirkland's Nature's Domain. First salmon, then turkey, then beef because I know that switching them up can help if a dog has skin problems which we were trying to sort out. He was on Nature's Domain for two years. When I ran a search online for reviews of the beef today, it is now completely gone from the Costco website which makes me wonder why. When the vet had me put him on a vegetarian diet a month ago, his hair around his eyes and the latest skin problem filled in nicely. He was accidentally fed some Nature's Domain on an out of town trip recently. Two weeks later I noticed his lymph glands were huge. I took him to the vet and now he's got cancer. I'm now feeding him chicken breast with a tiny bit of brown rice and that's it. I don't trust these dog food makers anymore. I love Costco but this is horrible.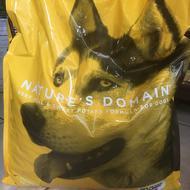 Nature's Domain Beef and Sweet Potato dog food - I have a Westie I began feeding this dog food to. I had always fed him Science Diet but was trying to find something less expensive so I switched to Kirkland's brand. Big mistake. After a few weeks on it my poor boy began having stomach issues, itchy skin and dragging his bottom on the carpet several times a day. Vet said it was the grains in the food making his bottom itch, thus the rubbing it on the carpet. Completely grossing me out! Needless to say I switched his food back.

I have been feeding Kirkland Signature food and Nature's Domain food from Costco for over 10 years. I show and breed Bernese Mt. Dogs and Portuguese Water Dogs. Previously, they were one of the best foods on the market. All of my dogs were doing very well with healthy weight and shiny coats. In 2016, something changed. I have a 6 year old PWD with irritable bowel and extremely thin. This cost me a vet bill of over $5,000.00. I had to start cooking food for her to get her through. Anytime she gets a hold of the kibble, she starts to vomit again.
I used to have to feed 1.5 cups of Kirkland Signature food to each of my Bernese 2 times a day. Some would even get a little fat so I would substitute green beans to bring them back down. Now, they are so thin, I have to feed 2.5 cups a day and some of the dogs are on 3 times a day and still thin. This has never happened in the past and never with so many of my dogs. My PWDs are thin as well.
Several of my friends who feed Kirkland Signature and Nature's Domain are also experiencing the very same problems as I am. All of us are from different states so not just from one area. I have contacted Diamond to ask what has changed and they told me that the only change has been the addition of probiotics. I do not believe them. I have been feeding probiotics for 20 years and no issues.
I am now forced to look into a new food for my dogs as I don't seem to be getting anywhere with Diamond. I have asked for who I need to write to at Costco Headquarters to report my issues as I thought that Costco strives for excellence in anything they put their name on. I don't want my concerns to be brushed under the rug by Diamond. I am now NOT recommending any of their foods. And if you do feed it, you need to watch for waste volume, loose stools, irritable bowel, vomiting, loss of appetite, and overall thin dogs.

We had two Goldens, my male started having digestive issues and my vet recommended switching to Salmon and Sweet Potato formula. I feed my dogs the same food. It did seem to help my male with his issues but my female just passed away today. I don't know if there could be a connection to her feed or if it was her age? She was 9 years old. Now wondering if I need to have the food tested?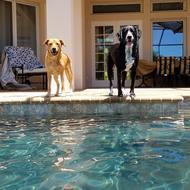 This is by far the best food we have ever given our dogs. Have been feeding 3 dogs, one has since passed, and have never had any issues and the dogs love it. Their stools are always firm and they can't wait for meal time. I have friends who spend so much money on raw and specialty foods and it seems they are always at the vet with some issue. I will always stick to the turkey and sweet potato because it has been great for so long. I can't recommend enough.

I have been feeding Nature's Domain pet food to my 5 yo and 1 yo dogs their whole lives, and our 5 yo cat, and they love it! I constantly get compliments on how soft their coats are, the vet always compliments me on their weight and they are really good looking dogs (lab and catapult breeds, both about 45 lbs.). I use the turkey can food for a special gravy treat, which I warm with warm water. When I go to the pet store, I look at the prices of regular Diamond pet foods, and snicker that I get their bags for almost half the price. I honestly think this is the best pet food for them, and wanted to share, since I have been feeding it to them for so long, and raised both my dogs from 8 weeks old, and they are so healthy!

Wow... just realized that EXACT same time, 2 years ago, also had problem with Diamond/Kirkland dog dry food. That is odd... Anyway, same thing: bought 2 bags of Kirkland Chicken and Rice in September. No problem. Bought 2 bags of Kirkland Chicken and Rice this November--dogs all have diarrhea. I have a pit x 18 month old. She is foaming and diarrhea all night. I will take her to the vet asap. The non-Costco/Tractor Supply Diamond Chicken and Rice (same formulation? Different batch?) I bought in October since I live so far away from Costco... no problem with that one.
One other odd thing recently/last 6 months: TWICE when I lifted the dog food off the Costco pallet pile to load in my cart... the bag(s) opened at the bottom seam and spilled out everywhere. I told Costco store in Rancho Mirage (who didn't care). But I am wondering if the Western States Costco Distribution are letting the food sit in the heat which is affecting the food AND the packaging (i.e. the glue of the seams). This is why America is in the state it's in. No one cares. I called Diamond Customer Service (800-442-0402). She didn't even know about dog food review sites like this where I said there was a lot of recent concern and similar dog symptoms resulting from their food.

Kirkland Beef & Sweet Potato dog food - This food was on sale and it looked healthy so I tried it on my 5 year old papillon/shepherd mix. After about a week or so I noticed a lot of panting and hypersensitivity/yelping from my dog. I just took the food back and bought his old food pedigree. I hope he'll be ok.

I have been feeding my dogs Kirkland Weight Management (grey bag) dog food for a few months now. My female dog started putting on weight, so I cut back the amount she given. Over the past week she a dog that hadn't had an accident in the house since she was about 6 months old suddenly had 3 very large accidents in the house. Her breathing became labored. She became very lethargic. Next she started vomiting water & white foam. She was drinking a lot of water but it wouldn't stay down & she stopped eating.
I took her to the vet yesterday 12 days before she would turn 7 & when they ran the blood work they said she was diabetic, anemic, her kidney function & levels were low & that she also had pancreatitis. My poor baby girl had to be put down before turning 7 & when I got home my male threw up & has since been throwing up bile & foam. My vet bill for my girl was $465 & I couldn't save her. I'm pulling the rest of the food & trying something different for my male. Hopefully it's not too late for him??? Someone needs to be held responsible if the food they're selling is causing all these medical issues, vet bills & deaths for us loving pet owners.

I have been a loyal Costco shopper since they established in Las Vegas, NV. I rescued our German Shepherd, Bosco, when he was just 9 months old. I fed him Kirkland's Lamb & Rice from the day I brought him home in 2005 until March 2016. As he got older he was not running with me anymore and started to get heavy. He also ate extremely fast. I was advised by a breeder/trainer to put him on a diet, so I switched him to Costco's Nature's Domain grain free (red bag) and used a maze bowl to slow down his food consumption. By July his weight was down substantially. I thought the diet was working.
In the months that followed he began eating entire plants in the backyard with roots and all. Then he began having diarrhea constantly. On October 31st, he stopped eating, could not hold anything down and became lethargic. On November 2nd we lost him. He had a massive tumor in his abdomen, was bleeding internally and did not have any remaining platelets in his blood. Bosco had just had a clean bill of health in July. He was strong, smart and the best friend anyone could ask for. Although he was almost 12 years old, We thought Bosco had a couple more years left in him. His passing was so unexpected and has left us devastated.
Our other German Shepherd, Aspen, is about 2 years old. Before we adopted her, she had been abused by previous owners, which caused us to think that her vomiting and persistent diarrhea was due to a combination of her anxiety. Sometimes, she will go multiple days without eating, which we have noticed more frequently since Boscos death. We assumed that she has been depressed since she is also not as playful as she used to be when Bosco was around. I can't help but think that she has been trying to tell us something this whole time. After reading these other reviews, each sharing similar experiences with Nature's Domain, I feel tremendous regret for not seeing the signs sooner. I will be switching dog foods immediately, but wonder if, had I done so earlier, Bosco might still be here today.

Hey people wake up. The dry dog food you giving your dogs is spoiled... Why because these stores do not rotate their food, they don't sell the food fast enough it just sits. I had the same issue with my 2 dogs… Buy your food from a pet store, Petland Discounts, etc… They sell the food faster it does not sit in the warehouse in the heat!!!

Our German Shepherd has been eating Kirkland Nature's Domain Salmon kibble for approximately 1 year with no issues. He is an EPI dog (Exocrine Pancreatic Insufficiency) which in a nutshell means his pancreas does not produce the enzymes necessary to digest food, therefore, he must have a pancreatic enzyme supplement with each feeding.
We opened a new bag of Nature's Domain a few days ago, and our dog started getting the runs right away. At first I didn't connect it to the new dog food bag because this dog's digestive system can be sensitive, but now my suspicions are leaning in that direction because it's the only different thing that happened with his diet. By last night he had huge amounts of mucous diarrhea and mucous vomiting multiple times. This is extremely unusual for him. I am wondering if anyone else in Ontario Canada has experienced anything similar with Nature's Domain/Costco dog kibble? Mine was purchased at the Oshawa, Ontario store.

Five of my dogs have been on Kirkland Natures Domain salmon and sweet potato for at least 6 years. Two of my dogs have horrible allergies (I'm talking ear infections monthly, skin infections monthly, etc). After I switched from an allergy free food that cost $100 for a 30 lb bag to Natures Domain salmon, we had no more skin or ear infections! The ONLY concern I have ever had was three of my older dogs seemed to develop fatty lumps all at the same time, but that could just be a coincidence because of their age.
As we all know, dogs get sick sometimes, but if your dog or cat has been on a food for several years with no issues and all of a sudden gets diarrhea/vomiting, I wouldn't jump to the conclusion that it's their food right away. I've had a bag of this food before give all my dogs diarrhea, I chalked it up to "it's probably a bad batch," took the bag back for a refund and got a few other bags with a different batch number.
It happens. It's dog food and is not as highly regulated like human food. I love this food for my dogs. It's affordable and VERY comparable to other high quality expensive dog foods like Natural Balance, Wellness etc. I buy 3 bags a month; I have purchased HUNDREDS of bags of this dog food and I will continue to do so. I highly recommended it, especially for allergy dogs.

I was both relieved and alarmed when my google search for "allergies to Kirkland dog food" resulted in this page! I had a hunch it was this particular food that was causing our lab's issues and after reading everyone's posts, I am very concerned. My dog has been suffering with a sudden onset of food allergies for about 6 weeks now - vomiting but mostly really bad diarrhea. We have been with the vet, running tests, on the phone, trying everything we could think of to solve this issue. Previously, my 8 yr. old lab ate everything and anything - no issues.
After putting him on home cooked chicken and rice for a while, it cleared up so we slowly started to introduce his foods - but the diarrhea always returned. We had not only the Lamb and Rice kibble, but also the combo cans of Lamb and Rice and Chicken and Rice wet food... Both by Kirkland AND the Kirkland Dog biscuits. The only combination that has stopped our dog's diarrhea was to take him off ALL Kirkland products as the symptoms continued after we stopped the kibble and wet, but still gave him the biscuits. Our only conclusion is that ALL the products are tainted. I'm with Jeff - Costco needs to make this right.

I've had my 2 year old on the same dog food from Costco since he was a baby. Starting early September 2016, he started experiencing vomiting, diarrhea, convulsions, and lethargy. Spent over 2k on testing, everything came back normal. Switched him off this stuff and within 24 hours he was better. The dog food for August and September 2016 is bad. There's nothing wrong with it as there are hundreds of the same bad reviews.

We have been feeding Kirkland Natures Domain dog food (blue bag) for a few years with no issues. This past month (October 2016), it started giving two of our three dogs horrible digestive issues. We took them off of it after a few days of explosive diarrhea 3-5 times a night and throughout the day. It would pour out of them and they lost a few pounds. $150 in vet bills doing stool samples and exams. The vet said one other person had been in complaining of issues with the same food in the past week. We switched to a chicken and rice diet and the digestive issues cleared up immediately, aside from my dogs poor raw butt. We took the half used bag and another full bag back to Costco and were refunded in full. Never buying this junk again. Beware.
Kirkland Pet Foods Company Profile
Company Name:

Kirkland Pet Foods

Website:

http://www.costco.com/