Consumer Complaints & Reviews

This food made both our Corgi's extremely ill. They were both vomiting and having diarrhea. One is barely eating at this point. The only change we've made is to this brand about a week ago, specifically the beef and sweet potato batch purchased at Costco at the end of June 2016. Both dogs are nine months old and were healthy prior to the change to this dog food. I don't normally post reviews, but please beware of this brand. Our sweet boys are having a terrible time, and now they have to go on their least favorite trip - to the vet. I just hope they're going to be okay. Save your dog and buy anything else.

I switched my 6-month-old puppy to the Nature's Domain Turkey Meal & Sweet Potato grain free as a slightly cheaper option for grain free food. She did well after her first bag (about a month of use) so I bought a second bag. After about a week/10 days after starting the new bag, she began to refuse to eat this food (would eat other food) and then about 13 days after starting this food, she began vomiting and having diarrhea. Took her to vet (other dog who's on diff food also refusing to eat and having issues) and while we discovered a parasite, vet still had concern food may be an issue exacerbating things.
I will NOT be feeding her any more of this and will be throwing out the rest (nearly a full bag) and going back to the brand she was previously on. Like others, I'm very concerned about the GI issues that seemed to start just after I opened this new bag. I reported to manufacturer but have not yet heard back - but I reported just before I posted this review.

My son's dogs and our dogs are related but live in two different homes. During the same period of time our dog became violently sick from Kirkland dog bones. He experienced four days of shuddering, like a seizure and had us so concerned for the pain he was going through that we consider having him put down. Our son's dog had the same experience and after $1,000 of veterinary cost all they could point a finger at was Kirkland dog food. Note: I know my next statement is going to upset most of you readers; nevertheless, I strongly believe it true.
As for Costco: They're not the real players in this hazardous game, which has already caused pets eating Kirkland brand to die, and with a dog population in the U.S. into the millions, we can safely assume that the end result of casualties and sick pets could be 100,000s. As for Kirkland: Yes just the simple fact that Kirkland Markets this product; by Law this establishes their endorsement of said product, making them liable in a Court of Law. The Manufacturer: Diamond Pet Foods, Inc. and Schell and Kampeter, Inc. They are the real criminals/culprit; And the only way to cure this problem is for those injured parties of dogs which have subdued to dog heaven, to get off their behind, stand-up and be heard in a Court of Law. Manufacturers and owners listed below. Who to Blame: Hang on to your skirts boys. Yes I meant (skirts!) because today's passive, indolent, lazy, indifferent American society is where the blame honestly lays.
I lived in Italy for eleven years and if this incident were to occur in Italy, for that Matter in all of Europe, the public would be knocking at the manufacturers door demanding a complete shut-down production and the manufacturers would. The difference, quite simply, Europeans stand up for their right unlike Americans who procrastinate and have no real power to force these companies to shut-down.
Kirkland dog food is produced by Diamond Pet Foods, Inc., a company owned by Schell and Kampeter, Inc., according to Dog Food Insider. The pet food is a private label brand produced for Costco.

I have had the exact experience of others. My Lab was used to the Salmon, then we started her on Turkey, then she started puking up, until it was only bile for about 6 days! She stopped eating her food (poison) on about day 2. We thought she ate 'something else weird' so we're just waiting for her to get better. She felt ill and was lethargic and dying actually. Then on day 6 my husband gave her some other dog food and she ate it fine and has been getting better FAST.
I brought the poison back to Costco yesterday and started telling my story and they were wanted to bring me to a place where their other customers would not hear me. I told them, I think I should tell EVERYONE--ask. Their dog could also be sick! They said they would fill out a form and sent it to head office. Big deal. I saw another bag of the same dog food on the returns shelf. I asked why that was brought back. The guy wouldn't answer me. I have been researching this and it looks like it's a bad batch. How many dogs have to die before they will recall it! A vet called me from the company to ask me further questions and I have been trying all day to call him back but their line has been busy. :(

I recently ordered 2 bags of Kirkland Signature Nature's Domain Dog Food (turkey flavor) from Jet.com. While I didn't notice anything visibly wrong with the first bag, my dog threw up a few times which was unlike him since he's been fed Nature's Domain for 2 years. He also developed swelling in his nose which is being treated by antibiotics as a sinus infection, but the vet said it could be much worse. Last evening I opened the second bag and it was FILLED with mold (see pictures). I don't think it's a coincidence that my dog got sick after a few days of eating this food that came from Kirkland. I'm praying that this can be fixed with some medicine.
After contacting Costco, I expected them to take the matter seriously as many other family pets could be affected. However, I only got a snide email telling me to contact Jet, as if it was Jet's problem. This is fully a Kirkland problem as they are the manufacturer. So not only am I furious about feeding my dog harmful fungi, I am extremely disappointed with the way Costco has chosen to handle (or not handle) the situation. Be warned!
How do I know I can trust these reviews about Kirkland Pet Foods?
552,954 reviews on ConsumerAffairs are verified.
We require contact information to ensure our reviewers are real.
We use intelligent software that helps us maintain the integrity of reviews.
Our moderators read all reviews to verify quality and helpfulness.
For more information about reviews on ConsumerAffairs.com please visit our FAQ.

I recently switched my dog's food from Nature's Domain Sweet potato and Salmon to Lamb and rice. Within 2 1/2 weeks, I had to put my lab down. He was lethargic and not eating much. His lab work was all over the place and his kidneys were swollen. He went into renal failure and I had to have him put to sleep. Do not buy this. Have never had a problem before. Have they changed manufacturers?

I bought Costco's Diamond Nature's Domain, sweet potato and turkey dog food, last week, mid June 2016. (This is my puppy's 2nd type of dog food.) She is 6 months old. After eating this food for 4 days, she started throwing up bile for 3 days and wouldn't eat. At the same time she had soft bloody stools. Poor pups been lethargic for days. So here is the kicker, I had no idea it was the food till today! I gave her a bite of some other food around and she woofed it! She was starving. She is regaining her energy now! But I am off to Costco to file a report, no one has yet at this store. But it looks like, at other stores they have. I hope, people will report it before any other loved ones get sick too! They say it is the only way to control their products' integrity.

My dog has really bad diarrhea with blood in the stool from eating Kirkland Dog Biscuits. I have read numerous reviews on Amazon and other sites where people have reported that their dog got sick from them - with severity ranging from vomiting and diarrhea to near death experiences. I am certain Kirkland biscuits are the culprit - here's why: Fremont Brewing Company in Seattle is dog-friendly and gives these dog biscuits to visiting pets. On three separate occasions my dog has gotten diarrhea after eating them, but I did not figure out it was the biscuits until this weekend, when he ate 2 of them. Now he has very SEVERE diarrhea with bleeding. No change in diet or other explanation other than Kirkland Dog Biscuits.

I recently started switching my mastiff to the Nature's Domain beef dog food from Costco, and she has been experiencing severe kidney issues. This is the only major change in her diet, so I've taken her off of the food. Is anyone else having similar issues?

We decided to try the Nature's Domain from Costco with our 4 dogs. We generally mix with two grain free, soy free and corn free products. It was a gradual blend to include the Kirkland's Nature's Domain and quickly one dog acted like she had a allergy sensitivity. She has NEVER had diarrhea before, but it happened. I took her off the blend thinking it was her breed. Diarrhea stopped. The next one started to have issues, he's never really had too much of a problem. I took him off the new blend. Diarrhea stopped. The other two seemed to be happier and much more energetic. I continued to keep them on the new blend, thinking the other two were only having a reaction to type of food. Then the next one started and he always has bouts of diarrhea. All he has to do is look at any cheese or rich meat and he gets diarrhea. Just in case I took him off the new blend. Diarrhea stopped.
Now a few days later the fourth dog gets diarrhea. Going to take her off and see what happens. Other 3 are fine now using the single type of grain, soy, and corn free dog food that is from another manufacturer. I do believe something is wrong with Kirkland's ND food. We have never had issues with a 2 blend mix except years ago when we got caught up in the Diamond pet food mess and it was 5 dog mess then. My mistake for letting my guard down on staying away from Diamond pet products. Didn't know Kirkland's ND was a Diamond product. This is pretty good evidence. I wonder about the large recalls of the human frozen food. What happened to it? An economical way for a company to use recalled product by distributing to pet food manufacture.

My 7-month-old lab mix just got very sick from eating the Nature's Domain Turkey kibble. He was throwing up bile and had diarrhea. He was on this food for a couple of months. Don't feed your dog this food. It is poison. I am in contact with Diamond and Costco to let them know of the issue. I am in California and so far fecal test was negative and the vet couldn't make a diagnosis. Interesting fact as I stopped feeding him this food he improved slowly and all vomiting and diarrhea stopped.

This is our second bag of this dog food. First one was fine, so we bought a second. Our two dogs (lab/hound mixes) have horrible diarrhea. Beware.

I am not impressed with either Costco or the company (Diamond Pet) that manufactures this food. After 6 weeks of running back and forth to the vet with a dog (with diarrhea and vomiting) we believe this dog food is the issue. Our vet has come to this conclusion with all the evidence we have at this point. Our dog has been on other brands (Acana) and has been on a diet of lean beef and rice to settle her digestion. I get the feeling that no one wants to do much after filing an incident report but blame it on my dog's sensitivity to something. Personally I feel that it is likely some kind of chemical contamination in the food. Either way I am turned off of both companies as they appear to be more concerned about diffusing the issue than really investigating it. I recommend people file an incident report. Too many of those and they can't ignore it. We may have spent over $500 but we still have a lovely dog... other people might not be so lucky.

My husband purchased this for our dogs. Our black lab has had horrible diarrhea. Our golden retriever had a bloated belly and horrible gas. These other reviews are accurate. Please do not use this brand.

Same as a few reviews. My dog got violently ill after eating this food! He threw up nonstop, was lethargic, did not want to drink, go for walk or leave our side! We thought maybe he had cancer. He looked depressed and lost all his happy go lucky strike! We become suspicious since we just bought this bag a couple days ago! Also we had gone through a similar experience with Chicken Dog treats (Costco, but make in China) - he also became ill! Same situation, someone mentioned that their Pets died of Kidney failure after eating those treats. I came to this site, and saw that a few pets became sick after eating Kirkland's dog food. We consequently removed the food, and magically our dog is improving.
Lesson learnt. We will never feed our dog purchased in food store or discount store. We put our dog back to our pet store grade food! Expensive, but I will not worry about what is not listed on the bag! The Pet Store monitor, and follow strict guidelines. If anyone were to complain, they would investigate and take action! I taking the food back to Costco! I don't blame the store. I blame myself for buying substandard food. Costco is there to find us deals. They are not a pet shop!

I wish I did not have to give this food any stars. Please do not feed your dog ANY food that is made by this company. I went from having an extremely healthy and happy mastiff pup (boerboel) to caring for an extremely sick one overnight. The onset of illness was pretty sudden. I put him through multiple vet visits, rounds of medication, emergency room visits (and more), before finally making the connection that the food (Natures Domain kibble) he was consuming was poisoning him. In the beginning, I noticed a sudden lack of interest in his food.
This was abnormal as he is the type of dog to inhale his food (as much as possible using a slow feeder). I figured he had been fed more treats than normal lately because of his training, so I started "doctoring" up the food a little to get him to eat. Even then, he would slowly eat the kibble. After he began vomiting (10 times in the span of 3 hours), it was obvious something was wrong. Over the next few days, he developed severe diarrhea and could not keep anything down. He was on a strict diet of bland chicken and rice for an extended amount of time and lost close to 20 lbs. Lab results showed poor kidney function and he became very dehydrated.
He eventually started turning the corner, and at this point, I slowly began reintroducing Natures Domain kibble again. At this point, he became violently ill once again. I feel beyond horrible that I was feeding him poison and that I had begun reintroducing the very same food to his system that could have killed him. As soon as he stopped eating this food he slowly began to recover. He has also gained the weight back (and is still gaining). I am extremely upset that this food continues to be sold. Sharing this story, so others will hopefully save their dogs from unnecessary pain and suffering, extensive medical bills and possibly death.

Our 7 month old has gotten very sick. Vet is stumped. All the tests are not giving answers, but his white, red and platelets are very low. We just started to give him this food a week ago. He got really sick 2 days later. Wondering if there is a connection!

I just returned from the vet, without my Beagle, Tank. For the past month or so I have been feeding him Kirkland Signature dry dog food. He was not really happy eating it but did so when he was hungry enough. Two days ago he began vomiting and stopped eating the dog food until I doctored it up. Yesterday morning I purchased a much better dog food from a pet store and it looked like this solved the eating problem. But sad to say the dog again vomited it all up within a few minutes. Thinking his stomach was only tender I did not worry. When I came home last night Tank refused treats and food.
This morning I took the dog to the vet. When vet did blood work it showed my dog's liver was in bad shape and his vital numbers were in the extreme range. When the vet asked if the dog had gotten into any poisons I replied, "none that I know of." Now the dog is on an IV with hopes to recover. Wish I had read some of the other reviews of this dog food. If I had, my Beagle Tank and I might have been spared all this trauma. The vet said Tank will have permanent liver damage and might have to be put down. I will know more in the next 24 hours.

I feel so horrible that it took me so long to put two and two together. I have been feeding my dog Kirkland Dog food for a few years but I am positive this last batch was poison. She developed horrible gas to the point it was hard to snuggle and be near her, developed diarrhea, she was starting to get lethargic and finally puked after eating before I decided to get new food for her. Within a few days of eating the new food and off the poison she is starting to act normal and with less gas.

Nature's Domain Dog Food, Turkey and Salmon Dry dog foods - We purchased a bag of each of these dog foods in January. We buy bags before we run out so I'm not sure of the exact date they started on these bags but my huskies don't want to eat it. I wondered if maybe they changed the formula. They usually are not this fussy. I bought a different brand within the last week and was going to contact Costco to find out if there are any recalls or formula changes to explain their behaviour. After reading other comments I'm wondering if the dogs are smart and know something is wrong with it.

First of all, difference every kind of Kirkland Pet Food in your reviews. I've tried 2 different kind with my Border Collies, first of two: Kirkland Signature Nature's Domain Salmon Meal & Sweet Potato, was great, smooth and shiny hair, firm feces, and not a single side effect; before that, I've been buying Pro Plan Sensitive Skin (as an advice from my vet for better hair), and with Nature's Domain get the same nice effects with significant savings. Second: Kirkland Signature Puppy Food, was ok, but didn't get the same results in my puppy, so I switch to PP Sensitive Skin Puppy, and when she grow up, will feed with Nature's Domain.

I purchased a 40 pound bag of Kirkland Lamb and rice dog food from Costco just one time. I normally buy a different brand but thought I'd give it a try because it was cheaper. Worst mistake ever. My 8 year old mastiff/pitbull mix, had 2 cups and 6 hours later, at 2 am; he was in a full grand Mal seizure. Over the following 6 hours he had 2 more. When I got him to the vet he had another. After full blood work the vet could find nothing wrong with him except that I had changed his food. He had another seizure right there before I could leave. The vet gave him an anti inflammatory and a shot of valium and I took him home. He had two more before he finally laid there and went to sleep. He slept all night and ate his regular food the next day and he has not had another seizure since. The vet said he must have an allergy to something in that new food.
After reading these reviews about KIRKLAND brand dog foods I am convinced it was the food that caused my otherwise completely healthy dog to have 7 seizures in one day. After one bowl of new food. Beyond the vet bill, the emotional suffering was horrific. Watching our "baby" go thru that because I saved $10.00 on dog food was devastating. Surprisingly, he is just fine now with what seems like no lasting damage. But what the heck!

Kirkland canned dog food - I have 2 concerns about this product: The contents of each can might vary a lot. From being very dry and crumbly, to very moist and easy to use. The other problem about this product is the can itself. About 25% of the time the PULL TAB on the top of the can gets PULLED OFF when trying to open can. Leaving a can that is unable to be opened. Because, once the pull tab is missing, and the lid is still on, it is impossible to remove the lid, even using a can opener. It is a real design problem with the can and its lid. And the sharp lid is dangerous.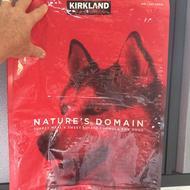 We bought several bags of Kirkland's nature domain dog food. We gave two of these bags to our daughter. We have a Mastiff German Shepherd mix dog and our daughter has a great Dane. Our dog became critically ill. He became lethargic and refused to eat. We spent hundreds of dollars at the vet doing x-rays, ultrasounds, and blood work. The analysis showed severe liver complications. We took him home from the vet to spend a couple of more days with him as the vet recommended to put him down. During that time at home we changed his diet to rice and meat. Almost immediately he began to respond.
Now he's almost back to normal. A few days later our daughter's Great Dane became very sick. She changed the dog's diet and he also recovered. Based on the lab work and analytical testing done on our dog, and the response to the change of diet, clearly we got a bad batch of dog food. Our trust level with this product has been eroded. We are returning what we have left and changing brands. Costco is an excellent company but we believe that they should pull this product from their shelf.

My little yorkies had been on Chicken Soup since puppies, they are 11 years old. With the last bag they started getting hot spots and scratching all the time... So I tried the Nature's Domain and they are doing great. I got the salmon because of the oils. Let it be known, the Aloe Vera plant completely cured the hot spots, no vet bills.

Where I work we have a couple of company cats. Someone purchased a bag of Kirkland brand cat food, what a MISTAKE! Our usually docile pets turned into mad crapping, pissing, screaming monsters! The crying was tolerable but the nonstop Niagara Falls of poop was not! The entire work area smelled a lot like a fairgrounds outhouse in the middle of July for 1 month! Luckily the manager purchased a finer quality cat food (not Kirkland brand) and a professional cleaning crew for the insurmountable piles of ** and things returned to normal.

For a year I have been feeding my German Shepherd Kirkland Nature Domain dog food with no problems. We started a new bag a few days ago (February 12, 2016) and my eager eater refused to eat from this batch (She's never turned down ANY kind of food in the past!). Once she was hungry enough by night time, she did eat it and then became ill. This happened twice. I checked online and discovered other dog owners have recently had the same experience. Don't know what is wrong with the food, but tomorrow we will switch brands! I'm so grateful that this forum exists and I could easily learn that others have had the same problem and the food was the culprit.

I started purchasing Kirkland dog food about 6 months ago when we adopted a 2 year old rescue dog and that's what the foster mom was feeding her. She was doing okay on this food other than she didn't seem to like the flavor much. If I added a little canned dog food she would eat it. About 3 weeks ago, I purchased a new bag of this food. She would not hardly eat it unless she got super hungry. When she did eat it she would have diarrhea every day multiple times per day. We cut out all treats to narrow down what was causing this. The only thing left in her diet was the dog food. She even started looking sick and I really started to get worried. Today I started looking online and realize that other people are having this same issue caused by Kirkland dog food. I have immediately taken her off of this poison. I hope that it has not caused any permanent damage. Do not feed your dog this food, there is something wrong with it!!!

I didn't put 2 and 2 together until both my beagle and blue healer started having diarrhea all over the house (again). About 8 months ago I was in a hurry and picked up this dog food. In about 3-4 days both dogs were shitting everywhere. Stopped feeding them this and the diarrhea stopped. They also would finish the bowl. Well, history repeated itself and I didn't even think about it, but here I am, knee deep in dog ** with the exact same dog food. Do not feed this to your dogs.

Kirkland brand healthy weight dog formula - Have been feeding my dog Kirkland dog food for 10 years. Last week got a new bag. After 2 days, dog got diarrhea. Took her to the vet. Dog started bleeding out of both ends. Put her in ICU. They gave her fluids, antibiotics and pain meds. 2 days later she died. Autopsy showed all her organs affected. This was a very healthy and happy dog. She did not deserve this very painful death.