Consumer Reviews and Complaints

My daughter recommended this dog food to me when I asked her about a good grain-free food for our English Setters after one of them became ill with cancer. I started with the wet grain-free rabbit and quail food and all three love it. Our female setter that is 11 years old is acting 2 years old again and our 8 year old male with cancer is full of energy too. It's a little more expensive but all three eat every drop and their allergies have disappeared as well. I'd recommend this brand to anyone. Great job Evanger's!

I have had to deal directly with Evanger's a few times, and have been ecstatic with their customer service! I have even had the pleasure of dealing directly with the owners! I am a raw feeder, but I use their freeze dried treats. My dogs love them! It is hard to find "clean" treats with simple ingredients (like 100% meat) and minimal processing.

I have two very picky Yorkies. I have never been able to feed them the same food consistently, until I found Evanger's. They make such a large variety so my dogs are never bored! Llove this food!

My dog loves Evanger's dog food. The can food is great. I haven't tried the dry food yet. My dog really enjoys the classic line as well as the hunk of beef. I love Evanger's dog food because it's natural and fortified with vitamins and nutrients. He's a healthy dog with a beautiful coat thanks to Evanger's.

My animals have never looked this good or been this healthy. I have a cat and a dog and they won't eat anything else.
How do I know I can trust these reviews about Evegner's Pet Supply?
698,549 reviews on ConsumerAffairs are verified.
We require contact information to ensure our reviewers are real.
We use intelligent software that helps us maintain the integrity of reviews.
Our moderators read all reviews to verify quality and helpfulness.
For more information about reviews on ConsumerAffairs.com please visit our FAQ.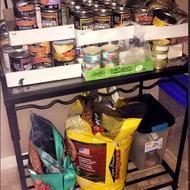 I have a dog and a cat, and after searching and comparing- we found Evangers. Being from Deerfield, Il we were loved it was locally sourced out of Wheeling and family-owned. We use the Meat Lover's Melody dry cat food and the Chicken and Brown Rice dry dog food. We also feed them BOTH the game meat lines (ie: 100% buffalo, salmon, pheasant etc). Our dog goes INSANE for the Chicken Drummetts from the Hand-Packed line. They are basically just chicken wings, and there are even videos of people trying it on their facebook! So happy to have finally found our forever food brand!

My dog loves Evanger's Chicken and Brown Rice dry food. I recently had to mix in another brand of chicken and brown rice dry food because I was running low and in a pinch. My dog actually picked out the individual pieces of the other brand because he preferred the Evanger's brand. He also loves Evanger's wet food. Sometimes for special occasions I give him wet mixed with dry food and he scarfs it down.

I have a 13-year-old Weimaraner, that is allergic to grain, chicken and lamb. I was feeding him kibble that didn't contain these ingredients and he would get bored & stop eating & I'd often have to find him something new. I even cooked ground beef & potatoes & other meals for him, just to get him to eat. One day, I stumbled across a person doing a demo in a pet store for Evanger's. They had a can called "Hunk of Beef" open & it looked like a roast I would have made at home! The ingredients read, "Beef & Beef Juice". I bought some & brought them home to my dog & he DEVOURED them!
I found out that they had many other varieties that did not contain grain, lamb or chicken, that he could eat. He loves them all, even the pates! The Braised Beef Chunks have veggies mixed in & provides him with a well-balanced meal! Thank you Evanger's for providing my baby with a variety of food that is as awesome as anything I'd make him at home (and probably even better for him)!

I have a 10 yr old black lab with pica. We had to change up his protein that he gets. He NOW eat Evanger's Wild Salmon and is mixed with Evanger's Sweet Potato. Even though all 7 of my dogs are on Evanger's dry food, Meat lovers, and thriving. You always have that one. It's wonderful they have SO MANY single proteins to choose from. It is saving my dogs life. I wanted other people to know there is a safe, healthy and tasty food for your pets with health issue.

My rescue dog had pathetic fur when I adopted him. Now that he has been on an Evanger's diet, he gets compliments on his beautiful coat. Also, my mother's dog, who has problems digesting protein, depends on Evanger's Vegetarian. And all 4 cats love all the flavors -- no longer finicky when I serve Evanger's.

My dog has never been food-motivated and often needed to be coaxed into eating. That is, until Evanger's came along. He loves Chicken Drummettes and Hunk o' Beef so much that he's started begging for breakfast and dinner! We no longer worry that he won't eat when he is left alone with a dog sitter. I would recommend Evanger's to anyone with a furry friend.

My bulldog, Bud, was overweight. His vet recommended I change his food from Beneful to Evanger's. I switched to the Evanger's Whitefish and Sweet Potato and low calorie jerky treats. Bud lost 13 pounds over 6 months and looks like a puppy again, even though he's almost 9 years old. He gets compliments every time we're out for a walk about how good of shape he is in!

My dog LOVES Evanger's, especially the beef chunks and chicken drumettes. The ingredient list makes me feel confident that I am feeding her a wholesome product without harmful additives. The edible bones provide additional nutritional value as well. The only negative I can say, is that it has turned her into somewhat of a monster! She tries to eat the bowl.

My older dog Hudson has experienced horrible environmental allergies, along with signs of aging. After feeding him Evangers White Fish and Sweet Potato Diet for the last year, he has improved by 300 percent, and is now spry and happy!

Evangers Nothing but Natural Grain Free Jerky Treats Oven Baked - I have two dachshunds that have very picky and have sensitive stomachs and this is the only treat that they enjoy having that does not upset their stomach. It is also low fat and grain free and healthy for them. It's been a great experience to have something now that finally works.

I run with my dog, Eddy, every day, but I noticed even though he exercises daily, he was getting fatty spots on his tummy. I took him to the vet and he had a clean bill of health, but they recommend I change his diet to see if that helps with the fat spots. They gave me a couple of cans of Evangers to try out, and Eddy loved it, so I bought a few more cases of different flavors, and have been feeding it for about 3 months now. The fatty spots have gone down a lot, and I noticed Eddy's coat is more shiny and soft. I am very happy with this brand, and I would definitely recommend it. And didn't even know that changing his food would help so much, so I am glad my Vet told me about Evangers.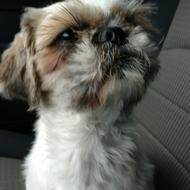 My name is David **, and I graciously want to thank Evanger's for make such a fine wet/dry food. My little Shih Tzu name Willow, had not eaten for 7 days.
After numerous trips to the vet and blood work I decided to try can dog food from my local pet supplies plus. The assistant manager heard me telling the store manager. She proceeded to interrupt, and begun to tell me all the research she had done on different dog foods, and when she heard my dog hadn't eaten, she highly recommended Evanger's vegetarian, and the Duck wet food. Keep in mind before I started Evanger's dog food my dog was way underweight. Now she has been on Evanger's for the past 4 weeks and then back to the vet and is put on weight her bloodwork come back positive and got good results from the vet from Evanger's dog food. Evanger's dog food company has earned my loyalty my respect in a long life Customer. Thank you Holly and Brett for a job well done.

Evanger's grain free cat food was recommended to us by our vet after we lost our last cat to kidney disease. There was another brand also recommended, but the price was beyond our means. We have now been using Evanger's cat food for over 3 years, and it suits the needs of our overweight cat, our tummy sensitive cat, and the health needs of both. I honestly cannot say anything negative about this product. Our cats are eating well and are healthy. Their coats have improved, litter box usage has diminished, and the odor from the litter box is a HUGE improvement. More of the nutrients from this product go into our cats rather than ending up in the litter box.

The best vegetarian dog food ever. My little Yorkipoo is sensitive to protein and cannot have meat. He is now 12 years old and he is one happy and healthy little dog. My thanks to the Evangers for having this wonderful product.

This food is amazing. My dog loved the hand-packed Chicken Drummettes and Hunk of Beef. The food is very obviously human-grade, and the fact that it is cooked in the can means that all the nutrients are locked in. The Hunk of Beef is like a little pot roast in a can. My dog has done extremely well on this food, and it has cleared up a number of smaller skin and coat issues she had.

I was feeding my cat, Damien, Costco brand dry cat food because it's affordable and organic. He does seem really healthy and happy but sometimes he gets dandruff which is super obvious because he's all black. I went to a local pet store to ask if they had any dandruff shampoo, and they actually recommended that I just change his diet by adding some canned food. I told them I wanted an organic food, so the store recommended Evanger's Organic Turkey and Butternut Squash cat food. Damien really liked it. I've been feeding it for a few months now still with the Costco dry food and noticed that her skin has improved, and her fur is a little softer now, and I thought she had soft fur before. I really like the food and glad the store told me about it, or I probably would have gotten a dandruff shampoo and not really solved the problem that my cat had.

My Puggle has always been chubby but I couldn't get the extra weight off of him. I brought my dog into a boutique store with me and they recommended Evangers Vegetarian formula to add to my dog's food to reduce the fat intake. I noticed after 3 weeks his coat was more shiny, soft, and he looked a little slimmer. I was really surprised that just adding the Evanger's food made such a big difference. My Puggle is in great shape now, so thank you Evanger's for making a food for my Puggle!

I purchased a purebred bengal kitten from a reputable show breeder who feeds Evangers at his cattery. He recommended the rabbit and buffalo formulas to me when I picked my baby up. He even sent a few cans home with me. I have to admit... I was impressed with the minimal ingredients, and the overall quality of the food. Most canned foods smell sooo bad... But Evangers has very little smell. To me, it simply smells like meat. Ive been feeding the rabbit formula 3x per day, with Blue Buffalo Indoor Freedom dry kitten food available to her 24/7. She LOVES her wet food, and is very vocal when its time to eat. She is the absolute picture of health! Soft, shiny coat, good weight, just a gorgeous kitty.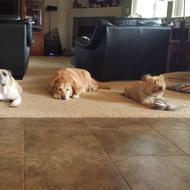 We have been feeding Evanger's Canned and Dry foods for many years. I would like to contribute our pets long lives to a mix of this food, canned and dry. We feed the Meat Lovers dry and a complete mix of canned foods for our dogs. The cat eats the Grain Free kibble, but at age 19, much prefers canned to kibble. Thank you for helping take care of our family of fur-kids!

My 9 year-old St. Bernard loves Evanger's canned pet foods. He has been eating it for over 8 years. Favorites are: Hunk of Beef, Salmon, Catch of the Day (Sardines), Duck and Sweet Potato, Chicken Thighs and Pork. He will not eat anything else, nor would I trust any brand other than Evanger's. His cinnamon coat is beautiful and he is exceptionally healthy for his age - I believe because he only eats Evanger's. Thank you for a high-quality pet food product!

We spare no expense when it comes to giving our furry kids the best in nutrition. With one of our dogs having serious allergies, Evanger's grain free has help tremendously in variety while eliminating the itchiness. Bear is happy again!

I feed my two Labrador Retrievers (age 11 & 15) Evanger's canned food twice daily. They love the chunky chicken casserole and the hunk of beef varieties. My 15 year old dog's bloodworm and overall health is remarkable for a dog of his age. I have three cats, one of which is overweight. I feed them Evanger's pheasant kibble and different varieties of the against the grain cat food in both the tubs and the cans. My big guy has lost some weight and all three cats yell at me if I forget to give them their canned food before I feed the dogs in the evening. I'm grateful to have a pet food company that I can trust with the health of my animals and the proof is really in how much all five of them live and are thru I got on Evanger's foods. Great company. Wish there were more like them out there.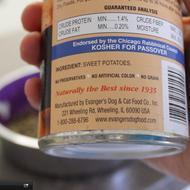 I've been using Evanger's Sweet Potato as a supplement with for my dogs' dinners. It has helped with digestion and trimmed a couple pounds off of both dogs. They love the taste and I love that the only ingredient is sweet potato. I tried finding a standard grocery store brand of sweet potato at first, thinking it would be cheaper, but grocery store sweet potato has tons of added sugar and other gross additives. As far as I know, Evanger's is the only brand who makes something like this. A household staple.

I took my lab into the vet because he was having dizziness spells. They diagnosed him with equilibrium vestibular issues. I was very scared because he wasn't eating at the vet so they thought it was something much more serious. They gave him a few different foods and he would not eat any of them. Eventually they brought out Evangers canned food and Porsche went NUTS for it. He gobbled it down, I was so happy! The vets told me that is their "secret food" they use when dogs refuse to eat. The photos attached were actually taken at the vet clinic when they gave him Evangers. I am so grateful to have found this food as it potentially saved my dog's life. I'm a big believer in the food now! And Porsche is home with me now and doing well.
Evanger's Pet Foods Company Profile
Company Name:

Evegner's Pet Supply

Website:

http://www.evangers.com/