Consumer Complaints and Reviews

I have my 11 month old GSD Beneful for 4 days and came home to my dog covered in vomit and diarrhea two days in a row. I had to clean the walls, floor, cage, and the dog. THIS FOOD IS POISONOUS AND THE COMPANY SHOULD BE PUT OUT OF BUSINESS FOR THIS. There are close to 2000 similar complaints. NEVER EVER BUY THIS AND RETURN IT ALL.

I changed my dog slowly to Beneful Incredibites. Shortly, after the change he began vomiting and had diarrhea. And, regular, messy accidents in the house. It has been frustrating. I've done the vet thing, withheld food, gradually re-added bland food, etc. Never in a million years did I think the Beneful may have caused the problem. My dog will not be getting Beneful again.

My 6-year old beagle was slightly overweight and the vet recommended switching her to a weight management diet. I have used Purina products with other animals in the past and I decided to purchase Beneful because it was touted as a healthier option and had a weight management version. She was in very good health according to two vets (except that she was taking in too many calories), no problems with her blood work, etc. After a few months on Beneful she lost about 8 lbs, putting her back into a healthy weight, however she started vomiting and having diarrhea. We thought she'd gotten into something but couldn't find evidence of her eating anything outside of her Beneful. She was put on a bland diet and given meds to treat acid indigestion, combat nausea/vomiting, etc. She seemed to get better for a few weeks.
When we switched her back to Beneful, the nausea and vomiting began showing up, almost in a cycle. She would be OK for a week or so, then vomiting, diarrhea. The vet couldn't find anything abnormal in her blood work and ruled out parasites. After a few rounds of the same problems, she began having stools that were gelatinous and bloody. The vet was still unable to find the problem, they kept thinking she got into something wrong and just recommended we put her back on the bland diet. I've spent well over $2,000 in vet bills with no answers. It finally occurred to me to look online to see if I could make some connection to what was making her sick. I stumbled across the info about a Beneful lawsuit. It NEVER occurred to me that the dog food could have been what was causing her problems.
As I read other dog owner's horror stories, they were very similar to mine. Apparently the lawsuit was dropped because no-one has been able to effectively prove Beneful is directly responsible for the deaths and illnesses. My sweet girl is still here with us, but her health is terrible, she continues to have accidents in the house, vomiting and diarrhea, and some days she just refuses to eat. I fear the damage done to her system is irreparable. I am currently making her dog food to ensure that I know what is in it. She has fewer symptoms with the bland diet, but she was eating Beneful for so long, that I don't think she's going to recover.
Please, if you're reading this, do NOT feed your dog Beneful. I hope that Purina will take action to either fix the problem or pull the line from the shelves. There is no reason that our companions should have to suffer due to negligence on Purina's part.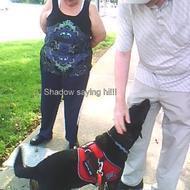 My service Dog, Shadow. I started feeding her Beneful, due to the rave reviews and how healthy it was supposed to be. She was eating it for a short time. Then she wouldn't eat. Laid around a lot, did not want to do anything. I rescued dogs from NYC, where there were dog fighting rings. I would take the bait dogs, the dogs thrown in the middle. I know animals. So I palpated her stomach and found she was in a lot of pain, where her spleen was. I rushed her to the Vet's office, by that time it was too late. Her spleen had ruptured and she was bleeding internally. She died in my arms. My little girl. I had an autopsy done and then cremated her. She had been poisoned by the food. They found Propylene Glycol in her system. It was too late. It was from the food I had been feeding her. I will never forgive the company, you took my little girl from me.

I fed my 65 pound, 12 year old American Pit Bull Terrier the exact same food his whole life up until his last 2 weeks. He had just been to the vet 2 days after I changed his food and my vet of 25+ years said, "He's the healthiest Pit Bull I've ever seen at his age" and to keep doing whatever it was that I was doing. I switched him to Beneful because he was getting old and thought it would be easier to chew. After a couple of weeks he all of a sudden woke up having what I thought was a seizure, and started peeing in the chair he was asleep in. I held and comforted him before I moved him to the floor where he then pooped and vomited twice and started panting heavily. Shortly after he couldn't move at all, and he was an extremely active and healthy dog.
So we immediately rushed him to the emergency vet that night, and I rode in the back with him all the way so he wouldn't be scared and know that I was close. He tried to stand up twice but could only barely use his front legs, his hind legs were completely limp. I had no idea that I was slowly watching my baby/best friend fade away the entire time. The emergency vet took him out of my arms and carried him in and he just looked lost with a blank look in his eyes. That was the last time I ever saw what I loved more than anything else in this world. The vet was asking if there had been any head trauma, and eventually just told me it was a stroke or aneurysm.
After reading a lot of these reports on here with a lot of very similar testimonies, and watching the documentary, "Pet Fooled", I'm 100% sure it was this food that caused it. I can't begin to explain the amount of psychological and emotional stress and amount of pain that I have had to deal with. I was with that dog 24/7-365 a year, ever since he was 6 weeks old, and there's NOTHING in this world that can ever fill the void it left in my life. This has got to stop. Nobody else should have to experience what I went through all because you tried to do something to raise your pet's quality of life. R.I.P. Jasper 4/25/04 - 2/-15-17.
How do I know I can trust these reviews about Beneful?
851,761 reviews on ConsumerAffairs are verified.
We require contact information to ensure our reviewers are real.
We use intelligent software that helps us maintain the integrity of reviews.
Our moderators read all reviews to verify quality and helpfulness.
For more information about reviews on ConsumerAffairs.com please visit our FAQ.

Beneful dog food is one of the first dog foods We fed Our beloved Min-Pin, but that changed real quick. When we brought her home We took her to Our local Vet. She was healthy as all get out. We choose to feed our dog Beneful because of all the sweet Commercials and claims they made during their commercials. Little did we know, Beneful was affecting our dog's liver and killing it slowly but surely, within 1 year. YIKES we thought if we keep feeding our pet Beneful Our dog will be dead within another year or two. So we tried an experiment our own and switch dog foods. Lo and behold our dog's liver improved a lot since taking her off of beneful dog food... but I will say this company is brilliant. Dogs love the hell out of beneful. If you ever look at beneful it looks like a bowl of mini chewy treats and very soft.
So the moral of this story is stay away from Beneful dog food if you want your dog alive longer than five years without liver problems. No disrespect to "Beneful". You do make an obvious Tasty food for dogs... but your ingredients is equivalent to a McDonald's triple cheeseburger with 4 extra greasy sausages stuffed in the middle with extra grease poured on top??? There was another dog owner with the same issue. Did Beneful admit to these claims when confronted... Of course not. According to beneful we're probably bad dog owners and that's why the majority of dogs eat beneful get liver issues right??? And I guess you might have those few people that think this product is the greatest thing on the market and their dog does cartwheels on the front lawn. I would definitely reconsider when you take that beneful bag off the shelf... It's not fair to your pet.

My dog has been eating Purina Beneful original dog for a couple weeks now. After a few days she started losing her appetite, would skip one meal or both some days but we thought maybe she was just having common stomach problems because she would eat grass outside and had gas. After the first week, we started noticing hair loss on her hind legs and stomach area, as well as weird skin problems that were flaky and looked like scratches on the inside and outside of her legs. Her stomach is now bloated and hanging down more than before and I was told by a colleague about this dog food.
I did my research, threw the remaining dog food away and made a vet appt. Now that she is eating another food, she hasn't skipped a meal yet. The vet visit isn't until later this week so I'm not sure what the damage is yet internally or what the weird scratches and skin problems are on her legs but I, like most people, don't have thousands of dollars to spend on the vet because of a company that puts harmful ingredients to dogs in their dog food. Please don't buy this food if you love your dog. Spend the extra money to ensure your pet's health.

Last Saturday, my dog was happy, she played, was energetic. I opened the new bag of Beneful and fed her. A little later, she started vomiting and became extremely lethargic. I took her to the vet yesterday and blood tests showed her liver number's incredibly high. The vet asked a lot of questions about what she might have consumed but the dog food was all she ate. I have been feeding my dog Beneful for several years, although she was never enthusiastic about it. No more. I cannot definitively say this dog food caused this problem but common sense says it did. I hope she recovers.

I was given a few small bags of this food from a friend who's dogs never touched the stuff and my dogs have been vomiting ever since we fed them the first bowl. I'm super concerned that they might not get to feeling better or worse could die from this. How is this food still on the market and exactly what is in there that is making this many dogs violently ill?

I would always buy the Healthy Weight Beneful for my Jack Russell Terrier and he would have blood in his poop too. I thought it was from him eating grass or dirt. I just bought Purina this month because the 20lb bag was on sale for $7 bucks and then I read all these and I had the same problem. But now since he no longer is eating it he is not having the runs. Good thing Purina was on sale because I would have bought Beneful.

My 8 month old Rott is on his death bed after eating this food. He is in the hospital with dehydration from vomiting and diarrhea for days. $1600 later and he is still not better. This company needs to be shut down!

I have an 8 yr old black lab in great health and a 1 yr old Chihuahua and min-pin mix male in great health. I fed them a total of 2 Bowls of Purina Beneful dry dog food healthy weight over two days time. Today my dog's do nothing but vomit and they have had severe diarrhea and my littlest one, the Chihuahua Min Pin has severe bloody diarrhea. Keep in mind this has never happened to my dogs before, ever, from anything and this is happening from only two bowls of this dog food.
This needs to be pulled off of shelves immediately and taken off the market. This is absolutely toxic. I never could imagine a food could do this to my pets. I'm only hoping that they will survive. I have two one-year-old cats that also like dog food, they ate a couple pieces on day one and I haven't seen either cat at all since then, unfortunately they're probably dead somewhere due to this food. I can't believe that this food is actually legal and being sold legitimately. Please recall this food and ban it immediately for the sake of other pets and their pet owners.

My 8 year old Weimaraner Hans & my 7 year old Weimaraner Bailey both vomited uncontrollably after eating this food. Hans is skin and bones and looks like he hasn't eaten in weeks. Bailey is usually a bit chunky and her ribs are showing! We had to throw away hundreds of dollars worth of bedding and pillows on top of trying to take care of our very sick dogs. Both have been fine lately and only thing different is the food. We are now praying our dogs don't die. I don't understand what is wrong with this company.

As a pet parent of a Beagle/Basset, we were unaware of the toxic diet we were feeding our beloved Biscuit. Biscuit was rescued from the pound at age 1 and he (as most Beagles are) was a bit obsessed with food. So when we switched him to the Healthy Weight from Purina, he didn't seem to mind. After a few months on the new diet, he started having seizures which our vet said it was probably something in the breed.
However after my wife found some articles online a couple years later linking this food to possible seizures, we decided to switch his food to Blue Buffalo (healthy weight). He immediately stopped having seizures and hasn't had one since (which we reported to our vet). Biscuit at age 8, now diagnosed with Lymphoma which will not only cut his life short but to suffer once again in the end will suffer from this company's obvious greed to make money without regard to consumer consequences. Do not buy anything from this company as they cannot be trusted.

Beneful is the reason why my 3 dogs got sick. I was feeding them Beneful for years and noticing their health as marginal but not a cause of alarm until I took them off of Beneful for a 50 pound bag of a high protein food. When that bag was gone I bought another Beneful as their normal feeding and fed them their first bowl. Within 6 hours all 3 had thrown it up. Thinking it was just some fluke or a changed diet I did fed them again with Beneful. All three threw it up and one 7 year old healthy male got severely ill. Gums white, no appetite, throwing up bile. More like poisoning.
I took the bag back to the retailer and they said they had several complaints about Beneful making other dogs sick. I got a store credit. I switched foods and never will use Beneful again or any Purina product. I hope you do the same. If enough people stop buying the product, they will fix the problem or go out of business. I believe it is the use of foreign food raw ingredients in the product. No one is monitoring the heavy metals and toxins that come over and FDA uses the science of the same companies they are supposed to monitor. They generally wait for consumers to file lawsuits and then they take a look at the problem.

My dog is a very healthy 1 1/2 yr old with a great appetite. My husband brought home Beneful dog food and strangely, my dog did not want to eat it. He has NEVER turned down any food before! We knew he was hungry but, he just did not want anything to do with that food. I offered him the small amount of the other food we had left and he scarfed it down. He was so hungry. Later I tried the Beneful again, he still didn't want it. Reluctantly, later in the day he did finally eat some of the Beneful and then began to vomit all over the house!
This dog food is toxic! He has never gotten sick before and is not a picky eater. He knew this food was bad but, finally gave in to his hunger. I feel terrible for allowing this toxic food into my house. I also have another dog, she never touched the Beneful, COMPLETELY refused to eat it! This food needs to be taken off the market and the company sued! Too many pets are getting sick and dying! When is enough, enough?

I started giving this food one week ago to my dog (Purina Beneful Incredibites), and 2 days ago I noticed something strange in the dogs bed. It looked like intestines with something black attached to it (very strange). I did not pay any attention to it at the time although it made me wonder what it was. Today I found something similar with vomit and I started to worry about my dogs health. I even took pictures of it to show them to the vet. I started searching for information trying to figure out what was this thing that my dog vomited, and I found there are other complaints about this product, dogs that have died after eating this food for months, with mass in the stomach found.
I called Purina (1-888-236-3385) and put a complaint, but the lady that answered kept saying that there were no complaints about that product. I gave the number on the bar scan and the number below the expiration date. I told them to take that food out of stores. My next complaint will be at Walmart where I bought it. Please if anyone has had the same issue with this product make it public on social media, to stop people from purchasing this product and harming their dogs.

This company disgusts me! How many dogs need to die or become ill before they pull this crap off the shelf? My yellow lab ate this poison for three years and started having seizures. Luckily, I read an article about a class action lawsuit against these losers. I immediately changed his dog food. Within a month or two he completely stopped having them. Hasn't had another seizure.

I had the unfortunate experience of seeing my beloved dog Chloe pass away last week on 02/02/17. She was only 7 years old when she died. She was a very vibrant, active mastiff pit husky mix. As a result of my own health issues I had to stop working and could no longer afford the expensive natural dog food (Taste of the Wild) that she was used to eating since she was a puppy. I mean I really went bottom of the barrel when I think about it because I feel that most of the dog food on the store shelves is garbage. I should have done my research.
Needless to say about 4 months ago I had to switch her dog food to a more affordable option. Beneful Healthy Weight is what I went with. I felt reassured that it was a good alternative because it's been around for a long time and I'd seen it on TV. Boy was I wrong!! I should have paid heed when I noticed that she would leave a large portion of the food in her bowl for days but I kept on filling her bowl with that toxic dog food. She much rather eat her dog treats.
Days before she started vomiting yellow bile she became desperately thirsty and I thought it was really odd. I was praying that she would get better and kept an eye on her to see if any other symptoms cropped up. She seemed to be more tired too. She vomited bile for days and then she wouldn't even eat or drink anything. I tried to get her to eat plain rice and boiled some ground beef as the vet suggested but to no avail. She refused to eat. I was not able to take her to the vet because I had no income and the vets wouldn't see her without payment up front. In the end she suffered so terribly. It was horrible to watch! I only hope that anyone who reads this takes heed and never buy that brand of dog food because I truly believe it is what killed her.

My dog is a black lab and has been eating the food Beneful for 14 years. He always ate his own poop and other animals poop and I always have thought it was normal behavior. He would occasionally get sick and throw up his food. He started doing it more in the last year every single week. He became very skinny and would barely eat his food. I could see his ribs. I started working at Petco and learned about dog nutrition and learned what a horrible food Beneful is. The reason why dogs eat their own poop is because they aren't getting enough nutrition from their food and would rather eat their own poop than the food that makes them sick.
Beneful has tons of recalls on it and is making several dogs sick and dying. I switched my dog to a grain free food and he doesn't eat his poop, gained weight back and is active as ever. He will be 16 in April and I think the only reason why he is still alive is because of the food switch. It's never too late. Please switch off this terrible food to prevent thousands of dollars in vet bills and your best friend suffering. Rule of thumb for everyone, don't ever buy any pet food or treats from the grocery store, none of those foods are good quality, pet store only. Avoid Iams, Purina, Pedigree, Diamond, Cesar, Fromm. Go grain free it'll make their poop more solid and can be processed more easily. Please get smart and research everything you feed to your dog, it could save their life.

I am writing on behalf of my mom, who is too upset and distraught to write a review, or further look into her beloved Great Dane's death. My mom was the proud owner of a very hyper, yet loving Great Dane; who she had owned for the past 2 years, since he was old enough to come home from the breeder. My mom had always given Harley (her Great Dane) the same brand/type of dog food, and had never had any issues. Harley also was up to date on vaccinations, and showed no prior medical concerns. My mom had planned to visit me for a few days, in which she left the dogs (she has 2) in the company of a close friend to take care of. This was also not the first time my mom had traveled, nor the first time he was taken care of by this particular dog sitter.
Well, prior to my mom leaving for the airport, she ran out of her monthly scheduled/shipped dog food, so she ran to the store and grabbed a small bag to hold over until the shipment arrived (2 days later). Little did I know, she grabbed a bag of Beneful, dry dog food. I personally know of all the recalls and negative reviews with owners claiming it had killed/sickened their dog - but my mom was not aware. 24-hours on the new dog food, we received a phone call that Harley seemed very lethargic, laid on the couch/pretty motionless. He didn't have the same spark, or didn't jump up and bark at (the dog sitter) when they arrived, like Harley had always done. In fact, Harley really didn't move much. We video chatted with Harley, thinking maybe he was depressed my mom had left him, but no excitement from him. His gums were still pink, nose was moist - other than being "tired" or lethargic, the signs you look for, seemed to check out.
This is when I learned of the brand of dog food she bought him, and that's when I alarmed her of the bad reviews and lawsuits. She asked the dog sitter to check on him in a few hours, and at that point, decide if he needed to go to a vet, or if he was better... just as anyone would do, even if home. Monitor before deciding... in the meantime, my mom called her vet and her vet pretty much informed her the same - to take him to the vet if he doesn't get better, or if his gums turn white, etc.
A few hours later, we received a frantic call from the dog sitter, who was already in route to the emergency vet. (mind you, he had to pick up and transport a 150 lb. dead weight dog!) By this point, less than 3 hours later, Harley's heart rate seemed to rapidly decline, and his mouth smelled of bile - he was rushed to the emergency vet, but by the time he made it and they checked him on the table, there was unfortunately no heartbeat, and he was pronounced deceased.
After further review, the Dr. instructed us the cause of death was bloat. While they informed us bloat can be common in Great Danes - it seemed odd to me that he never had any issues, he also used a Slow-Bowl, so not to inhale his food; and that the only change was his diet - the change from a dog food he always ate, to Beneful dry food, and 24-hours later, he was sick, less than 36 dead. After reading reviews, I believe Beneful is the culprit. DO NOT buy Beneful!!!

My heart weighs heavy as I just so happened to stumble across the concerns related to Beneful dog food. Back in December of 2011 we brought our 10 week old golden retriever, Bella, home to meet her new family which consisted of mom, dad, and 3 boys. We were delighted to welcome her into our family, it was new beginnings for us as a family. She was our sweet baby girl and loved so dearly.
In September of 2014 she became ill (peeing in the house, stopped eating, drinking enormous amounts of water, lethargic). We took her to the vet assuming she may have consumed something or had an obstruction. X-rays were taken to rule out any blockage, they were negative. They wanted to start an IV and antibiotics but we opted for blood work to find the cause. We took her home that night and in the morning I received that dreaded phone call. Bella had excessive amounts of potassium in her system and was in kidney failure. Our options - put her down or let her suffer another day or two and let her pass on her own! We made the decision to put her down later that day and end her suffering. I remember the drive to the school to bring my boys home so they can say their last goodbyes. I choked back the tears as I delivered the news to them. It was the saddest day of our lives.
This all happened so quickly and there was nothing we could do to change anything. She showed no signs of illness throughout her few short years with us, was taken to the vet regularly, no unusual sicknesses other than occasional stomach issues (which I thought were normal) but Bella was fed Beneful from the time she was a puppy.
We have since adopted a rescue dog (Great Dane/Lab) who just turned 5, we've had her for almost two years now. Initially we had her on a different food but due to cost and convenience we switched her to Beneful thinking it was ok for Bella it will be fine for her. However, I have noticed since we switched she seems to be doing things like, eating grass, chewing up her toys, leaving food in her bowl, stuff she was not previously doing but also very similar to what Bella used to do.
I'm thankful but very saddened to have stumbled across this information regarding Issues/concerns others have had regarding Beneful dog food. I went out and purchased a different product for my sweet Tessa girl we have now, the thought of losing her possibly due to a particular brand of food would be heartwrenching. I will not longer purchase this product and believe further research needs to be done. If this is the case and all of these dogs have suffered similar illnesses due to their diet something MUST be done! My thoughts are with each and every pet owner who has suffered a loss!

We are a family of dog owners and rescuers. So far all dogs eat this brand best. It is very consistent in quality and had proper amount of protein and nutrients for health and weight balance.

Our white lab passed away yesterday 01/23/2017. Only 8 1/2 years old. I believe it has been Purina's dog food that got our dog sick, vomiting, diarrhea. We have been giving him this dog food for quite some time Beneful. Some dog food to help maintain weight. It was so sad to see him to go thru what he did. Three days of suffering. Please find an alternative if there is any.

My husband bought the "Purina Beneful Baked Delights Stars" dog treats for our dogs. They each had about 2-3 star treats and their regular daily food (Rachel Ray brand) that has never caused them any problems. The next day they both had bloody diarrhea. We took them to the ER (which was expensive) and they had high fevers and were dehydrated. We were told that if the symptoms continue for more than 3 days then it could be something serious. I don't know if this was just a bad batch but I will never buy any Purina products again. I'm hoping my little guys recover from this soon.

I've been feeding my dog Beneful original formula off and on since I rescued her nearly 10 years ago. There was never an issue as far as I could tell. But about a year ago she stopped showing interest her food and was eating less and less and was also becoming more and more lethargic. She also would frequently eat my other dogs' food who is on a special diet because of allergies. I thought she liked his food better and wasn't as active because she's getting older, but since she was losing weight I started adding wet food to her dry to try to entice her to eat more frequently, which worked. Mostly she has just had runny and mucousy poops from time to time but I thought it was because we were giving her too much wet food, so I would scale it down, and have changed the wet food a few times, but her poops stayed the same.
Three days ago I popped into the grocery store and picked her up a small bag of food to get her through until I could make it to Target to get her the larger bag. I had accidently grabbed the beef Beneful instead of the original and the next day she had runny poops. Then last night I came home from work to find her completely freaked out and absolutely covered in hives, she had also vomited up all of her breakfast. I thought that maybe she was just allergic to the beef so I threw it out and had my boyfriend to stop to get her the original Beneful.
I gave her some ** and the hives went down a little and she seemed more comfortable, and come her usual dinner time she seemed more than ready to eat. Since I also wasn't 100% sure if it was the wet food since she had only been on it for a few months, I only gave her the dry kibbles. Within 30 minutes of eating it she was covered in hives from head to toe, about 3 times worse than they were when I'd first gotten home. I gave her more ** and monitored her to make she wasn't having any respiratory distress etc. She is a very well behaved dog and even though she knows she's not allowed on the bed when we tried to get to calm down and stop itching last night she jumped up on the bed and burrowed into me. I decided to let her sleep in the bed with us since it seemed to help calm her. I woke up several times during the night to the sound of her whimpering, even in her sleep.:(
She had a pretty rough night, but thankfully seemed back to normal and hive free this morning. We of course didn't give her any of the Beneful again today. When I got home from work this evening I Sat down to research the ingredients in the Beneful original formula, the Beneful beef and her wet food so that I could make sure that the new food I get her doesn't contain any of the ingredients found in them. That's when I found this website. I just can't believe that I've been tricking her into eating poison all this time by adding wet food to it. I feel absolutely horrible and I just hope that no irreversible damage was done. :(

At the time when my sweet pup, Fancy, grew ill we had no idea it could be her food. We fed her Beneful dry food for most of her life. And for most of her life she had bathroom issues. And for the months leading up to her death, she had seizures, diarrhea, and ultimately - liver failure that led to her death. My mother and I spent thousands of dollars trying to properly diagnose her illness and hopefully cure her. When we first noticed her issues we did switch her food but looking back knowing what we do know about this food - it was too late. She died in Aug of 2013 and was sick for most of that year. Shame on you Purina - you killed our sweet girl and we were too naive to think her food was killing her.

Every now and then I would buy Purina Beneful products for my beloved "Minnie," who is an SPCA rescued half-poodle/half-yorkie dog that I've had for the past 5 years. She is now only 7 years old. I've noticed that she literally shakes after eating Purina Beneful products but, had no idea that it was the dog food itself that was causing her to shake. I was of the assumption that "Purina," such a well-known American brand dog food, would know what is best for my dog. Boy, was I wrong!
I just looked at all of the symptoms in these reviews of pets that have died after eating this brand of dog food from Purina, and it is the exact same symptoms that my beloved Minnie has been showing every time I feed her this junk. Shame on Purina for putting food coloring in their products that is banned in other countries due to their cancerous properties. I will never buy a Purina product again, and hopefully, I have not damaged my family member's (my dog's) liver and kidney so much by feeding her this junk.

My dog eats Beneful Healthy Weight dry dog food. There is not a lot of grain in it but lots of vegetables and chicken. She has kept the same weight for six years and still enjoys the dog food. It is not terribly expensive and quite often there are coupons that help defer the cost.

I had a very healthy 5 yr old dog that I had had for four years and always fed her Beneful. She went into kidney failure and died in March of 2016. I rescued another dog later that month, she is 3 yrs old, and I have been feeding her Beneful. Now, suddenly, she is showing the same symptoms that my other dog did just weeks before she died! The commonality of their symptoms caused me to see if I could find any issue with Beneful dog food making dogs ill, and lo and behold I come across an entire lawsuit!?! There is no doubt this is an issue and I can't believe the lawsuit was dismissed. This is no coincidence that so many have lost their dogs this way recently, and I am certainly not making up what has happened to my dogs.
Beneful Pet Foods Company Profile
Company Name:

Beneful

Website:

https://www.beneful.com/