Consumer Complaints and Reviews

Our 100 lbs, 4-year-old American bulldog (Diesel), who has only eaten Beneful dog food, started acting sick, throwing up, peed in the house, was drinking lots of water, and stopped eating end of January 2013 on the weekend. He looked so pitiful I called the vet. They saw him on that Monday. They said they had to keep him and put him on IVs and antibiotics. I was so upset, started to cry and said he's going to be okay. They said, "We don't know yet." I was shocked, left him, went to work where I own a salon and started telling customers. They asked the food and I told them. They said, "Google that." It's so bad. I was sick of what I read. My poor dog had all those symptoms! The vet let me bring him home Thursday, thinking he'd do better at home. He didn't so I took him back the next morning and scheduled an exploratory surgery for Monday, Feb. 11th.
His eyes were turning yellow. I spent that Saturday with him at the vets, with his IV in. It was so hard yet he was smiling in the pics I took of him. The vet did the surgery and found a mass. Said the liver and kidneys were shutting down, and nothing they could do. I took our poor pup home and buried him. I said I couldn't help him, but I will help someone else! I contacted Beneful when I could talk without crying. They said they had no complaints. I told them I have the food and receipts and going to have it tested!

My dog, Max... a healthy border collie, died from eating Beneful. He was bleeding from his kidneys, mouth, and all internal organs. We spent $4,000 dollars trying to keep him alive to no avail. It was the most heart wrenching experience of my life! When the vet said it was due to the dog food we were feeding him... our hearts were broken. All this from a dog food, beneful, that to this day remains on the shelves of our local super market. I cannot let Max die in vain, without speaking up and letting others know. Thank you.

We have been feeding our 3 adult dogs Kibbles 'n Bits. Unfortunately our local store was out of stock and decided to get Beneful dry dog food. Yesterday, Sunday October 23 our American Bully (Remy) got sick. We've had her going on about a year now and hasn't been sick once until yesterday. I thought it was strange, but didn't think more about it. That was around noon. Well later that night around 10 pm she got sick again and both times contained her dog food. We put her up in her kennel for the night. As I woke during the late night early morning there was two more piles of vomit containing dog food and at that time the only dog of 3 that was in there was our Labradoodle (Coco). This is the only thing that was done differently. I hope I have catched it in time and will be switching back to our preferred Dog Food. I also took photos of the 2nd dogs vomit, this really upsets me.

My brother & sister in law's 10 year old Corgi was a happy, healthy dog up until about 2 weeks ago. He began peeing in the house, wouldn't eat, had diarrhea, and his rear legs were shaking. We were expecting a hurricane in our area so we chalked it up to him perhaps sensing the impending storm and being nervous. But his symptoms continued after the storm had passed, so he was taken to the vet. Initially he was diagnosed with an undetermined gastrointestinal upset and sent home with antibiotics. A few days had passed and he still wasn't improving so the vet ordered an ultrasound. It was then that a cancerous tumor the size of a tennis ball was found in his intestines and was attaching itself to lymph nodes as well. The agonizing decision was made to put the dog to sleep.
My sister in law offered me the remainder of a bag of dry food for my dog, so it wouldn't go to waste. I asked her what she was feeding her dog, as in the past he had always been given Iams or Science Diet. When she responded "Beneful", my heart sank. She switched his food about 3 months ago, and he had all the symptoms listed in other reviews. I had read in various places about pets being sickened and dying after eating the Beneful brand and I didn't have the heart to show her the reviews on this site about this food, as she is still heartbroken over how suddenly and quickly her sweet dog got sick and passed away. Plus, telling her isn't going to bring her dog back. But hopefully my review and all the others posted here will save another dog's life in the future by not being fed Beneful. There are too many instances of this happening for this not to be investigated. Our innocent, voiceless 4 legged friends need us to speak up for them!

Our 11 year old Beagle has fallen ill with symptoms similar to those described by other complainants. I am very heartbroken and scared that my Beagle may not recover because he does not seem to be getting better. His main food source has been Beneful sometimes by itself and sometimes mixed with a little bit of chicken, beef, or turkey. In the past month he started getting very loose stools that look like jello, diarrhea, and symptoms of lethargy and a loss of appetite. We took him to the vet on 10-11-2016 and blood lab tests show elevation of three liver enzymes. He was prescribed ** which we are giving him daily but so far no improvement. Something is seriously wrong here and Purina needs stop selling this formula.
How do I know I can trust these reviews about Beneful?
611,030 reviews on ConsumerAffairs are verified.
We require contact information to ensure our reviewers are real.
We use intelligent software that helps us maintain the integrity of reviews.
Our moderators read all reviews to verify quality and helpfulness.
For more information about reviews on ConsumerAffairs.com please visit our FAQ.

As a pet owner pretty much all of my life, I have always been conscious of what I give my dogs to eat since they eat the same food everyday. Pedigree is a better brand than this product. My younger brother purchased Purina Beneful dog food while I was away on vacation. Lo and behold BOTH of my dogs got sick. BOTH of them threw up. If only of them got sick then I would think it was something else that got her sick, however, both of them did. Please do not give your dogs this product. One of my dogs who is 15 years of age is currently at the vet getting blood work done because she is too weak to even walk. My dog has been a healthy dog, never any problems and now all of a sudden this. I don't believe this is due to old age because again both of dogs got sick. Whoever makes this product should be ashamed of themselves.

I have a very sick little boy on my hands & I believe I may have poisoned him by feeding him Beneful Dog food. My Oliver is a 9 yr old shih tzu. I had read all the reviews, seen all the recalls, check the Web in the past but still feed him the food in moderation. I have given him a couple handfuls of the dry food once a week since he was a baby. Because of some financial hardships in my family I started giving him the dry IncrediBites daily about 3 weeks ago. He seemed fine until today. Last night I decided to change it up a bit & gave him the dry mixed with a small 3 oz can of Beneful medley wet food. Within an hour of feeding him this combo he had what I would call hives. His lips & face swelled & he was itching everywhere.
Today he is lethargic, will not drink any water, of course won't eat anything & is puking all over my house. He seems confused, is digging at his bed (which he has never done before) & only calms down when he puts his head/face against the wall or the couch. I truly believe it's the Beneful food. Don't know if it's the combo of wet & dry or if he has just had too much of the dry. Of course it's Saturday night & all the vets in town are closed. I hope we don't lose him before we can get him some help!

Our beautiful, sweet and most loving lab died today. Our vet was very concerned when he knew she had been eating Beneful. She was fine about 7 last night then about 2 hrs later she was whining with severe vomiting and diarrhea. Within the next hour she was having trouble breathing and lethargic. We took her to the emergency vet and around 1 today we had to say our last goodbyes. She was our heart and not just a pet but a part of our family. I have since learned that many other concerned pet owners have had the same issues and they too are Beneful. If this poison had not been on the shelves, our Sadie would most likely be with us now.
Purina states the food has Propylene Glycol that is safe for humans. Dogs CANNOT consume a lot of the same things as humans. Their bodies can't handle it. PLEASE for all of the animal lovers try to have this regulated so no more helpless and defenseless babies don't suffer and their owners. Our Sadie we can never get back but maybe if something is done more will not die.

Bought a brand new 15lbs bag of Beneful Playful Life, got home ready to feed my 2 year beagle and BOOM! MAGGOTS inside the bag! I AM TALKING ABOUT HUNDREDS OF LIVE MAGGOTS INSIDE THE BAG!!! Bag was completely sealed to this has to come directly from Purina! BOYCOTTING PURINA!

Both my chihuahua is freakin sick. Balance is off on both and my older one is lethargic and can't walk!!! Fed them a piece of crap food. I had to buy a bag in a emergency and I did remember hearing it sucked but would have thought you guys fixed the problem. Nope. I will update in a week and throwing this bag in garbage!!!

We have been feeding our dogs Beneful Healthy Weight for 2-3 years. Our vet recently told us that they have been sued due to kidney issues with dogs and this dog food. Our 7 year old Aussie/Blue Heeler mix now has a kidney tumor. They thought it was an UTI and she went on two rounds of antibiotics that cleared up some of the blood in her urine. However, we learned yesterday that her tumor is growing and is inoperable. We are very saddened to possibly be the reason she is sick, due to the choices we made for her. I am simply echoing what I have read and learned. We will be looking at www.dogfoodadvisor.com for recommendations.

The night of 7/24/16 my 7-month-old Australian Shepherd ate Purina Beneful Incredibites. The next morning 7/25/16 around 4:00 am she started throwing up and progressively worsened developing diarrhea, stopped eating, became extremely lethargic & withdrawn. My husband threw the food away after I told him how ill she became.
I contacted my vet who advised us to wait two days as a food change sometimes causes and upset stomach. We are to take her in if her symptoms worsen or lasts longer than two days. Today 7/26, she still has not eaten and continues to have the same symptoms. I contacted my vet again who said it could try Pepto and if she doesn't eat by tomorrow take her to the vet. My puppy held the Pepto down for 45 minutes before throwing up. It's after 9 pm & she still hasn't eaten. Please do not feed this to your dog as there have been several comments of dogs becoming very ill and dying. I will continue to watch my puppy and take her to the vet tomorrow if needed.

I have been buying Beneful for years now. My dogs seem to love it but on about a handful of occasions my German Shorthaired Pointer would turn her nose up at her bowl and refuse to eat. She would starve herself rather than eat the food. I figured she'll eventually get hungry and eat but she wouldn't. Her stomach would growl with hunger so I would switch her food up, feed her scraps then switch back. I have had problems with both of my dogs throwing up and severe diarrhea. Not putting two and two together that the dog food was the issue until recently.
I bought a new bag of beneful and my pointer is refusing to eat it. I buy the bite size and didn't realize they make both beef and chicken so I'm thinking she doesn't like the beef. I'll go buy another bag of chicken, nope she refused to touch that either. She vomited all over the house then one night and now my Great Dane has stopped eating it also and he is now having severe diarrhea. So I jump online and read these reviews and am appalled that this food has not been recalled. I will no longer be buying this product for my dogs. Shame on you Purina!!!

My dog has been eating Beneful treats and starting having bloody urine and lethargic behavior and drinking excessive water and white saliva. Vet put him on a prescription for 3 wks with ** +50mg - vet thought he had a bladder or urinary tract infection. We stopped giving him Beneful treats during his prescription and he was just fine after only 2 days of taking the meds, until the last wk of his prescription, we bought him Beneful Peanut Butter treats. He has had them for three days and now he has started to having bloody urine again. It has always happened after he has Beneful Peanut Butter treats.
Please help, do not know what to do but stop giving him these treats. His meds are so expensive and my dog is almost 10 yrs old and is still intact. He has always been spunky and full of life. He really thinks he is still a puppy when he is well, but each time this happens and it is usually twice a year he becomes like an 80yr old dog. I just want Tyson (my dog) to be healthy again and happy.

Please everyone do your own research for the sake of your dogs' lives. Yes Beneful is terrible for dogs, but so are other dogs foods that people here are posting that they replaced it with, like Rachael Ray's dog food... also bad! You can find unbiased reviews of dog foods at Dogfoodadvisor.com. Many manufacturers are dishonest in their advertising, saying their dog food is "natural" or "healthy" when that couldn't be further from the truth!!! It's worth taking a few minutes to do some research and make smart choices on behalf of your fur babies who don't know any better and will eat whatever you give them because they trust you.

I used to feed my dog Beneful dog food and she was having random seizures (for about 2 years while eating Beneful) where her legs would "turtle out" and she couldn't move and would just shake. I took her to the vet and they couldn't figure out what was wrong. I looked online and saw other people experiencing the same thing with their dog on this pet food. I switched my dog on a more natural dog food and it has been almost three years since we switched her and she has not had a seizure since then!! That was the only change we made, so that tells me that there's something wrong with their product and it made my dog sick. I would never recommend this product to anyone. I'm only posting this in hopes if anyone is experiencing the same thing that they can try to change their diet and save their dog's life as well.

Purina Beneful pet foods are poison. Please stop using and save your pet's life. Propylene Glycol and other tainted dyes are found in this horrible company. How they continue to get away with literally purging the life out of our pets I will never know. Somehow. Someway. This company needs to found guilty of a heartless murdering. No compassion for our pets nor human life. I am still struggling with the pain, heart-wrenching thoughts of losing 2 of my dogs a month ago. We have to stop Purina.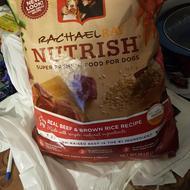 Got our dog Luna Fox Terrier pitbull mix three months ago. My daughter mentioned about using Beneful. We did for about two and a half months ago. Every time I walked my dog, I have noticed Luna's poop being crystallized and hard. I assumed it was because of bone chewing. But I slowly cut those off. But her poop was still occasionally crystallized and hard, then realized it was the dog food. After 3 days of using a superior natural brand... it may have saved her life. She's more energetic and keeps on smelling her new food bag while wagging her tail. Dog poo will tell you the story.

My Chihuahua Stewart passed away 2 weeks ago. This was very upsetting to me, as he went from being healthy to being unable to stand nor walk after changing his food to Beneful on 4/7/16. He suddenly became ill on 5/1/16 from excessive coughing and bloating. I decided to take him to the veterinarian on the following dates, The Human Society Tim ** on 5/2/16.M. ** on 5/3/16, 5/10/16, 5/17/16, 5/20/16, 5/23/16, 5/25/16, 5/27/16.K. ** on 5/21/16. Blood work was done on 5/21/16 & 5/27/16. An x-ray was taken on 5/2/16. The first veterinarian, on 5/2/16, stated that Stewart was unusually bloated and that there was some fluid in his chest cavity. Medications were prescribed, one to remove the fluid and another to lower the blood pressure. The cause of the illness could not be determined at the time.
The next day I then decided to take Stewart and get a second opinion. Another veterinarian, Michael **, on 5/3/16 and he indicated that Stewart was bloated and should be monitored carefully. He also indicated that something caused Stewart to have a type 6 heart murmur. A prescription to suppress the coughing was provided. I noticed that Stewart was not getting better and returned to the veterinarian on several occasions. On 5/21/16, Kari **, substituting for Michael **, stated that Stewart had bloody/tar like diarrhea probably caused by the liver. Bloodwork indicated the presence of toxins, but she was unable to determine the exact cause of the illness. She also stated that Stewart became anemic and an Iron supplement was provided, Pet-Tinic. The bloodwork test was unable to provide the specific toxins present, but a blood transfusion would be performed if Stewart's condition got worse.
The veterinarian asked what type of food he was eating and I stated Beneful. The Veterinarian just stayed silent and she walked out the exam room for a few minutes. She then returned and asked me to change his food immediately. When I arrived home, I decided to remove Beneful, the food Stewart was eating since 4/7/16. Stewart was given several injections of Lactate Ringers every 3 days in an attempt to flush out the toxins and to hydrate him. For a few days he was getting better, but he suddenly took a bad turn to the worse. My poor baby would just lie down with his head looking up and tears in his eyes. It was very heartbreaking to me. By this time, he lost 1 pound of body fat. I decided to feed him baby food and Pedialyte with a syringe, since he was refusing to eat Cesar or drink water on his own.
My father would hold Stewart and I would feed him with the syringe. Stewart tried to urinate and poop, but his thin legs would collapse due to tremors and weakness, but I would hold him up until he finished. Unfortunately, on 5/27/16 at 6:03 a.m. my baby boy passed away in my arms. The veterinarian stated that he never heard anything about Beneful but that there was a great possibility that Stewart may have been food poisoned... he exhibited all of the signs. The food poisoning would cause bloating, loss of appetite, coughing, lower body temperature by 2 or 3 degrees, bloody or tar like diarrhea, weakness, difficulty breathing, create a type 1 through 6 heart murmur, renal insufficiency or renal failure causing kidney failure, breathing difficulty, and finally heart failure. A horrible way to die!
I decided to check online and I was devastated to read the many tragic and sad stories of other pets dying after eating Beneful. Stewart was like a little person to me. He was all I had left after my mother left him in my care and then she suddenly passed away. I became extremely attached to him. Why would a company manufacture a product that kills and get away with it? It's only about profits! Beneful, by Purina, contains Propylene Glycol (Antifreeze) which is very dangerous and fatal to pets. Beneful needs to be pulled off the store shelves and the Purina company fined to the maximum allowed by law!

Our healthy 11 year old dog died a slow and agonizing death form eating Beneful's Healthy Life, so ironic! She lost 10 percent of her weight, had numerous health issues stemming from the Beneful. Her lungs filled with fluid the last week of her life which had to be drained every other day until her heart couldn't take it and gave out, that food poisoned her and killed her. Her last meal was Bubba Burgers, but we would have switched her food if this had come to light before she passed. DON'T FEED YOUR PETS PURINA BENEFUL. HELL DON'T FEED THEM ANYTHING PURINA AND DON'T EAT THEIR OTHER PRODUCTS. They are trying to appear blameless that thousands of dogs have become ill from their dog food and hundreds have died too soon from eating their dog food.

I fed my dog Purina Beneful dry. Dog became very ill. My dog had vomiting, diarrhea, and stopped eating. He would not even get up to move. I took him to the vet and after 240 dollars of tests and X-rays I was sent home with antibiotics pain meds, nausea shots, and an iv bag. I was told do a bland diet. He ate the next day with no vomiting at all. I did this as the vet told me but as soon as I have my dog Beneful he started vomiting. I called the vet and I was told to change his food. They do not recommend the food.
I changed my dog to 4health from Tractor Supply and he got better. Then my brother's dog got sick just like my dog. I asked what they get their dog. It was Purina. I also have a friend who's dog got sick on Purina. Each of us live 45 min. apart. I contacted Purina and asked what their take was on the recent accusations about Purina. I then told them about all three dogs. I asked they reply and sent my email. I then received an automatic message saying I'll receive a reply in 24 to 48 hours. It's been three days and still waiting. My vet called to check on my dog and I made them aware of all three dogs and so if they received any more ill dogs to ask what they are eating. Spare your dog your checkbook. Beware of Purina.

Recently took my companion to the vet. Max my dog had blood work done which showed 5 high liver results. Cushing was mentioned along with other things I've been reading about caused by this food. I tossed everything I had. Prescribed Denosyl for the liver, this can be purchased over the Internet no prescription needed, helps to repair the liver. All information needed pertaining to Denosyl available on the internet. Hope this helps.

My dog was extremely sick for weeks with what the vet thought was gastritis. She was getting sicker and sicker, with bloody diarrhea, vomiting and loss of appetite. She normally eats cooked chicken, dry Iams and a little wet Beneful mixed in. Coincidentally, when I ran out of Beneful and didn't get to the store for a few days, she suddenly got much better. When I did go back to get some (not thinking it was the problem), all the Beneful wet food was all pulled off the shelves in all stores. THEY say due to a voluntary recall after finding it didn't have enough vitamins and minerals. Needless to say, after a week and a half of no Beneful, my dog is 100% healthy again. I find their explanation disingenuous. When I spoke to a Purina rep via phone, she immediately offered free food and to pay vet bills. I think they are most interested in covering up the fact that something in their food is literally poisoning pets. I will never EVER buy another Purina product!

My dog got very ill from the Beneful wet dog food that Beneful pulled from the grocery store shelf. That is only way I found out about the recall, the shelf was empty. My dog starting drinking water, peeing the house, got emaciated, would no longer eat. I returned the dated, poisoned food to the store but by then it was too late. He died tonight. That sweet little soul did not deserve to die from tainted food. He was never ill before.

Back in the day about 2 years ago I was buying this dog food until I noticed upon opening the bag it had cobwebs in it. I called petco and purina and got nowhere so I keep reporting this all the time. Beware.


My daughter got a teacup Maltese poodle for her 15th birthday. Today after only having her for literally 3 wks we had ran out of dog food and while shopping at Target we picked up some Beneful food for her. Well today was the first day we fed it to her, an hour after she consumed it she began shaking, yelping, vomiting and her stomach began to bloat. She couldn't walk or even stand for that matter! I then Googled the symptoms and many horror stories of pet parents that have experienced the same situation pops up!
Before we could get dressed to take her to the vet we noticed that she laying completely still and not breathing! This was so devastating to my daughter! She cried uncontrollably and has a sense of guilt because she picked the food and fed it to her! As a mom this broke my heart! It is UNFAIR that this POISON is still sitting on the shelves of many stores! I'm outraged that the company has not taken responsibility, it's not about the money that's has been spent. It's about the families that have and will experience this tragedy as a result of their negligence!

After purchasing my dogs Beneful chopped blends on Saturday March 12, 2016, from Winn Dixie on SR 434 and Rangeline Road in Longwood Florida 32750. After a day and night of pain and very sick little dog, on the next day, Sunday I took him to our veterinarian and he had a case of pancreatitis. He has never suffered from this condition and said it was probably caused by something he ate. After leaving him for 2 days, x rays, ultrasounds, IV's and a deluge of medication, $2000.00 later I found out about this recall of specifically the brand he eats. What can I do? As I see it they owe me $2000.00 for all the medical costs, not to mention the pain my poor baby went through. Any suggestions??

My 10 year old Doxie had several seizures over the last three years. There was no known cause. The last one was January 1, 2015. Since I put her on a new dog food, she has not had one seizure. It makes me wonder why she stopped having seizures after being taken off Beneful pet food.

After running out of my usual dog food when the pet store was closed, I ran to the grocery store late one night and purchased Purina Beneful dog food. I fed it to my two Pomeranians in the evening for dinner and again the next morning. The same morning I noticed a large quantity of blood in my dog, Ella's stool. I took her to the vet and after testing they told me there was nothing wrong.
On my way out I purchased more of their usual dog food, Nutro ultra for toy breed, and there were no additional problems. Several months later I again went out of food and didn't bother to rush to the pet store because I knew I had to back up Purina Beneful dog food. I fed it to them for dinner only and again the next morning my dog had a large quantity of blood in her stool. I instantly realized it was the food. I never fed it to my dogs again and they never had any additional problems with blood in their stool. Thank God I realized before something more serious happened. My heart goes out to all who suffered disastrous consequences after feeding the dogs this dangerous food. Shame on Purina.
Beneful Pet Foods Company Profile
Company Name:

Beneful

Website:

https://www.beneful.com/