9Lives Cat Food
Lavonia, GA
Consumer Complaints and Reviews

When my wife bought a case of 40 9Lives canned food can to save money, we are cat lovers over 40 years, few days we noticed 4 cats vomiting and diarrhea. One of our cat loves to eat any chickens even McDonald chicken nuggets. That 9Lives can (chicken), she did not eat it. I wonder it was not real chicken? Also I notice they were not playful. Keep vomiting and diarrhea. We were done with that canned food and returned them and bought other different brands. Now they are back to old ways. I even emailed my messages to 9Lives company. I have not heard from them. The canned food should be recalled. What shame to keep selling them and getting sick! I wonder the canned cans were manufactured in China?

My 16 year old cat doesn't like dry food any more so she has been getting cans, Friskies most of the time. I ran out and got two cans of 9Lives from my neighbor, who told me it was on sale (4 cans for a dollar), so I got a bunch yesterday. This is the 2nd day that she eats a can, and she is going crazy. She is meowing/screaming loud, pacing around, restless, begging for more food but then stops eating, maybe not really knowing what she wants - restless. Now I am scared, and all those cans are going back to the store tomorrow.

Opened a new 3.15 pound bag of cat food that I bought last week and in the top of the bag was an off tan color, about 18 inch piece of a fabric like substance. How does something like that pass through the inspection line? It is definitely some piece of a machine, used to seal the bag or part of that process. Time to change the food our cats are fed.

My cat was very healthy. He is 6 years old. I live in Seoul and normally we feed him with Fancy cat food. This band was sold out at the supermarket so we decided give a try to 9Lives Cat Food (can). My cat started have bumps over his lip and nose. We thought were allergy or something dirty that he touched. But not. Now looking feedbacks and comments from others customer I realize is the cat food. We take him to Vet and they give a strong medication for fungus. We applied and the bumps disappear. One week later he started again the same condition. He starting losing his hair near his lips and is black. I do not know how this cat food is in store. Please keep away from this brand. Is poisoned and terrible.

My experience is the worst. I had two cats that were 100% healthy eat this crap and became ill. My kitten died first, he was only 6 weeks old and a week exactly later my female cat age 12 yrs of age died as well. Each showing signs of lethargy and vomiting. I have never used 9Lives and never will. I'm disgusted and deeply depressed to have lost my babies. No money or apologies can make up for the mourning of my 4 year old with autism. She expresses herself by drawing pictures of them.
How do I know I can trust these reviews about 9Lives?
634,774 reviews on ConsumerAffairs are verified.
We require contact information to ensure our reviewers are real.
We use intelligent software that helps us maintain the integrity of reviews.
Our moderators read all reviews to verify quality and helpfulness.
For more information about reviews on ConsumerAffairs.com please visit our FAQ.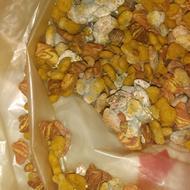 I had bought a bag of 9Lives daily essentials last month. I started to notice he was losing his hair and wasn't gaining weight and now his right eye is bothering him. It's running and he can't open it all the way. I looked at his cat food and the bottom was nothing but big clumps of food and is completely covered in hairy mold. What can I do. I stopped giving it to immediately and started something new. Cat food companies should not be able to do this!

Over the past week, I noticed that my cat who is about 8 years old has been throwing up or leaving runny stools in different parts of the house. He has also been lethargic and not his usual playful self. I had added 9 lives to his diet. This is the first time he's eaten 9Lives because he has been eating Fancy Feast (which can be pretty costly). But I bought the 9Lives because I thought I could save a few pennies. I didn't know why he was doing this -- I am still keeping him under watch. Whoever is reading this -- please do not buy this product. It will put your cat in ill health and possibly high vet bills if the cat doesn't get better. If my cat survives this storm, it will be Fancy Feast from now on!!!

My orange tabby had 1/8 of the can 9 Lives Canned Tuna/Chicken this morning and within the hour, did not feel well - not his usual self. Checked out this blog and found similar comments. You need to check this batch... Purchased at Fred Meyer in late April.

I recently adopted my kitty cat from a lady who fosters cats and adopted them out. She has always given them 9Lives. I gave him 9Lives when I first adopted him and he was fine. Now, he is getting VERY sick, throwing up EVERY TIME I give him his food. I stopped it and I have been just giving him meat and veggies and he is fine. He has been eating ALL day without any problems. I am glad I stopped feeding him the product when I did. The organic brands are pricey, but they are worth it and I guess I am going to have to start buying TRUSTED, organic brands and maybe I may have to just put my kitty on a paleo diet since none of these brands care about kitties producing a CHEAP POISON for money.

I had an appointment at the vet for my buddy, Gus literally the day after he passed away. 12 more hours and he may have made it. I know everyone thinks their pet is the coolest, but Gussy boy was one of a kind. A sweet, loving and hilarious soul who packed a ton of laughs and life into his short 3 years. Was never a cat guy, but loved Gus since I saw him under a porch as a tiny nugget and would bring him haddock.
One morning found that baby alone next to his Ma's dead body and HAD to take him in. He was too little to make a go of it alone, and was too curious to leave. He would often take baby steps right toward traffic to investigate the noise. Lol. Glad I found him coz he was so smart and different than any cat I had ever encountered. He ALWAYS wanted to be part of things and in the mix. Really outgoing. Always wanted to play and would literally stand on his hind legs and reach up to you until you picked him up. Would even follow you from room to room, doing that "pick me up" dance and yelling until you did and paid him some attention. So cool and adorable.
I can't bring myself to get into the gory details, but after seeing the myriad of others' horrifyingly similar problems, symptoms, ends etc. I know that this poison in a can killed my little bro. The only time I ever fed it to him, he was dead days later. He had never been sick before that. Was up to date on all vaccinations, fixed and regularly checked. Whoever at 9Lives is responsible, I wish you all the worst possible and an end in which you die screaming! Rot and burn for poisoning and ending a sweet innocent life and for making me the one who fed him the poison, when he trusted me to care for him. I hate the 9Lives corporation! Please AVOID THIS DEADLY POISON at all COSTS!!! ** YOU MORRIS! YOU POSTERBOY OF MURDERERS!!! I hope if anyone is reading this that it isn't too late to save your furball. Best of luck and best wishes!

I would NOT say it if I had any doubts! FAIR WARNING: Super Supper & Chicken/Tuna 9Lives DOES make your cat ill! I gave it to my cats against my better judgement, and 7 out of my 9 cats were vomiting for 3 or more days all day long! It's working its way out of their systems and their vomiting is almost done with I hope, but we are still on watch. 2 cats have vomited today. If you remember hearing anything about this kind of **, well, it is true! There have been no other changes to my babies' diets except the Super Supper & Chicken/Tuna by 9Lives! It breaks your heart when you can't get them the vet care they need in a case like this. Thankfully they seem to be okay now. Save yourself but most of all your sweet baby the pain!

I bought a 4 pk of 9Lives chicken/tuna. Took home to feed 6 kittens from 2 separate litters. Within a day 5 of those 6 kittens were dead. Within A few hours of feeding them they would let out a painful scream and act like they were paralyzed from the neck down and Within no time they were gone. I am completely freaked out by this. I thought at the beginning "oh my, what have I done wrong" but after thinking again in the years we have been doing feline rescue never has this ever happened. I have more than enough experience caring for animals and have to convince myself this is not my fault.
Not sure why the 6th one survived the night other than I went and got another brand. She has since eaten twice and still alive. I could understand if they were all from 1 litter and would think maybe their mom passed something on but these were separate litters eating the same food. It's the only explanation we have. Going to see if we can find a place that will test the remaining cans out of the 4 pack to see if tainted with something. At this point not another one of my cats will be fed 9Lives ever and we have a LOT that come through here.

Our cat normally loves wet food, including 9Lives. He used to be a street cat, so he's pretty smart about what he eats. He's happy with wet or dry food, but always eats the wet food first...until now. Something has gone seriously wrong with 9lives, and our cat won't even touch it. Fortunately, since we feed him dry food as well, he had another for option, and didn't starve or have to eat it out of desperation. Avoid 9Lives, at least until they sort this out but this issue doesn't speak well for their practices and if your cat refuses it, or pukes, you're not alone.

9 Lives Meaty Pate with Real Chicken & Tuna. Can was purchased undamaged. Best by 12 29 18. 5363BC D1TCK0245. BEST BY 12 29 18. 5363BC D1TCK0246. Contents had mold growing in at least 3 spots towards the center NOT along the sides of the can. The largest spot was about quarter sized and the other two were about dime sized. I carefully reinspected the can for signs of post packing damage and none are visible. Contamination must have occurred prior to canning. None of the other cans that I have with the same numbers have the same problem. I thought you should know.

We have been using 9Lives for over 20 years feeding all kinds of cats. Inside cats, outside cats, to include feral cats. Recently, NONE of the cats now will even touch the food. So what is in it, they know that I do not? They were eating it, began throwing up EACH day whenever they ate it. Now, they just eat the dry food which is NOT 9Lives. So, we give up, trying all the flavors=the same result. Going to another brand!

This would have to be one of the worst brands of cat food to buy. I bought a small bag from walmart and within a day or 2 I noticed my 6 month old cat's mouth was completely swollen and red and only getting worse. My 11 year old cat who normally eats a lot and isn't picky was also eating much less than usual. At first I wasn't sure what was causing the inflammation and figured it had to be the food since it was the food since it was the only change in our home. After thoroughly cleaning their bowls out and replacing it with their usual brands I noticed my oldest cat was eating normally again and the inflammation starting to improve. I will never buy this brand again and highly recommend anyone that cares about their pets to not buy this product at all.

I got a deal on 9Lives at my local grocery store and figured my cat would like it. When I opened up the can I could see red congealed stuff at the top but I thought nothing of it even though it did smell a little less appetizing than her regular Friskies. She didn't even touch the stuff and an hour later the stuff dried up and clumped in her food dish and I could see what looked like (and after further investigation) actually was little flecks of clear hard plastic. I immediately called the number on the can and filed a complaint with the company. PLEASE PLEASE PLEASE DO NOT BUY THIS FOR YOUR CAT.

What is going on with 9Lives cat food?! My cat throws it up when I feed it to him. I've tried giving him a different flavor of it and the same thing happens. I have to wonder what is really in this cat food. I've read reviews on here that says a lot of other people have had problems with it when feeding their cats also. Is this made in China and shipped here?

I feed my cats 9lives daily essentials and they have both ended up getting stones in their bladder which causes them to be unable to urinate and causes bladder to explode. My vet told me it's caused from bad food. ONE OF MY CATS HAVE DIED. MY OTHER IS ON THE VERGE OF DYING!! I cannot afford another $300 vet bill, let alone the one I'm still trying to pay on. My cats are like my babies and I hate to see them in this pain! I feel horrible for them and I miss my Knight every day. Now I'm about to lose Tiger too!!! 9lives was a company I thought I could trust. I will make sure to never use your products again. It's a shame that my cats had years left to live and fell ill due to horrible food products!!! This is my exact comment I mailed the company

My family had bought a house and the previous owner would feed the stray neighborhood cats. They were hanging around and causing a real problem with getting into the house and peeing when we weren't there. We decided to use 9Lives wet cat food to trap them so we could take them to the shelter. We bought a 4 pack of gravy and beef flavor and put it in a cage. The cats were basically starving and ran to the cage. We did manage to catch them but to our surprise the cats we caught refused to even touch this food. These are STARVING CATS, and they WOULDN'T TOUCH 9LIVES.
A few weeks later I used another can to give my cat his antibiotics. I thought the starving cats had belly aches and didn't feel like eating. I was wrong. My healthy and happy indoor cat who adores wet cat food wouldn't eat this food either. He just looked up at me with a look of disgust and disappointment. And get this, when I opened the last can, it was discolored and disgusting. The food was in date but it had started turning a very disturbing purple color. I threw out all the 9Lives I had in my house after seeing that cats are dying because of this product. 9Lives, NEVER AGAIN.

I have a tripod male 7 year old male cat who I have had for 6. Someone abandoned him and left him for dead. I took him in and he's been the best cat I ever had. I usually give Friskies wet food too, but decided to try 9Lives because money was a little tight and 9Lives was cheaper at the stores. Worst mistake I ever made. My cat (Smokey) would eat the gravy and run away from the food. My cat eats everything and it was not like him not to touch his food. He started losing weight. He was having problems pooping. He was constipated and blood was coming out of his bottom. He was wheezing trying to vomit, sneezing, with rattling while he was breathing, and nasty gunk coming out of his eyes. Took him to vet immediately. My cat is now on amoxicillin for an upper respiratory/urinary tract infection. And now have to have x rays done next week because the vet said he's not gaining any weight.
Since I switched him back to Friskies he's eating everything again. But the vet told me there is a possibility my cat might have another tumor and this time possibly growing in his stomach. They also told me to stay away from 9Lives. I have also emailed 9Lives and they just said they would let their managers know and sent me free coupons to get free cans of 9Lives wet food. My cat could have died. I'm pissed off because my cat has never been this sick after he had his back left leg removed due to a tumor. I don't know who was my cat's owners before me but I wonder if they also gave him 9Lives.
Updated on 11/23/2015: I figured I would give an update on my tripod cat Smokey. His X-rays came out normal considering no tumors but his liver has a growth on it and the blood results showed his liver's count was showing low. So now he's on amino acid pills and a special can kitty food that he has to eat for two weeks, and then go in for more blood work to check his liver levels again. The vet told me there's a possibility he might have to stay on amino acid pills and this special kitty food for the rest of his life. I asked the vet about his constipation with blood coming out and he said, "That has to do with his liver that we caught it in time."
I have been telling people, "Do not buy 9Lives products." I don't want anyone to go through what I'm going through which is expensive vet bills and having to go through constant heartache and tears not knowing if I'm going to have to put my cat down when he is still somewhat young. No owner and pet deserve these awful things. 9Lives you should be ashamed of yourselves.

Purina was our first choice for food when our cat was a kitten, but have since changed to 9Lives. We were buying the 9Lives Kitten food, and our cat loved it. We are now feeding him 9Lives adult cat food, and he enjoys it very much. We tried other off brand cat foods, but he doesn't like them much. The canned food is also great. This is given to him twice a week, but he eats the hard food the majority of the time.

About a week ago, I bought my cats 9Lives dry cat food because the store was out of my usual brand. After feeding my three cats the 9Lives for 3 days, my cats have been throwing up every night and I can tell they are feeling bad. A friend asked me if I had changed their food at which time I told him bout getting 9Lives coz they were out of regular type of food. He informed me that he had read something about 9Lives having poisoned food... To make a long story short, I went and bought their usual brand and my cats are no longer sick. I thank God none of my babies died, but would like to warn others away from 9Lives!

My cat has become a little finicky with age as to her preference to which brand or flavor she prefers. Sometimes I have to switch brands and that can be frustrating.

I buy a lot of the canned cat food because I have 3 cats. They like the Purina indoor formula the best. I buy a 16 lb. bag every month. I feel like there's not enough variety of canned food. I buy about 60 cans of that.

My cat will not touch it. Was not surprised when finding out all review of 9Lives were all negative. I will go to the store and request my money back. This company is awful and using that "Morris cat" to try and push off their crap on unsuspecting consumers. Shame on you 9Lives!

The bag I bought was the biggest bag that the store had and it was reasonably priced. When I brought it home and fed it to my cats they seemed to like it, but after about an hour the cats started throwing it back up. None of the cats could keep it down. I had to take the bag back to the store and buy a different brand.

We used to buy 9Lives canned food in the 4 packs - About 2 months ago EVERY time we fed our cats this food they ALL had projectile vomiting. Never again.

I've used more than one brand but Purina was what I used the most of. We mainly used dry cat food due to the bad smell when using wet food.

My 5 cats eat any dried food. For canned they prefer 9Lives with gravy regardless of type of meat. It could be chicken, beef or whatever. And as long as it has gravy they are fine.
9Lives Cat Food Company Profile
Company Name:

9Lives

Website:

http://www.9lives.com/