Consumer Complaints and Reviews

We have a cat who will eat nothing unless it is the Temptations Cat Treats. The Temptations Cat Treats were the daily source of his meals each and every day, it was all he ever wanted several times throughout the day. He will end up crying (meowing) for them if not given and will only begin to meow louder if I did not give them to him. He also has had several incidents of vomiting from these cat treats. It's very clear to me with the fact he doesn't eat much of anything else besides these treats, vomits shortly after, and everything that comes up is the Temptations Cat Treats treats. He is 4 yrs old (will be 5 yrs old in a few months).
I also know it isn't specific to just one flavor, as he ate several of different Temptations Cat Treat flavors and would have the same reaction. After learning what was in these cat treats and read some of the reviews I know for certain that these are not safe. They make cats sick, and it kills them slowly. The Temptations Cat Treats are highly addicting as well, as I noticed with our cat and it's all he will want. Definitely not wise to give these to your cats.

My beautiful Bella went from being a healthy and happy 5 year old cat. I fed her extremely good food (Wellness). I started to give her Temptation treats about 2 months ago. Last week she started vomiting suddenly. I took her to the vets and she was diagnosed with acute renal failure. She spent 3 days in the hospital hooked up to an IV. She is home now but is unwell. I am heartbroken. Had I known how dangerous this product was I would never have given it to her. I am praying she somehow comes through this.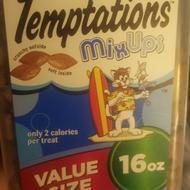 We have 2 indoor cats and have been feeding them the same high end cat food purchased from pet specialty stores without incidents; however, we occasionally have purchased Whiskas Temptations and we realize that when we do, these treats are making our cats sick. This last round: We just purchased and opened a new large container of the blue version and the cats go insane for these treats, but next thing you know, the vomiting started. When they do not eat the treats, there is no vomiting so we are positive it is something in these treats. They NEED to be analyzed to find out what is in them causing these serious issues?? We are done feeding these treats to our cats but will keep container as we are positive that once investigated properly, truth will come out.

I have a 12 year old cat who we have been giving Temptation Treats to for about 6 months. The most recent Treats were the dark green bag and she threw up every time she ate them. I washed our sheets and duvet multiple times a day for 3 days before I realized the cause was the Treats. I stopped giving them to her and the last 2 days she's been fine. I'm returning the partially consumed package to Walmart in Pickens, SC where I bought them. These Treats need to be removed from stores. They're making our animals very sick!!

Fed my little kitten Toby some of a Whiskas Kitten Chicken and Tuna Loaf pouch. Came home and he was tired and lethargic, wasn't playing and sleeping a lot. A few hours later, after waking up, he threw it all up on the floor and instantly was feeling better. Wouldn't recommend.
How do I know I can trust these reviews about Whiskas Cat Food?
790,221 reviews on ConsumerAffairs are verified.
We require contact information to ensure our reviewers are real.
We use intelligent software that helps us maintain the integrity of reviews.
Our moderators read all reviews to verify quality and helpfulness.
For more information about reviews on ConsumerAffairs.com please visit our FAQ.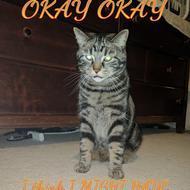 At first it was cute... Waking me up at night for treats. Now he won't eat regular food, and his behavior is centered around getting me to give him treats. His personality is not social like it used to be. NO MORE. This stuff isn't good... Not for my cat anyways. And it's the furthest thing from "healthy." I knew something wasn't quite right after giving these to him for around a month now but was second guessing myself because the notion of my cat being hooked on cat treats seemed absurd to me... Until now.

I gave my cat some of these treats, and he promptly threw them up. Even his bowel movement was a puddle in his litter box. After a two day fast of no water or food, and sleeping way more than usual, I had to give him tuna water. I will return the unopened bag to the grocery store, and throw away the other two bags that I had opened.

My cat loved the Temptations chicken treats (yellow bag), only gave a few at a time. Then he would prefer the treats over regular food, so I had to hide them. I stopped buying them, and then one day I decided to buy a fresh pack as they were on sale. When I gave him the treats, 5 minutes later he began to vomit them up. He vomited all night until all he was vomiting was bile and stomach juices. He would refuse to eat for days. I took him to the Vet, and there was nothing else found, no blockages etc. He is afraid to eat, and now I have to force feed him.

My cat loved the treats so tried different flavors. She loved the catnip ones but ended up being overdosed. She was drugged. Became lethargic, wouldn't eat, or go to bathroom. After trip to animal hospital and on IV fluids, she came out of her stupor. Now she is addicted to the salmon/tuna treats and not eating regular food. Have removed them and she is crying and begging for the treats.

On March 18th I purchased a 2 pack of Temptations cat treats from Sam's club in Greensboro NC. On March 19 I fed them to my cat and within 24 hours my cat was dead. I found him dead on March 20th. My cat was happy and healthy then within 24 hours of eating these treats he was DEAD! After reading all these reviews I truly believe that this is why he died. I was doubtful and the first until these reviews. The vet said possible seizures but it appears others have had seizures from these treats. This company needs to recall their crap b/c it's making our kitties sick and making them die! I fully expect a resolution from this company and I will be pursuing them to pay for his cremation bill.

My mother's cat is 18 years old, will be 19 January 2018. He has eaten Whiskas cat food his entire life, with some changes occasionally. When his food was changed, he would often throw it up because of his sensitive stomach. Especially in his old age, Whiskas cat food is the only cat food he can digest without any complications. After a bladder infection, he was put on a vet diet and couldn't stomach it longer than a month.
Now I live on my own and own my own cat. After trying various foods, we have found the once again Whiskas is the perfect food for him. We were buying another brand for most of his life, until he started losing weight at an alarming rate. Once we switched him to Whiskas dry cat food he gained his weight back and remains at a healthy weight with shiny soft fur. I've read a lot of reviews on here linking Whiskas to the death of their cats, but I can't say I personally believe Whiskas cat food is at fault. Both cats, aged 18 years and 2 years old are healthy and strong and they enjoy their Whiskas diet. Wouldn't change it.


Mom's cat... Healthy, energetic 4 year old that lives inside. Mom goes to store, buys whiskas treats for the first time. Feeds cat the treats for first time. The next day, 2 hours later cat is dead. At Colorado State University getting an autopsy. Will let you know results when they come in, but based upon other comments here, it sure sounds like it was the Whiskas.

I have given my cat Whiskas Temptations cat treats for years. She loved them. Tonight she died suddenly without warning. She seized briefly, meowed strangely, peed, and was gone. Only now have I read the horrible reviews about how this product can cause kidney/renal failure. Do NOT use this crap. It IS slowly killing your cats. I have 3 other cats, and will NOT use this junk any more and will throw away any remaining bags. Ridiculous. Anything for money.

DO NOT feed your cat Temptation treats. I thought I was being kind of ridiculous when I googled "cat addiction to Temptation treats" until I saw how common it was and how DEVASTATING the results can be. At one point my cat stopped eating his regular food, food that he was OBSESSED with and would gobble down in one sitting. A normally super social, friendly, and talkative cat, he would not eat, he would go into a room and sit under the bed for hours, then come out and sit next to the cabinet that had the treats.
It was kind of absurd how different his behavior came to be. I wish I was exaggerating when I said he seemed like an addict. My boyfriend and I joke about it now, but it was seriously alarming. We cut him off completely and threw out all the treats once I found so many articles online. He was NOT happy at first and I would have to sit down and watch him eat his dinner to make sure he was eating.
Within a few days he was his normal self, screaming at us for cans of his food. We give him "Greenies" as treats occasionally, which he enjoys to a normal degree. We did not change anything other than the treats and within a few days, it was ALL he would eat and his life literally revolved around it. He would cry for them, stare at the dresser they were in, and refused to eat his meals.
It does not matter how badly your cat wants these treats. These treats will harm your cat's health. I have no idea what kind of garbage is in them and why on earth they are still being made is beyond me. It literally enrages me that the company has these on the shelves, people are buying them without knowing and their pets are becoming sick.

We have been feeding our cats Temptations for years with no problems till recently when I noticed one of our cats, (a female) threw up 20 minutes after eating her treats. Which is highly unusual for her. There was one day prior to the puking event that, that she turned her nose up to eating her treats which was odd and I figured it was the Mixed flavored Temptations that she just did not care for. I got her the Turkey flavored ones instead. She ate these but puked 20 minutes later so it was then that I went out and bought a different brand of treats because I feared there might be something wrong with the Temptations brand.
Everything was fine. No puking for a week while I fed her a different brand of treats until I gave them Temptations turkey treats again. She refused to eat the Temptations again. And again within 20 minutes after eating the treats one of our other cats threw up. After this experience I decided to do some research and found this site with all sorts of reviews similar to what we had been experiencing.

So in September 2016 a cat followed my daughter (grown and doesn't live with me) to my house and he looked still really young but well taken care of so I decided to keep him and put up found papers. No one ever came so after two weeks he got really hurt by a raccoon and I didn't have enough money for a vet so I had to turn him over to our local pound. Never really wanting or really even liking cats I was kind of glad to be rid of him but his eye got hurt really bad (blind in his left eye). I started thinking if the pound has not put him to sleep. It's going to be hard c to find a blind cat a home so I went to get him. Now Baby is just that my baby and as mothers often do I try not to but I spoil him. He is a real picky eater so I thought I would get him some treats Whiskas temptations and at first he liked them but after a few times given to him he no longer would eat his real food.
He would wake me up in the morning crying crying crying until I got out of bed, I would go to his food bowl and add it started to know it would be sitting full after about a week or so. When I would give him the treats he would start acting really crazy running around the house biting me, scratching me and he has never done anything of that before. I'm really worried. I know after reading all of the things I've read about it tonight looks like my little baby is going to have to go to kitty rehab JK but he is going cold turkey because he will never get another treat from whiskas.
If anyone else has had this problem please please write a review and tell me what you did and how well it worked or if it didn't what do I do? I'm so worried I might have already made him sick cause I would give him a pretty good amount everyday just so he would eat. So if anyone has done this and successfully stopped please write about it. Thank you. PS my name is Tammy and as you know his name is Baby.

I have a 8month old Egyptian meow. The only thing I added or changed was that I started giving her Temptations treats and within a couple of days I saw a major change in energy. The cat became lethargic and less responsive by the weekend. I was sure that I was going to have too put her down. I stopped giving her the treats just before it got that far. But for days after I was pretty sure she was a goner fortunately in the last two days almost 4 since I have given her any treats, it seem that she is slowly bouncing back. However still not a hundred percent. I just hope that she can recover as well as not have causing any long-term damage. I can't afford to have things chemically tested to prove any wrong doing on the company's part but I can say what I have witnessed with my own eyes. The cat does NOT HAVE ANY INTERACTION WITH ANY chemicals whatsoever and I haven't changed anything in the environment at all so that's that.

I've always given my cat Temptation treats. She would throw up a lot. Last week we ended up at the vet. I came home to a few vomit piles. She continued to vomit, only in her litter box!! She was vomiting a yellowish liquid. This was scary so I brought her to the vet. No fever. The vet said to take away all food and water for the night. They gave her fluids. Once I got home my daughter had researched the Temptation treats and was horrified. I have changed her diet to grain free dry cat food, Tiki cat canned food and am only giving her freeze dried treats. Since she stopped eating Temptations she hasn't thrown up once!!!

We recently purchased the 10 kg dry food for adults. It is AWFUL. Unfortunately we threw the bag away since we usually store the cat food in plastic containers to keep it fresh. We have 3 cats. One is pure Persian cat, the other 2 are common breed, and we faced those problems first with our Persian cat, since usually they're very picky kind of cats. But when we started seeing some major hair loss, non-stop appetite, we thought our cats are just being, well cats. But when the vomiting started, that's when we realized it wasn't just a typical cat behavior, especially that we had cats all of our lives, and our current cats have been with us since 2009, so we could say we know pretty much about feline's attitudes... So this is a very bad experience within your products and we will not purchase it anymore, nor recommend it. Even if I see someone purchasing it, I will gladly share my negative experience.

I've been giving my cats (4) Temptations Treats for a couple years now and all of a sudden this week I had to take 2 of them to the vets. One went to the ER Vet first, both were impacted. Now I have a third one acting strangely. I thought it might be the Blue Buffalo chicken or beef flavored food (New bags opened 2 weeks ago - I always give them two flavor choices for free feeding) but now that I've found this site it could be the treats too. They haven't wanted to eat them the last few days and they are also in a new container just opened about 2 weeks ago. This isn't good at all.

I have been feeding my cat Whiskas and have had no problems. I even give her the Temptations Treats and have had no problems but I give them to her rarely. I came across this site by accident and started reading the comments and I'm horrified by what I have been reading about the Temptations Treats. I have 2 packs of this left and I'm throwing them out. Not going to take a chance and poison my cat. I remember a few years ago when there was a pet food recall because the pet food companies were getting one of the ingredients from China. If I remember it was the gluten. I'm pretty sure that is what killed my last cat since we were feeding her Fancy Feast and that was one of the foods on recall. China has little if no standards so why do companies buy from them? It's gotten to the point you don't know what is good and what isn't. Any food that poisons your pet should not be on the market, so why is it?
Now I'm wondering if I should stop feeding my cat any Whiskas food. I have wet and dry Whiskas and my cat likes it. I've just read also that a lot of the foods that vets recommend aren't that good either. Seems that the best diet for cats is a raw diet which means raw meat but I can't afford that and I'm not sure about raw meat either. The article said even raw pork. I wouldn't eat undercooked pork myself since I always heard that you can get tape worms from that so I wouldn't feed raw pork to my cat. My cat isn't much for people food either so now I'm in a dilemma of what to feed my cat.
I know a lot of pet food has what they call crude protein. What the heck is that? Meat byproducts which means it's crap. I'm starting to think I will have to start cooking for my cat. I'm not comfortable with the raw meat idea and I doubt my cat would eat raw meat. She doesn't even like steak. She does love real turkey though. If anyone has any suggestions, I would appreciate it. You can message me on my Facebook account at **.

Trying to figure out why my cat was sick during a period. Whiskas fish packets - last one held off a few days - 1 packet brought it all back up and what a stench. Whiskas normal - appears to be okay. NEVER THE FISH AGAIN. Serious sickness and persistent. Thought my cat was dying. Don't like my review... don't serve bad food.

My husband and I had to rush our 12 year old female kitty to the Animal Medical Center Emergency Room at 5PM on Tuesday, November 22nd because of violent vomiting and heaving. This was the second day that she had been doing this. I had spoken to the vet Day 1, but giving her an antacid did no good. We took her in, they x-rayed her, found no blockage but she was extremely dehydrated and the bill was 604.00. Today, her brother has the same thing. I bought a plastic container of Temptations MixUps and I started offering them to my kitties three days ago. That is the only different thing they have ingested. The hospital suspected that was the problem. I think they are tainted. They even smell strange.

Why would anyone pack food in pouches instead of in cans? These pouches cannot be resealed, and the food is so moist that it is REALLY messy to serve from the pouch. It is a nuisance to store and a hassle to feed. My cats like it fairly well, but I won't buy food that is so messy to deal with. Join the rest of the world and pack your food in cans!

Yesterday we had to put down our three year old siamese. Vet said she had become either constipated or there could have been a blockage that had formed in her upper intestine, or both (not passing stools due to the blockage). She was vomiting her food and losing weight for two weeks. Her energy level plummeted fast the last three days. I think she stopped drinking water as well and made no use of the litter box. I was reading up on siamese cats when I came across this link to the treats and other stories, and I'm sad because she was a huge fan of the beef temptation treats. She had them daily for the last year or so, with a significant increase the last few months because she opted for the treats over her normal food most of the time.
I think back to how often she would throw up the last year. I assumed it wasn't anything too bad as she did favour chewing random things and I'd find them in her vomit, but now after reading these comments about the cats who have died especially after eating the temptations due to renal failure etc. I am thinking it wasn't the best choice to buy those treats for her in the first place. I assumed they were safe. I am sorry, my sam.

I have 2 6month old kittens and they loved their kitten milk until you decided to change it! They will not drink it at all now and I myself can see the change. It always looked creamy before and a thicker consistency. It now is white and pours just like milk. I have bought this in bulk and now have 30 bottles that are useless to me. Can you tell me why you have decided to change the ingredients please? My kittens are not getting the nutrients as they were before and now won't drink it at all. They loved it before!

OK, so recently we purchased a Whiskas food pouch from our local shop. The pouch was intact completely and in date. On opening it, it was just pure mush, no way was I feeding it to my cat. On closer inspection it was riddled with dead but still fresh maggots!!! So I sealed it all up in bags, took pics ready to send to Purina. They weren't interested and just asked to send pics, as I did. The final reply I got from them was packaging sometimes gets damaged on route from the factory to consumer which attracts flies, etc. However as I stated to them the pouch was fully intact and not damaged... But they did send me a 3 compo voucher. LOL.

I started feeding my kittens/cats temptations about 2 months ago, today I noticed diarrhea in litterbox and also cat throw up sometimes. I went to read reviews on these treats and saw all the folks who have had to put their cats down because of renal failure. I'm so glad I did this. I hope I caught this in time, would hate to loose my babies. Don't feed your cats temptations. I usually have been buying tuna flavor.

Our 13 year indoor only Calico Kitty was a very healthy, vibrant and active cat. She was never heavy and hardly ever had any health issues. We fed her Iams and Science Diet cat food and usually gave her party mix Friskies treats for her treat fix. Every once in a while, we would treat her to a can of wet food but not very often. Recently, mid-Sept. or so, we bought a bag of Temptations cat treats. She probably had all total a couple of handfuls of the treats. I remember seeing a random article about a recall of those treats so I threw the rest of the bag away and didn't think anything further.
UNTIL we started seeing the signs that other owners have seen. She became lethargic, threw up, couldn't control her bladder. Vet said it was kidney failure. We had to put her down. We were devastated. Suddenly, I was reminded of the random article I read and decided to look it up. Sure enough, I'm pretty certain this is what happened our beloved kitty. I haven't told my husband of my suspicions because he would be very very upset and never forgive himself. Our cat was our daughter's best friend. We need to tell as many people as we can. Notify our vets and have them keep track. Something can and HAS to be done. There is something in those treats that is fatal and they all need to be pulled off of the shelves immediately.
Whiskas Cat Food Company Profile
Company Name:

Whiskas Cat Food

Website:

http://www.whiskas.com/