Consumer Complaints & Reviews

I brought home my new kitty Lolita last Friday. It is now one week later. I have been feeding her exactly what the rescue fed her and gave her roundworm treatment last Saturday, tapeworm treatment on Tuesday. A vet visit on Monday said she was very healthy and perfectly fine, also that giving the two worm treatments so close was no problem. Then I gave Lolita Temptations treats from a sample given to me. Lolita loved them! I gave her the sample bag over three days and then stopped. Yesterday I opened a new bigger bag of Temptations from the store and gave her three (only three). This morning her has diarrhea. The treats are the only thing I have given her that was different. Have thrown the bags I bought out already. She seems fine other than the diarrhea, I will be watching her closely though.

At one time my parents had 3 healthy male tabby cats; one (Doc -age 5,) the other (Banjo - age 9) and (Little Guy - age 7.) Doc was a stray cat I found when I still lived with my parents growing up and brought home when he was a kitten. Banjo and Little Guy were purchased at a pet store. Banjo and Doc were two of the best pets I've ever had, but especially Doc. He was my best buddy through some tough times for me when a girl I was going to get engaged to broke up with me and my Dad losing his business. Doc was much like a dog in the way that he loved contact with humans and needed to be sitting on or near you at all times.
I remember I would prop him up like a person to sit on the couch next to me while I watched the Chicago Cubs and he would sit like that the whole game until you picked him up again to put him somewhere else. His head would move back and forth with the baseball; I'd never seen a cat like that before and honestly wasn't a big cat fan until I found him. Banjo was their father figure and a fearless leader; always looking after the other two and cleaning them. He had a majestic proud looking demeanor, always striking stoic poses, crossing his two front paws while he sat. We would always joke that he thought he was a lion. We loved all 3 cats including Little Guy, but he was scared and finicky about everything; not the friendliest cat ever.
My parents made the huge mistake of getting him declawed (which I do not agree with,) because he destroyed all of my Moms furniture. After being declawed; became scared of everything and spent a lot of time hiding under the bed. My parents after realized they made a bad decision and never did it again. We gave him as much love as he would let us give him.
We have always fed all 3 cats high quality wet/dry food from brands like Merrick their entire lives on a consistent basis until one day my dad brought home some Whiskas Temptations cat treats for them. Besides Little Guy; the other two cats liked the treats so much that just crinkling on the package (the sound the bag makes when you're trying to open it,) would stir both cats into a stage of manic frenzy. We would always joke and call it kitty crack because of the addictive behavior it created in our cats. They would lose it if they didn't get their Temptations and would be insane while gobbling them up. Sometimes I would put wet food out and they wouldn't eat it, but walk by the cabinet we kept the Temptations in and make weird meowing noises until we gave them the treats like spoiled brats.
It was really abnormal, but made them very happy. At that time we should have started looking more into the ingredients and or stopped it altogether. We did try to stop feeding them the treats few times, but they became unbearable to be around when they didn't get their Temptations. On the other hand, always a rouge; Little Guy would not eat them for some reason, no matter which flavor we purchased. Even in light of all of that; I never thought it was anything fatal to worry about because I get the same way with coffee sometimes.) It was entertaining to watch until things took a harsh turn for the worst.
We didn't change anything about the way we fed Banjo and Doc other than giving them a small handful of treats once or twice a day in between Merrick style wet/dry foods. On and off during the 6 months they were eating Temptations; Doc and Banjo would have hydration issues and we had to had to feed them this electrolyte vet prescribed drink during the 6 months they were being fed Temptations, but it never dawned on us it was the treats we were feeding them that was making them sick, so we tried every other thing to make them better to no avail.
Towards the end of the 6 month period we were feeding them Whiskas Temptations, both Doc and Banjo began to get really sick and then in final passing away. There was definitely a noticeable pattern of escalating illness from the moment we started feed them the Temptations, but again never even crossed our mind it was the treats that were to blame. Banjo died first and 3 weeks later Doc passed. The cause of their death according to the vet was acute renal failure.
Little Guy ended up living till 12 and as I stated earlier (was the only of the 3 cats that would not eat the treats.) So, in the end it's pretty obvious what happened because with a different ages, upbringings and personalities; the only common thread between Doc and Banjo was their diets. All of those variables and identical symptoms and times of death. I know to most people would say, "they're just cats and get over it," but It was really devastating for our family that felt like they had just lost 2 best friends. They became part of our little family and died way too soon. This is something you can avoid by not feeding your cats Whiskas Temptations.
I've since then have told this story to all of the stores near my apartment that carry pet food and they have taken Whiskas Temptations off their shelves besides one larger chain store. I would recommend doing the same and if we all work together; can saves the lives of quite a few of our furry friends out there. This is not an isolated incident either. I've read hundreds of the same stories online that had almost identical results, so again share this story as much as you can and urge your local stores that carry pet food to take it off their shelves. Since the FDA won't ban the product or at least put a warning on it; we can stand up to this big corporation, inform and be proactive enough to make a big difference.
Thanks for reading this and hope it helps you and many others. Because of my families tragic losses; I am starting a Facebook page dedicated to informing cat owners about the toxic nature of the product called, "Whiskas Temptations will kill your cat." Please like and share this page to spread awareness. I know it's a morbid sounding name, but it's the truth. Thanks again for reading, have a great day!!

I received a Temptations Tasty Chicken Flavor sample at Sam's Club kiosk around a month ago. One of my cats wouldn't touch it. The second cat loved it but he threw up what he ate overnight several weeks ago. Other than that he was fine. Then last Wednesday/Thursday I gave him the remaining 6-7 treats, which was within the feeding guidelines. Within 24 hours he was lethargic and his urine had a dark yellow/brown color. I didn't make the connection to this product and found this website documenting all the cases of acute renal failure and illnesses here when it was too late.
I had assumed since this product was made in Canada it was safe. I'm very careful about making sure all my animal's food and treats are made in the USA. This sweet boy who I had for almost 10 years and was healthy in every way had to be euthanized. My vet's concern after looking at the list of ingredients was did the chicken come from China. The chicken jerky for dogs wasn't that long ago... chicken that came from China! It doesn't matter if some cats are able to eat this treat without any issues. If any cat is getting acutely sick after digesting this product it should be removed from the shelves immediately!! There is nothing more devastating than to have to watch what was a healthy animal one day get so acutely ill that the only recourse is euthanasia.

I always buy my Bengal cat top quality cat food and treats. Only made in the USA with no anomaly by product or chemicals. For some unknown reason I bought him Whiskas Temptations Salmon flavor treats from Ralph's. I gave him 4 pieces. He was hesitant but he ate them. In less then 10 minutes he threw them up and continued to throw up for 1 hour. He is now lethargic and falling asleep. If he dies I will kill this company. Horrible.

My cat used to be huge and beautiful... full of life. He loved Temptation chicken treats. His first started falling out and lost weight. He became lethargic and almost lifeless. We took him to the vet and since we've STOPPED giving him these treats he is 100% better. I will never give him these again!!
How do I know I can trust these reviews about Whiskas Cat Food?
593,279 reviews on ConsumerAffairs are verified.
We require contact information to ensure our reviewers are real.
We use intelligent software that helps us maintain the integrity of reviews.
Our moderators read all reviews to verify quality and helpfulness.
For more information about reviews on ConsumerAffairs.com please visit our FAQ.

We just returned from a trip to Canada and when packing my two cats' usual food, I forgot their treats. I purchased Whiskas Temptations in a supermarket as the package said "all natural". They threw up for hours - both of them - and these are cats that will eat almost anything and never get sick other than an occasional hairball. They then were lethargic and had no appetite for an entire day. We were in our motor home where they have traveled with us many times and in over 3 years nothing like this has ever happened. They were perfectly fine before they ate the Temptations, and I gave each cat only 4 tiny pieces. The vomiting started within a half hour, maybe even less. After 36 hours they are no longer sick and they finally ate a tiny bit of vet prescribed ID diet a short time ago and seem to be holding that down OK. I only hope there is no long lasting effect. I strongly urge everyone NOT to buy this food.

Whiskas have changed the recipe for their biscuits. They don't say as much but they appear to be the same as the Whiskas Temptation Treats. My cat was continually being sick when I gave her the treats and it took me ages to realise that it was the biscuits causing the problems. I have always given her Whiskas biscuits and other products. I didn't take any notice of the packaging for the new biscuits, but shortly after starting to give them to her, she was being sick every day. I cut everything out of her diet that I had been giving her and gradually re-introduced things one at a time for a few days. That's how I realised that it was definitely the biscuits causing the problems. I don't know what Whiskas have put into them, but I would not recommend them to anyone. I feel it's about time that Whiskas started to look at why their products are making so many cats ill.

My daughter had a pet Persian cat, light beige in color, that was so fluffy and big in size that it was sometimes mistaken for a dog, and was so gentle with children that even if they accidentally stepped on its tail and hurt it, it still wouldn't scratch them. Its food was Whiskas, so we always had that cat food in stock. The cat suddenly fell sick one day and couldn't be revived by the vet, due perhaps to accumulated fur ball in its stomach, but there are those who say that a cat's kidneys can give out from chemicals it has consumed. Too bad 'cause there was a heartbroken schoolgirl who lost her beloved pet.

About two months ago I gave Temptations Treats to two of my rescued cats. They were brothers and 15 years old. I had them since they were 5 months old. About four days after eating the treats they both started vomiting, stopped eating and had diarrhea. My third cat who doesn't like the treats was and is doing just fine. I took them to my vet for blood work and an exam. It was determined that they had symptoms of salmonella and were in renal failure. I was given antibiotics for both cats, special food, and anti-nausea injections to be used as needed. They both seem to get better after about a week. A week later all of the symptoms started again. This went back-and-forth for two months. Ben died first and fairly quickly. Lewis gradually got thinner and thinner and I had to put him to rest 2 weeks ago.
I had read on Facebook about the connection of Temptations Treats to renal failure soon after their first symptoms appeared. I immediately threw out all of the treats. They were the only low quality food that I gave my cats. I did file a complaint with the Whiskas corporation that is owned by the Mars corporation. Naturally nothing was done because I didn't have any proof. They never even called the vet who treated my beloved Ben and Lewis. I tell everyone that I know who has cats to never buy this product or feed it to their cats.

I have purchased and fed Temptations Cat Treats to my cats for years. They love them, so I was happy to purchase. Recently one of my 4 cats began to act erratic. Tearing out hair, licking metal window sills, and scratching like crazy. I checked for fleas. There were none. She was a stray I took in about 15 years ago, an indoor cat strictly. I never saw old age symptoms like this so I was stumped.
Well, long story short, I lost her. In the end she tore out hair to bear skin and was weak, and in a stupor. My heart told me to put her to peace, which I did. I did not even think it could be Temptations Treats that caused those crazy actions, since all the other cats ate them. But, as I read and research more, I know it was probably the treats. She was the cat with the sensitive stomach. She would throw up food, and treats but I did not attach the illness to the treats. I have no proof either, since she is gone and this Temptations Treat poisoning was just brought to my attention. But I would say it makes sense for ALL CAT OWNERS to throw out the treats and do not buy them anymore. Why take the chance? I pray I would have been warned.

My girlfriend has the cutest ginger cat that she affectionately named Owange, and whenever I visited her, I always made it a point to go to a grocery first to buy her cat a pack of Whiskas Seafood Cocktail. Her cat absolutely loves it. We've been feeding it to Owange ever since he was a little kitten, and he grew up with a very nice coat of fur because of it. He's also very healthy and has never had any health problems. We've tried the other Whiskas variations and though her cat likes them all, he could always tell whenever it was Seafood Cocktail that we were feeding him. Heck, sometimes the moment we enter the house, it almost seemed like he could tell we had a pack of Whiskas on us.
We also have a lot of cats at our home, but we feed them Whiskas Dry cat food instead. They also love it. Just the sound of the rustling bag of cat food is enough to make all our cats jump out of their sleep and into the kitchen. We've always fed our cats Whiskas and it has never harmed them, so we will continue to feed it to them. And when I finally have a place of my own and I can also have my own kitty, I'll be sure to feed it Whiskas too. MEOW!

A friend took me to the Humane Society 3 years ago to adopt a cat after I lost my cat Tom with a heart condition. I brought home Allie who was approx. 6 years old. She was feral and seemed to have been abused. It took me time and love to get her to the point she was today. She became loving, trusting and had a routine for both of us. She slept under the covers with me and loved to keep warm. We became so close and bonded in so many ways. Note: I have given her temptation treats in the past, but that was then and this is now. About a month ago Allie started to beg for these treats. She had never done this before, so I kept buying them and giving them to her.
Soon she started vomiting. As time went on, she stopped eating her regular food and would only eat the treats. She became sicker and I took her to the Vet. She found small tumors in her belly area. Because I'm a senior with a husband in a nursing home, she tried to spare me any undo expense and said usually the tumors are cancerous and if she stopped eating her food she probably had other places. The Vet said she could do all kinds of expensive tests or I could take her home and just make her comfortable. I decided to take her home and keep her comfortable. The only thing Allie would eat was these treats. She became sicker and sicker until I took her back to the Vet and had her euthanized. My son dug a grave at his house where he had a pet cemetery and we buried her.
Seeing I would no longer have any use for her food and treats, I took them to my son's. When I first arrived, I spread some of the temptation treats on the patio. The cats were all walking around but no one touched them. The next day, my son called to say that these cats will eat anything and that the treats were still untouched. I asked him to go online and see if there was a recall or a problem with these treats. That was when he found all these complaints, most since March 2016. My cat was fine, running around, playing and eating prior to May 2016 and these Chicken and Beef Temptation treats. She may have had small tumors but I am convinced by the posts and her actions during the month of May that I poisoned my own cat with these treats and I'm sick over it!!!!
Something happened to these treats!! Why did Allie all of a sudden crave them, to the point of meowing and sitting at her bowl, when she never did before. Why would she only eat the treats as time went on? Why did my son's cats and other cats refused to touch them? I believe these treats killed her. I still have three bags left and would like to get them tested but don't know where to go. I spoke to Attorney's to investigate and maybe start a class action lawsuit but have been shuffled all around. These treats should be off the shelf and we should all be able to do something to stop any other cat owners from losing their animals.

I have read many reviews from people thinking this treat caused their cats problems. Now, I am not saying that some are not legit, cats develop allergies just like people. But my husband and I have been taking in stray cats and kittens for 30+ years, dumped on us by people who treat them like garbage. Many of the problems I read are explainable, or should be by a vet, like the skin bumps, I have a couple of cats that develop these every year. I take them to my vet, she gives them a shot, the bumps go away. Kidney problems, lethargy could be many things.. diabetes? I have a diabetic cat, has nothing to do with treats. Have been giving these treats for years, my cats absolutely love them, and will continue to get them unless someone who knows what they are talking about says otherwise. Don't blame this product if you don't know for sure... see your vet for all animal health problems.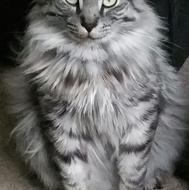 It hurts my heart reading these reviews as it has been a week since my fur baby took his last breath. I was giving my little man these treats every day as well. Until Friday May 20th 2016 when he became really ill. He was fine, healthy, pouncy. Then all the sudden not. He vomited a little (something new), curled up in a ball on the tile floor, got up, went to the litter box, came out tracking blood, and then I saw it. A puddle of blood where he had been laying.
Rushing to the ER Vet. and being asked about poisons I had stated that I never let my baby out. He sadly took his last breathe Saturday May 21, 2016 around 6:30 in the morning. I demand answers from this company. I think that there should be a class action lawsuit filed. My cat was only 4. My heart is broken. My husband's heart is broken. My home is now empty. How dare Whiskas keep selling these treats. My boy was beautiful. Who wants to sue with me? Oh in case some of these people want to see how beautiful he was I'll try to attach his picture.

I've read quite a few of the complaints about Temptations. The problem I'm having is not stomach problems, but a skin allergy (?) on one cat and I haven't seen anyone mention it. He is a fixed, about 2 year old gray tabby, Jackson. He has bumps around his neck, one on the top of his head and now coming up on his face. The itching and scratching are driving him crazy.
Today, he is restless. When I see he is asleep, I put some feline Rx meds on a bump as soon as I can find one. It's Saturday, and our vets are closed. He was feral when I rescued him, and he still has some wildness in him so putting medicine on him is very difficult. Putting something down his throat would be impossible for me by myself. He has his front claws and very sharp teeth and doesn't mind using any of them. I don't have ** to give him, and I don't know about a tiny bit of **, assuming I could get anything down his throat. He won't even let me spray some anti-itch stuff on him. I know they could be flea bites, but I don't see any signs of fleas. And why just around his neck? He does not wear a flea collar.
Has anyone had any similar problems with Temptations treats? Both cats love them, and also beg for them, and I know I give them too many at a time. In case it is the treats, I will put them out of their sight and only give them a few and perhaps wean them off them. I haven't changed the brand or flavors. The only change I made recently is ordering them in the plastic containers rather than the bags, which I've done for years.

Whiskas Dry cat food +7 - Bought a box of this cat food after receiving a free sample in the post. My 11 year old British blue immediately sick 8 times. Unfortunately my husband gave him some more last night and I was up all night with him being sick. It's now in the bin. Don't buy.

Within the past month my healthy, playful 8 month old kitten began vomiting repeatedly. After much thought I finally realized the only thing that had changed in his diet was the addition of Temptations Catnip treats. He loved them. Would come running when I shook the bag. I had been giving him other flavors with no issues. Only the catnip was new. After googling catnip treats I found this site. I immediately threw out all the treats. JP has not thrown up for several days. His behavior is back to normal. So glad I found this site since it verified my suspicions. And now my little guy seems to be okay. Temptations treats need to be removed from the market. Too many pet owners have had issues with them.

My 1.5-year old female cat has thrown up ANY and EVERY time I have given her these treats. I spoil her and buy her different types of treats to switch it up but she seems to like Temptations the least. She does not get excited for them once she smells them, but will still eat them. I have just now figured out that she has thrown up any time she has eaten these treats. I can't believe that these are still being sold to the public. I can't even imagine what I would do if I lost my little one because of something I fed her. I will be filing a complaint with the FDA as someone on here advised and will never give these treats to her again.

My cat is six years old and has been very healthy until recently when I had a general check up with routine blood tests. The blood test came back showing hypercalcemia which is a high amount of calcium in the blood. Generally when this happens in dogs or cats it is indicator of a parathyroid disease or cancer, in particular with dogs. With cats however it can be harder to make a diagnosis without further expensive blood tests on the parathyroid. The veterinarian kept asking me if I had been supplementing my cat with vitamin D and I kept replying no I had not been giving my cat any extra vitamins. We've had the blood test for blood calcium levels done three times and each time her test was above normal, but not as high as would indicate a serious condition to look for, but definitely above a normal level.
As I was doing research on Hypercalcemia and vitamin D, I decided to read the ingredients on the Temptations cat treats I had been giving her for the last year. She really loves those treats and I had been generously giving her them. Come to find out the ingredients in those treats has not one but two forms of vitamin D and one of them is vitamin D3 which is particularly toxic. In fact that form of vitamin D is used in rat poison means and what it does is create calcification in the kidney and the kidney stops functioning. When rats eat the poison they die a horrible death due to this and it does the same to our pets if they ingest the poison. Granted the dose of vitamin D is hugely larger than in these treats, these treats contain vitamin D which is completely unnecessary as a supplement for your cat.
My veterinarian was quite surprised as we discuss this and kept saying that he could not understand why they would put it in the cat treats let alone put so much of it in it. I have immediately stopped giving her those Temptations cat treats and will have another blood calcium test done in about six weeks to see the results. This all points to the fact that I may have been unintentionally supplementing her and creating a toxicity in her blood just by giving her cat treats. Warning - DO NOT GIVE YOUR CAT TEMPTATIONS CAT TREATS! You may be accidentally poisoning your cat.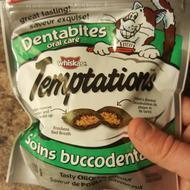 My cat was healthy and normal until a friend suggested I try these treats for her. She loved them. Now about 6 months later I'm in tears because I'm very sure she has kidney problems. I find out the blood test results tomorrow but she shows all the symptoms of kidneys failing. She stopped drinking. She's peeing a lot. Not eating. She's lethargic. I wondered why she started drinking so much water over the past while...now I know. These "treats" dehydrate cats.
Sure enough when I started googling the symptoms she has I came across this page I was absolutely horrified. I threw them out. This company needs to be held responsible for releasing such a dangerous product. I've just spent $550 on vet bills this past week, and I have no idea how much more I will need to spend to get her better. As a single, young homeowner being off work at this time and with no one else to turn to I am absolutely devastated right now.
I have to take out a loan to take care of her now because I have no other option. I have severe depression and anxiety and she is a huge comfort to me so I am hoping she can pull through this. I noticed this started last Wednesday when I saw she had vomited. And started eating, drinking, posing and peeing less and less. I took her to the vet and he prescribed mirtazapine to stimulate her appetite. It didn't work. I took her to another vet and they were more thorough but of course much more costly. They gave her a shot to rehydrate her and help her pass stool again but that's not working. She's just peeing much more now. I took her back today and they drew more blood. They gave her more fluids since she isn't drinking on her own. I find out tomorrow her blood work results and I'm so nervous.
Please take these garbage treats off the market and hold this company responsible!

At seven months old and within three days little Munchkin suddenly went from being a typically active, healthy kitten to lethargic, respiratory problems, and death. What was different a couple days before this? Giving him and my other cats Whiskas Temptations Treats! Now I am watching the others very closely because digging a grave for a sweet little furbaby sucks beyond belief!
There is *NO* excuse for the company to be remaining silent about this when each day is bringing more and more new reports of illnesses and deaths. The five other packages I have of these treats are already bagged up to be returned to the store. Everyone else needs to do the same. Maybe when they start getting pressure from the retail outlets over returns, they will do something then!

Tonight I was very alarmed when my 5 year old cat started vomiting. She was so sick that she continuously threw up for about an hour -- she had vomited up the entire contents of her stomach and yet was still dry heaving. I tried to recount what she had eaten in hopes of figuring out what had caused this. Everything that she had eaten was typical for her, except her cat treats. Today I had given her a new cat treat, Whiskas Temptations Beef Flavored treats. This was the first time she had eaten these treats and she got sick about an hour after eating them. Thankfully she now appears to be doing better, but I will definitely not chance it by giving her any more of those treats.

I have only just heard about the apparent risk to cats concerning Whiskers Temptations. I also found all of the other cat owners experiences very upsetting. Some ranging from cats vomiting and becoming lethargic, to even death. I have read many reviews, and I also find it way too common an occurrence to just be coincidence. Vets have even confirmed it is food related (the food being the Whiskers Temptations given). Then the owner has been able to trace it back to the Temptations. I would like to know, (as a cat owner myself), why I have just found out about the risks. I only found out because someone shared a post online. It may be that these terrible cases are confined to cats that are very unlucky to maybe be allergic. But even one cat is too many, and it seems to me that the Whiskers company/Mars are more interested in profit - hence there being no warnings or recalls in the shops.
If this was a baby food, it would be off the shelves instantly. And rightly so. A cat is a family member that is loved dearly too. I'm not making comparisons-ANYTHING that is consumed by ANYONE that carries even a small risk, should be taken off the shelves immediately. Now I have all this information, I'm starting to think maybe one of my cats might be getting sick with them. Unlike my other two cats, she doesn't like wet food, so I treat her to other foods - Whiskers Temptations being the main one. She is only 3 but often becomes extremely lethargic, gets diarrhea and sickness. She also has sore skin with hair loss (I flea them regularly). Her tummy is also very swollen looking. She's a very tiny cat, so she hasn't just got a bit fat. It is only her stomach. For a cat that prefers dry food, I know water should always be available. But she never stops drinking water - she can't get enough.
Now I know about the awful, possible effects of these 'treats'. I will no longer give them to any of my cats. Hopefully she will improve and make a full recovery. I have very little money, so I haven't taken her to the vet's. Plus her symptoms come and go, though I don't wish to give her more Temptations to see if she has a reaction. I am going to find the money for a visit to the vet's to rule anything out, as it may not be the treats. It has also got me thinking about my beloved cat Floyd, who died suddenly from very rare peritonitis. This was two years ago and he was only 5. He was very fit and energetic, but got sick so quickly. The vet couldn't explain it, and he had to be put to sleep. He also ate the same treats. I will never know, but I know I won't be buying anything from Whiskers/Mars ever again. Their lack of concern, compassion and a customer's right to pay good money for a safe product for a loved animal is lost on them. It's disgusting!

Temptations treat commercial. Are you kidding me with your commercial. It's cruel. Why don't I toss some treats in the air to you, leap for them and see how you like it.

I bought Temptations Cat Treats about a month ago. I always check the date on it and it doesn't expire until 04/29/2017. However, every time I give her the treats, she would get so sick and ill.. I only gave 4 treats each time until I realized it was the treats that got her sick. She would spend almost an hour of throwing up each time. So I stop giving her the treats. And from what I read, a lot of people has had similar issues with the treats. If anything ever happens to my cat who I had for 11 years, I will not be so happy. I will be going to corporate on this cause she is my baby and I love that cat dearly.

Hi. In response to the reviews I have been feeding my baby girls Whiskas Cat Food in the plastic containers for a couple of years now with no problems. The only treats they will eat are the catnip flavor dental greenies but, I am going to keep a close eye on them.

My cat got sick with a skin condition a few weeks ago and had a large mottled bald patch on her back. She's had this before on exactly the same place, to the left of her spine, but never this bad. I took her to the vet in 2009 thinking she had a burn or an infection but the vet could find nothing wrong with her. She cleared up shortly after but occasionally gets a bald strip on exactly that same spot. I figured she was crawling under something and getting a scratch but there was no blood or injury of any kind just a bald strip. When she got sick this time it started with a long bald strip, maybe 3 inches long and half a centimetre wide. Within a couple days it was 10 inches long and 2 inches wide of irregular bald patches with weak hair tufts left behind that had white tips on them. She was not scratching or licking at the area at all.
She's an indoor cat exclusively and there are no other animals here ever. I searched online for pictures to explain what she had and couldn't find any answers. I tried an anti bacterial cream from the pet store, it did nothing. Same with the anti-fungal cream. Finally I took her into the vet ($200. for a poor person is a punch in the gut) and she told me to stop feeding her temptations as she had developed an allergic reaction (Eosinophilic Granuloma Complex) and those particular treats were a common cause of these problems. You can imagine my incredulousness as I've been feeding my cat mounds of those treats as long as I've had her (since 2008). But as I read more about it I discovered this is a common story! And the pieces are starting to fit together.
She's on pills now and had to have an injection for an infected granuloma. She is completely off the temptations and already she doesn't throw up/spit up anymore on the new crunchies from the vet or the pill pockets which are feline Greenies. Her poo and gas don't smell anymore and she seems less lethargic. I'll know in a few weeks if her fur clears up if this new diet is helping. I also switched to Iams food and will not buy Whiskas any longer until I determine if the food is healthy. I don't know that the treats were the problem but a lot of things are pointing in that direction and I'm furious at the thought. I was always afraid of the stories of cats getting sick from common pet foods and that's why I bought the major brand names. I had no idea so many people had problems with this brand of cat treats. I'll post again in 2 weeks to update my cat's condition.

I have just returned from the vets with my British Shorthair Cooper. Since getting my beloved Cooper a year and a half ago he hasn't been fed treats of any sorts. Then a couple of days ago I noticed there was a packet of Whiskas Temptations in the cupboard which a family member had purchased him for his Christmas. I checked to see if they were in date, which they were and proceeded to give him a few. He seemed to love them, nearly taking my hand off for them! The next day I noticed he was a bit lethargic compared with normal and he started to wrench as if he was going to be sick. This was highly unusual as Cooper had not been sick ever before! The next day however I gave him more Temptations as he seemed a wee bit better. HUGE MISTAKE! Within an hour (about 10pm) he threw up and this time there was a lot of sick!
I couldn't quite understand what was causing it! He was sick again at 1am, 4am then multiple times between 6 and 7am. At this point he seemed to be very lethargic and was hardly able to walk. He fell over a couple of times as he was trying to get under the bed to hide. That's when I knew I had to get him to vets ASAP. On way to vets I actually thought we had lost him as he was unresponsive at one point! I was absolutely petrified! The vets checked him over and couldn't find any masses in his tummy or anything. I told her about the Temptations, and she said it's possible he has taken a reaction to them. She gave him 3 injections including an anti-sickness, antibiotic and vitamin. I was told if he was sick again after then I was to rush him straight back down. Now he is home. He still seems lethargic but a lot better than earlier!
As he is resting I decided to start researching about Whiskas Temptations and to my disbelief, it seems I was right. These so-called "treats" are what caused him to get so violently ill! As comparing my version to other stories on this website, they are identical! Why are the manufacturers allowed to keep selling this poison to our beloved cats!! I am absolutely disgusted that these items are still on the shelves! There are far too many stories regarding this brand for it to be a coincidence! I myself will be contacting the manufacturers and anyone else who will listen to me regarding this matter, including distributors of the product. I just wish I had read this website before giving my poor boy such awful poisonous junk! I just pray he makes a full recovery, unlike some other unfortunate wee fur babies who sadly succumbed to this truly awful product! My heart goes out to the poor owners. :(

My cat is 8 months old. We hardly ever give him treats and only feed him dry cat food (Blue Buffalo). However since he's still new to the home and family we use treats to sometimes get him use to people. The last 2-3 months I've noticed he has gotten diarrhea and vomiting off/on but I thought it might be him getting use to the house or being nervous. But the last 2-3 weeks we've given him more treats and he has been more sick than ever and that it has to be an external variable because I have changed nothing in his routine.
I finally realized it's the Temptations treats. Within the same day or 24 hours he instantly gets sick with diarrhea and sometimes vomit and super lethargic. DO NOT BUY THIS PRODUCT. I am taking him to the vet next week and if he has to seek treatment I am contacting Whiskas - and MARS with a letter and my bill to seek reimbursement. I have already filed a complaint with the company. After doing more research it appears I'm not the only one.

I've never purchased Whiskas, but my son gave me a box of these when it made his cat sick. I fed it to our 16 yr old cat and likewise, she got very sick, throwing up everywhere and staining our carpet. Our dog got into an unopened bag during the night, and he too threw up everywhere. I'll never buy this product. Can't even be safe, let alone healthy for your cat.