Pet Food Recalls and Warnings
The product may contain elevated levels of naturally- occurring beef thyroid hormones
03/21/2017
|
ConsumerAffairs

By James Limbach
A Washington, D.C., reporter for more than 30 years ... Read Full Bio→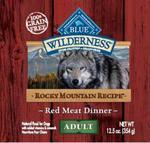 Blue Buffalo Company is recalling one production lot of BLUE Wilderness Rocky Mountain Recipe Red Meat Dinner Wet Food for Adult Dogs.
The product may contain elevated levels of naturally- occurring beef thyroid hormones. Dogs ingesting high levels of beef thyroid hormones may exhibit symptoms such as increased thirst and urination, weight loss, increased heart rate and restlessness.
These symptoms may resolve when the use of the impacted food is discontinued. However, wi...
More
The barbiturate can cause drowsiness, dizziness, or even induce a coma
02/15/2017
|
ConsumerAffairs

By Christopher Maynard
Christopher Maynard is a New York-based writer and editor who ... Read Full Bio→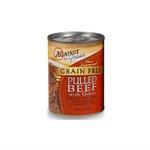 Against the Grain Pet Food is initiating a recall for one lot of its "Against the Grain Pulled Beef with Gravy Dinner for Dogs" dog food. Company officials say that the product may be contaminated with pentobarbital.
Pentobarbital is a barbiturate that can cause several side effects for dogs who consume it, including drowsiness, dizziness, excitement, loss of balance, nausea nystagmus (wherein the eyes move back and forth in a jerky manner), inability to stand, and coma....
More
Sort By