Pet Food Recalls and Warnings
The barbiturate can cause drowsiness, dizziness, or even induce a coma
02/15/2017
|
ConsumerAffairs

By Christopher Maynard
Christopher Maynard is a New York-based writer and editor who ... Read Full Bio→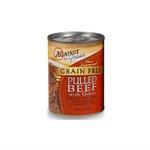 Against the Grain Pet Food is initiating a recall for one lot of its "Against the Grain Pulled Beef with Gravy Dinner for Dogs" dog food. Company officials say that the product may be contaminated with pentobarbital.
Pentobarbital is a barbiturate that can cause several side effects for dogs who consume it, including drowsiness, dizziness, excitement, loss of balance, nausea nystagmus (wherein the eyes move back and forth in a jerky manner), inability to stand, and coma....
More
One lot of the product may contain metal pieces that could cause a choking hazard
02/13/2017
|
ConsumerAffairs

By Christopher Maynard
Christopher Maynard is a New York-based writer and editor who ... Read Full Bio→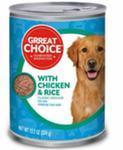 PetSmart has issued a voluntary recall of one production lot of its Grreat Choice adult canned dog food after a manufacturer informed the company of consumer complaints about metal pieces that could cause a choking hazard to pets.
The product is sold nationwide at PetSmart retail stores and online at PetSmart.com, Pet360.com, and PetFoodDirect.com. 
The dog food was sold between October 10, 2016 and Feb. 7, 2017 and has a "Best By" date of 8/5/19, which can be found on th...
More
Sort By