Consumer Complaints and Reviews

Ebay put through a fraudulent charge to PayPal (a preauthorized payment that I never authorized!) and it has taken me more than 5 hours to get through to a PayPal agent. I phoned PayPal 4 times… Was disconnected twice and put on hold once for over half an hour, I was asked by PayPal at least 5 times to repeat all the information I had already given… And the complaints go on. This has been the worst phone experience I've ever had and the end result? I'm now on hold with PayPal again… Hopefully I won't be disconnected. Obviously I will be cancelling my PayPal account if I'm able, but if I can't talk to anyone on PayPal that might even be possible. In that case, I'll need to change my credit card so that PayPal can't put through any more unauthorized charges. The whole experience I'm going through is so traumatic it's unreal.

In my opinion they are worthless. I ordered an 4 necklaces from Elsa Jewelry on the 9th of May and items were to be mailed with 2 days of taking money from my account, which was the 12th. The company did not mail till the 24th and on the 23rd PayPal told me they had cancelled the order and put a hold on my funds, because the package was not even mailed yet and my money would be back in my account by the 10th. The company mailed the package on the 24th and it was delivered too late for my use. I had to purchase locally because I needed by 25th. PayPal has denied telling me my funds would be refunded and I just lost my money. CASEY, a supervisor's supervisor was extremely rude.

Purchased product on eBay and paid through PayPal. Item did not function as described so I sought to return it. The seller ignored my requests so I escalated it to a PayPal claim. PayPal denied my claim through an automated system and refused my appeals. Luckily I used my credit card and was able to get a refund through them. Never purchase an item with PayPal funds!!! You will SOL!!! Always use a credit card to have so you have the added protection of your credit card or debit card on the purchase.

I purchased sw from a company, the sw was for my company website, it did not perform well at all. The company was from India and only willing to provide support in the middle of the night, alternatively the vendor requested my user ID and password for my company website to look into the issue. Of course I refused to give my user ID and password to a complete stranger. All exchange was documented in emails and was provided to PayPal. I requested a refund, PayPal sided with the seller without giving me a chance to respond. I called 3 times requesting a hearing, the dispute resolution team does not return calls, nor I was allowed to update the case. Very bizarre.
30 days later they sent me this email: "We received the claim(s) you filed on May 9, 2017. We have reviewed this transaction(s) and are denying your claim(s) because our records show that this transaction was processed correctly. We are unable to validate the functionality of a digital or downloadable item. Please work with the Merchant to resolve this issue." I called to complain, the customer service literally did not care so I closed my account.

I received money thru PayPal. I have been trying to transfer my money to PayPal Mastercard for a week now. Called the card people, called customer service, no help. I am in a hotel and have to pay before 12 pm today. I keep getting error message and to call customer service. What is happening with PayPal?
How do I know I can trust these reviews about PayPal?
792,868 reviews on ConsumerAffairs are verified.
We require contact information to ensure our reviewers are real.
We use intelligent software that helps us maintain the integrity of reviews.
Our moderators read all reviews to verify quality and helpfulness.
For more information about reviews on ConsumerAffairs.com please visit our FAQ.

Buyer refused receiving shipment of product because she changed her mind. PayPal has found me liable for all shipping AND I was required to refund cost of product. The PayPal agreement specifically says buyer remorse (changing the mind) is not a reason for return, and also that shipping does not get reimbursed to the buyer upon return. And yet... the ridiculous catch 22: if the buyer doesn't receive the product, EVEN IF THE BUYER DELIBERATELY REFUSED TO RECEIVE THE SHIPMENT (because they changed their mind), the seller is responsible for ALL the costs.
I shipped the product in good faith. The buyer refused to take delivery by not giving her required Social Security number to US customs. She deliberately had the product shipped back, leaving me with over $500 owing in shipping and exchange rate differences between the shipped price and the returned price. I can provide full unedited communication done via messenger, copied and pasted into a word document. It clearly shows that the buyer simply changed her mind and left it to PayPal to recover her shipping fees and refund. PayPal refuses to see that an undelivered package can be a far cry from a purchaser deliberately refusing delivery.

I ordered a puppy, paid for it with my paypal account. I never got the puppy and when I called PayPal they said the transaction could not be disputed. They did ABSOLUTELY NOTHING to help me get my money back. NEVER USE PAYPAL IF YOU WANT ANY SECURITY AGAINST FRAUD.

From A to Z this company is as rude as can be. The tone and pretentious attitudes of these individuals working their call centers is truly poor, upsetting and vile. All of them, horrible tones, attitudes, they have no courtesy, no consideration, rude in every way. I was forced to cancel my account by supervisors. I hate this company, they clearly abuse consumers due to the need for the service. Truly a very demoralizing experience. Shame on PayPal.

I've been a loyal PayPal Verified Customer for years now and I've been following rules and regulations! My girlfriend got restricted and they linked me to her just because I gave her access to my internet. Least that's what I know for now! I called customer service and I told them I have the right to give internet access to my family/friends! Whatever they do whether it's social media or PayPal or shopping is NOT my responsibility! As long as they're NOT doing anything illegal using my internet then I'm fine with them using it! PayPal headquarters got involved and said that I'm restricted for security issues and for the linking of accounts and that it won't be lifted. I told them I've done NOTHING wrong and I deserve to know why this is being done to me because I only have TWO accounts and my accounts always has my SSN and Bank information as those 2 are personal and confidential info that no one knows but me!
So let's say if anyone was to impersonate me on PayPal, IF the accounts does NOT have my SSN and Bank information then, you can bet it's a fake! The customer agents loved that idea and they escalated it to PayPal back office but they're refusing to get back to me! PayPal social media care got involved and said it will stand and I told her I will be reporting this to ConsumerAffairs and Better Business Bureau because this is unfair! She said you agreed with our user agreement which reserves our rights to part ways and I mentioned to her YES BUT FOR A REASONABLE PURPOSE! This is considered abuse of power and discrimination! And I find it a little weird that right when my bank filed a claim against PayPal and made PayPal pay $36, PayPal then kicks me off!
It seems to me that they're mad and it's like my bank said, PayPal needs to take responsibility for their actions! IF they're restricting me because they're mad then that's not right either and abuse of power!!! I need PayPal for my customers to give them a payment method to buy from my store as I've been using PayPal for years now and I've been as mentioned a good loyal PayPal Verified Customer! I shouldn't be treated this way! Not right, not fair! Help!

I recently opened up a PayPal account last week, linked to my new eBay store. I sold 4 things within 24 hrs and paypal limited my account for no reason. I called to get the limitation off and the nice rep lifted the limitation, after all I didn't even have access to the money and I still don't. I shipped the product the next day after purchase. The item was delivered on Friday June 2 and I made sure to get signature confirmation from buyer in case he says he didn't receive it. The following day they limited my account, again for no reason. I called today and they said, "You're a new seller so there are risks involved", but I am only selling stuff from my college dorm, I'm not becoming a full time seller. He said that the limitation is final!!! WTF... You just went from 0 to 100 really quick. I also feel discriminated upon. I hate this company!

Limited my account for no valid reason and they refuse to give one. Appeals refused and also no reason given. They refuse to take into account my good customer reviews or anything. Be careful using these as at anytime they will just limited your account and hold funds. I would suggest other card processors.

Well, after not doing business, with eBay, because a conflict of interest, owning PayPal. I have been burn more times than I want to say. I came back thinking is better??? Not! I sold item. I entered the tracking number, and still after 10 days, I still not receiving my money back. Please don't sell, anything on eBay, and request for PayPal, to be off, not allowed to do business with eBay. Otherwise, say goodbye to your item and money. You, will lose all!!!

Another disgusting scam by a company that you would think you could trust. The purchase protection plan guarantees all purchases; wherein the order doesn't match the description, PayPal will reimburse the full cost of the purchase plus shipping. We purchased two wrought iron doors from another scam operator titled West Iron Manufacturers out of Van Nuys, California. After several months of lies in addition to having PayPal talk us out of canceling the purchase initially "because this seller is not a person to be worried about" we were sent one iron door that won't close and didn't include the glass panels. The other door was an entirely different iron door that doesn't match the other door in any fashion. The crook in California actually had the nerve to simply say "fight it out with PayPal" instead of trying to remediate the errors.
Next, we contacted PayPal in regards to the protection plan and for approximately one month we were given ridiculous criteria to meet in regards to required documentation. As soon as you submit the requested documents you receive another PayPal correspondence stating it was not submitted according to the PayPal requirements. You send it exactly as written in the new request and they change their requirements once again and so forth. At one point we were told that our third party written documentation concerning that they are visibly witnessing the door delivered is not the door ordered and written on the delivery invoice had to be done by a different third party company that used stamped letterhead. SEE THE PICTURE? STAMPED LETTERHEAD as once used in the 1950s. Anything and everything is thrown at you to make sure you can't complete the necessary requirements to get a determination of your case.
Finally after dealing with my wife who was determined to jump every PayPal hoop, PayPal sent a correspondence on the wrong door case siding with us. BUT!!! Even though PayPal's protection plan specifically stated we would be reimbursed for the door and shipping, we were told by PayPal to ship the 800 pound door back to the seller at our expense and "if the seller determines the door condition to be as when he sent it to us" then we would be reimbursed by the seller. Now do you really think a con artist is going to simply state, "Yes. It is just as I sent it," or do you think he is going to simply state the door has been damaged and we are out the initial thousands of dollars plus an additional 500 dollars to ship a 800 pound door back to California. Essentially the scam artist has our money and the door and will probably start his scam cycle once again.
As far as the damaged door that doesn't close and was sent without the glass components "the iron gate" everything item requested was sent within PayPal's timeframe and verified everything is in good order with several recorded messages with reps from PayPal, they finally, after several delays in their determination, just today, stated our paperwork wasn't submitted in a timely fashion. PAYPAL ET AL, YOU ARE THE EPITOME OF LIARS AND ARE EVIDENTLY RUNNING A PURCHASE PLAN GUARANTEE SCAM!!! I will personally make it a lifelong effort to reveal the PayPal scam and hope to initiate or participate with a class action lawsuit against PayPal et al. A disgusting experience with a disgusting group of professional liars with PayPal and West Iron Manufacturers. Steer very clear of these dishonest vultures deceiving the American people with their dishonest policies and representatives.

Someone opened an account with PayPal using my email address. I contacted PayPal by phone. After waiting 5 minutes I talked to someone who took my info, examined the account, and passed me on to another department. After waiting 15 minutes I had to give this person the same information I gave the last person. After talking to this person he wanted to tell me what I could do on PayPal's website to fix the problem. I don't have a PayPal account. This is a PayPal problem. They need to fix it. I don't work for them. They don't pay me to fix their problems. And this account has been active for at least 15 - 20 years. They are obviously not interested in Security.

PayPal recklessly keeps electronically debiting my bank account for $15.36. I don't know where the charge came from but they won't stop. The bank can't help me because it's electronic transfer... I'm helpless. The only response I received from PayPal was they were updating their systems and it was a mistake. They will not take responsibility or even tell me what this charge is for. I have money in my PayPal account and my preferred payment method but they just keep costing me nag fees. I'm having health issues now and pretty much giving up. If you want to support a company who runs their business this way keep using them. It's just a matter of time before you're affected by their incompetence.

Item of 'Back Brace' made through PayPal. Item never even shipped. Not able to get any refund. CASE ID: ** with PayPal. Transaction ID: ** PayPal. I am writing this letter because I could not get any link for continuation of my claim for refund. I received a communication from the seller on 24th May 2017 quoting a shipping ID No: **. I tried to track this item for the last two days with negative message from 17Track All-In-One Package Tracking stating that Item not found at this moment, if necessary verify with the package sender and check back later.
Now it is clear at the end of 3 weeks of order that the seller is cheating. No items were shipped. The address of the company is given as ** and the shipping no: suggests that it is from China: The number ending with CN. Considering the above facts I am convinced that the seller is not genuine and hence I would like to get refund on USD 23.94 at the earliest.

I purchased on eBay in item in UK on my eBay account. After receiving a confirmation price converted to Australian dollars of $2340.80, I confirmed the purchase. Upon checking my visa card the amount of $1448.67 was deducted from my bank the difference being $107.87. I called PayPal in US and they informed me that they charge different rates from bank and that it was an extra 4%. That's okay. If had know this charge I would not have purchased this item using this process.

I am experiencing extreme frustration with PayPal. I have made purchases through eBay, and PayPal is refusing to pay the sellers for items I have won via auctions when they have deducted the monies from my bank account. PayPal is stating that I have had a high usage of my account and are now DEMANDING a copy of my driver's license, utility bill, bank account statements and my credit card statements. This is after having an account since 2006, the items are being sent to my home address and I have called them from my cellphone, the phone number they have on record since 2006 and they have my social security number which all makes my account verifiable.
PayPal is bullying me by restricting my account. They will not allow me to close my account or delete my financial information. This is ridiculous. I am an unhappy consumer with this business and they are holding hostage my financial information and I want it deleted from their databases. PayPal has been accused of having ties with Russia and have been hacked. God only knows how many times. So, why on God's green earth would I give them all of my financial information when they can't even protect their own? Just unbelievable!
Due to PayPal's negligence I am now being harmed and have incurred damages. Sellers are filing complaints with eBay and writing negative comments about me for the public to see. PayPal is cancelling payments that were scheduled when I won auctions and the sellers are angry with me over something I have no control over. EBay will be closing my account if I continue to receive these types of complaints. I have a 100% rating with eBay and that is being threatened by PayPal's actions and inactions. I am requesting that your office conduct an industry standard investigation into these allegations and sanction PayPal as necessary. I have read numerous complaints about the same thing and this is unacceptable.

I'm so exhausted at this point. But what I do know having pics of damaged product received, emails from the seller stating they would refund the money as well as 4 month long wait with PayPal credit, I am still out my money. Then every time I wait up to an hour or more to talk to a rep they tell you a different story. Once you hit a supervisor it is like a bad timeshare scam. He beats you up with words to make you feel worthless. What is going on and how are they not shut down?

I like others complaining here have the same problem. I am a small business owner and sell through eBay and everyone pays through PayPal. They have to my count frozen for no apparent reason over 20,000 in each account. I have satisfied all and any complaints, and I am owed money from customers not the other way around but they say they can do what they want with my money no matter what. Is there way that we can all get together and have a class action lawsuit.

If you sell. Never use PayPal. Never accept it. PayPal debited my account over items delivered and even signed for by the buyer. Almost $4,000 altogether. The buyers always get to keep the item. It doesn't matter what evidence you offer. They will even go so far as to say the evidence you offered can't be recognized because it's possible to doctor documents. Well what's the point of requesting the evidence then? Your account will go negative and they will refuse to help you and act dumb until you give up. Then they will send collection agencies after you.
This is an organization of thieves that will steal your money, or at the very least lock it up for 180 days while they make interest off it. Customer service and dispute resolution is in the Philippines. These people have no idea what's going on and just stick to a script, if they can read it. They tell you what you want to hear and then limit your account in the middle of the night. They are there to act dumb and wear you down, every time you call in it's a different person who doesn't understand the story or is not capable of reading the evidence, emails or photos you've provided at their request. NOBODY IS ACCOUNTABLE. So there is no one to actually help you when you've been screwed over by a customer that thinks they can keep the item and the payment too.
I even had a case closed in my favor once. I was told the buyer lost and they accepted my evidence showing the buyer lied in his claim. I was told the claim was permanently closed. Not 24 hours later my account is negative. They reversed the claim without telling me after saying it's permanently closed. Claiming that they can't use the evidence I gave them because it's all messages through eBay. They said messages through eBay can be faked and they can't confirm it. Are you serious? Frauds. Thieves. Evil illiterate morons that will literally transfer you to a supervisor that will LAUGH at you when you ask why the permanently closed claim was reversed. Stay far away. Never. Ever. Use. PayPal.

Purchased 2 PayPal My Cash Cards May 15th 2017 to add fund to account to pay bills online. Purchase went through fine. Went home, entered PIN numbers, kept coming up ERROR; would not allow. Contacted PayPal; only to be transferred a numerous times; with no resolution; only then being told these cards were discontinued May 8th/9th; that I needed to make copies of cards purchased, my ID, utility bill, along with purchase receipt. I suggested as it was on PayPal not informing stores or customers the discontinued cards, I should be able to return them for my refund. PayPal only said "yes, go try, if the store will allow." I did just that; store was very willing to refund; the problem was they could not at the register, PayPal had deactivated, and rejected for refund. Phoned PayPal directly from the store; store person also spoke with them; as the store was NEVER notified of the discontinuance either.
PayPal then said with my phone take pictures of all items (listed above) and an email would be sent within 24 hours, with necessary PIN to add funds to account. That never happened. Phoning them again; given the run-around; PayPal very rude about the situation, not admitting this was their fault, told me now they had to mail a paper check. In this day and age; a paper check!! I asked if I could send them an invoice through my PayPal account, in which they could refund me. I have not heard back from them.
I am still in the process of going through channels to get money refunded. Not only amount that was to be put on the card, but the fees for the cards, along with late fees on bills I was to pay; due to their negligence. They have since froze my actual PayPal account. I believe they did this on purpose; not notifying customers or stores selling these cards. Some stores as of today, still have these cards on the shelves; have not been notified. After reading some of the other complaints here; I believe they had planned to do this; in an attempt to steal all they can. I am submitting complaints to Better Business Bureau, along with a number of other offices, news outlets and so on. This is on PayPal. Not only my issue; from what I have read on this site; everyone here has a legitimate claim against these frauds. PayPal has turned out to be nothings but frauds.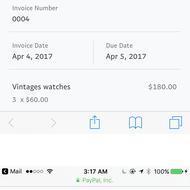 I've been using PayPal for almost a year now. Just recently I filed a dispute claim. The seller was supposed to sell me some vintage watches (as stated on the PayPal invoice). Instead I received a controlled substance (medicine that is not allowed to be shipped, like narcotics). I informed PayPal and wanted my money back. They then informed me to ship it back to the seller. I have 2 issues with this. I have to pay to ship the wrong product back, and it's illegal for me to send them back! I sent them proof after proof and they still were not happy. They told me that I had to contact a government agency to make the complaint. So I made a complaint with the US Postal Inspection Service and that was not good enough. Then I filed a complaint with the US Department of Justice Drug Enforcement Service and that STILL was not good enough.
Now during all this time, I had to spend a crazy amount of money on faxes as I do not have a fax machine and they would not accept emails. What company in the 20th century does NOT use emails? After over a month later when they had me running around doing all this stuff, they favored the seller and the seller won the case. Ironically, I have an email from the seller professing he is guilty, he said he had to pay off the DEA and they caught his shipper. He even asked me at one point to tell PayPal that I lied! PayPal ignored that! So now, I'm down $250 and over $50 in faxes. PayPal's motto is that they "protect your money". That is totally wrong! They protect the seller's money, that's where their revenue comes from. So please be wary of using their services, I will never again use their services. They are liars, they take money when they want and take their sweet old time to return money to you. If you are smart, then DO NOT use their services!!!

I bought a storage rack on eBay and found the package at my door, badly damaged. I immediately took pictures and sent them to the seller. Opened a complaint with eBay the next morning. I was made responsible for pick up cost which I did not feel responsible for. Item was posted as new not, new ¨other¨. No pictures of the damaged box. eBay and seller were taking their time so I called PayPal informing them about the problem, was asking for advice. They said to talk with eBay and connected me with eBay resolution center. PayPal never informed me that by talking to them they automatically take over. What that means... Different policies than eBay. No buyer protection. They don't care about damaged packages, I now need to pay full shipping and pick up fee, which is about $100.
In other words, I am out of luck. Spending $100 to get back my $104. What kind of a business is this. They said my option is keeping the damaged item or paying $100 to return it!! That's PayPal. No buyer protection!! eBay had sent me an email that the case was resolved in my favor, to keep the item and get a refund. PayPal says no, they took over and are in favor of the seller who lied!

Without complaining about their ridiculous fees that have been tacked on to every eBay sale, I can say, with confidence, that I will never use PayPal again. Not only is my email address signed up for another user and apparently this is okay (even though my friends could easily make the mistake of typing my email address in for payment), but the email I created specifically to use PayPal was locked for NO REASON (confirmed by PayPal's garbage customer service after a ridiculous hold time).
After confirming my identity, their app told me that my account would have access in two business days (which is already unacceptable). Two WEEKS later, I still have no access to my account... btw... they don't have weekend customer service, so in my free time when I would try to work this out, there was no one to help. I had to call their garbage customer service line during my work day and wait 20 minutes to talk to someone just to find out that my account was locked for literally no reason. Never using PayPal again, and never selling on eBay again.

It is very horrible service I DO NOT Recommend PayPal to anybody. First I sell one item by eBay then the item arrive and I also add the tracking number by the website, after the other person receive the item they make me wait til 10 days to get the money available on my account so they hold my money. After that I request to transfer my money to my bank account. They make me wait 5 days and I receive an email that said "your money cannot by transfer." That's horrible.

I've have used PayPal for year on eBay and in North America with no problems and no need to use the policy. On online store in Hong Kong accepting PayPal advertised a(n) 100% refund on return shipping cost in "perfect PayPal policy." Returning the defective product resulted in a total loss of the cost of the item as well as the shipping. The process cuts the customer out and dictates the terms, which I followed. However, they were not communicative or interested in store misrepresenting their brand. My credit card itself has a better buyer protection against store selling the same defective products repeatedly. I view PayPal fee structure to be kickbacks. I will not use this service anymore.

I sell pond liner and have for many years. I have had a PayPal account since they opened up many years ago. I sold pond liner to a customer who has purchased other liner from me before. When he received the new custom liner he called and said, "I think it has a hole in it." It either does, or does not! I told him to take a photo of the liner and send it, then I would look at the problem he could not seem to describe. I will also say there is a language difference here so all of this conversation was done via text, he in CA and me in WA. I asked for the photo 3 times and also explained that if there was a hole in it he would need to return it to the manufacturer and we would refund his money if they determined it was a factory defect. Somehow, I got the feeling he was scamming me but I thought I had handled this very professionally. I don't get complaints, nor have I had one in 17 years.
He never send a photo, therefore I had no idea if it had been damaged or not. I truly believe he damaged the liner while trying to install it. In the meantime he ordered another Firestone liner from me and picked it up in WA. I sent text after text never hearing another word, nor getting the photo I requested and he promised. I took no more action on his complaint because he did not follow through as promised and figured since I had not heard from him he had determined the liner did not have a hole in it. A few days later I received an email from PayPal telling me he had opened up and escalated a case against me in the amount of $604.00. I immediately went to my account because I always keep funds in it for business. It was $604.00 less and PayPal never even contacted me to ask if they could take MY money out of MY account.
I wrote up explanation after explanation, I did not deal with those who answer the phone but always with a supervisor. After weeks of going back and forth I finally received an email from PayPal telling me the case was settled in MY favor and the $604.00 was returned to my account. End of story... NOT! I immediately took that money out of my account and have kept a very low balance now knowing how PayPal works and that I, as their client, was not being protected in any way. After about 2 weeks I received another email from PayPal telling me that my customer had gone to his credit card company and made a complaint and from there the credit card company took on his case.
Remember now, I still have not gotten a photo of the "supposed hole", nor had he bothered to return the liner. He had 30 days to return the liner for a full refund but never did follow through. The other side of this incident is the fact that it would have taken a small patch to fix any hole, if it had one. PayPal assured me that they now would deal with his credit card company and would support me as I had proved I was in the right. PayPal told me it could take 75 days to get a new determination from the credit card company. I came home tonight and the message from PayPal said that unfortunately the case was won by the BUYER and asked if I would please add the money back into my account so he could be reimbursed. Since this had been going on I did not keep any funds in my account as I used to.
I am so incensed at this moment I could scream. Not only did my buyer get to keep the liner but he expects $604.00 to be repaid to him. I will not add that amount back into my account and tonight I have written to them and I will close out my PayPal account after 17 years or so. How sad that something like this can happen and I have absolutely no way to make them understand. I was scammed and will not be party to the end result in his favor.

I paid for a Samsung Gear 2 watch March 23, 2017 thru PayPal. I sent the watch back April 6, 2017 and it was received April 10, 2017. I put in a dispute more than once trying to get my money back. Needless to say I haven't received my money. PayPal need to retrain their staff. I paid 295.60 for the watch. PayPal suck.

Sold a puppy to Ruthie. She sign my contract. Give her 3 days to take to veterinary see if he was sick. He was playing, eating, nothing wrong with him. She never call me or showed me a veterinary report. She broke the contract. 4 week later call say he was sick. She must have done something to him. Now PayPal give her all my money back and I don't have the puppy. Don't ever sell anything thru PayPal. They will steal your money.

ConsumerAffairs Research Team
The ConsumerAffairs Research Team believes everyone deserves to make smart decisions. We aim to provide readers with the most up-to-date information available about today's consumer products and services.
PayPal was founded in 1998, and eBay acquired it in 2002. The company now has nearly 200 million active customers, and in 2015 the company hosted approximately 4.9 billion transactions. Customers in more than 200 countries can use the company's services and hold money in their accounts in 25 different currencies. Consumers can use the service to transfer money to other individuals, pay bills, make online purchases, make donations and obtain financing.
Online payments: Consumers can use PayPal to check out on millions of websites. Those who are uncomfortable putting their credit card information on lots of different sites can pay with PayPal, ensuring their information is stored with a single company.
Credit: PayPal Credit is the company's financing option, which lets customers have flexible payment options. It can be used online, in stores and even to send money to someone else. Availability is subject to credit approval.
App: Using the PayPal app, customers can make purchases in brick-and-mortar stores with their PayPal account, send money from their mobile device and check out with PayPal when shopping on their device. The app is available for Apple, Android and Microsoft devices.
Recurring payments: Consumers can use their PayPal account to set up recurring payments for subscriptions for a variety of services, including Spotify, Netflix, Angie's List, match.com, ancestry.com and more.
Fees: Customers do not pay fees when they make a purchase with their PayPal account. When consumers send money to another individual's PayPal account and use money already in their PayPal account or in a bank account linked to their PayPal account, there is no fee.
Best for PayPal is best for individuals who want to make payments online with more security and/or transfer money to family and friends.
Compare Money Transfer and International Money Transfer
Company Name:

PayPal

Website:

https://www.paypal.com