Consumer Complaints and Reviews

I purchased a pair of bicycle shorts from a vendor "TradeInn" in Spain, from a website in which only XXL size shorts were available. They sent two S small sized shorts and gave me the runaround in trying to return it. They would not pay for the return shipping which could run up to 1/3rd the cost of the purchase. After a complaint with PayPal was registered, PayPal judged that I should pay for the cost of shipping, even though it was the fault of the company in Spain.
I do not trust the company to say they will give me credit for the shorts when returned. So, instead of paying an extra $20 bucks in shipping, I'll cut my losses and try to sell the shorts somewhere. This shows that PayPal plays favorites with foreign country vendors to the detriment of USA buyers. They would have asked the vendor to supply a prepaid postage label if it was a USA company. Frankly, most USA companies would have given me a free prepaid postage label, without asking. Bad, very bad call by PayPal.

It took me 3 years to realize what type of scumbags I was dealing with. These people are the worse, the eBay buyer can do no wrong. The buyer opens the brand new items I shipped him and swaps them with the old stuff that he has. Only to find out that eBay and PayPal are siding with him. Remind you, my rating as a customer was 5 stars and no negative feedback. Until this bum came outta nowhere and decided to screw me over. I'll figure out a different alternative to these two because they're just not worth the time. The representatives always say the buyer is more important. I always wonder how is that even factual because us sellers provide the merchandise and give eBay and PayPal a cut of the money. There's no loyalty with these people, it's time to find a new home...

My PayPal account was put on limitations because I put in disputes to one company. It was resolved by the seller and myself. But PayPal went and put a limitation on my PayPal account. I am expecting payments and I have made payments in the meantime therefore I am going to lose a lot of funds because of this. I have had this account for 12 years and never had this problem before. I was told this would be fixed and then I was told this account was closed. It is still open but I cannot use it. I don't understand why they don't close it then. I have been trying to get this resolved all weekend but no help from PayPal. They do not care at all about their customers. Horrible company. They should not be in business.

December 16th, I purchased an item off eBay for $221.99, of which was listed as in stock and more than 10 available. On Dec. 9th, company emails me stating he doesn't have that item because they were "backordered" (the item is a discontinued product and is completely unavailable anymore). I offer to compromise and accept any of 3 other items listed, seller doesn't have any of them either, so we agreed to me getting a refund. Week later, seller claims he was unable to return my money. I file complaint with eBay for fraudulent listing and PayPal claim (after several hold times over an hour, getting hung up on 3 times after waiting on hold for 45 minutes, etc.) just to get my money. They tell me "If we don't get it from seller by 31st, we [PayPal] will refund the money directly" to me.
On the 30th, they tell me seller won't respond, I'd have to contact eBay. On the 31st eBay tells me they can't return money to PayPal. I needed to contact seller, seller won't respond to any of us. After several unsuccessful attempts to get help in resolving the issue, I (along with many other angry customers) put a complaint on PayPal's Facebook page. They ask to private message them to discuss it. Funny, they had ZERO interest in helping prior to making their poor customer service public. On Jan. 4th, I call them again, and finally, after couple more hours arguing and waiting on the phone I get my money refunded to my account.
28 days to get my money back from a fraudulent eBay listing. Seller sending me rude emails for filing a PayPal claim 14 days in. And eBay still allowing seller to continuously re-list items he not only does not possess, but can't get. Top it all off, said products, and several others, are currently (fraudulently) listed on eBay as in stock and more than 10 available by this seller. And they just allow seller to continue committing fraud on their website. I've done tens of thousands of dollars' worth of business with eBay/PayPal over past 11 years. Should be treated as a valued customer, and been protected as a consumer in the manner that the company claims they provide. Not impressed, not happy, leery of ever doing business with either company after this.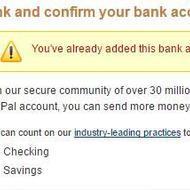 As Treasurer for our nonprofit, I've been managing the bank account and PayPal account for years. When I took over, they told me that in order to change the primary contact we would have to close the account and set up another one! So we just left it as is. Now that the former Treas. is no longer in the organization, I followed PayPal's idiotic instructions to the letter to become the primary contact (copy of Social Security card, photo ID, bank statement, letter from the nonprofit with instructions, weekly bowel habits [kidding there]). Never heard from anyone.
In the meantime, they sent instructions to re-verify the bank account. So I did that. They said two small deposits would show up. They never did show up. Then they told me I had to re-submit all the personal documents. In the meantime, our account is frozen and money piles up. If I try to transfer the system says I need to increase the limit. I go to that link. It says to verify the account. I enter the data to verify the account and it says the account is already verified!!! I'm on the phone with them right now, on hold for a half hour. If this isn't fixed by this phone call I'm going to sue them. Find someone, anyone, else to process your payments.
How do I know I can trust these reviews about PayPal?
669,639 reviews on ConsumerAffairs are verified.
We require contact information to ensure our reviewers are real.
We use intelligent software that helps us maintain the integrity of reviews.
Our moderators read all reviews to verify quality and helpfulness.
For more information about reviews on ConsumerAffairs.com please visit our FAQ.

I recently got my account limitation due to transactions that I call to return or cancel. They said that I am a scammer but I deeply explained to them that I bought a lot of things online especially on Ebay and they said they're doing this to block me from using PayPal. Luckily I have all of my money transferred to my bank if not they may holding my money without my permission. Also, I told them I want them to remove my personal info as I am not their customer but they refuse. I also said that I will file a lawsuit and they intimidated me that "you think just only you can win PayPal." He also said that I don't understand what personal right is. Also prevent me from other users. I feel like sellers sold me bad item, I got my money back, I paid for shipping, but I am now a scammer.

2 months ago, I've ordered 5 items from Modlily.com and checked out with Paypal. Modlily has not sent me any confirming email or shipment notification, so I opened up dispute with Paypal who already took my money. Within 2 weeks I have received a shipment from Modlily. That did not contain any documentation, was short of 1 item and 1 item was defective. Modlily advertised free return within 30 days, so I contacted them through PayPal. They've told me there are no free returns.
Meanwhile Paypal has sent an email requesting I send the documentation of the dispute to a 402 area code fax number. Even if I had documentation, such faxing would have cost me $10, so I spoke to 3 different Paypal representatives, who were all in Philippines. Finally 1 of them told me to file a complaint with ic3, naming Paypal as both the victims and the perpetrator, and to email this complaint to ica-na@paypal.com. I have received confirmation of that email. 1 wk later Paypal closed my dispute in favor of Modlily for the lack of documentation! Never trust Paypal with your money!

On December 15 I won a auction on eBay for an iPad Pro 128 GB 9.7 inch screen brand new in box. I won the item for $511. I promptly paid and waited for four days. I then emailed the seller six separate times and asked him for a tracking number and when the item will ship since it was a Christmas present And the seller never responded. Since he never responded to any of my emails I contacted eBay which stated they cannot open a case because payment was still pending and to notify PayPal even though I had paid with 350.00 in gift cards that now have no balance and my checking account was withdrawn the remaining 161.00. I contacted PayPal and they said that the seller had received payment. PayPal then asked the seller to provide them with the tracking number. He provided them a tracking number which stated the city that it got delivered to but not the address and it's at a lightweight package.
So after a week PayPal denied my claim saying they had a valid tracking number. So then when the post office opened after the holidays I contact them. This was actually a tracking number that came from Amazon and went to a completely different address but in the city that I live in. I have now contacted PayPal again to no avail. I contacted Amazon. They confirmed that the tracking number had come from them and that the seller's account was on hold because of fraudulent activities. I also let PayPal know this and still to this day I still do not have my $511 back. PayPal has given me every excuse. They say to contact the seller. I keep telling them that I have tried to contact the seller. I even had a three-way call with eBay telling PayPal that yes I did email the seller and he has never responded and item still shows not shipped.
I had a three-way call with PayPal and the post office confirming the address was not mine where the package was delivered to. I also told them to call Amazon and their response is they cannot make outgoing calls. I have been a PayPal customer for a very very long time and after the ordeal I will not be with them anymore. They do not protect you from Fraud or scams. All they care about is they got their money and if you're out $511 that your own fault. So be prepared if you do have a problem with PayPal. They will not stand behind you. I will probably have to hire a lawyer to get all the documentation to prove something they already know.

Through EBAY I sent my IPADs to be repaired. The merchant repaired the screen but in the process, damaged the charging dock. I can no longer use the charging dock. Ebay said the service wasn't covered and to go to PayPal. PayPal did nothing. They said that as long as they sent it back, the item wasn't covered. Imagine that. You ask for an item to be repaired and as long as they send it back to you, it doesn't matter that they return it broken. Don't use PayPal. Charge only to your credit card. At least credit card companies are reputable.

If PayPal knows this is a real thing, why don't they find a way to fix it??? This is one of the reasons I quit using PayPal, they did not take care of their customers! I began talking to a Breeder, Shanna ** in Patterson, GA, Dec, 24, 2016, about purchasing a 100% European Great Dane puppy. In the ad photo I noticed the tail was kinked or appeared odd and I specifically asked her if the tail had been docked (Danes tails should be long). Shanna stated "It just appears that way in the photo." (I have a screenshot of our complete and entire conversation, and photos.) I believed her at the time, because why would I have a reason not to. I believed nothing was wrong with the tail and passed it off as the tail being folded over by the owners arm.
At that time, Shanna did not elaborate on anything other than that so I thought nothing else about it. We were discussing "Full Registration", because I myself am a Breeder and have been looking for a Mantle Female for some time. She stated that the price would change from $2300 Pet Price to $2500 Full Registration, I said that is fine. I asked her how much her deposit was, she didn't say exactly what her deposit amount was, she just said that "Everyone else was paying half now and then paying half at pick up." While I was talking it over with my husband, she continued pushing the puppy, she's gorgeous, her pedigree is stunning and excellent.
She also stated that she came with a HEALTH GUARANTEE, VET CERTIFIED, UP TO DATE ON SHOTS. I sent her a photo of my stud while my husband was debating the puppy, he wanted the puppy with more black. She gushed over my stud. She sent baby pictures of the puppy for my husband. (No tail shots.) I told her "I would put $1500 towards the puppy". That's when she sent me her PayPal. me/** account. I have She stated she would mark puppy as sold. She sent me a message back right away asking me why the amount was only $1456.20, and not $1500?? I told her "Maybe it's because I got insurance". She then stated "If you had done FRIENDS AND FAMILY THEY WOULDN'T HAVE TAKEN ANY FEES".
I told her I would just add the fees to the next transaction, because I did not want her to refund it. Shanna refunded the money that I paid insurance for knowing that if I paid "Friends and Family", I wouldn't be able to disputed it after the fact. (I know that now.) After she refunded it and I said I wanted her to wait she just said "CRAP!" I should've known I was being taken right then! But like a dummy I sent the $1500. Three days later I asked for some updated photos, she sent me a couple videos and a photo. THERE WAS THE SHORT TAIL WITH A KINK AND IT'S CROOKED!! As a Breeder, and purchasing her for that purpose, I cannot ethically breed or can I show this puppy with her tail, especially if it WASN'T DOCKED by the breeder or a vet.
When I originally asked Shanna about the tail being docked she should have been more forthcoming with information about what had happened to it. I have asked her about the tail after seeing the photos. Shanna gets angry, she wants me to say if I want the puppy or not right now. No, I want answers, I researched the Stud to the puppy and he also has a kink in his tail! Coincidence or Genetic? I can't take that chance, especially since Shanna knew the purposes of why I was getting this puppy. I have tried to reason with her, and ask for my money back, she refuses. She stated she would take $200 off of the price and sell her to us as a pet for $2300. We didn't agree to a pet. We agreed to a Breeder.
Shanna has an ad running for a male and female Dane now. I asked her if we could trade our female for that one, she told me no, because it's not for sale. She has it listed right now, but it's not for sale? I told Shanna that I felt like I was misled into buying a puppy I cannot ethically breed, she'll just ask "Do you want her or not???" I did go to my Veterinarian I use regularly, I also use her as a reference for my puppies. I would NEVER sell anyone or mislead my clients about my puppies. My vet does believe that the tail on the puppy is genetic, especially since the Studs tail is similar. And the puppy was born with the short, kink in her tail that she has. I did receive an x-ray of the Studs tail, but not the doctor's notes on the tail. To conclude:
1. Shanna ** offers a Health Guarantee, I would literally hate for anything to happen to a puppy that someone already has in their possessions. She still has ours, it's only 6 weeks old!
2. I feel I was pushed into using the Friends and Family, all because I mentioned the insurance. By Law breeding and "Selling Animals" is selling "Goods"!
3. Also Shanna hid the tail from me until she could "VERIFY" the funds I sent to her. Then she sent the photos of the puppy showing her crooked tail.

I was sending money to a friend of $400 and used the wrong number to send it to. That person instantly accepted my money and there was no way to cancel it. I opened a dispute but PayPal dismissed and erased my notes, and closed the case. Tried calling using the phone number and all it did was redirect me to the website. Is there anyone I can speak to?

Took money for goods that were not delivered to my address but to another address in another county but because tracking shows it was delivered there is no refund and no way to appeal. Paypal's money back guarantee is worth very little.

Paypal has immense problems processing cross border transactions. They have failed 11 of 14 transactions. Average resolution of first 10 issues; was 6 days and 5.5 hours on the phone. The last problem they created has snowballed to 18 transaction issues. Paypal has admitted their negligence and have 'stolen' over $10,000.00 from myself and two suppliers. They froze all of our accounts and have refused all requests to resolve. To date over 95 hours on the phone since the first unresolved issue going back to Sept. 13th, 2016.
Paypal have repeated lied to us about promised call backs (47 lies! No one ever called back). Paypal admitted that their unauthorized transactions are deemed FRAUD. PayPal made multiple unauthorized transactions on our accounts. They say that everything is fixed - yet we have lost our money. AND... nothing works yet.
Paypal is a CROOKED morally corrupt and unethical company. They promote a culture of LYING and theft. They have taken unauthorized "FEES" from our accounts to correct their own mistakes. Stay tuned. We are taking Paypal to small claims court to recover damages and publish their illegal actions so the world can see how crooked and dishonest the executives are.

I have a 100% perfect rating with eBay, spent a lot of money in past 2 years and a Seller screwed up the transaction and then used Amazon to fulfill the order costing more, etc. eBay was a total joke and sided with the Seller who already has a bunch of similar complaints for the past 30 days! I contacted PayPal regarding a $10.15 return label charge for a $26 book order that the seller messed up on resulting in 2 book orders canceled, etc. eBay did not explain or inform me I would be paying this outrageous return fee on top of all the BS with the Seller! USE Amazon, they are very fair with their customers, always resolve the issue and don't RIP off their customer!! PAYPAL resolution's investigation of my unauthorized charge was a complete JOKE and obviously they support eBay over YOU!
It was not the $10.15 charge, but the PRINCIPLE of the entire transaction starting with eBay and ending with PayPal. After contacting PayPal and explaining the entire ordeal in detail and offering email communication with the Seller and eBay to support my complaint, they never even bothered asking me for it. Their decision was in favor of eBay. WHAT DO WE NEED PAYPAL FOR ANYWAYS, SO THEY CAN USE YOUR CREDIT CARD TO MAKE MONEY ON MERCHANTS! Don't use PayPal, use your credit card and then if you have a problem, at least you can really DISPUTE the transaction with your creditor which is on your side!

I've done my 90 days and they're still holding my money. They treat you like you're a thief. I always get positive feedback and every time a customer pays, they hold my funds. PayPal sucks! They treat you like a thief but they're really the crooks. I hope somebody comes out with something that trumps PayPal. I hate PayPal!

Need to leave South Africa go to Scotland for good. Qualified trades can't get work in South Africa. Got Visa. My account with GoGetFunding and PayPal 30 days no money. Tried adds. 9 million don't have work in South Africa. China has flooded South Africa with their goods.

I have a friend who received a statement last May from PayPal in the amount of $39.00, but with no explanation of what the charge was for. He tried to contact PayPal via their website and also by phone in hopes of getting an answer concerning this charge. No such luck. Meanwhile, late fees are accruing on this account, which was closed at his request. His last statement on November 3, 2016 was $158.00 with the threat of outside collections action. Why is PayPal unable (or unwilling) to provide itemized statements? After witnessing the frustration my friend is going through, I finally wrote them a very nasty, demanding letter telling them to research his account thoroughly and find where the original charge came from. We are not holding our breath.

I have now spent about 25 minutes (and waiting) to make a donation. Their website does not work. It keeps asking me to verify my account. I do what it says and nothing happens. I called. Put on hold. Talked to one rep. Sent to another. Put on hold again. This is MORE TROUBLE THAN ITS WORTH!

I've been a Paypal member for a long time. My account is in good standing as both a buyer and a seller. Last month, I placed an order with a company I have done business with before. However, there was a problem with my order so I canceled it with the intention of placing the correct order afterward. Paypal is supposed to hold refunds for 3-5 days. Mine Sat for over two weeks before I lost patience and contacted them.
Initially, they were very helpful. I was told there was a "glitch" with the refund system and that they would credit my account with the held amount. Once my refund cleared, they would withdraw the account credit so that we were even. However, they also warned me that if I were to spend the credit my account might go into the red.
The credit was placed in my account. I opted not to spend it so I just let it sit while I waited. Unfortunately, the credit was prematurely withdrawn and my original refund still showed as pending. I contacted the support team again with my concerns. I was given yet another credit, even after I told customer service that all I wanted to know was when I could expect my funds to clear. This time a supervisor contacted me and I was told this credit was a permanent payment to make up for the pending refund.
On December 18th, nearly a month after my refund was placed into pending, the second credit (the one that was supposed to be a permanent reimbursement) was again pulled from my account. On the same day, I received a generic email from Paypal saying the recent problems with refunds was corrected and that the funds would all be released soon. This has not happened yet. As of now, my account still simply shows my refund as pending.
At this point I am frustrated. This has been a huge inconvenience. The support team has been unreliable and all I want is my refund. I don't want account credits because I don't want to risk them being pulled again without warning and having my account go into a negative balance. I originally paid with a Paypal balance, so I don't understand why this is taking so long.

I have been a PayPal user for more than a decade and after this time faced what I found an inadmissible behavior. One year ago I paid for a host provider service, which actually turned out to be useless in a matter that I wouldn't renew it in any way. Last week PayPal informed me that I had authorized a periodic payment. Anyway, I know we ought to be the first carers of our self, but I just wonder if it wouldn't be much more honest from PayPal instead of giving me notice of something already done to give me notice of something to happen? I actually disregarded somehow to whom I was trusting my credit card. Upon call PayPal turned out that most conveniently they only had six month of history of my account. How weird is that? In the end it seems we can I have a billing agreement (whatever this means) for a service we neither get or which for, just because we trust PayPal our credit card info and nothing else matters. Watch out.

PayPal is the worst and I am initiating a class action lawsuit. The resolution center is a joke and has no bearing on justice. Please save yourself the aggravation and time of even trying to respond to a claim as it simply DOES NOT WORK regardless of what kind of strong evidence you may have.

For days now their withdrawal has been broken - telling me "Sorry, we're not able to process your request. Please try again later." So I waited days and I am still getting "Sorry, we're not able to process your request. Please try again later." when I try to withdraw. And what is this certification? Consumer Affairs forced me to check that "I have no personal or business relationship with this organization" in order to post this review but that is false. It's PayPal... of course I have a relationship with them (all account owners do). This is notice to Consumer Affairs that I do have a relationship with PayPal so ignore the ridiculous forced certification that I was forced to check.

If you want to be scammed, use PayPal. This is the company which keep supporting the online fraud and scam. Whenever the buyer send money via PayPal and claim the charge back, you will lose the case and money. The PayPal will charge another $20 charge back fee from the sellers. The PayPal will try its best to lose the case for the seller, since there is another $20 profit for the company! The company says they are verifying the credit card and bank account, but this is **. Please tell me how come there is unauthorized transaction after the credit card has been verified. Stop using this ripoff company. You will end up losing money!!!

PayPal advertised that they are a safety deposit box etc! They are by far the Worst!!! My Bank charge me 2 insufficient funds fee because of them!!! Spoke to a "supervisor", she was absolutely no help!!! The worst customer experience I have ever experienced. I will make it an effort to let everyone know how unprofessional these people are!!! Extremely frustrated and they can not help anyone!!! By far the worst customer service ever!!!

I found what was supposed to be a good (I found this was a lie) security software for my computer. I also found out later, after I paid, this company is based in Bosnia. The advertisement claimed I would receive the software immediately upon receiving payment VIA PayPal, this was also a lie. Five days later, I receive an email from the software company with my links to the download for my computer security software, and it was labeled "gaming software". I did not order gaming software. I ordered Firewall, Anti- Malware, Adware Blocking, Virus blocking/removal, etc. To top it off, none of the links (click here) buttons would respond to my attempts to download. I contact PayPal concerning my negative experience with the software I purchased from the Bosnian shyster company that sends email links that do not function as I was led to believe they would function.
PayPal claimed they would contact the seller to get my refund. What? All of a sudden it is not part of the agreement with PayPal, it is based on whether or not the seller wants to refund my money, and it is PayPal of Bosnia that is in charge of my claim. I was never informed during the purchase that I was paying any company outside of the U.S.A. because I was using USD currency. It was requested of me to send several documents of which I had none of.
Where do I get links to send, consisting of "gaming platform" (still this gaming keeps popping up), links to a site that had the nonfunctional links (?) how do I send a link of a nonfunctional link that was part of an email (Which I did forward the dysfunctional email link), and how does a person send a link from who it was that informed me about this shyster company, when it was a local computer store that gave me the information (and nothing on their site has any information about good products they recommend)? PayPal denied my refund request from a dysfunctional software company with reasoning based on my claim of a bad email with dysfunctional links, though their reason was the company had advertised a product accurately. Again, WHAT? How does PayPal know if the way this company advertised anything was accurate or not if in fact PayPal never received what I received?
PayPal does not want to issue refunds based on the fact PayPal does not get paid unless their selling customer gets paid. Very easy to read this reasoning as to why PayPal decides in favor of sellers, regardless how good or bad a seller's product is, COMPLETE SCAM BY PAYPAL!!! And this is not the first time I have had a bad experience with PayPal, and as well, I have known many people who have had equally bad or worse experiences with PayPal. The name of PayPal is very misleading, it should be Paynotpal!!! And by the way, the shyster software company is "Bitdefender", based in Bosnia.

I'm so disgusted with PayPal. PayPal policies, rules and regulations are completely and utterly set up one-sided for buyers and buyers only. I've dealt with PayPal since last year till now. I sell collectible toys on eBay, once you start as a seller PayPal have this policy to protect the buyer from the start. Once you sell an item you are not allowed access to your funds. Instead they're put in a pending balance which will clear your money within 21 days of the purchase or if the item has a tracking number and can show delivery you might get that withheld money released. In other words when you sell an item the buyer received the item can have the item for awhile but yet you who sold the item are not allowed to have your money until PayPal feels like releasing your money.
The funny part is that PayPal literally takes their fee out of the pending money (your money) that you yet can have access to? This is completely unfair to seller. Once you complete this probationary period supposedly from this point on your money is in your account the date the buyer purchased item. Funny things is I went through that process and finally got past the 3month waiting period, but then I stop selling stuff for a while and when I did start again sell a few months later I had to go through the probation period again. Which I'm dealing with now. Recently some money from an item I sold almost 2 weeks ago was finally cleared. I then transferred the money to my bank account. Here is when the funny stuff PayPal does caught my attention.
According to PayPal policy depending on your bank or Familiarity to said bank it can transfer your funds within 3-5 more days or if your account as been active you can get that transfer faster, within one day as long as transfer is before 3pm your funds will be there next day. PayPal literally has a payout time chart you can see. Either way I transfer money to my bank which normally is there by the next morning, but to my Dismay it wasn't there. So I called PayPal and was told there was a glitch and that the transfer would be reserved and that I had to transfer it again. After doing so I was informed my money would be in my account the next day, well today being the next day and my money was and transfer and still pending said password.
Again I spoke to a supervisor named Elijah and he basically told me I had to wait for my money to transfer to my bank, that it was out of his control. And that all he could tell me was that maybe Friday it would be in my account? What? So I have to literally wait another week to get MY money because PayPal feel like it? How is it that this company is allowed to practice politics that a normal business would get sued for. I will no longer use PayPal ever again. Once I get all my money from PayPal I will close and delete my account. Scammers, Ponzi schemers, who has the government allowed the to operate like this.

Started getting spam email from them, tried to unsubscribe and didn't work. Called them to get it stopped and they wanted more personal info, and told me I had an account. Said the only way to get rid of it was to give them info about the account, which I don't have. Not giving them MORE info... No way. They really suck.

I purchased what I thought was a turnkey website on 12/5/2016 from ABC Design Studio. After I purchased it they asked me for my GoDaddy password. That made me uncomfortable. I visited the site and the links were not working. The website was not complete. I made a complaint and was told that I would not be granted a full refund. I will be escalating this on all levels that are available to me. Even to the point of making a claim in court if it goes that far. This is ridiculous! Where is the protection for the buyer.

I'm not even gonna explain the whole scenario, because it's the same one as everyone else's, they decided to wait until I had quite a bit of money in my PayPal account, to finally inform me that it was frozen for the next 6 months. How it is allowed to continue, I will never know. But I'm not gonna complain anymore.

I have tried to make a large payment through Paypal. As expected they blocked it. Unfortunately instead of explaining why they just asked to call them. I called and had to wait 3+ hours to finally talk to someone, who told me that my payment was larger than usual. My payment is indeed larger than usual, so I asked if the restriction could be lifted. My interlocutor was clearly clueless about how to resolve the problem, and gave me a solution that had no chance to work before hanging up. I called again, had to wait 30 minutes on the line before talking to someone who tried several "adjustment to my account" with no further explanations, and finally told me that he made one last "adjustment" but I had to wait a few hours (was it a way to get rid of me?).
I waited and the solution did not work. What happened is that Paypal decided to block my account. At this point I can't do anything. The resolution center is blocked too. The other person is still waiting to get paid, and we are working towards another solution. So to both merchants and users, please avoid PayPal. It is a piece of junk software and just a pain for everyone involved.

ConsumerAffairs Research Team
The ConsumerAffairs Research Team believes everyone deserves to make smart decisions. We aim to provide readers with the most up-to-date information available about today's consumer products and services.
PayPal was founded in 1998, and eBay acquired it in 2002. The company now has nearly 200 million active customers, and in 2015 the company hosted approximately 4.9 billion transactions. Customers in more than 200 countries can use the company's services and hold money in their accounts in 25 different currencies. Consumers can use the service to transfer money to other individuals, pay bills, make online purchases, make donations and obtain financing.
Online payments: Consumers can use PayPal to check out on millions of websites. Those who are uncomfortable putting their credit card information on lots of different sites can pay with PayPal, ensuring their information is stored with a single company.
Credit: PayPal Credit is the company's financing option, which lets customers have flexible payment options. It can be used online, in stores and even to send money to someone else. Availability is subject to credit approval.
App: Using the PayPal app, customers can make purchases in brick-and-mortar stores with their PayPal account, send money from their mobile device and check out with PayPal when shopping on their device. The app is available for Apple, Android and Microsoft devices.
Recurring payments: Consumers can use their PayPal account to set up recurring payments for subscriptions for a variety of services, including Spotify, Netflix, Angie's List, match.com, ancestry.com and more.
Fees: Customers do not pay fees when they make a purchase with their PayPal account. When consumers send money to another individual's PayPal account and use money already in their PayPal account or in a bank account linked to their PayPal account, there is no fee.
Best for PayPal is best for individuals who want to make payments online with more security and/or transfer money to family and friends.
Compare Money Transfer and International Money Transfer
Company Name:

PayPal

Website:

https://www.paypal.com