Consumer Complaints and Reviews

I've been using PayPal for an extremely long time. I have used them since about 2014. Every time I purchased something online, they would automatically take from my PayPal balance first, then take from any attached payment method. That's not the case anymore. They still have the saying that they will take from your balance first, but that is simply false advertising. This has happened to me for the past few months when purchasing with PayPal. My most recent one was a payment for $10.00 even.
I had $11.19 in my PayPal balance which I selected as the payment method on the checkout page. When I pressed the pay button, PayPal automatically took the funds out of my credit card, leaving my PayPal balance exactly the same. Due to this 'error' which most likely isn't even an error, my checking account is now negative. PayPal even says that they will take from your balance first before any other payment method. I wish that was the case, because now I have to face fees with my bank due to this non-system 'error.' Thank you PayPal, won't be using again. To Visa Checkout!

I won an item on eBay for the amount of $234.00. I proceeded to check out, selected the use PayPal available funds and thought all was good. The next morning I get an alert from my bank stating that I had overdrafts on my account in the amount of $37.50??? I contacted PayPal to resolve the problem. Apparently PayPal has modified their software and it has a BUG in it.
I was on the phone with a CSR named Rohan who couldn't help me with the problem. I asked for a manager, and got one named Brittney, who needs to get her GED in customer service, who insisted that I was the one at fault. This was after being transferred to three different departments including technical support who hung up on me. After 3.5 hours of being on the phone, I still haven't got resolution to this problem. PayPal could care less about the customer. The bottom line is their customer.

Please be aware that this is not a secure or safe payment method. This is what happened to me... My account got hacked. They made two purchases and then closed my account. I called PayPal customer services, started an "investigation" that took 2 hours and then they determined that no one had hacked my account so they would not respond!!! BE SAFE. They dont guarantee NOTHING!

I had some questions and issues with my personal and business Paypal account and I called customer services few times, every time I called they were rude and helpless. I am leaving a review here because the last time I called, I was calling to require about PayPal pro services (to buy it) and how in a sales conversation, the person can still be very rude and helpless??? It is unbelievable?! I decided to go and close a business account with its competitor. Now, if someone can be very rude and unprofessional in a sales call, imagine when you become a customer of it?! You cannot expect too much.

Paypal does not adhere to their purchase protection policies. They will try to find any way not to issue you a refund when you provide a tracking number. I purchased hair from Echelon Hair from Raj and returned all good to this seller due to poor quality. One bunch was even brand new and unused.
How do I know I can trust these reviews about PayPal?
693,146 reviews on ConsumerAffairs are verified.
We require contact information to ensure our reviewers are real.
We use intelligent software that helps us maintain the integrity of reviews.
Our moderators read all reviews to verify quality and helpfulness.
For more information about reviews on ConsumerAffairs.com please visit our FAQ.

I wired money to purchase a puppy. I began to feel this might be a fraud so I stopped payment at my bank believing she would not get the money. PayPal is demanding payment - as I explained I did not get a puppy for this money. I did pay cash for the puppy; as she said she did not get money from PayPal. I now realize that I did not understand how PayPal wiring money works. The bottom line is I did not get anything for the money. PayPal denied the claim - I filed a claim to have it researched. Again the claim was rejected with no explanation. I will never use PayPal for anything again. I plan to file a claim in small claims court against the lady I sent the money to. What a hassle - so much for feeling secure to wire money!!!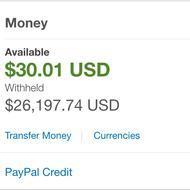 I organized an event and got $26,197.74 USD of revenue. This money has been put on hold by PayPal since last December for no any good reason. Also, I have to refund a couple of customers but because PayPal was holding the money, these refunds were taken directly from my bank account for another total of $4,775.44!!! So in total, I am $30,970 under because of PayPal. My rent is 3 month behind and I had to get a hard loan of $15,000 at 20% interest to keep my business at float! I will NEVER use PayPal again and you guys are killing my business.
On January 24th, I talked to a representative who told me they would release the money right away. Nothing happened! Then I called back earlier this week. This time, I talked to a Paypal employee called Matt, Employee # **. While he promised to solve this issue, nothing was done again! I followed-up again and stayed on hold forever and they said they understood and will try to release the funds. However, here is the message I got from PayPal instead:
"Thank you for contacting PayPal Customer Support. After reviewing your account and the ticket requested to have the funds released, it was determine by that department that the funds were going to continue to be on hold." [Notice the typo on determined.] These guys are in the business of killing small businesses. They must be placing the money somewhere else at high interest rate. I have never seen such an unethical company. Avoid them at all cost!!!

I was treated so rudely with disrespect and yelling; you could not even answer the questions. These were guys in the fraud, resolution, and claims depts. If you tried to say anything goes you would be told you're not to interrupt them. I stated to them calmly & politely that I didn't work for them, that they work us customers since we pay the fees & etc... they gave a woman from Costa Rico whom was so rude to United Airlines, USDA, my vet staff, the lady whom owned faxing & printing business. She was screaming profanities to how she hated the USA and more.
The airlines has everything documented with all of her alias names & addresses; plus, everything else. She is being investigated and will be red flagged where she can't fly nor ship anything with United Airlines. When I read my personal email, she had obtained that by bullying an airline employee and started in on me for not giving it to her. The woman never finished paying me for the puppy; lied about going to have the rest of my money placed into my PayPal account; this never happened.
I'm out a lot of money for 2 flights one for shipping the puppy and with help of the United Airlines people they got the puppy sent back to me from San Francisco, CA; so I had that cost, the USDA, Crate, travel expenses X 2, and other vet charges with health cert., vaccinations, special flea and wormings per the requirements of Costa Rico. This is nothing but a scam artists from the word go and she use 8 different names, one being Dorothe **. Please be very careful with ever doing business with this woman or the man she has help her. Paypal takes her side everything and will not listen to anything you say or your look at your proof. They tried to tell me she 180 days to file a claim against me. I have nowhere found this in their rules and regulations. They gave her back out of my account $1,684.00 and they are still going to give her $576.00 more.
This woman never paid me this kind of money at all. I'm out all my expenses for the puppy and etc... as explained. My website and contracts say absolutely no refunds. I tried to rxp k ain't this to Paypal and the to me they didn't care what my contracts or website says. Their laws are correct and my state laws aren't. They would even look at all the fraud she was trying to commit. I have nearly 30 pages of proof and her emails of fraud. She was going to try and use the USDA watermark stamp for another dog she was selling to someone else~illegally scamming. She even wanted me to sign her write up that I was gifting her the dog and didn't do it.
She would have had my puppy and the money. She has scammed many many people and still doing it with the help of Paypal. They would not even let me give them my proof or speak to anyone who was helping save my little puppies life. Dorothé, Harriott, Barretin, and all her other alias and she spells them all different to try and confuse you. Paypal is very dishonest and the rules don't apply evenly to us sellers nor buyers. They don't care if you are a long time customer or not. They will steel your money from you. It is better not to use them nor put any bank information, credit or debit cards listed with them with an account. Change your account immediately before they take all your money and don't give them the information. You're going to be limited and closed out anyway. I believe if a seller wants to sell an item they will take a Cashiers Check or Money which is still legal tender.
You may have to wait longer; but, it is much better than having all the rudeness, dishonesty, and your money stolen. This isn't my first time of being treated this way by them and my money stolen; even when the seller said he would fix the problem. They still kept my money. These people are very dishonest and should be shut down by the federal government. Once they start this dishonesty, rudeness, and taking your money they will keep doing it. They will unlimited your account and then track it major.
If one thing looks out of place to them they will collect your money and it be a fight. Then you will be done and not have an account with them and your bank account will be a lot less. If anyone wants to see my documentation I have it. Remember you don't work for them; they work for each of you as you are customers whom help pay their salaries and therefore, none of us should be treated they we've been. The money and jobs they have rain down from the heavens.

Constantly being scammed by buyers on eBay/Paypal. It's automatic that eBay/Paypal will rule in favor of the buyer in a dispute with the seller. eBay/Paypal only care about maximizing the profits. They must have some kind of formula to maximize profits and they act according. I don't think any kind of investigation is taking place. It's enough for a buyer to just say any kind of excuse to get the money. It's almost impossible to have a profitable business on eBay for the seller. Between the outrageous fees, they're bias toward sellers. WE NEED ALTERNATIVE AND/OR COMPETITION TO EBAY.

I sold Dreamweaver on eBay and the buyer wanted to return. In the auction, I stated no returns, since it could be copied and returned, which would be unfair. The customer complained to Paypal, and Paypal reversed the charges before verifying that I the received the product. I never received the product and Paypal said that the buyer was not obligated to return the product. Paypal is a thief. The customer kept the product and also received the money back. Paypal owes me $198, which they will not pay. They refunded only the fee of $20.

I had my first experience with the PayPal Protection Plan - and it was not good. Purchased an refurbished iPod on eBay from China based upon the seller's excellent ratings and the PayPal Protection Plan guarantee. The iPod had a problem with the battery, which, after troubleshooting with the seller's help, turned out to be defective. The seller said to return it for a refund. Which I did - only no refund. Turns out that eBay ratings are rigged and PayPal Protection Plan a myth.
I should have been suspicious when the seller badgered me for a five-star rating from the time of purchase right through the wait for refund. I told the seller I would give him a five-star rating (for being responsive) after I received my refund. I followed all packing, address and custom instructions including getting a tracking number from the USPS. After several weeks, I opened a case with PayPal to be on record as having worked with the seller and documented my shipping information. At the end of the allowed case resolution time my case was upgraded to "Claim" and I confirmed all the previous information submitted.
Today I received a PayPal email stating my case was closed because, "We have concluded our investigation" and my tracking number was invalid (not true). eBay will not let me give feedback on the seller saying I had already given feedback - not true! I tried emailing the seller but his email is "no longer valid". I finally reached the PayPal Protection Plan representative to find out why they had closed my case when I, in fact, had a valid tracking number.
Here is where it get outrageous - the PayPal rep finally acknowledged that my tracking number was valid, but that all tracking numbers from the US are invalid. There is no way delivery confirmation can be made in China. So there was never any "Protection Plan" from the very beginning! The only protection plan is the seller's willingness to honor their promises. The rep recommended that I contact my credit card company or the FBI international fraud website to file a complaint. Why did I waste my time? PayPal lied about their service and tried to blame me for not having a valid tracking number. I have read other complaints online and have found that bad ratings on eBay are often scrubbed. I know, in the past, I have changed ratings at the request of sellers. In this case eBay is protecting fraud by refusing to allow me to give honest feedback on this seller. That will be a subject of my next review.

Have used Paypal for years. No real issues until NOW. Ordered wire shelving. 2 of them. Paypal gave wrong outdated shipping information to seller. All of my shipping info had been updated 6 months earlier. I even went into account and checked. Everything showed updated info. Well I have called Paypal twice and have been on hold TWICE. IN EXCESS OF 35 MINUTES BOTH TIMES. Looking at previous complaints, it shows exact same thing (holding for 'resolution' center). Happened to someone else.

Robert (ID#: **), a supervisor at the Chandler, AZ PayPal branch, failed to authorize access to my pending PayPal balance after explaining that I'm a service-connected disabled veteran experiencing financial hardship. I sold my laptop to a customer on eBay so I could afford to eat and get to work for the remainder of the month. I clearly explained to Robert that my financial burden would be greatly improved if I could access a small portion of my pending available balance. He replied with a chuckle, "Sorry! I can't do anything. Hope you find something to eat."
I've read books by three of the original six founders of PayPal. I may not know them personally, but my interpretation through their text is the absolute opposite of the values Robert poorly represented and displayed. I served my country, guarded our commander in chief (President Barack Obama), walked the mat at the Tomb of the Unknown Soldier and laid fallen soldiers to rest in Arlington National Cemetery. Sadly, none of that matters and I'll have to find another way to eat and get to work because of poor customer service and a lack of compassion for humanity.

I have been using PayPal for years. I have bought several things from eBay, Amazon and so on. I purchased an item on eBay for $19.49 and on the same day seller refunded due to not in stock. I had it transferred to my bank as I always do and to make a very long and frustrating story short I am negative 200.00 in my bank and PayPal is saying I am negative with them too. They kept trying to deduct the money from my bank account instead of depositing it back into my account. I sent messages and they kept saying that it takes time and they can send a letter to my bank explaining the process. I am still negative and this has been going on a month now. I try to call and it is always busy and no one speaks English or they simply do not understand me at all!!! Very annoying.

In the last three months, ordered items from PayPal endorsed companies. Modlily and Babygirl. First item arrived 7 weeks after order. Size and garment not as advertised. PayPal ignored disputes. Second item has never arrived two months after order. Tracking was falsified by seller. Two disputes ignored by PayPal. Unbelievable! DO NOT TRUST PAYPAL!!!

The buyer had buyer's remorse when they saw the same item I sold them on clearance somewhere else. They put in a "not as described" claim to PayPal weeks later. The item was exactly as described, working 100%, not returns. I showed PayPal the discussion between myself and the buyer which showed them to be very hostile and their ratings which showed that they have scammed people before; however, PayPal still allowed them to send it back to me for a refund. This item does not have a large market and it will take another 3 months to sell. It does not seem fair that the buyer had possession for a few weeks and now can return even though it said "no returns" and I know 100% it worked as I tested it right before mailing, and even forgot to take the $50 battery out which they now have for free, unless of course they broke it after using it for a couple weeks. It does not seem fair at all.

On December 2012 I sold an item through eBay and the funds for the item were send to my PayPal. I sold a phone for about $400. At the time on PayPal it said the funds had been send so I went ahead and mailed the item. The person then proceeded to cancel the funds. A few weeks later, after the holidays, I contacted PayPal and eBay. But nothing happened. It blows my mind that neither of the companies were able to provide me with any info on the buyer or do anything. I was never able to file a police report because I was not provided with enough info of the person because it was private.
I am finally getting around to it about 3 years later because I never had the time to call and get the runaround. I want something to be done. I have the person email and the address provided to send the item and I'm sure PayPal has bank account info and I'm sure eBay has info too. This person was verified on both ends so I'm not sure if Paypal is doing fraud here by allowing the buyers to cancel the funds but I need it resolved.

I wish PayPal could just because there was some claims just over 4 years ago. I can not sell or buy anything on eBay. Loads of things I want to sell but I can not because of the limited account. I have tried opening other account, but it does not take long before it happens again. I have opened them on different computers because of the IP address. But does not take long before the account is limited. I have tried Catawiki but unfortunately they did not accept my items. They said it was not quite right. So I did not get anywhere that, it takes about a week for them to decide on your Lot. If it is not good enough it will not get listed. But the good thing is there is no PayPal.

I disputed an unauthorized charge of $100 on my PayPal account on 12/9/16. The same day, I had paid $152.84 to DirecTV. On 12/16/16 my DirecTV service was disconnected. After several calls, I was told it was because I had disputed the payment I just made to them the week before. THAT WAS NOT TRUE. I argued, I sent them proof, I had PayPal call them... No luck with anything. I finally had to dispute the payment I made to find out where the money went. THREE different times, I asked PayPal if they had possibly disputed the wrong charge and was quickly told "no, that wasn't possible".
LONG story short and now a month later, I discover that PayPal did indeed dispute the wrong charge. Yes, they did finally send the $152.84 to DirecTV BUT now I am on a "cash only" basis with DirecTV. They are now also requiring I pay another month upfront, in addition to a $20 reconnect fee. Also, since I am on a "cash only" basis, I have to go to a payment location. The nearest one is approx. 30 miles away. Does PayPal care they put me in this position? Absolutely not! It's now been a month without tv service... Went through the holidays without it and a very long winter school break with 2 teenagers and no tv to watch... All, no fault of my own. I feel like I am banging my head against the wall with them. Also, they were not honest and did not admit to the mistake. I had even filed a report with the BBB about DirecTV but now have to correct that, all when it was PayPal's fault!

I purchased a pair of bicycle shorts from a vendor "TradeInn" in Spain, from a website in which only XXL size shorts were available. They sent two S small sized shorts and gave me the runaround in trying to return it. They would not pay for the return shipping which could run up to 1/3rd the cost of the purchase. After a complaint with PayPal was registered, PayPal judged that I should pay for the cost of shipping, even though it was the fault of the company in Spain.
I do not trust the company to say they will give me credit for the shorts when returned. So, instead of paying an extra $20 bucks in shipping, I'll cut my losses and try to sell the shorts somewhere. This shows that PayPal plays favorites with foreign country vendors to the detriment of USA buyers. They would have asked the vendor to supply a prepaid postage label if it was a USA company. Frankly, most USA companies would have given me a free prepaid postage label, without asking. Bad, very bad call by PayPal.

I have never been so disgusted with PayPal. I was an active seller on eBay with online gift cards, right? I verify everything. I even use my own gift cards I buy and guess what? Let me tell you those two companies alone make me want to scream and pull every hair out of my head. When I say each and every purchase I completed was considered 'unauthorized' after I submitted factual evidence and kept each message of every transaction. They still ALWAYS ruled in favor of the buyer. I have lost over close to a $100. When they yanked my money out of my account, they still expected me to put something back in it. All I wanted to do was buy a gift of some UGGS for my year and a half old niece and I ended up losing every dime instead. Though, it is okay. I will never sell anything again with either of them.
I still enjoy making purchases, but next time I put money in it, I expect it to stay there or I would sue PayPal because they have caused my niece a good Christmas and given me a headache. I mean what's the point of seller protection when I'm not protected from people admitting false claims of fraudulent behaviour when they confirmed my emails and even left feedback, but it wasn't considered valuable evidence. How in the heck is someone scamming me not valuable? Where is my money? Where are my gift cards? I can't get a dime of my money back and I am supposed to be happy about it. Heck, to make matters worse, they both waited a WHOLE month to claim a dispute.
I check my bank balance every time I get a dime and review my statement every time I make a purchase. How can you claim you didn't know and you waited a whole month to dispute it? How is that not suspicious? That's not fair. They should make it so if you waited past 30 days, you cannot dispute that you didn't know? What about us sellers that get scammed by buyers? Heck, some buyers don't even receive items and PayPal is okay with that? People, please beware that no one treats your money like you treat your money. Get a bank account. Only post on PayPal what you need or they will snatch the rest for no reason other than pure evilness. Don't. Trust. Anyone.

Customer claimed that I did not send them package. I've provided all material they have asked - and am treated poorly. Been put on hold for over an hour, and transferred to departments that have nothing to do with dispute resolution. The same claim was filed on eBay and they sided in my favor. I even have provided personal letters for the head post masters at the post offices that were utilized in the transaction. I've been on the phone over 3 hours. And had customer service accuse me of sending an empty box.
This is because I utilized the flat rate shipping and the personnel at the post office does not need to weigh the item unless it's over 70 lbs. So the item the entire time it was with the USPS was not weighed. Therefore I sent an empty box. I even provided letters from the post office stating that this is a common practice. Now I do not have my item and I do not have the payment for it.

PayPal refused to refund the money for the item I never received. They claimed that the delivery company had a confirmation of delivery. When I spoke to the delivery company, they told me to go ask my neighbors if they received it by mistake. What does this confirmation worth?! PayPal never contacted me with any questions, they just closed my claim and sent me this: "We're happy we were able to help you resolve this issue". Really?! I am closing my account with them now. I was on the phone for 30 minutes and they asked me to call back next day. Payment convenience is not worth the price.

It took me 3 years to realize what type of scumbags I was dealing with. These people are the worse, the eBay buyer can do no wrong. The buyer opens the brand new items I shipped him and swaps them with the old stuff that he has. Only to find out that eBay and PayPal are siding with him. Remind you, my rating as a customer was 5 stars and no negative feedback. Until this bum came outta nowhere and decided to screw me over. I'll figure out a different alternative to these two because they're just not worth the time. The representatives always say the buyer is more important. I always wonder how is that even factual because us sellers provide the merchandise and give eBay and PayPal a cut of the money. There's no loyalty with these people, it's time to find a new home...

My PayPal account was put on limitations because I put in disputes to one company. It was resolved by the seller and myself. But PayPal went and put a limitation on my PayPal account. I am expecting payments and I have made payments in the meantime therefore I am going to lose a lot of funds because of this. I have had this account for 12 years and never had this problem before. I was told this would be fixed and then I was told this account was closed. It is still open but I cannot use it. I don't understand why they don't close it then. I have been trying to get this resolved all weekend but no help from PayPal. They do not care at all about their customers. Horrible company. They should not be in business.

December 16th, I purchased an item off eBay for $221.99, of which was listed as in stock and more than 10 available. On Dec. 9th, company emails me stating he doesn't have that item because they were "backordered" (the item is a discontinued product and is completely unavailable anymore). I offer to compromise and accept any of 3 other items listed, seller doesn't have any of them either, so we agreed to me getting a refund. Week later, seller claims he was unable to return my money. I file complaint with eBay for fraudulent listing and PayPal claim (after several hold times over an hour, getting hung up on 3 times after waiting on hold for 45 minutes, etc.) just to get my money. They tell me "If we don't get it from seller by 31st, we [PayPal] will refund the money directly" to me.
On the 30th, they tell me seller won't respond, I'd have to contact eBay. On the 31st eBay tells me they can't return money to PayPal. I needed to contact seller, seller won't respond to any of us. After several unsuccessful attempts to get help in resolving the issue, I (along with many other angry customers) put a complaint on PayPal's Facebook page. They ask to private message them to discuss it. Funny, they had ZERO interest in helping prior to making their poor customer service public. On Jan. 4th, I call them again, and finally, after couple more hours arguing and waiting on the phone I get my money refunded to my account.
28 days to get my money back from a fraudulent eBay listing. Seller sending me rude emails for filing a PayPal claim 14 days in. And eBay still allowing seller to continuously re-list items he not only does not possess, but can't get. Top it all off, said products, and several others, are currently (fraudulently) listed on eBay as in stock and more than 10 available by this seller. And they just allow seller to continue committing fraud on their website. I've done tens of thousands of dollars' worth of business with eBay/PayPal over past 11 years. Should be treated as a valued customer, and been protected as a consumer in the manner that the company claims they provide. Not impressed, not happy, leery of ever doing business with either company after this.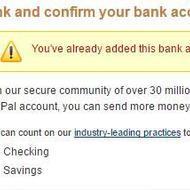 As Treasurer for our nonprofit, I've been managing the bank account and PayPal account for years. When I took over, they told me that in order to change the primary contact we would have to close the account and set up another one! So we just left it as is. Now that the former Treas. is no longer in the organization, I followed PayPal's idiotic instructions to the letter to become the primary contact (copy of Social Security card, photo ID, bank statement, letter from the nonprofit with instructions, weekly bowel habits [kidding there]). Never heard from anyone.
In the meantime, they sent instructions to re-verify the bank account. So I did that. They said two small deposits would show up. They never did show up. Then they told me I had to re-submit all the personal documents. In the meantime, our account is frozen and money piles up. If I try to transfer the system says I need to increase the limit. I go to that link. It says to verify the account. I enter the data to verify the account and it says the account is already verified!!! I'm on the phone with them right now, on hold for a half hour. If this isn't fixed by this phone call I'm going to sue them. Find someone, anyone, else to process your payments.

I recently got my account limitation due to transactions that I call to return or cancel. They said that I am a scammer but I deeply explained to them that I bought a lot of things online especially on Ebay and they said they're doing this to block me from using PayPal. Luckily I have all of my money transferred to my bank if not they may holding my money without my permission. Also, I told them I want them to remove my personal info as I am not their customer but they refuse. I also said that I will file a lawsuit and they intimidated me that "you think just only you can win PayPal." He also said that I don't understand what personal right is. Also prevent me from other users. I feel like sellers sold me bad item, I got my money back, I paid for shipping, but I am now a scammer.

2 months ago, I've ordered 5 items from Modlily.com and checked out with Paypal. Modlily has not sent me any confirming email or shipment notification, so I opened up dispute with Paypal who already took my money. Within 2 weeks I have received a shipment from Modlily. That did not contain any documentation, was short of 1 item and 1 item was defective. Modlily advertised free return within 30 days, so I contacted them through PayPal. They've told me there are no free returns.
Meanwhile Paypal has sent an email requesting I send the documentation of the dispute to a 402 area code fax number. Even if I had documentation, such faxing would have cost me $10, so I spoke to 3 different Paypal representatives, who were all in Philippines. Finally 1 of them told me to file a complaint with ic3, naming Paypal as both the victims and the perpetrator, and to email this complaint to ica-na@paypal.com. I have received confirmation of that email. 1 wk later Paypal closed my dispute in favor of Modlily for the lack of documentation! Never trust Paypal with your money!

On December 15 I won a auction on eBay for an iPad Pro 128 GB 9.7 inch screen brand new in box. I won the item for $511. I promptly paid and waited for four days. I then emailed the seller six separate times and asked him for a tracking number and when the item will ship since it was a Christmas present And the seller never responded. Since he never responded to any of my emails I contacted eBay which stated they cannot open a case because payment was still pending and to notify PayPal even though I had paid with 350.00 in gift cards that now have no balance and my checking account was withdrawn the remaining 161.00. I contacted PayPal and they said that the seller had received payment. PayPal then asked the seller to provide them with the tracking number. He provided them a tracking number which stated the city that it got delivered to but not the address and it's at a lightweight package.
So after a week PayPal denied my claim saying they had a valid tracking number. So then when the post office opened after the holidays I contact them. This was actually a tracking number that came from Amazon and went to a completely different address but in the city that I live in. I have now contacted PayPal again to no avail. I contacted Amazon. They confirmed that the tracking number had come from them and that the seller's account was on hold because of fraudulent activities. I also let PayPal know this and still to this day I still do not have my $511 back. PayPal has given me every excuse. They say to contact the seller. I keep telling them that I have tried to contact the seller. I even had a three-way call with eBay telling PayPal that yes I did email the seller and he has never responded and item still shows not shipped.
I had a three-way call with PayPal and the post office confirming the address was not mine where the package was delivered to. I also told them to call Amazon and their response is they cannot make outgoing calls. I have been a PayPal customer for a very very long time and after the ordeal I will not be with them anymore. They do not protect you from Fraud or scams. All they care about is they got their money and if you're out $511 that your own fault. So be prepared if you do have a problem with PayPal. They will not stand behind you. I will probably have to hire a lawyer to get all the documentation to prove something they already know.

ConsumerAffairs Research Team
The ConsumerAffairs Research Team believes everyone deserves to make smart decisions. We aim to provide readers with the most up-to-date information available about today's consumer products and services.
PayPal was founded in 1998, and eBay acquired it in 2002. The company now has nearly 200 million active customers, and in 2015 the company hosted approximately 4.9 billion transactions. Customers in more than 200 countries can use the company's services and hold money in their accounts in 25 different currencies. Consumers can use the service to transfer money to other individuals, pay bills, make online purchases, make donations and obtain financing.
Online payments: Consumers can use PayPal to check out on millions of websites. Those who are uncomfortable putting their credit card information on lots of different sites can pay with PayPal, ensuring their information is stored with a single company.
Credit: PayPal Credit is the company's financing option, which lets customers have flexible payment options. It can be used online, in stores and even to send money to someone else. Availability is subject to credit approval.
App: Using the PayPal app, customers can make purchases in brick-and-mortar stores with their PayPal account, send money from their mobile device and check out with PayPal when shopping on their device. The app is available for Apple, Android and Microsoft devices.
Recurring payments: Consumers can use their PayPal account to set up recurring payments for subscriptions for a variety of services, including Spotify, Netflix, Angie's List, match.com, ancestry.com and more.
Fees: Customers do not pay fees when they make a purchase with their PayPal account. When consumers send money to another individual's PayPal account and use money already in their PayPal account or in a bank account linked to their PayPal account, there is no fee.
Best for PayPal is best for individuals who want to make payments online with more security and/or transfer money to family and friends.
Compare Money Transfer and International Money Transfer
Company Name:

PayPal

Website:

https://www.paypal.com