Consumer Reviews and Complaints

I ordered a pair of running shoes 2 months ago and still have not received the shoes. I have messaged the seller, yanglinke998, numerous times. The sellers responses from yanglinke998 is an automated "you have received the shoes." The money was charged to my credit card the day of the order and I am yet to see the shoes! The website does not even allow you to provide feedback. I warn all about purchasing from this website. The sellers are not monitored!

I order a pair of sneakers and never got them. I paid for already with my credit card, when they send you the item that you order it's cheap quality or they send the wrong color and it takes a lot for delivery and the sizes are very small. I don't recommend iOffer.

I ordered for a product and never got it, it is a scam. They tell you that they will deliver and give your an invalid tracking number and never get it to you. They are a scam and should be shut down.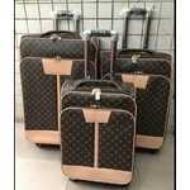 WARNING... The seller "mamamiyafa" advertised a 3pc Luggage SET and only mails you One Piece and not all 3pcs. They will insult you and act as if they are a Trustworthy Seller... They are not!!! This is theft, to advertise, allow a buyer to purchase and "mamaiyafa" doesn't want to rectify the issue. WARNING, shopping with this seller has turned out to be a NEGATIVE experience. iOffer has not gotten involved, the options that they offered were of course useless and leaves me to wonder WHY as the service provider.

Seller gave me a fake tracking number that they said they'd "check the post office" to see what happened. Waited 35 days, which is the max number of days the website itself says to wait. My seller said 15-25 days. I waited the full time because I know merchandise from other countries take a few weeks to arrive. Nothing came, so I told the seller I still have not received anything and seller never replied. So I filed a problem report and luckily I purchased with PayPal and filed a claim there as well. iOffer said they can't do anything themselves and I need to take it up with the seller and my payer provider. I told the seller I requested a refund and I was waiting for PayPal to look into my claim. Seller finally replied and said they'd give me my refund if I took off the problem report. Um, absolutely not! I told no, I'll just get my money back from PayPal. I get an email from PayPal saying the seller gave me my refund.
I check iOffer to update my problem report and seller messaged me that they gave me my refund and to take off the report now. For all that hassle I had to go through hell the ** not I'm taking it off. I looked into their account and noticed a TON of fake reviews and noticed the real ones were at the end of their page in the 120 pages deep into their account. Real reviews say no one received their products and could not get their refunds and to BEWARE OF SELLER. Thank God I paid with PayPal. The seller wasn't going to give my money back in the 1st place. Took them 5 days to reply to PayPal. Obviously neglecting it because they read my messages from iOffer and replied. Gave them 1 star reviews saying they're scammers, with fake reviews that likes to hold my money unless I do what they say. ** them and this website. Never using it again and I learned my lesson.
How do I know I can trust these reviews about iOffer?
883,201 reviews on ConsumerAffairs are verified.
We require contact information to ensure our reviewers are real.
We use intelligent software that helps us maintain the integrity of reviews.
Our moderators read all reviews to verify quality and helpfulness.
For more information about reviews on ConsumerAffairs.com please visit our FAQ.

I paid for a pair of shoes and the next day I checked to see if they shipped them out and it said that the seller and listing is no longer available so I literally lost all that money because it won't let me cancel. It says the seller has to so I will NEVER buy anything or try to buy anything else EVER again from them.

A fake seller and his company under the name of "champion888 (486)" has been allegedly taking money from buyers and promising delivery of the product and saying it's original but not delivering any product although they give a tracking no. which is also fake. I ordered a G-shock Gravity Master watch after seeing that it's original and paid due payment in US dollars. For last 2 months I have been chasing and sending complaints to the seller but till date neither received my watch nor received my payment back even after making numerous complaints. PLEASE BE BEWARE OF THIS FAKE SELLER AND IOFFER.COM.

I just purchased a pair of supposed to be Nike Air Max shoes. These things are so poorly put together. It's ridiculous. The soles on these shoes aren't even rubber like the one's I purchased at Footlocker. I don't even know what that material is that are on the bottom of these shoes. I will never buy from there again. Everything coming from there is so cheaply made. I'm closing my account with them and I advise other people do the same. I am very disappointed at what I received in the mail today from that company.

I have purchased on here 2x before and had no issue. But this time, on April 15, 2017 I made a purchase from seller "youyuan258". I still on June 17 have yet to receive my 3 items!!! I have messaged seller numerous times. He told me a month in that customs lost my package and another was sent out and gave me a different tracking number. One that again, didn't work!!!
He will respond to my messages and literally repeat the same things over and over "Will you please be patient, items have been sent." "I will check with my shipping company and get back to you." "Items have been sent." I've asked for a refund 40x and he just keep repeating that my items have been sent!!! iOffer won't help at All and they are based out of the US!!! This site is a SCAMMER and I was just robbed of my hard earned $$$. Pls for the love of god, DO NOT ORDER FROM HERE. The prices are great yes, but is it worth the risk? NO!!! Oh and I left a terrible review that is NOWHERE TO BE FOUND on the seller's page!!! Place is a joke and should be shut down!!!

I made an order with iOffer.com. A few days later I received a tracking number and basically waited to checked China EMS tracking to see when item would be delivered. Six days later, there is no record of item being received by China EMS. I have sent several inquiries via email with no response. I have also called at least three times, only to get an automated answer and no call back. Would I order from "iOffer" again at this point? It is an emphatic "NO".

I come to find that iOffer.com does not accept PayPal. I am a seller and when I tried to pay the invoice I was unable to do it. They have my paypal account which is current. They responded to me that they are working on this situation and it should be fixed soon. I did find a posting that said that Ioffer.com had a lot of problems with buyers getting scammed by sellers so Paypal shut them down.

Please do not order from this site. IOFFER has FAKE REVIEWS and you will not receive your items. I ordered from 3 different seller on iOffer and didn't receive not 1 thing. This is why they don't take PayPal. IOffer is a scam.

I ordered several items from this site. They took my money I paid with visa debit, then they stopped taking my visa. They said to try another card so I did, nothing happened. Then I received e-mails saying my product has been shipped, and the deliver date. I have not received one item as of yet. I cannot get hold of anyone. I sent an e-mail which was returned to me. Now they are saying that they want feedback on the 16 items they sent me. Well I sent feedback, about not receiving anything and wanting a refund. I never heard back from them. Is there any way to get my money back, or am I out?

Buyers beware! I was a customer of iOffer for over 10 yrs. I never had a problem until recently. I ordered a pair of athletic shoes in April and never received them. The seller seemed genuine in making thing right. He said he would send a replacement. I should have known it was a scam when the first tracking number was invalid. He sent another tracking number and it was made up also! I filed a dispute and received over 6 emails from him telling me to remove the dispute! I found this to be a form of cyber harassment and promptly closed my account. Ever since sellers stop using PayPal, scammers have increased on this site. If you see a picture of the same item but a different seller, it's really the same seller. They are trying to avoid detection. This site needs to be closed down, iOffer has no regards for consumers.

Stay away from this website as this is fraud and you will lose money trying to make a purchase. After trying to contact iOffer they never answered back other than said that they cannot be responsible for seller despite the fact they provide platform for this scam!

Money taken, no tracking order even after request and the service that iOffer provides is super bad. The site should be banned for such terrible interface and communication. It just has given sellers too much strength leading to bad use of it.

After making purchases on iOffer site went to checkout to complete payment. My cards are always good on any site as I pay all my bills. My first card was rejected. Then I tried two other cards. Results were the same. This was in January. iOffer customer service said they were trying to remedy the problem. Two months later the problem wasn't fixed. Because they didn't really accept credit cards, I was given a nonpayment rating on their site. I CALL THIS FALSE ADVERTISING! They lure you in on the premise you can pay with a card, then they never submit purchase to your credit card company. I know, I contacted the card company and my card purchase was never submitted for payment. You can't make this stuff up! Also, be wary of a dealer on their site "fanhualu". You won't get your order and he will not respond to any questions.

I made a purchase on iOffer from millimandxh!!! Seller appears to be honest so buyers beware!!! Seller has amazing reviews and almost five stars but know it's not actually accurate! First!!! The seller communicated very well but as soon as he or she received my payment via Western Union it has completely stop. I have yet to receive my item or even tracking information. I went through all sellers reviews and he/she appeared to be honest.
I've contacted iOffer help desk to help with the issues but the help desk keeps referring me back to contacting seller (which I have use different emails and soon as I ask about my particular purchase he/ ignores me and stops replying). I want to prevent any real customer from going through the same situation so please be aware!!!

BUYERS BEWARE: I asked before I purchased "DO YOU HAVE WHITE IN SIZE 7.5US?" Seller responded yes. I replied "I DON'T SEE THIS SHOE ON YOUR PAGE". Seller responded "WE HAVE IT IN OUR OTHER STORE" ... They sent me a SIZE 10US. OMG they are SO BIG. I bought the same shoe previously from another seller in black SIZE 7.5US and they fit perfectly. THIS IS NOT A TRUSTED SELLER. WE ARE NOT SAVING BUYING FROM THIS SITE because every 3 out of FIVE purchases is a SCAM... We are not really saving any money here if 3 out of 5 purchases is a SCAM and we have no recourse.

I thought it's owned by a Chinese e-commerce company since more than 99.9% sellers are Chinese. Just found out it's founded in SF in 2002, the founder is Steven Nerayoff. I had unpleasant shopping experiences at iOffer. I purchased two handbags and the quality was pretty poor not what they said "leather". A big hole inside the bag! Luckily, I got my refund including return shipping fee quickly because I insisted to pay thru PayPal. If you do want to shop something here, ask seller if they accept PayPal. This might be a good way to make sure you can get money back easily if any arguments with sellers. My advice.

I made a payment of 350 dollars on iOffer. The merchant, Stella Bags, told me that they did not have one of the items (even though she said she did when I placed the order) and that she refunded a partial payment. She lied about the refund, and kept my 350 and refuses to respond to any emails. Some of the shops on iOffer have been honest, and I had no reason to think Stella Bags is fake. I don't know if iOffer has any offices in the United States, but I'm out the birthday money I was going to spend on my son. These were to be his gifts. They are horrible people and I hope they go out of business. PLEASE don't let this happen to you. I wish I read these reviews before I sent so much money. Thank you.

I'm not going to say they are purposely fraudulent, but they are perpetrating by their model, since they do nothing to help buyers in a dispute. Be VERY careful with this site. I ordered 16 pairs of shoes on NOVEMBER 8, 2016 and received 12. I have given the seller every opportunity to fix the problem - either deliver or credit me and they have refused. So, after 5 months I had enough and finally filed a dispute with my credit card company. Keep in mind that you are rolling the dice with iOffer. The site does not go to bat for you in a dispute. So while prices might seem great, there is always a risk you will get screwed. I will not be using this site nor anyone on it anymore... RIPPED OFF.

I found a product I wanted to purchase and went through setting up the account and my info then it asked me to select PayPal or CC. When I selected PayPal it went straight to a page that said "you need to make your payment or this will be cancelled." I tried a few times and got nowhere so I emailed the seller and asked how we go about purchasing through PayPal. She got back to me and said "oh this is really safe site just submit your CC number instead." That was a red flag. So I said "I'd rather not give out my CC that is why I use PayPal." She replied back with "I'm sorry just give me your CC number and we will proceed." So I then asked her why did they offer Paypal if they obviously don't use it. She replied the same thing "we are a trusted site just submit your CC #."
This was really weird so I decided to read the reviews about the company and they were awful. People saying they did this and never got their product or was charged multiple times and never refunded back. I don't think I saw a good review at all. It sounds like this is a scam to me and I am not going to fall for it so I really advise everyone else to stay away from this site. I closed my account and will never look at this site again.

Do not order from iOffer. It supports fraudulent seller activity. Like many others, I purchased an item in late November that never arrived. Over the last two months, the seller quickly responded to my inquiries about the delay. However, last week, when I logged into the iOffer website, I received a message that the seller's membership had been cancelled due to fraud.

On January 06 I got attracted by this website showing me a very low price for Men's Nike Air Max 2016, Black fabric (Flint) and Orange sole. I added my information and added my credit card number and as soon as I click on "Place Order" I got the message "SOMETHING WENT WRONG." I placed new Order. When I check my credit card charges online, I was charged twice. I tried to find customer service but there is none. I went to the order and try to cancel my order but I get the message "ONLY SELLER MAY CANCEL AFTER PAYMENT IS CONFIRMED." I send email through my order but in response I got a different question and does not want to respond to my request to cancel and refund. I got stuck with two charges.
First Order shows I had a chat for 5 times and second order I chat for twice. I try to click on feedback but it was grayed out and did not work. This site must be taken out of web. Web Hosting company must remove this site. Finally today Jan 10, 2017 I end up calling my credit card company and explained my situation about canceling my order and I have no choice but wait for 10 days. My advise to all "DO NOT BUY FROM IOFFER WEBSITE." These site is running a scam business. There was no Seller who would be willing to sell the shoes I want that is 1/4 the price of shoes in open market. So don't be fooled by seeing 75% lower price. They will charge your credit card twice and take your money. They enjoy your money for as long as they can keep in their possession and finally you end up disputing. Again "DO NOT BUY FROM IOFFER WEBSITE."
There is no order number. Here is what I see under the order. Delivery status unknown, shipped not set, estimated delivery not set, tracking not set, request tracking number not available. Above information is a direct copy from ioffer.com site. What I know after internet search about this site: I found en.wikipedia.org and on person name Steven Nerayoff launched this site. Ioffer is a San Francisco base online trading company.

Unfortunately, there is no consumer protection when doing business on the Internet. iOffer.com is nothing but a scam and do not believe any of the positive reviews. The vast majority of the ersatz merchants on iOffer reside somewhere in China, and have no interest in ethics or honesty. iOffer is organized thievery, and the website simply takes advantage of human gullibility. Even with PayPal, the companies on iOffer will take your money and never deliver the merchandise. They hope the customer will forget to contact PayPal and start a dispute. Even if you start the dispute, they have earned interest on your money while you wait for the item to return.

I purchased items from iOffer.com. The supplier is xingfubaby 5665. My order and payment confirmed dates are 29/10/16 & estimated delivery Nov 6-13 2016. My tracking nos for both items are **. However up till now it is 6/1/17, I still have not received my items. Neither has the supplier email to let me know status of what is happening to my items. As in past when I have bought things thru iOffer.com thru other suppliers, they always email to give me info about when I will be receiving my items but now it is already more than two months. Please can the relevant authorities look into this matter & please send me my 3 men LV black colour belts and 1 ladies Hobo handbag soonest possible. My email add is **. Thank you.

I came across this site iOffer before Christmas and ordered about 12 items within a couple days. First off there is NO negotiating a price. That's just fluff for the site. The pictures they show look pretty much like nothing you will receive!! The quality (for what I bought) is terrible. They don't take PayPal. If they did iOffer would shut down over all the issues it has. The site doesn't work efficiently. Sellers accounts open and close like a candy store, so don't expect ANY communication after you pay. They DON'T care after that and iOffer doesn't really care as they make money off of every sell. Seems to me it should investigated.
Out of the 12/13 items I bought I have received 7 and 5 I had to file a problem and with my bank. Sizes were wrong, colors were wrong, sellers don't email or try to correct the problem. Had 2/3 items that had crayons or lots of paper, pencils to make it look like they sent something!!! This site is so fraudulent. Save yourself the time and money and just a true and utter hassle!!! I have spent hrs and hrs trying to get help or have the problems fixed to no avail. My sister had filed a problem too. DON'T BUY OFF THIS SITE!!!

I had a bad experience my first time ever using the iOffer website. I ordered a pair of shoes and two bottles of perfumes. I received the shoes but never received the perfume. I ordered all three through different vendors.

IOffer seller yengya is a scam, gave me tracking **, order date 11/09/16; today 12/14/16 - no tracking status/Invalid according to china ems,. No bag, no return emails, don't purchase from this person. You will only giving away your hard earned money.
Company Name:

iOffer

Website:

http://www.ioffer.com/