As uninsured victims of Hurricane Harvey face potential financial ruin, the federal government is urging Americans to buy flood insurance while they can. But even policy-holders may be in limbo as flood insurance becomes unsustainable and gets scrutinized by Congress. Flood insurance is not like homeowner's insurance, because after a disaster, flood insurance sticks taxpayers rather than insurers with the bill. 
The National Flood Insurance Program, as federally-backed flood insurance run by FEMA is called, is now deeply in debt, so much so that FEMA purchased its own insurance policy last January to cover Americans' flood claims. For the price of $150 million, FEMA was promised catastrophic coverage to the tune of...$1 billion, a fraction of what either Hurricane Katrina or Superstorm Sandy cost taxpayers. Largely due to pay-outs from those two storms, FEMA now owes $24 billion to the US treasury. 
FEMA secured its relatively meager $1 billion flood coverage plan through a group of 25  "reinsurance companies," or mega-insurance companies in the business of selling insurance to regular insurance companies. Home insurers like Allstate purchase their own reinsurance to cover the massive amount of damages they must pay consumers after a major disaster.  
Naturally, the reinsurance industry says that FEMA made an excellent business decision. "I commend FEMA for creating the NFIP reinsurance program and the financial protections it will afford taxpayers," Frank Nutter, president of the Reinsurance Association of America, said in a news release after the sale, describing FEMA's purchase of reinsurance coverage as a "significant milestone."
People like Bob Hunter, a former Texas insurance commissioner who now works for a consumer watchdog organization, are less convinced that FEMA's reinsurance plan will benefit flood victims or taxpayers. "It might, but not much I don't think."
A "comeback year"
Superstorm Sandy, the Category 3 storm that rattled the East Coast in 2012, was one of the costliest storms in United States history, but private insurers had grown accustomed to more intense storms over the years and were prepared. Berkshire Hathaway "shot the lights out" in 2012, CEO Warren Buffett told shareholders. State Farm saw its profits quadruple that year. Traveler's insurance ended 2012 with its share values up 8 percent from the year prior. "Across the industry, 2012 was a comeback year for insurers despite enormous losses from Hurricane Sandy," reported an industry publication. 
The reason for that is fairly straight-forward. Though the insurers were exposed to millions of dollars worth of claims for damage caused by wind, hail, and other natural factors, they largely avoided having to pay for damage caused by flooding itself. That's because most Americans do not have flood insurance and most insurers do not offer it. And even when Americans do have flood insurance through a private carrier, the burden of paying out claims still largely falls on the federal government. 
The private insurers who offer flood insurance do so through FEMA's National Flood Insurance Program, specifically the program's Write Your Own policy, which allows carriers to write policies and collect fees without being responsible for pay-outs.
"The companies that participate in the National Flood Insurance Program don't bare any financial risk. They get a servicing fee for administering the program. It's the federal government that bares the risk," Don Griffin, a vice president at the industry trade group the Property Casualty Insurers Association of America, tells ConsumerAffairs.
A fee on premiums 
Insurers historically regarded flood insurance as a money pit and didn't offer it. Recognizing the need for Americans to be protected, the federal government began subsidizing flood coverage in the 1960s. Under the Write Your Own system, private insurers can collect thirty percent of the premium dollars consumers pay to the federal government. Insurers collect an additional 1.5 percent fee for writing claims after a flood.
The rest of the premiums go to a general pot that, in theory, is supposed to cover every flood victim's claim after a storm. But a $24 billion hole in that pot indicates that the system clearly isn't working, raising questions about where the money is going.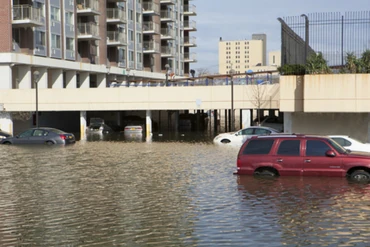 A PBS investigation last year found that insurers earned a total of $400 million in profits after Superstorm Sandy. At the same time, people who were protected with flood insurance told the station that their claims were denied or short-changed. 
Insurers counter that the fees they collect on premiums and claims go toward expenses like paying insurance agents and contractors. "So the overall number that they get is much lower. It's not a very profitable line of business," says Don Griffin, with the insurance industry trade group. He argues that more companies would offer flood insurance if it was profitable. Only 68 home insurers out of an estimated 1300 on the market participate in the federal flood program. 
The market leaders 
Wright Flood Insurance, a Florida-based subsidiary of the Wright Insurance Group, is the rare American insurer in the business of flood insurance and only flood insurance. The company has grown to become the largest provider of flood insurance in the federal marketplaceand sells both federal flood insurance and excess flood insurance, in which private insurers offer consumers additional flood coverage and pay out of their own pockets for the damages. 
"At Wright Flood our roots in federal flood insurance date to the very beginning of the flood program," the company's biography says.
Brown & Brown, one of the largest insurance companies in the world, purchased Wright and its flood subsidiary for $600 million in 2014. In an annual report, the corporation portrays flood insurance as a business with little to no risk. Brown & Brown says that all basic flood coverage is backed by the federal government, and excess policies are backed by a reinsurance company.
A spokesman for Wright Flood tells ConsumerAffairs that the company has already paid customers $20 million for Hurricane Harvey damage. The spokesman, Jeanne Karp with RBB Communications, says that insurers take home a small amount of the 30 percent fee they collect on flood insurance premiums.
"The 30% figure you've referenced is often misinterpreted as a full sum, when it is really a breakdown of components," she says via email. "From that an average of 20% goes to the agents, 2-2.5% toward premium tax, and anywhere from 4-7% in vendor fees."
Assurant, the company best known for providing cell phone insurance, bills itself as the second-largest provider of flood insurance in the federal marketplace. The company, which also provides regular homeowners insurance, reported losing $250,206 in 2012 due to Superstorm Sandy. 
That's a small drop in the $1.5 million Assurant anticipates it will return to shareholders at the end of 2017. Assurant similarly describes flood insurance as a win-win scenario for insurers. "We also act as an administrator for the U.S. Government under the voluntary National Flood Insurance Program," the company writes to investors, "for which we earn a fee for collecting premiums and processing claims. This business is 100% reinsured to the U.S. Government."
Solutions to flood debt
Lawmakers on both sides of the political aisle agree that the federal government is paying too much to subsidize flood insurance, but they typically say that consumers should carry a bigger burden and pay higher premiums. Expensive flood insurance may discourage people from living in areas that are growing more vulnerable to extreme weather, the thinking goes.
Insurers say they would be open to operating their own, completely private flood coverage to compete with the federally-backed plans. This would relieve taxpayers from paying for flood damage, though critics worry that the private plans would not be sold to consumers who truly need them. 
Insurers also point out that the largest servicer of federal flood insurance is technically the federal government. Through a separate program called NFIP direct, an insurance agent connects customers to an NFIP flood insurance plan that is written and administered only by FEMA, not an outside insurer. Still, even under those so-called "direct" plans, insurers still receive a 15 percent chunk of the premiums paid. 
"What's not shown in that 15 percent is what the NFIP direct spends on administrative costs," Don Griffin of the Property Casualty Insurers Association says.  "The direct program still has administrative costs to write the policy."