---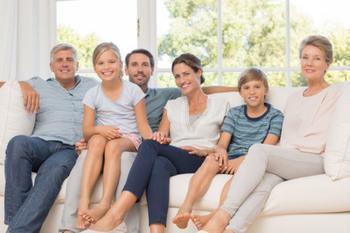 Before trekking out to an amusement park or embarking on an exciting adventure with the kids, parents may want to consider the fact that family happiness is often found right at home.
In a new study, researchers from Baylor University found that family leisure at home can be a "more effective route to happiness" due to the fact that familiar activities are easier for the brain to digest.
When the brain is busy digesting new information, it can make it more difficult to reap the emotional benefits of quality time together, explained lead author Karen K. Melton, Ph.D., an assistant professor of child and family studies in Robbins College of Health and Human Sciences at Baylor.
"When the brain is focused on processing new information -- such as taking part in an unfamiliar activity with unfamiliar people in a new location -- less 'brain power' is available to focus on the family relationships."
Inside the home
You might think that any quality time is good quality time, but Melton disagrees. "All family leisure is not equal," she says, adding that "the best predictor of happiness for families may be spending quality time together in familiar activities inside the home."
To reach this conclusion, Baylor researchers asked 1,502 families to answer an online questionnaire regarding the nature of their family's leisure time together. Questions included, "What activities do you do?" and "How often do you do them?"
Scores supported the researchers' initial hypothesis, which stated that families that participated in more leisure with lower levels of recreation would have higher levels of happiness.
The study's authors note that these findings are good news for families with limited time, few resources, or both.
Expressing stress
Hanging out at home together may also offer families a way to release some steam. Instead of plastering on a happy face while doing activities outside the home, families members can "express stress and conflict as well as pleasure during leisure time" at home, says Melton.
So what at-home activities pave the way for healthy and happiness-inducing quality time together? Melton says there's no one-size-fits-all answer, but simple, familiar activities are a good place to start.
"For some families, quality togetherness is having dinner together or playing games; for others, it may be hobbies, videos or TV, music," Melton said. "At the end of the day, what matters is that we are social beings who crave a sense of belonging and connectivity."
The study has been published in World Leisure Journal.
Thanks
Keep an eye on your inbox, the lastest consumer news is on it's way!
Unsubscribe easily whenever you want
---