---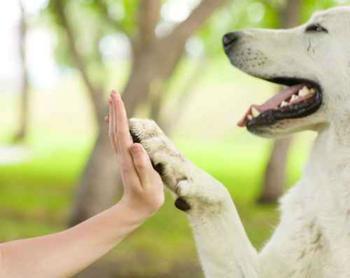 April 22 is Earth Day: a day in which we're reminded that our fragile planet needs to be treated kindly. Our actions, even the small ones, can go a long way toward preserving our natural resources.
Following the "reduce, reuse, recycle" rule is one way to help the planet, but pet owners can take their green consciousness a step further by opting for more eco-friendly pet supplies.
Reducing your pup's carbon "paw" print can be as simple as choosing pet supplies made by companies with an environmental conscience. You might pay a little more for eco-friendly pet products, but that little extra can go a long way toward helping our planet.
Here are a few green pet supplies that can help you on your mission to become a greener pet parent.
Recycled bike tube collars
Cycle Dog makes pet collars, toys, and other pet supplies out of old bike tubes. Buying a product from this company can help prevent bike tubes from ending up in landfills (millions end up there each year).
The company was started in 2009 by Lanette Fidrych, who collected tubes from bike shops and started sewing them in her home. In addition to being eco-friendly, Fidrych's rubber-backed collars don't get smelly the way some other collars do.
Bamboo training pads
The Green Pet Shop focuses on reusing products with the goal of diverting waste from landfills. Larry Wright, president and CEO of the company was first inspired by the idea that "even small acts of environmental kindness can add up."
Wright believes that even the most mundane aspects of pet parenting -- like housebreaking -- can be done in an environmentally conscious fashion. Bamboo training pads are one way to go a little greener as bamboo is a highly sustainable source. The Green Pet Shop also offers bamboo bowls made of compressed bamboo and rice husks.
Sustainable litter
Cat owners can help the planet by making some changes to their litter routine, both in how they dispose of cat litter and what supplies they choose to purchase.
It's important not to flush cat litter; the waste runoff can carry toxoplasma (most often found in outdoor cats), which has been linked to the deaths of sea otters and wildlife. Throwing litter waste into the trash or composting are two of the best way to dispose of it.
It can also be beneficial to switch from clay-based litter to one that is more sustainable and biodegradable. Biodegradable litter trays, such as the Kat Pak, can also be purchased.
Finally, you can buy local. A pet food bowl made by a local artist, for example, can be better for the environment as it uses far fewer transportational resources. 
---