---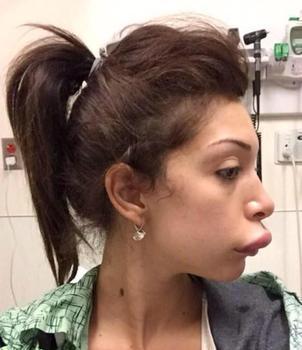 Any magazine or website discussing celebrity gossip is pretty much guaranteed to publish regular stories (often illustrated by wince-inducing photographs) on the theme "Famous person's plastic surgery goes horribly wrong."
This week, for example, former "Teen Mom" reality TV star Farrah Abraham tweeted a photo (not for the easily squeamish) showing the result of her own badly botched lip surgery; her upper lip is swollen to grotesque proportions, presumably an allergic reaction either to anesthetic, as she suggested to celebrity-gossip site TMZ, or to the silicone injected into her lip.
Such problems aren't remotely limited to reality TV stars, or celebrities in general. A few days before Farrah Abraham shared the results of her own botched cosmetic-surgery procedure, the American Society of Plastic Surgeons (ASPS) launched what it calls "a new public safety campaign" to "help consumers understand how to make informed decisions about plastic surgery." As part of the campaign, the ASPS is also highlighting examples of "surgery gone wrong" – and botched plastic surgeries can't always be fixed, either.
Botched surgeries
Dr. Scot Glasberg, president of the ASPS, said that the campaign came about in part because ASPS members were seeing larger numbers of new patients seeking to fix earlier, botched surgeries. "Plastic surgery is real surgery and patients need to do their homework before they undergo any plastic surgery procedure," Glasberg said. "People spend more time selecting the model and color of a car than they do selecting their plastic surgeon. That needs to change."
In all fairness, few people are accustomed to "shopping for surgeons" the same way they shop around for consumer goods and services. If someone does want plastic surgery, what does selecting a plastic surgeon actually entail? ConsumerAffairs asked Glasberg about this.
"There are two big questions [a potential plastic surgery patient] needs to ask," Glasberg said. "The first is: are you a board-certified plastic surgeon? The ABPS, the American Board of Plastic Surgery, is the only certifying agency …. the second question is, is this facility accredited?"
If the answer to both questions is "yes," then Glasberg recommends you ask another round of questions, including: how many procedures has that surgeon done? You should also ask to see before-and-after photos of previous procedures, and also ask to speak to some of the surgeon's previous patients. If a potential surgeon will not let you see photos of his or her prior work, or speak with prior recipients of it, that's a bad sign.
Risks & complications
You should also about the risks associated with a given procedure. "Ask the surgeon, what are the risks? What are the complications? And if you hear the phrases 'There are no risks' or 'I never have complications,' walk away," Glasberg said. "That's too good to be true …. every medical procedure has risks."
A potential plastic-surgery recipient should also have a good idea of what can and cannot be done. "Sometimes you'll hear somebody say 'I want surgery to look exactly like X celebrity, for example – that's not possible," Glasberg said. There's also the possibility that a relatively commonplace and safe plastic-surgery procedure is not feasible for a specific patient, due to that patient's own medical history. "There might be medical reasons why a procedure can't be done," Glasberg said.
The American Society of Plastic Surgeons maintains an online listing of board-certified plastic surgeons in the U.S. and Canada.
---