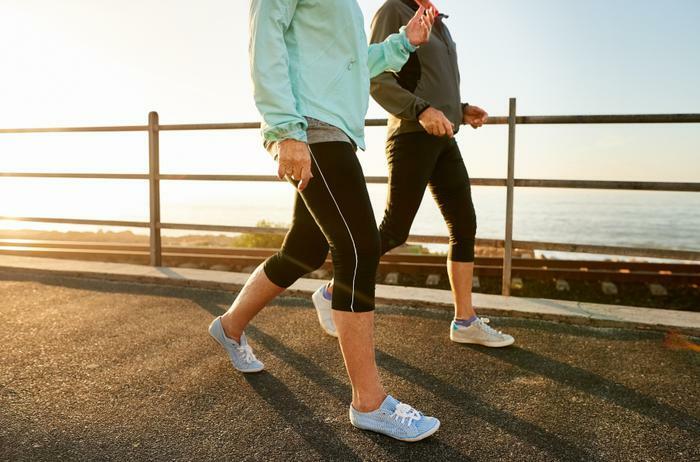 Getting outside for a walk can be a great way to exercise, but a new study conducted by researchers from Purdue University explored one common way that walking time can be less productive from a health standpoint. 
The team says having a partner to go on walks with can help encourage healthy habits, but it can also slow down the walking pace and lead to fewer health benefits.  
"In our study, we focused on couples because partners in committed relationships often provide essential support to promote one another's healthy lifestyle behaviors, including exercise," said researcher Melissa Franks. 
The importance of walking pace
To determine how walking with a partner can affect consumers' workout progress, the researchers analyzed results from nearly 150 participants in more than 70 couples. The experiment looked at three different trials: walking alone, walking with a partner, and walking while holding hands with a partner. The researchers observed how the participants' walking speed changed based on their walking patterns. 
Ultimately, walking with a partner slowed down consumers' general walking pace, and holding hands while walking led to the slowest walking times. The researchers explained that having a partner can help consumers be more consistent when it comes to sticking to their fitness habits, but if they're really looking for the most benefits from their workouts, going alone or holding a faster pace might be the best bet. 
"We were hoping that there would not be a reduction in speed where partners walked together," said researcher Libby Richards. "We hoped that slower partners would speed up to match the fast partner, but that was not the case. However, it's important to note that any physical activity or walking -- regardless of speed -- is better than none." 
To get the most out of a walking workout, the researchers recommend that consumers stay mindful of their walking speed and try to hold a faster pace to earn the best health outcomes. Because many people naturally lose speed as they age, it's important for consumers to stay active into older age. 
"Gait speed is important to measure because it is related to overall health," said researcher Shirley Rietdyk. "Common exercise interventions, including strength, coordination, and multimodal training, are all effective in increasing gait speed. These interventions can also delay the onset of slower gait speed and help slow the loss of gait speed. No one type of training is better than the other, so do the activity you are most likely to stick with."