The video camera capability of smartphones and some tablets threatened to make camcorders and stand-alone video cameras obsolete.
Then along came GoPro, showing that a small video camera could be an essential piece of gear if it could do something phones couldn't – like document your sky dive or your ride down a 30 foot wave.
The makers of a new video camera, Graava, hope to capture their own consumer niche. The camera is small and can attach itself to objects like GoPro, but it can also edit its own footage.
"Millions of videos are shot every day, but very few people actually have the time, experience, or software necessary to edit the hours of footage they have after a long day skiing or zip lining," said company CEO and co-founder Bruno Gregory. "Graava is here to take care of that for you. We make creating awesome videos easier than ever, and it's going to completely change the way people share experiences."
Artificial intelligence
Gregory said the tiny camera contains artificial intelligence that can sift through raw footage and identify the scenes it thinks you want to keep. It then edits those scenes together into a coherent production.
The company produced the video below to explain how it works: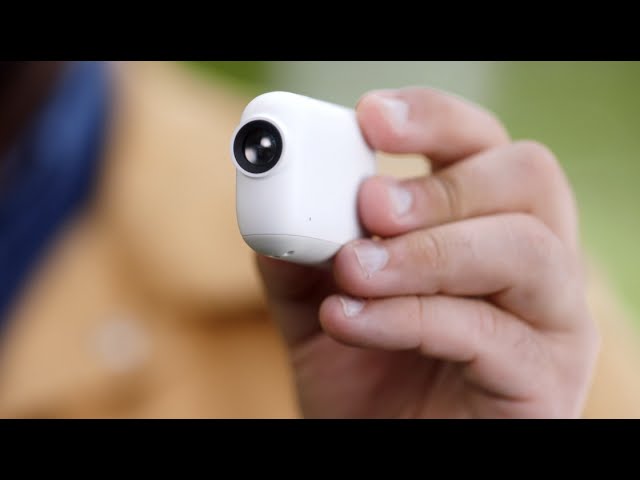 It knows when you're excited
The camera uses built-in sensors — an image sensor, microphone, accelerometer, and GPS. It can also pair with 3rd party heart rate monitors so it can tell when you are excited during the filming. The camera assumes that what you are filming is exciting and worth including.
In the past, people used camcorders to capture significant events for posterity. Now, people film things to share them with the world.
Using the Graava app, users can select their preferred social media channels for a particular video clip and the app will automatically set the right time for it and publish with the touch of a button.
The company says the device knows when you are shooting a video with more than one Graava camera by comparing data from the onboard GPS and your phone, so if your friends also have a Graava, it can take footage from multiple perspectives and compile it into one video.
Uploads while wirelessly charging
If you want to add music, the edit system will produce the video to the beat of the song. When you're finished shooting, you place the device on the wireless charging mat and your footage is sent to the cloud or your computer.
The makers of Graava say the camera is not just for capturing life's thrilling moments – it can be a security device as well. By tapping "home monitoring mode" in the Graava app, the camera records any movement within its range.
Will Graava pose a threat to the insanely popular GoPro or will it be another Flip? It remains to be seen, but it may have one thing going for it.
Currently, most videos uploaded to social media tend to be short clips. If Graava is able to deliver on its promise of longer, more coherent productions, then it will be easier for more wannabe YouTube stars to create content.
The camera will go on sale in early 2016 at $399, a comparable price point with GoPro. The company is taking advance orders until September 1 at $249.