---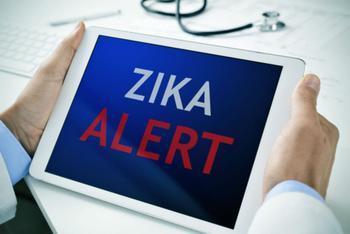 U.S. health officials have become increasingly worried about the Zika virus over the past year. The disease, which can cause serious birth defects if contracted by pregnant women, has affected tens of thousands in Puerto Rico and South America.
Attempts to keep the virus out of the U.S. mainland have been vigorous, but experts have said for some time that mosquitoes that carry the disease will inevitably find their way here. Cases of Zika infection began popping up in Florida back in July, and now Texas has reported its first case of Zika virus that is likely transmitted by a mosquito.
"We knew it was only a matter of time before we saw a Zika case spread by a mosquito in Texas. We still don't believe the virus will become widespread in Texas, but there could be more cases, so people need to protect themselves from mosquito bites, especially in parts of the state that stay relatively warm in the fall and winter," said Dr. John Hellerstedt, commissioner of the Texas Department of State Health Services (DSHS).
Searching for the infection site
The patient who contracted the disease is from Cameron County in the southernmost part of Texas. She was confirmed to have the disease last week via lab test, but she is not pregnant. She reports that she has not visited any area with an ongoing Zika transmission problem and has not been susceptible to other risk factors, so officials believe the most likely cause is from a mosquito bite.
Luckily, the virus was found in her urine and not her blood, which means that it cannot be spread if she is bitten by another mosquito. However, the Texas Department of State Health Services and the Cameron County Department of Health and Human Services have stated that further tests will need to be conducted before they can pinpoint the location where the infection occurred.
Currently, researchers are trapping and testing mosquitoes around the patient's home in Brownsville. The city is currently taking steps to reduce the mosquito population, and DSHS and Cameron County officials are going door-to-door to educate citizens about Zika and reduce potential breeding zones for mosquitoes.
Taking precautions
As we've previously reported, Zika virus can often be mistaken for the cold or flu because of similar symptoms, which include fever, joint pain, rash, and eye redness. Though the disease is usually passed through a mosquito bite, transmission can also occur through contact with infected blood or sex. There are currently cases of Zika infection all over the U.S., but they have been connected to travel in infected areas and sexual contact. 
Health officials have cautioned that travel to Mexico should be avoided due to reports that several communities are struggling with Zika transmission. They suggest taking several precautions to reduce your risk of contracting the virus, including:
Using EPA-approved insect repellent;
Wearing long pants and long-sleeved shirts that cover exposed skin;
Using air conditioning or window and door screens that are in good repair to keep mosquitoes out of the home;
and removing standing water in and around homes, including water in trash cans, toys, tires, flower pots, and any other container that can hold water.
DSHS is asking all medical professionals to keep Zika virus in mind when diagnosing patients with similar symptoms. Testing pregnant women who live in high-risk areas has also been suggested. For more information on the Zika virus visit the CDC's site here, and get further information on how the disease is affecting Texas here.
Thanks
Keep an eye on your inbox, the lastest consumer news is on it's way!
Unsubscribe easily whenever you want
---