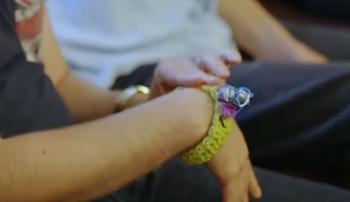 Adults diagnosed with autism may suffer from anxiety, which may manifest itself into fidgeting with jewelry or things on their hands.
Upon noticing this, researchers at Lancaster University set out to create a wearable way for adults with autism to track and manage their anxiety. The Snap wristband, designed by Human Computer Interaction Specialists, does just that.
Simply stretching a wristband enables users to keep a digital log of the times they felt anxious. Keeping a log of this information, researchers say, can help adults with autism better understand the buildup to their anxiety.
Understanding anxiety triggers
"We wanted to build our own device and we thought that if we could digitize something they do anyway -- play with things in their hands -- then that could potentially help them to manage their anxiety," said Dr Will Simm, a researcher from Lancaster University School of Computing and Communications. "This is about empowering people with data to reflect about their anxiety."
Wearables such as the Fitbit are able to capture and record heart rate and other data, but PsyPost notes that this information is captured passively.
Snap, on the other hand, would allow users more control over the information, which could help those with autism-related anxiety proactively keep tabs on their emotional state. After information is captured, it can be downloaded onto a computer for users to reflect upon.
Customizable
In addition to having control over their information, Snap wearers would be able to physically and electronically customize their wearable. An early study found that the ability to customize Snap, in itself, proved to be therapeutic.
The device (currently only a prototype) includes a customizable 3D printed pod, which enables users to assemble and modify their wristband.
"The process of designing and building Snap has enabled our participants to discuss experiences of anxiety in a way their supporters said they had never before articulated," Dr. Simm said.
Next steps 
After the three-month summer trial, participants who found Snap to be a good distraction from their anxiety continued to wear the device.
"I wore it at work because I found out that somebody was leaving [ ] and I wore it to calm me down," said one volunteer.
The prototype is currently being improved. Features requested by the study's autistic volunteers, such as a clickable button and an online platform, may be added by researchers.