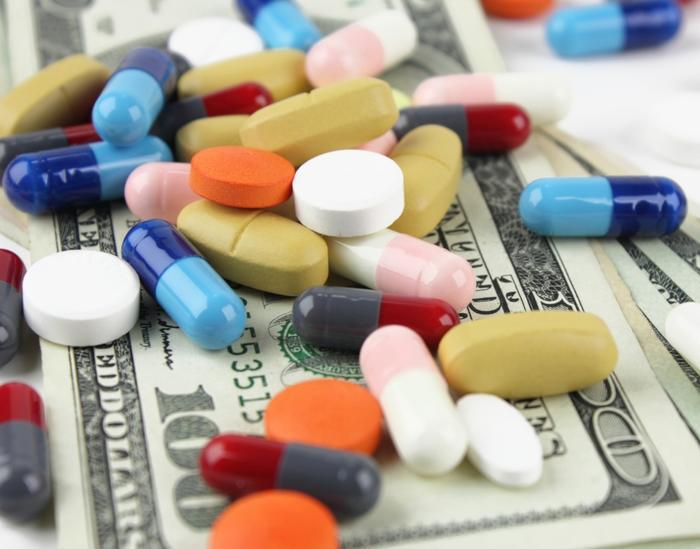 Generic drugs are cheaper than their name brand counterparts, but 44 states have sued 20 generic drug makers over claims that their drugs cost more than they should.
In fact, the complaint filed in federal court accuses the manufacturers of a "broad conspiracy" to inflate and manipulate prices of more than 100 commonly prescribed generic drugs.
The drugs cited in the suit include capsules, tablets, suspensions, creams, gels, ointments, and classes of drugs that include statins, ace inhibitors, beta blockers, antibiotics, antidepressants, contraceptives, and non-steroidal anti-inflammatory drugs.
'Actively conspired'
The attorneys general filing the complaint said the drugs are used to treat a range of diseases and conditions from basic infections to diabetes, cancer, epilepsy, multiple sclerosis, HIV, ADHD, and more. In some instances, they accused the drug companies of working together to boost the price by as much as 1,000 percent.
"Our case alleges that some of the largest generic drug manufacturers in the country actively conspired together to fix prices and profit as a result of their illegal scheme," said Massachusetts Attorney General Mara Healey. "People depend on generic drugs to keep health care costs down and make medications more affordable. The actions by these companies are reprehensible, illegal, and betray the public's trust."
New York Attorney General Letitia James said the evidence gathered by the multi-state investigation showed what she termed a "multi-faceted" conspiracy.
"The scope of the conspiracy is breathtaking, affecting generic drugs that people rely on every day to treat acute and chronic conditions, like diabetes and arthritis," James said.  "The blatant anticompetitive conduct alleged in the complaint harmed consumers' health and well-being in multiple ways and we intend to hold the wrongdoers accountable."
Complete list of drugs
Oregon Attorney General Ellen Rosenblum released this list of generic drugs the states say are artificially inflated in price:
1. Adapalene Gel
2. Amiloride HCL/HCTZ Tablets
3. Amoxicillin/Clavulanate Chewable Tablets
4. Amphetamine/Dextroamphetamine ER (aka Mixed Amphetamine Salts)
5. Amphetamine/Dextroamphetamine IR
6. Azithromycin Oral Suspension
7. Azithromycin Suspension
8. Baclofen Tablets
9. Benazepril HCTZ
10. Bethanechol Chloride Tablets
11. Budesonide DR Capsules
12. Budesonide Inhalation
13. Bumetanide Tablets
14. Buspirone Hydrochloride Tablets
15. Cabergoline
16. Capecitabine
17. Carbamazepine Chewable Tablets
18. Carbamazepine Tablets
19. Cefdinir Capsules
20. Cefdinir Oral Suspension
21. Cefprozil Tablets
22. Celecoxib
23. Cephalexin Suspension
24. Cimetidine Tablets
25. Ciprofloxacin Tablets
26. Clarithromycin ER Tablets
27. Clemastine Fumarate Tablets
28. Clomipramine HCL
29. Clonidine TTS Patch
30. Clotrimazole Topical Solution
31. Cyproheptadine HCL Tablets
32. Desmopressin Acetate Tablets
33. Desogestrel/Ethinyl Estradiol Tablets (Kariva)
34. Dexmethylphenidate
35. Dextroamphetamine Sulfate ER
36. Diclofenac Potassium Tablets
37. Dicloxacillin Sodium Capsules
38. Diflunisal Tablets
39. Diltiazem HCL Tablets
40. Disopyramide Phosphate Capsules
41. Doxazosin Mesylate Tablets
42. Drospirenone and ethinyl estradiol (Ocella)
43. Enalapril Maleate Tablets
44. Entecavir
45. Epitol Tablets
46. Estazolam Tablets
47. Estradiol Tablets
48. Ethinyl estradiol and levonorgestrel (Portia and Jolessa)
49. Ethosuximide Capsules
50. Ethosuximide Oral Solution
51. Etodolac ER Tablets
52. Etodolac Tablets
53. Fenofibrate
54. Fluconazole Tablets
55. Fluocinonide Cream
56. Fluocinonide Emolient Cream
57. Fluocinonide Gel
58. Fluocinonide Ointment
59. Fluoxetine HCL Tablets
60. Flurbiprofen Tablets
61. Flutamide Capsules
62. Fluvastatin Sodium Capsules
63. Gabapentin Tablets
64. Glimepiride Tablets
65. Griseofulvin Suspension
66. Haloperidol
67. Hydroxyurea Capsules
68. Hydroxyzine Pamoate Capsules
69. Irbesartan
70. Isoniazid
71. Ketoconazole Cream
72. Ketoconazole Tablets
73. Ketoprofen Capsules
74. Ketorolac Tromethamine Tablets
75. Labetalol HCL Tablets
76. Lamivudine/Zidovudine (generic Combivir)
77. Levothyroxine
78. Loperamide HCL Capsules
79. Medroxyprogesterone Tablets
80. Methotrexate Tablets
81. Mimvey (Estradiol/Noreth) Tablets
82. Moexipril HCL Tablets
83. Moexipril HCL/HCTZ Tablets
84. Nabumetone Tablets
85. Nadolol Tablets
86. Niacin ER Tablets
87. Nitrofurantoin MAC Capsules
88. Norethindrone/ethinyl estradiol (Balziva)
89. Northindrone Acetate
90. Nortriptylline Hydrochloride Capsules
91. Omega-3-Acid Ethyl Esters
92. Oxaprozin Tablets
93. Oxybutynin Chloride Tablets
94. Paricalcitol
95. Penicillin VK Tablets
96. Pentoxifylline Tablets
97. Piroxicam
98. Pravastatin Sodium Tablets
99. Prazosin HCL Capsules
100. Prochlorperazine Tablets
101. Propranolol HCL Tablets
102. Raloxifine HCL Tablets
103. Ranitidine HCL Tablets
104. Tamoxifen Citrate Tablets
105. Temozolomide
106. Tizanidine
107. Tobramycin
108. Tolmetin Sodium Capsules
109. Tolterodine ER
110. Tolterodine Tartrate
111. Topiramate Sprinkle Capsules
112. Trifluoperazine HCL
113. Valsartan HCTZ
114. Warfarin Sodium Tablets
"These generic drugs make up a significant portion of the marketplace, and account for billions of dollars of sales in the United States," Rosenblum said.
She said the higher prices create a heavier burden for the health insurance market, Medicare and Medicaid, and individuals who purchase the drugs.