---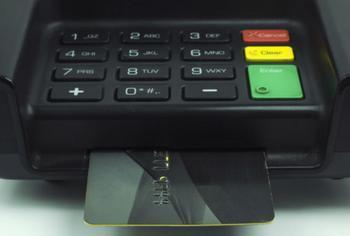 Why are there so few chip-enabled card readers at retailers around the country? It depends on who you ask. The nation's retailers say they've done their jobs – it's the credit card companies that have dropped the ball.
The National Retail Federation (NRF) points to a survey that found 48% of retailers have implemented the new EMV chip card system, or are expected to within weeks. A total of 86% said they expected to be EMV compliant by the end of 2016.
But the NRF said the survey also found that 57% of the retailers who had not yet implemented the new system had installed the card readers, but were waiting for certification by the credit card industry. About 60% said they had been waiting for six months or longer.
NRF says those numbers are in sharp contract to the statistics issued by the banking industry, which it says has tried to shift blame for the slow start to retailers. The survey, NRF says, found retailers are eager to begin using the chip card system since it protects them from liability connected to fraud.
Certification process
The certification process for the chip card system checks out a number of important functions to ensure the new technology is working properly. It can be a complicated process because the system must check out across multiple card platforms, including MasterCard, Visa, American Express, and Discover.
The size of the retailer can also complicate things. Big retailers with more point of sale positions take a lot more time.
Hundreds of tests may be required and the process might take two weeks or eight months. The cost to the retailer might be as little as a few hundred dollars or could run into the tens of thousands of dollars.
Visa says it's helping
Visa, meanwhile, recently announced steps it said could help speed up the implementation of the chip card technology. It said it has streamlined testing requirements, made the certification process simpler, and made commitments to improve the technology. It also said it is changing its policy to help limit exposure to counterfeit fraud liability for merchants who are not yet chip-ready.
While retailers might feel frustration at the pace, Visa maintains that progress has been "significant," with over 300 million chip cards in the hands of consumers and 1.2 million retail locations now equipped to accept them.
But the NRF said it is disappointed the credit card industry has not provided enough personnel to make sure certification happens in a timely manner. In the meantime, it says consumers are confused as to whether they continue to swipe their cards or begin "dipping."
---