---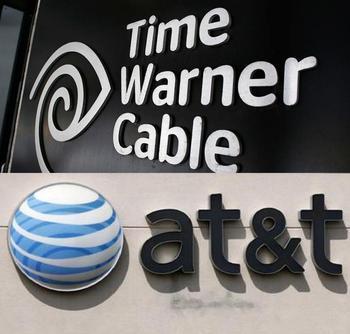 Consolidation continues in the media and communications industries, but the latest proposed deal is getting some strong push-back.
Over the weekend, AT&T confirmed that it wants to buy Time Warner for more than $85 billion. It comes on the heels of Verizon's deal to buy Yahoo and AT&T's own purchase of DirecTV in 2015.
But Yahoo Finance reports the deal may have a tough time getting a green light from government regulators. It quotes analysts as saying both the Federal Communications Commission and Department of Justice are likely to put the deal under a microscope to determine how it will affect consumers.
Matt Wood, policy director at Free Press, says these kinds of deals are almost always better for the combined businesses than for their customers.
Time to grab your wallet
"Any time you hear media executives talking about synergies, throwing around the business-babble that always accompanies these rumors, you know it's time to grab your wallet and hang on tight," Wood said in an email to ConsumerAffairs. "Big mergers like this inevitably mean higher prices for real people, to pay down the money borrowed to finance these deals and compensate top executives."
Wall Street, of course, was quick to celebrate the proposed deal, because reducing competition and combining resources is usually good for the bottom line. But Wood says the evidence is clear that it doesn't help consumers. He says AT&T's acquisition of DirecTV was followed by price hikes.
"It's a good thing there's a renewed interest among lawmakers and antitrust enforcers in addressing this merger-mania," Wood said. "It's also a good thing we have solid Net Neutrality rules on the books — even though companies like AT&T continue to test those rules in the market, threaten them in Congress, and challenge them in the courts."
Bipartisan opposition
Opposition to the proposed deal also surfaced on the presidential campaign trail. Speaking in Pennsylvania, GOP Presidential nominee Donald Trump denounced the deal in unusually harsh terms, saying "deals like this destroy democracy." If elected, Trump said his Justice Department would move to quash the merger.
On the other side of the aisle, Senator Al Franken (D-MN) took to Facebook over the weekend to express his reservations.
"I'm skeptical of huge media mergers because they can lead to higher costs, fewer choices, and even worse service for consumers," Franken wrote in a post. "And regulators often agree, like when Comcast unsuccessfully tried to buy Time Warner Cable, a deal that I fiercely opposed."
In the coming days, Franken said he will press for further details about the proposed deal and how consumers would be affected.
---