---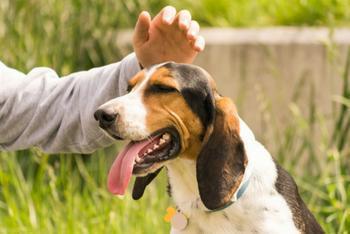 The summer months are often held in high regard by dogs who live in households with children. Having the kids home means more time to play outside, more family vacations, and more household activity in general.
Active dogs, especially, may relish summer days spent keeping up with the kids. Whether they're helping the kids man a lemonade stand or supervising a sleepover, the family dog has a lot to do during the summer.
That's why it can sometimes come as a shock to dogs when the kids return to school. When active summer days are replaced by days spent home alone, dogs may begin to engage in unwanted behaviors such as chewing, excessive barking, or soiling in the house.
But pet parents can keep back-to-school blues at bay by introducing a new routine to a dog's life prior to the start of the new school year.
Tips for keeping dogs happy
"Dogs are happiest when they have a routine, so the change from summer to school-year schedule can be hard on them," says Traci Simo of Canine Company. "Not only are the kids gone all day for school and afternoon activities, but when they come home, they're too busy with homework to spend time with the family pet."
To prepare your dog for the kids' return to school, Simo recommends reintroducing alone time. Leaving dogs home alone for short periods of time before the first day of school can help dogs gear up for a slightly less active Fall and Winter.
Additionally, pet owners can take the following steps to ensure that dogs don't wreak havoc on the house while the family is away. 
Exercise dogs thoroughly. Adequate amounts of exercise can often be the difference between a happy dog or a dog who gets into trouble. Hitting dogs' exercise quota for the day can often be as simple as a walk in the morning or an active round of fetch when the kids get home. Families can also enlist the help of a pet sitter who can come by and give the dog some midday exercise.
Use treat-dispensing balls. Mentally stimulating toys, such as treat-dispensing balls, can help keep your dog occupied for hours during the school day.
Brush up on obedience. Just as kids may have enjoyed a summer without homework, dogs may also have enjoyed a more unstructured summer. But training is an important part of keeping a dog's behavior from getting out of hand. For this reason, pet owners should consider taking a training refresher.
---