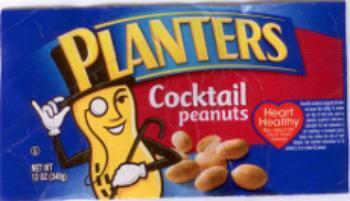 Good news for peanut-lovers: the American Heart Associated has given its Heart-Check Mark to two varieties of Planters Peanuts -- the lightly-salted and no-salt versions. 
The Heart-Check Mark identifies heart-healthy foods. 
"For years, Planters fans have enjoyed our peanuts for their delicious taste," said Peter Cotter, senior brand manager for Planters. "While many of our Planters Dry Roasted Peanuts have always been heart healthy, we are now recognized by a respected and well-known authority committed to heart health."
Peanuts and most other nuts are generally considered healthful and nutritious foods, as long as they aren't drenched in salt. Nuts are high in protein and low in dangerous fats but they are also high in calories, so they should be eaten in moderation.
Healthy snack
Besides protein, nuts contain vitamins and minerals; dietary fiber; and are dairy- and gluten-free. Years of research by scientists around the world link regular consumption of small amounts of nuts or peanut butter with decreased risk of heart disease, certain kinds of cancer, gallstones, Type 2 diabetes, and other health problems.
Walnuts are an especially healthy snack, according to a 2011 report that found them high in antioxidants.
"Walnuts rank above peanuts, almonds, pecans, pistachios and other nuts," said Joe Vinson, Ph.D., who did the analysis. "A handful of walnuts contains almost twice as much antioxidants as an equivalent amount of any other commonly consumed nut. But unfortunately, people don't eat a lot of them. This study suggests that consumers should eat more walnuts as part of a healthy diet."
Planters has hired Harley Pasternak, celebrity fitness and nutrition maven, to hype its new heart-healthy status.
"When I'm training my clients, I always make sure they are making healthy choices in all aspects of their lives, particularly in their diets," Pasternak said. "Partnering with Planters was a natural decision since I encourage my clients to eat heart healthy foods."
The trouble  with salt
The problem with salt, of course, is that it contributes to high blood pressure, which in turn contributes to heart disease, stroke and other life-threatening conditions.
Recent research in the American Heart Association journal Hypertension finds less sodium in the U.S. diet could save 280,000 to 500,000 lives over 10 years.