Blue Buffalo is the latest pet food to be hit with a wave of consumer complaints alleging that pets became ill and, sometimes, died after eating it, even though the company has assured consumers the food is safe and the Food and Drug Administration has no record of any recent recalls or safety warnings. 
The FDA, however, is concerned about repeated recalls and incidents with pet food and jerky treats in general, as Michael Taylor, Deputy Commissioner for Foods and Veterinary Medicine at FDA, made clear in a Food Safety News interview Tuesday.
"I think our sense is that a lot of companies are managing their supply chains with what are understood to be best practices and a lot of companies aren't. There's not a uniform picture," Taylor said, lamenting that budget cuts forced by sequestration will hamper FDA's ability to enforce the new Food Safety Modernization Act, passed by Congress two years ago and still being phased in.
Taylor said that strict regulation of pet food is vital because the "product is basically the sole diet. With that, the composition, or getting the right nutrients in there, is part of safety."
Not always the food
While veterinarians routinely caution against blaming food as the cause of an animal's illness without tests to back up the assertion, consumers like Claire of Delaware are certain it's the food that is making their pets sick.
"We adopted our now 15-week-old Shepherd/Labrador mix five weeks ago from today. The rescue had him on Purina Puppy Chow. I researched what to feed him on dogfoodadvisor.com and chose the BB Wilderness. I transitioned him to it over about a week and a half and he did well," Claire said in one of hundreds of postings on ConsumerAffairs. "He's been having loose stools on and off, drinking seemingly excessively and having very smelly bowel movements upwards of 10x/day and flatulence. This has been going on for about a week.
"Yesterday, he seemed somewhat subdued, not quite lethargic. I'm absolutely mortified to find this with a premium food and no action taken by BB. I'm going to bring it back today and get him on something else," she said.
Switching to another food may work but delaying a visit to the vet may allow the dog to become sicker. In the case of a rescue dog -- or any recently-acquired animal, for that matter -- underlying illness may not manifest itself immediately, veterinarians say. 
"When a pet is sick, pet owners often look first to the pet's food as the cause. However, it is rare that their food is responsible for the illness," said Dr. Stephen Ettinger in an article published by DVM360.com, a trade publication for veterinarians. Ettinger, an academic veterinarian at Cornell University, recently commented in a ConsumerAffairs story about  similar complaints involving Beneful dog food.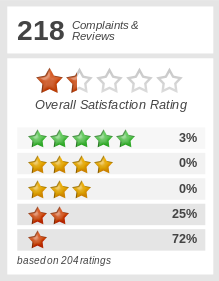 "These statements (the consumer postings) are not backed by any scientific studies, and the conditions described in the postings are amongst the most common conditions seen in everyday veterinary practice," said Ettinger said after reviewing many of the posted Beneful reports.
True, but Joe Bartges, DVM, PhD, a professor at the University of Tennessee-Knoxville noted that FDA recalls may not always be issued quickly and cautioned against dismissing consumers' observations too quickly. 
"The FDA does not issue a recall unless there is credible proof of a problem, which may take some time.  I can remember the aflatoxin problem that occurred around 2004 that was linked to pet food.  We began getting consults and seeing patients with liver failure and started piecing together the common thread before it was officially released," he said in an interview with ConsumerAffairs. 
"While 'common things happen commonly' and many owners look for someone or something (such as pet food) to blame, I don't dismiss their observations.  Coincidences occur but not that commonly especially when there are multiple pets affected.  I think that we, as veterinarians, need to be cautious rather than dismissive.  We need to be objective about our assessment of problems that a patient has without becoming too tunnel-vision," he said.
A fact of life
Food toxicity, after all, is a fact of life both for humans and their pets. The U.S. Centers for Disease Control and Prevention (CDC) estimates that 76 million Americans get sick, more than 300,000 are hospitalized, and 5,000 people die from food borne illnesses each year. Animals may be a little luckier.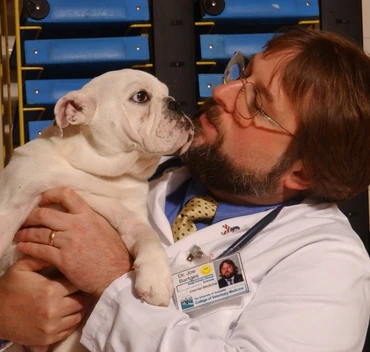 "Pet food toxicities occur commonly, but less so than in human beings," Bartges and colleagues asserted in a scholarly paper published in November 2009. But that doesn't mean pet owners or veterinarians should be complacent, they said.
"Be suspicious of a food-related disease especially if you notice trends in households, food consumed, or clusters of cases geographically," Bartges cautioned veterinarians. "You are not being paranoid. Have owners discontinue feeding suspected food immediately. On a short-term, owners can home cook, if they wish. In order to minimize risk of food poisoning in pets."
What advice does Bartges have for pet owers?
"First and foremost – seek veterinary care.  A veterinarian (and veterinary nurse in the practice) can help to collect information.  The pet food company should be contacted.  Many companies keep records of complaints and look for commonalities.  Contact the FDA through their website.
"Keep labels and receipts and keep food.  Do not throw it away and do not send it all back.  If any pet is sick from a presumed food-associated illness, then document dates and any examination and laboratory findings and treatments and response to treatment," he said in an email statement to ConsumerAffairs. 
"Healthy and holistic"
For its part, Blue Buffalo maintains on its website, advertising and product packaging that all of its "healthy and holistic dog foods are made with the finest natural ingredients."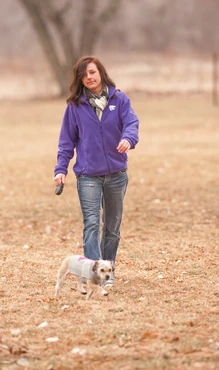 This sounds good but does it mean anything? The terms "holistic" and "natural" have no legal meaning and, even if they did, "natural" foods are not necessarily healthier than processed foods, according to a Kansas State University veterinarian.
"Natural and veggie-based pet foods are based more on market demand from owners, not because they are necessarily better for the pet," said Susan Nelson, K-State assistant professor of clinical services at the university's Veterinary Medical Teaching Hospital, in a university news release.
And further, Nelson says consumers should be wary of any pet food company that claims to have organic or holistic food. "Organic" and "holistic" currently have no specific definitions for pet foods under the Association of American Feed Control Officials guidelines.
The feed control association defines natural products as those that don't contain any chemically synthesized ingredients except vitamins or minerals. The labels for natural products containing any of these ingredients must state: "Natural with added vitamins, minerals and other trace nutrients." 
Check the ingredients
Consumers should also pay attention to food ingredients. For instance, cats and dogs should not eat onions or garlic, Nelson said. While flaxseed oil can provide fatty acids for dogs, cats can't use it for this purpose. Any manufacturer that uses these ingredients should be avoided, Nelson said.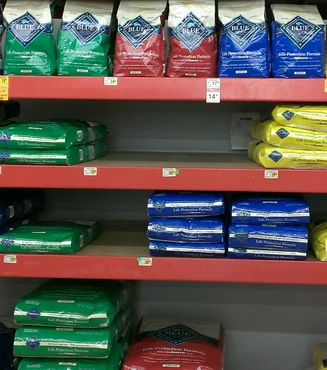 Interestingly, garlic is an ingredient of at least some Blue Buffalo foods, including the six-pound bag of Blue Buffalo Life Protection Formula we bought at a local PetSmart.  
Other potentially questionable Blue Buffalo ingredients noted by PetFoodAdvisor.com include whole brown rice, tomato pumice and caramel. Brown rice, the site says, "is of only modest nutritional value to a dog," while tomato pumice is "a by-product remaining after processing tomatoes into juice, soup and ketchup."
"Many praise tomato pomace for its high fiber and nutrient content, while others scorn it as an inexpensive pet food filler," said the site, which is operated by Mike Sagman, a graduate of the Medical College of Virginia with a doctoral degree in dental surgery and more than 30 years of dental practice. Though not a veterinarian, Sagman notes that he has a strong background in chemistry and biology and is well-versed in reading pet food labels.
We were not able to ask Blue Buffalo about any of these ingredients because the company did not respond to our request for comment. 
Blue Buffalo responds, sort of
Although it did not respond to requests for comment from ConsumerAffairs, Blue Buffalo has responded to some consumers who contacted the company directly. Here is the text of their emailed response, as supplied to us by several consumers:
Thank you for contacting us. I apologize for the incorrect information you received as there is no truth to the rumors that are currently circulating. Please be assured that BLUE has not been sold; we remain an independent, family owned business. In addition, none of our products are involved in any recalls nor have we experienced issues with any of our batches. We also continue to source all of meats, grains, fruits and vegetables from within the United States.

In regards to the Consumer Affairs site, we are aware of the postings. Unfortunately we can't control what is posted in an online forum and unless the Pet Parent contacts us directly, we can't investigate their claim fully. We always encourage pet parents to contact us if they feel there is an issue so that we can gather all of the product information for our QA Team and investigate.

Product quality is our #1 priority. We have strict controls in place to make sure that our ingredients meet the highest quality standards. These controls include the following: Certificate of origin for all ingredients COA's (certificates of analysis) on all our ingredients prior to accepting Testing of each ingredient for known toxins prior to accepting Testing during production to insure that our formulas meet our nutritional specifications. Testing after production to insure product stability and freshness.

We use a government certified laboratory to test for normal analyticals, toxins, bacterial contamination, and spoilage. Thank you again for contacting BLUE. 
Bartges, like other veterinarians, doesn't disagree.
"Despite the bad press, pet food companies as a whole do a good job in trying to provide nutritious food that is safe.  It doesn't make sense that a business would produce a product that would harm the consumer from a business standpoint," he said.  "But food-associated problems do occur.  We, as veterinarians, must be aware of this possibility and provide the best care for our patients and best service for our clients."
By refusing to respond to press inquiries, Blue Buffalo has done little to combat the growing impression among consumers that there is a health problem with its products.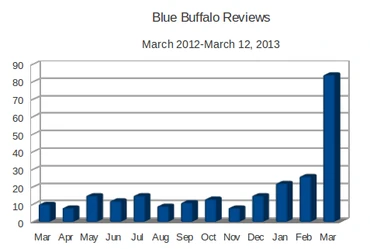 Complaints about Blue Buffalo began arriving at ConsumerAffairs almost exactly a year ago, on March 13, 2012. What was then a trickle has since become a flood, one that could possibly have been averted if the company had responded more quickly.
The first complaint was from Paulette, of Sonora, Calif., who said her dog came down with pancreatitis five days after being started on Blue Buffalo Salmon & Potato.
"We are one of the lucky dog owners, our vet was well versed and after a lengthy treatment plan and around $1,000 later our dog was saved," she said. "We filed a complaint with Blue Buffalo and sent them a cup of the food to be analyzed. We just got a letter back from Blue Buffalo denying our claim and they state nothing about the analysis of the food."
What to do
What can you do to keep your pet safe and healthy? Being alert to signs of illness is the first line of defense. If you dog or cat becomes ill, switching to boiled chicken and white rice may solve the problem but if it doesn't, it's important to get the animal to a veterinarian quickly. Kidney failure and other diseases that bedevil pets can progress rapidly and early treatment is vital.
Here are some other tips from Bartges and colleagues:
Do not allow them access to garbage or carrion
Cover and refrigerate unused portions of wet food
Do not feed foods that have a suspicious appearance or odor
Use stainless steel bowls and utensils and clean them
Store dry foods in a cool dry location free of pests.
Also, pet owners who suspect a problem with the food should save the package and a small sample of the food in question. Also, as Blue Buffalo recommends above, contact the manufacturer and file a report with the FDA.