---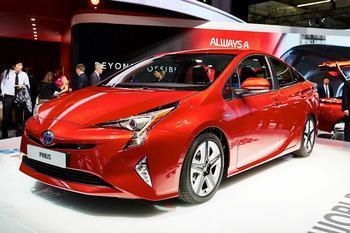 Gasoline is the cheapest it has been in more than a decade, and sales of SUVs and pick-up trucks are booming because of that.
Consumers don't seem to mind if a vehicle uses more fuel when the fuel costs less.
But new car buyers might want to take a contrarian approach here. Because so many consumers are buying less fuel-efficient cars, there is less negotiating room with the dealer.
On the other hand, sales of high mileage, fuel efficient vehicles have fallen. That suggests that you might get a better price or more incentives when you negotiate.
And here's something else to consider – gas prices may not stay low forever. You'll probably drive that vehicle five to 10 years; gas prices could be considerably higher for most of that time.
Top ten fuel efficient cars
With that in mind, and just in time for Earth Day, the folks at Kelley Blue Book (KBB) have offered up what they consider to be the top 10 fuel efficient cars – vehicles that get at least 40 miles per gallon (MPG).
1.) 2016 Toyota Prius: The Prius paved the way for hybrids and KBB says it's still the top choice. It says the Prius is fun to drive while delivering amazing fuel efficiency.
2.) 2016 Chevrolet Volt: While the Prius was a leader in hybrid technology, the Chevy Volt was a pioneer in plug-in technology. KBB says the car is now in its second-generation and is more efficient, more practical, and more appealing than what came before.
3.) 2016 Tesla Model S AWD - 70D: Tesla has certainly created some buzz among consumers, with a sleek design, a giant touchscreen display, and incredible pickup for an electric. Of all the vehicles on the list, however, it comes with the second highest sticker price.
4.) 2016 BMW i3: By the EPA's accounting, the BMW i3 is the most fuel efficient car on the road. KBB says it is even built in an earth-friendly way, in a plant powered completely by four wind turbines.
5.) 2016 Volkswagen e-Golf: While its clean-diesel powered brethren remain in the doghouse, this electric version is winning praise for sharp handling and a European driving feel.
6.) 2016 Kia Soul Electric: It's the electric version of Kia's popular gas-powered Soul. The electric is more expensive but, in KBB's opinion, even cooler.
7.) 2016 BMW i8: Rated at 357-horsepower, the i8 might not seem like an economical car, but it is. It's all electric with zero emissions. It also has a lot of zeros in the price – $140,000, making it the most expensive on the list.
8.) 2016 Toyota Mirai: The Mirai is hydrogen-powered – clean but quickly refillable. At this point, however, it may be hard to find one. KBB says availability is limited.
9.) 2016 Toyota Camry Hybrid: The Camry Hybrid may be one of the best values on the list. It can be purchased for under $30,000 and it delivers 41 MPG – a nice combination. As a bonus, it comes with Camry's famous reliability.
10.) 2016 Ford Focus Electric: The gas-powered Focus is one of Ford's best sellers. KBB says the electric version is simply more fun to drive than most of its competitors.
Plenty of options
"New-car shoppers may be surprised to learn that there are more than 30 new vehicles that achieve 40+ miles per gallon for 2016, including everything from a six-figure supercar to a sub-$14,000 hatchback," KBB analyst Jack Nerad said in a release.
These cars, he says, offer plenty of options for anyone thinking ahead to a time when gasoline prices might not seem like such a bargain.
---