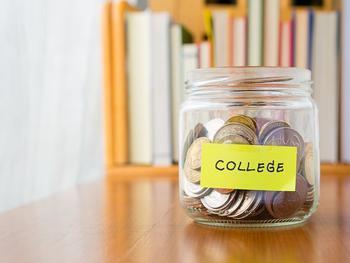 Parents often hope for a better future for their children. For Millennial parents, a better future means one without the burden of student loan debt.
In an attempt to lay the groundwork for a debt-free future for their kids, many Millennials are putting their children's college savings fund ahead of their own retirement fund.
Roughly one in five (19%) Millennial parents who responded to a survey by TD Ameritrade said saving for their child's education is their top financial priority, equal to the number that identified emergency savings as their number one priority. Retirement savings came in third, at 15% of parents.
Findings from the new survey suggest Millennials would rather not see their children in the same boat in the future -- which is to say, still chipping away at their student loan debt when their own kids graduate.
Key findings
Millennial parents are saddled with an average of $9,100 in student debt, the survey found. One-third of these parents expect that they will still be paying off their loans when their kids head off to college.
Although it'll be years before Millennial parents attend their child's college graduation, the poll found that a majority (90%) already have a plan in place to pay at least some of their kid's college fees.
Additional findings from the survey showed:
Latino/Hispanic and Asian millennial parents are twice as likely as Caucasian Millennial parents to expect to pay all education fees.

Although 57% Millennial parents do not expect their parents to help with college fees, one in five (19%) grandparents contributed to a grandchild's college savings in the past year.

Millennial parents who are saving for their children's education are saving an average of $310 per month, with grandparents contributing an additional $205.
Setting financial goals
Accruing the funds needed to foot the bill for a child's college education may be a worthy endeavor, but the experts at TD Ameritrade say college savings shouldn't come at the expense of retirement (for which there are no loans, grants, or scholarships).
"If you're able to swing it, parents can of course sock away money in a college fund, or ask grandparents to contribute to future education needs, rather than the toy box," said Dara Luber, retirement and long-term investing expert at TD Ameritrade.
"Just be steadfast in your own goals. Parents are much closer to cracking open that nest egg, and you want it to be as full as possible," Luber concluded.