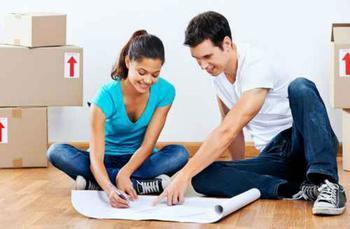 Millennials are extremely practical when it comes to home buying and renovating, according to a new survey by Better Homes and Gardens. They might dream of cooking in a kitchen with all new appliances, but they're not about to overextend themselves financially in order to achieve their vision of the perfect home.
Millennials -- especially those currently living in a home they've owned for five years or less -- also aren't opposed to waiting or doing DIY projects to make their home goals a reality.
"These first time Millennial homeowners are focused on building equity – not debt," explained Jill Waage, editorial director of digital content and products at Better Homes and Gardens. "They are strong believers in being able to afford their dreams as they achieve them and not over stretch themselves."
Making trade-offs
Rather than paying top dollar for a high-end home or shelling out big bucks on home renovations, Millennial "firsts" often prefer to let their budgets dictate their plans.
Findings from the survey revealed that "firsts" are more likely to live in older, lower-end homes that are in need of fixing up. Fifty percent of Millennials ages 22-39 said their first home was in need of some degree of repair when they moved in.
Members of the generation also tend to take their time when it comes to tackling home improvement projects. The group aims to accomplish home goals as they progress through life and become more financially stable, according to the study.
If calling a professional to take care of a home improvement project isn't in the budget, Millennials often don't hesitate to roll up their sleeves. Three out of four "firsts" do some degree of DIY in their home, the survey found.
"Millennials and Millennial 'firsts' are paving their own paths in homeownership based on their own budgets, timeline and needs," explained Waage. "These 'firsts' are replacing big-budget homes and expensive renovations with patience, frugalness and practicality."
Modest aspirations
Millennials may be financially conscious, but they're not lacking in home improvement aspirations. Their goals, however, are often modest and able to be accomplished in a budget-friendly fashion.  
Projects that add value to their home -- such as painting walls, installing tile, and installing light fixtures -- are among the top interior DIY improvements.
Ultimately, 64% of Millennial "firsts" desire a renovated kitchen, 60% desire renovated bathrooms, and 59% have dreams of a renovated deck/patio space. On average, they would like mid-sized homes around 2116 square feet, according to the survey.