---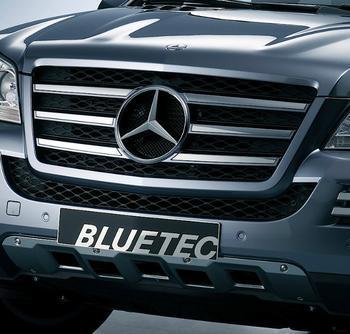 A class action lawsuit charges that Mecedes-Benz BlueTEC diesels have a problem similar to Volkswagen's "clean diesel" engines. It alleges that the Mercedes engines emit 65 time the legal level of nitrogen oxide (NOx) when operated at temperatures below 50 degrees.
"Mercedes labeled its BlueTEC vehicles as 'earth friendly,' selling consumers the false notion that these diesel cars were less harmful to the environment, but Mercedes never divulged to consumers that BlueTEC diesels pollute at illegal levels when driven at lower temperatures and that its 'champion of the environment' mantra was a sham," said Steve Berman, managing partner of Hagens Berman, the law firm filing the complaint.  
"It appears that Mercedes has been caught in a similar scheme as Volkswagen and programmed these BlueTEC vehicles to pollute, all the while reaping profits from those who have fallen victim to its aggressive and deceptive eco-conscious branding," Berman said.
"Ultra-low emissions"
The suit filed Feb. 18, 2016 in the U.S. District Court for the Northern District of Illinois accuses Mercedes of deceiving consumers with false representations of its BlueTEC vehicles, which it marketed as "the world's cleanest and most advanced diesel" with "ultra-low emissions, high fuel economy and responsive performance" that emits "up to 30% lower greenhouse-gas emissions than gasoline."  
According to the complaint, on-road testing confirmed that Mercedes' so-called Clean Diesel cars produced average on-road NOx emissions that are 19 times higher than the U.S. standard, with some instantaneous readings as high as 65 times more than the U.S. limit.
The suit asks that Mercedes be ordered to recall or repair the affected vehicles and that consumers receive compensation for the diminished value of their cars. 
Models named in the suit include:
·         ML 320
·         ML 350
·         GL 320
·         E320
·         S350
·         R320
·         E Class
·         GL Class
·         ML Class
·         R Class
·         S Class
·         GLK Class
·         GLE Class
·         Sprinter
"Even higher levels ..."
"When we filed the first lawsuit against Volkswagen regarding their use of emissions-cheating software, we felt they were not the only culprits duping consumers into paying a high price for deceptive diesels," Berman said.  "Mercedes' deception involves a cover-up of even higher levels of pollution, and consumers paid high prices for these luxury vehicles they thought were clean, only to be forced to drive diesel cars dirtier than their gasoline counterparts."
The complaint states that, "Exposure to these pollutants has been linked with serious health dangers, including asthma attacks and other respiratory illness serious enough to send people to the hospital.  Ozone and particulate matter exposure have been associated with premature death due to respiratory-related or cardiovascular-related effects."
---