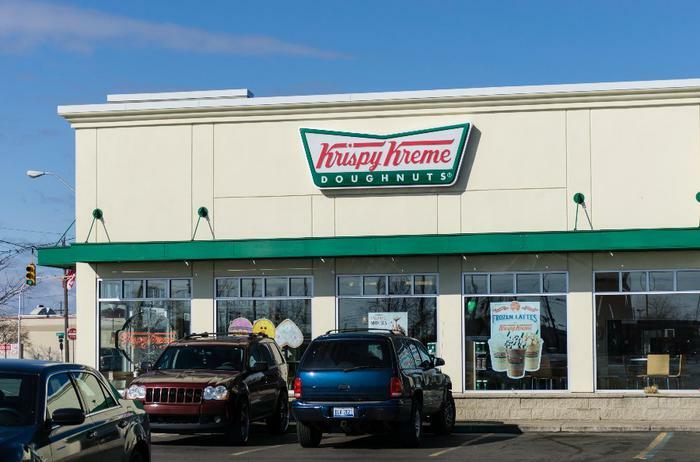 Krispy Kreme has announced that it will give customers who have been vaccinated against COVID-19 a free doughnut. 
Beginning today and continuing through December 31, customers who show a valid COVID-19 vaccination record card can get one free Original Glazed doughnut at participating Krispy Kreme locations. 
The company said the promotion allows for "one redemption per guest per day," meaning customers who have received one of the available COVID-19 vaccines could get a doughnut every day for the rest of 2021 if they wanted to. 
"We all want to get COVID-19 behind us as fast as possible and we want to support everyone doing their part to make the country safe by getting vaccinated as soon as the vaccine is available to them," Dave Skena, Krispy Kreme Chief Marketing Officer, said in a press release. 
Vaccinated customers can redeem the free doughnut offer at participating Krispy Kreme stores or drive-thrus. The deal isn't available to those ordering online or from third-party delivery platforms, the company noted. 
Defeating the virus
The promotion comes as health officials push eligible Americans to get one of the available COVID-19 vaccines as soon as possible. 
As of this week, 100 million doses of the COVID-19 vaccine have been administered in the United States, meaning more than 35 million Americans (10.5 percent of the population) have been inoculated against the virus. Another 72 million people (just over 20 percent of the U.S. population) have received at least one dose of a COVID-19 vaccine. 
The Biden administration has estimated that every adult will be able to get one of the three available COVID-19 vaccines by May. 
"Let me be clear, that doesn't mean everyone's going to have that shot immediately, but it means you'll be able to get in line beginning May 1," Biden said.
The president has set a goal of making this year's Fourth of July a day to "mark our independence from this virus."