---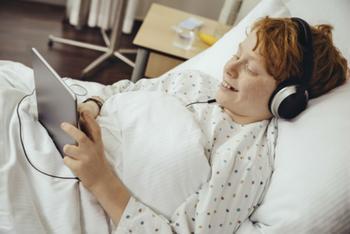 Apple's tablets aren't just for catching up on Curious George or playing a few rounds of Angry Birds. For kids, iPads may serve as a powerful calming agent prior to undergoing surgery.  
New research presented at this year's World Congress of Anaesthesiologists (WCA) shows that iPads are as effective as sedatives in lowering kids' pre-surgery anxiety.
When kids had to be separated from their parents before surgery, the use of iPads was found to increase the quality of anesthesia induction. Better still, parents were less stressed and more satisfied with the anesthesia when iPads were involved.
Better anesthesia results
The primary goal of the study was to compare the anxiety levels of children given midazolam (a sedative commonly administered before anesthesia) with children who played games on an iPad before surgery.
Psychologists were brought on board to help assess participants at several nerve-wracking stages: upon arriving at the hospital, when separated from their parents, during induction, and in the post-anaesthesia care unit. Parents' anxiety and satisfaction with anesthesia was also measured.
Parents and nurses alike noted that anesthesia was more effective to children who used an iPad prior to surgery. Lead author Dr. Dominique Chassard said that midazolam can help dull children's parental separation anxiety, but agreed that iPads can greatly reduce stress and increase parental satisfaction with anaesthesia.
Advantages
"Use of iPads or other tablet devices is a non-pharmacologic tool which can reduce perioperative stress without any sedative effect in paediatric ambulatory surgery," said Chassard.
The familiarity of an iPad can help calm kids' nerves in a scary situation, but it also boasts another advantage: no side effects.
Unlike midazolam -- which may cause headaches, drowsiness, nausea, or even hardening of the skin at the injection area, according to Everyday Health -- the iPad has no lingering after-effects.
A paper on the study will be published later this year. 
---