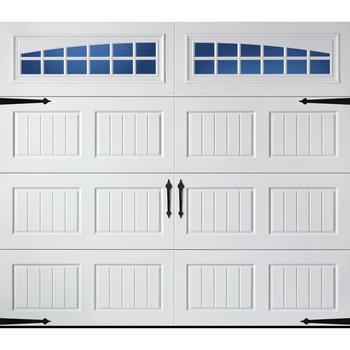 Most home improvement tweaks boost your home's value to some extent, but determining which upgrades are the best investment can be difficult.
When it comes to remodeling with the intent of recouping your investment, all projects are not created equal. Adding a bathroom, for example, garners a return-on-investment of just 57%, according to Remodeling 2017 Cost Vs. Value Report.
Other projects, like adding a master suite or doing a major kitchen remodel, offer similarly paltry payouts. Before sinking money into home improvement, consider taking stock of which projects are worth the cost.
Here are a few projects that offer the biggest bang for your buck, in terms of payback.
Garage door replacement
Buyers are seemingly smitten with the idea of being greeted by a beautiful, security-enhancing garage door as they pull into their driveway. A new garage door gives sellers an average return on investment of 85%, according to the Cost Vs. Value Report.
Replacing an older, two-car steel garage door won't cost sellers an arm and a leg, either -- around $2,300, according to the report.
New front door
Speaking of doors, adding a new front door is another low-cost project that tends to pay off big. Swapping your old front door for a new steel front entry door can boost your home's curb appeal while also reducing energy loss.
According to the study, a new steel front entry door has a national median cost of $2,000 installed and can recoup 75% of that cost at resale.
New siding
Curb appeal is key in today's market, and new siding can do wonders for a home's overall look. Vinyl siding in a fade-resistant finish is also low maintenance, which can appeal to cost-conscious buyers.
A vinyl siding replacement job recoups 83% of its cost; fiber-cement siding offers a 79% return, according to the Cost Vs. Value Report.
Attic insulation
For a return higher than the cost of the project, consider adding loose-fill insulation in the attic. A properly insulated attic can help keep your home cool in the summer and warm in the winter, which can keep energy costs down.
And with a return of 107.7% of its original cost, adding attic insulation (fiberglass) is a solid investment for sellers. 
Before shelling out big bucks on a home improvement project, consider what's standard in your community. In some neighborhoods, upscale upgrades may not yield a substantial return on investment.
According to Appraisal Institute President Jim Amorin, "Projects that move a home well beyond community norms are typically not worth the cost when the owner sells the property."