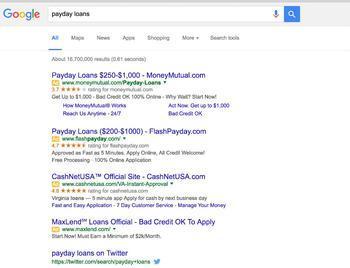 Google is banning all ads for payday loans, the short-term high-interest loans that trap many consumers in a cycle of debt they can't escape. Many payday lenders have used the internet to get around state laws restricting the loans.
"I think this action is as unprecedented as it is significant" said Keith Corbett, Center for Responsible Lending Executive Vice President. "By example, Google is demonstrating how profitable enterprises can also be ethical and supportive of financial fairness. There is nothing fair about triple-digit interest rates being charged on loans to working families. Payday loan stores reap billions of dollars in interest and fees on a product designed to force borrowers into repeat loans."
"Our hope is that fewer people will be exposed to misleading or harmful products," Google global product policy director David Graff said in a blog post about the change.
Graff said the ban will become effective July 13. It specifically affects ads for loans that require repayment within 60 days and ads for loans with an annual percentage rate (APR) of 36% or higher. 
Facebook already has a ban on payday loan ads, but Yahoo and others still accept them. Consumers will still be able to find payday loans by conducting a Google search.
It's thought to be the first time Google has banned specific types of financial products. It has previously banned ads for illegal activities and sexually explicit material.
Praised and pilloried
Google's action was praised by consumer and civil rights activists but blasted by financial service interests.
"This new policy addresses many of the longstanding concerns shared by the entire civil rights community about predatory payday lending," said Wade Henderson, president and CEO of The Leadership Conference on Civil and Human Rights. "These companies have long used slick advertising and aggressive marketing to trap consumers into outrageously high interest loans - often those least able to afford it."
Americans for Financial Reform said the action "closes off an important avenue of customer recruitment for an industry that is doing more and more of its business online."
"Payday loans, whether made through physical or virtual storefronts, are engineered to suck people into long-term triple-digit-interest debt, making their financial problems worse, not better," the group said.
"Facebook and others are making a blanket assessment about the payday lending industry rather than discerning the good actors from the bad actors," the Community Financial Services Association of America said. The trade group said the action was "unfair towards those that are legal, licensed lenders."
Google's action is not the only cloud on the horizon for payday lenders, though. The Consumer Financial Protection Bureau (CFPB) is working on a rule that would rein in some of the worst offenses. That rule is expected to be unveiled later this spring.
A CFPB analysis earlier found that half of borrowers who took out online payday loans were hit with an average of $185 worth of bank fees and penalities when the lenders submitted automatic repayment vouchers that overdrew consumers' bank accounts.