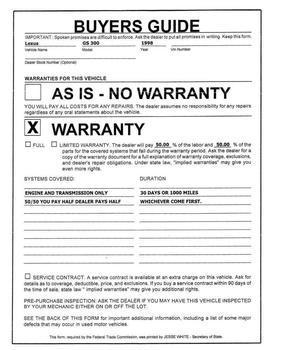 Buying a used car used to be pretty much an act of faith. But federal regulations adopted over the years have made more information available to consumers, and today the Federal Trade Commission announced updates to the information dealers are required to provide on the window stickers of used cars.
The stickers, officially called the Buyers Guide, disclose whether the car is being sold "as is" (without a warranty) or with a warranty. 
If the sale is with a warranty, the Guide discloses the terms and conditions, including the duration of coverage, the percentage of total repair costs the dealer will pay, and the vehicle systems the warranty covers. In states that do not permit "as is" used car sales, dealers must use an alternative guide that discloses whether the sale is with a warranty or with implied warranties only.
The changes announced today have been in the works since December 2012. They include:
changing the description of an "As Is" sale;
placing boxes on the face of the Buyers Guide that dealers can check to indicate whether a vehicle is covered by a third-party warranty and whether a service contract may be available;
providing a box that dealers can check to indicate that an unexpired manufacturer's warranty applies;
adding air bags and catalytic converters to the Buyers Guide's list of major defects that may occur in used vehicles;
adding a statement that directs consumers to obtain a vehicle history report and to check for open recalls.  The statement also instructs consumers to:

visit ftc.gov/usedcars for information on how to obtain a vehicle history report; and
visit safercar.gov to check for open safety recalls;
adding a statement, in Spanish, to the English-language Buyers Guide,
advising Spanish-speaking consumers to ask for the Buyers Guide in Spanish if the dealer is conducting the sale in Spanish; and
providing a Spanish translation of the statement that dealers may use to obtain a consumer's acknowledgement of receipt of the Buyers Guide.
Dealers are allowed to use up their remaining stickers over the next year.