---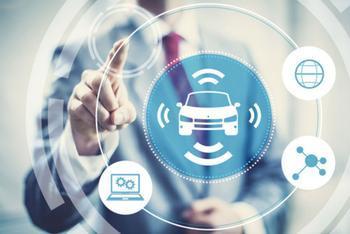 Lately, the lines between the automotive world and technology have begun to blur. There are computers inside vehicles and the automakers have been as big a presence at the annual Consumer Electronics Show as Sony and Microsoft.
So it might not come as a surprise that Ford is doubling down on high-tech and increasing its efforts in the area of autonomous vehicles. On CNBC's Squawk Box Tuesday, Ford CEO Mark Fields said the Detroit automaker will double the number of its employees in Palo Alto, Calif., expand its labs, and form new partnerships with technology firms.
"It's a very exciting time in the industry," Fields told CNBC. "Our view is autonomous vehicles could have just as much [of an] impact on society as Ford's moving assembly line did 100 years ago."
Represents a sea change
That, indeed, is a noteworthy comparison. Karl Brauer, senior analyst at Kelley Blue Book, says autonomous vehicle technology represents a sea of change, and it's both exiting and frightening for established automakers like Ford.
"Each manufacturer is jockeying for position in a race that remains highly speculative regarding the timing, implantation and regulation of this technology," Brauer said in an email to ConsumerAffairs. "Ford's investment in Velodyne and the doubling of its Palo Alto workforce is the latest example of collaboration between Detroit and Silicon Valley."
The collaboration is not surprising. Brauer says car producers and tech companies have to collaborate to make this shift happen. Ford has publicly stated that it plans to have a self-driving car within five years.
No steering wheel or pedals
"Ford's car will be fully self-driving, with no steering wheel or pedals, though their commitment of SAE Level 4 of autonomy means the car will still have limitations with regard to how and where it can operate," Brauer said. "This is another sign that the first application of self-driving technology will be under highly controlled conditions in a specific area, such as college campuses or urban environments."
Brauer says the timetable for privately-owned, fully autonomous vehicles, capable of operating anywhere and anytime, remains at least seven to 10 years away."
This all comes at a time when safety advocates are expressing some reservations about fully autonomous vehicles, after a couple of high-profile crashes involving Tesla models. However, it should be noted the Tesla vehicles were equipped with driver-assist technology and were not fully autonomous.
Last month, Consumers Union called on Tesla to disable its auto-pilot feature. A coalition of consumer groups called on President Obama to have regulators put the brakes on autonomous vehicle technology.
Thanks
Keep an eye on your inbox, the lastest consumer news is on it's way!
Unsubscribe easily whenever you want
---