---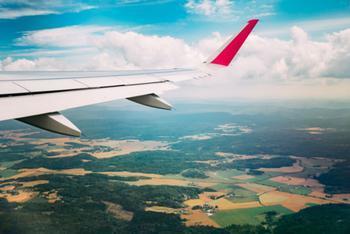 The window seat of an airplane can offer a hard-to-beat aerial view of the earth. Most of the time, however, it can be hard to determine where in the world you are from that view alone.
Now, there's an app that can help you make sense of what's down below. Travelers who use the Flyover Country app can get in-depth information about the land they're seeing on the other side of the clouds. 
The app can tell you what city you're looking at, why a river bends the way it does, or even if dinosaur bones were discovered in a particular spot. How does it work? According to Travel + Leisure, the app uses maps and information from geological and paleontological databases to identify the landscape passing beneath a plane.
The app's creator, Shane Loeffler, was struck with the idea for the app during a long flight home. Loeffler, a geology student at the time, wanted to know more about the landscape passing under him some 30,000-feet below. With the help of a grant, Flyover Country was developed.
Uses cached data
The app utilizes the GPS on a user's phone to provide detailed information about their current location. Travelers can learn about the natural features they're passing over (such as glaciers) and man-made features (such as mines), all while they read Wikipedia articles about them. 
Thanks to the app's use of cached maps, data, and Wikipedia articles, fliers can learn about what they're seeing without having to purchase in-flight Wi-Fi.
Flyover Country can also come in handy during road trips and hikes. In the future, the app may even be able to amuse night time air travelers with meteorological and astronomy facts.
Flyover Country is available as a free download from Google Play and the App Store.
---