---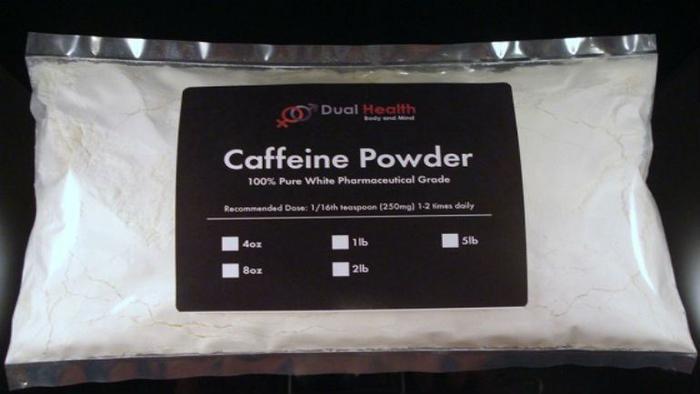 It's not just concentrated cocaine and heroin that can kill. Powdered caffeine can too, leading a consumer group and three U.S. senators to call on the Food and Drug Administration to ban its sale.
"It is disturbing that despite several unintended and untimely deaths associated with powdered caffeine, the FDA has done little to regulate these products or adequately enforce the standards in place to protect Americans from the substantial risk associated with ingesting powdered caffeine in any form," said Sens. Dick Durbin (D-IL), Sherrod Brown (D-OH), and Richard Blumenthal (D-CT) in a letter to the FDA.
According to the FDA, a single teaspoon of pure caffeine is roughly equivalent to the amount in 25 cups of coffee. 
The Center for Science in the Public Interest joined the three senators at a news conference and cited the deaths of two young men -- Logan Stiner and Wade Sweatt -- who died after taking small quantities of powdered caffeine.
Wanted to avoid sugar
In a statement released at a news conference Tuesday, Sweatt's parents said that because their son "didn't care for the taste of coffee and wanted to avoid caffeinated and sugary soda, one day two summers ago he tried powdered caffeine."
"He immediately knew something was wrong. He found his wife and told her, 'that powder is making me sick.' Although the EMTs took only a few minutes to get to his house, it was already too late," the Sweatts' statement said. "Wade was an engineer, who solved complicated technical problems every day and certainly never meant to do anything that would endanger his life. His only mistake was trusting that any substance sold to consumers could not possibly be as dangerous as we now know powdered caffeine truly is."  
The American Association of Poison Control Centers has reported that, since 2014, there have been 60 incidents involving powdered caffeine in at least 25 states, most involving consumers under 18 years of age.  
"Unfortunately, in the absence of strong regulatory action, companies are continuing to develop new delivery mechanisms and creative advertising ploys to attract new powdered caffeine users and are doing so without relaying the serious health consequences of improper use," the senators said.
The FDA last year cautioned five companies about selling powdered caffeine, but CSPI Regulatory Affairs Director Laura MacCleery said stronger action is needed.
Easy and cheap
"After only a quick Google search, we were able to order a small bottle of liquid caffeine from South Korea that contains an astonishing 9,000 milligrams of caffeine—enough to kill nearly seven people—and yet the label says only to use it 'sparingly,'" MacCleery said. "We easily purchased large bags of pure powder sufficient to kill several dozen people, and a gallon jug of what looks like water but is actually a highly caffeinated liquid—a cup of which would be a fatal dose."
An FDA ban would allow enforcement action against any company selling powdered caffeine and would mean that such products could be seized by Customs at the border.
"It would also send a far clearer signal to the public about the risks. Any action less than a ban would be confirmation that FDA has lost its way," MacCleery said.
The latest pure caffeine product to be marketed in the U.S. is an inhaler-like product, which the FDA has not reviewed for safety.
---