---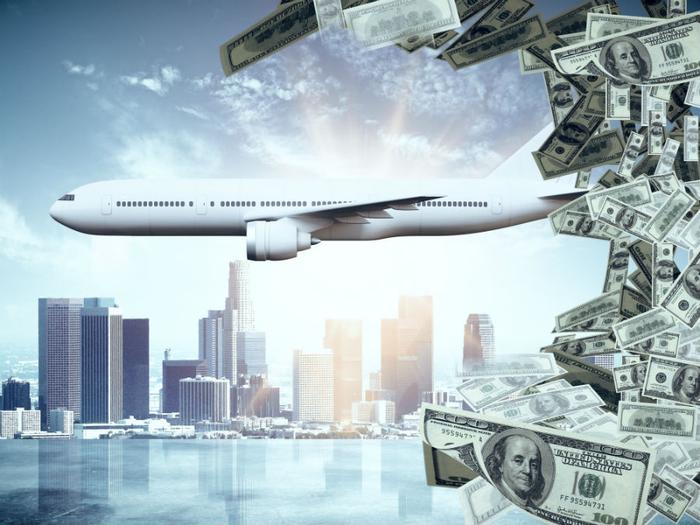 The annual airline industry ancillary revenue report is in, and fliers are making the airlines very happy with add-on purchases like baggage fees, snacks, branded credit cards, and more legroom. 
How happy? How about more than $35 billion happy -- a figure that in 2007 was only $2.1 billion? Here's the Top 10 earning companies according to the new IdeaWorks ancillary revenue study of financial filings made by 154 global airlines:
| | |
| --- | --- |
| Airline | Total Ancillary Revenue |
| American | $7,245,000,000 |
| United | $5,802,000,000 |
| Delta | $5,570,000,000 |
| Southwest | $4,049,000,000 |
| Ryanair | $2,801,536,938 |
| Lufthansa | $2,628,328,912 |
| Air France | $2,579,438,796 |
| easyjet | $1,597,900,258 |
| Spirit | $1,493,108,000 |
| Air Canada    | $1,452,733,488 |
Breaking it down to the "per consumer" level and accounting for the a la carte items passengers pay for such as assigned seats, baggage, and priority services, the Top 10 look like this:
| | |
| --- | --- |
| Airline | Average Ancillary Revenue per Passenger |
| Spirit | $50.94  |
| Allegiant | $50.01 |
| Frontier | $47.62 |
| Jet2.com | $43.91  |
| Qantas | $41.15 |
| United | $36.64  |
| American | $35.56  |
| Virgin Australia | $34.74  |
| Air Asia | $34.28 |
| Hawaiian Airlines    | $32.70 |
One thing to note in that list is that while the low cost carriers' (e.g., Spirit, Frontier) per-passenger average is high due to their a la carte model, global carriers like Qantas and United are now enjoying a boost in that niche.
"The arrival of basic economy fares has opened the door for traditional airlines to experiment with an ever-expanding list of a la carte fees," said Jay Sorensen, president of IdeaWorksCompany. 
"These are indeed interesting times with unexpected outcomes. It's true, these fares allow carriers like Delta, British Airways, and Air France to compete with low cost carriers like Frontier, Norwegian, and easyJet. One can forgive consumers who are confused by the dizzying array of choices, and also confused by how this relates to the inherent promise of a global airline brand."
The branded credit card goldmine
If consumers are going to use plastic money, then why not do it with an airline-branded credit card where the consumer can also get points or miles?
Sorensen calls this angle "commerce on a grand scale." He points to gargantuan spending increases like the American Express Delta SkyMiles card holders whose spending increased from $45.4 billion in 2012 to $94.7 billion for 2018 -- more than double the entire revenue of Delta Air Lines during 2018. 
During 2018, Delta also set a new record with over one million new credit card holders. Another prime example is Qantas, which believes 35 percent of credit card spend in Australia is on one of their own Qantas co-branded credit cards. 
The future for ancillary revenue
While it might seem that airlines are tapped out for things to charge travelers for, they're far from it. As an example, Allegiant is developing a 500-room hotel resort in Florida, a move IdeaWorksCompany estimates will add $6+ per passenger in ancillary revenue. 
Sorensen also sees airlines promoting add-ons such as pre-ordered meals and taking over the management of terminals -- areas where an airline can add to their coffers with rent revenue and a piece of the sales action.
Thanks
Keep an eye on your inbox, the lastest consumer news is on it's way!
Unsubscribe easily whenever you want
---