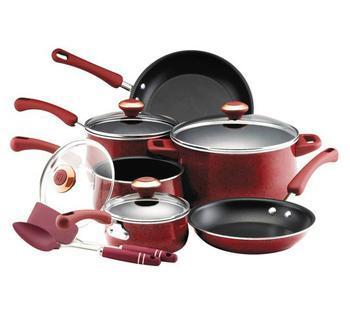 Last summer, celebrity chef Paula Deen's career nosedived and crashed after her apparent affinity for racist language became common knowledge. This article has nothing to do with that controversy or Deen herself; we are writing only to note that Paula Deen-branded cookware is still available for sale throughout America (at least in discount discontinued-goods outlets), but even at clearance prices it might not be worth your money.
Scores of people who have used Paula Deen cookware have written us to complain about the cookware's flakiness. Literally: almost every complaint mentioned either interior coatings flaking off and contaminating food, or exterior coatings flaking off to create anything from a mere mess to an outright fire hazard. The only notable difference between the complaints involves how long people used the cookware before problems started — anywhere from several months to immediately.
The red cookware seems especially prone to flaking. Connie G. of Buffalo, N.Y., wrote us on Oct. 22 to say that she "purchased the whole set of red speckled pots and pans, and the outside of the pans burn and the inside of pans are flaking; get little pieces of black flakes in food when cooking."
Carnell J. of Atlanta wrote us this summer to say "I purchased a cookware set, red in color, 6 months ago; they have started peeling, falling into the food [and] leaving the residue on my hands and dish towels."
Red flakes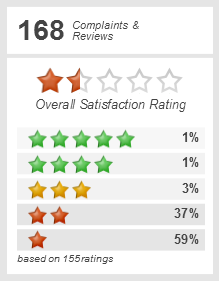 Lois M. of Lewes, Del. was also left with residue stains on her kitchen towels, after getting a set of Paula Deen signature red cookware as a present for Christmas 2012. When she wrote us in June she said the cookware "was fine until the past 3 months, when the red coating started coming off really bad. The color stains my dishcloths and towels …I have tried washing by hand and in the dishwasher, but get the same results."
At the end of August, Phyllis M. Fort Edward, NY, told us she "purchased the large (red flecked) pan and cover for my hubby, who likes to cook. Paid about $45 for the pan and the first time he used it the finish started falling off and it continues to deteriorate with every use.... this is just unacceptable!"
When Shay R. of Panama City, Fla. bought the red cookware, she had slightly better luck; it lasted almost two years before the flaking started. "My pans are about 2 years old, if that, and are already flaking turning on the outside. (My family has now ingested the black stuff that has flaked off of the pans.) Stock pot is chipping. … I bought the Paula Deen set thinking that I finally needed a change up and I loved the red color. Now I have pans that are worth nothing. I purchased this for almost $200.00, then bought the extra large grey stock pot and extra large grey pan. Shame on you, Paula, for not providing a product that you can back."
TP from Tampa, Fla., sent us a Sept. 28 message with the subject heading "FIRE! Dangerous!" and explained: "I purchased the tall large red pot. As I was boiling spaghetti noodles, I could smell burning. I went to the stove to lift off the pot and the entire eye came off the stove with the bottom of the pot melted on the eye. It almost started a fire."
Not just seeing red
The red cookware isn't the only type to generate complaints. Kelly B. of Kasson, Minn., bought Deen's 10-piece stainless steel cookware set in July, and "I was so excited, because they were so pretty! But after ONE USE, while I was boiling eggs, this black tar-looking stuff (dries hard kind of like JB weld) started dripping and popping out from around the outside top edge! …. Good thing for me is that I very recently purchased these and can return them to the store where I bought them. Don't waste your time and money, buy something else!"
There are dozens of similar complaints we could add to this list, if we had the space and you had the time to read them. Instead, we'll tell you what Christine O. of Papillon, Neb. learned after the cooking surfaces on her Paula Deen cookware started flaking into her food: "I did check with other pots/pans with similar linings, and was told once the seal breaks or starts peeling, you need to stop using the utensil. Thus, the large skillet went into the trash as did will the soup pot."
That holds true for any type of cookware, regardless of brand: if it starts disintegrating, just throw it away rather than run the risk of allowing it to contaminate your food. And let us know about it.