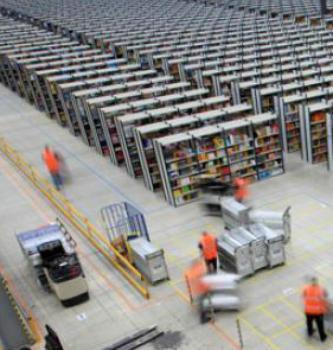 With holiday gift-buying season upon us, retailers are hiring extra temporary workers to help handle the rush, and a BBC reporter who went undercover to work in an Amazon warehouse in Swansea, England, discovered working conditions that would cause "mental and physical illness," including layouts requiring workers to walk up to 11 miles per shift, to fill orders at a rate averaging one every 11 seconds.
Correspondent Adam Littler, armed with a hidden camera, documented Amazon warehouse conditions for the BBC TV show Panorama.  A BBC news story about the upcoming broadcast reported:
He was employed as a "picker", collecting orders from 800,000 sq ft of storage.

A handset told him what to collect and put on his trolley. It allotted him a set number of seconds to find each product and counted down. If he made a mistake the scanner beeped.

"We are machines, we are robots, we plug our scanner in, we're holding it, but we might as well be plugging it into ourselves", he said.

"We don't think for ourselves, maybe they don't trust us to think for ourselves as human beings, I don't know."

Prof Marmot, one of Britain's leading experts on stress at work, said the working conditions at the warehouse are "all the bad stuff at once".

He said: "The characteristics of this type of job, the evidence shows increased risk of mental illness and physical illness."

"There are always going to be menial jobs, but we can make them better or worse. And it seems to me the demands of efficiency at the cost of individual's health and wellbeing - it's got to be balanced."

Amazon said that official safety inspections had not raised any concerns and that an independent expert appointed by the company advised that the picking job is "similar to jobs in many other industries and does not increase the risk of mental and physical illness".
Nothing new in the U.S.
Naturally, the BBC report focused only on Amazon warehouses in the UK, and when Amazon mentioned official safety inspections not raising any concerns, it presumably was referring only to British inspections.
But the revelation that "Amazon warehouses offer bad working conditions" is nothing new in America. In February 2012, Mother Jones writer Mac McClelland published an expose called "I Was a Warehouse Wage Slave," describing his experiences working — not explicitly for Amazon, but a deliberately unnamed company McClelland called Amalgamated Product Giant Shipping Worldwide Inc.
McClelland and his Mother Jones editors agreed that he'd tell the truth about himself and his background when applying for the warehouse job, but in writing the piece "I'd smudge identifying details of people and the company itself. Anyway, to do otherwise might give people the impression that these conditions apply only to one warehouse or one company."
That's definitely not the case; workers in Walmart warehouses have long protested their employment conditions, and just last month a warehouse in Mira Loma, California, was fined for unsafe working conditions after safety inspectors discovered "blocked fire exits; falling boxes of merchandise; an insufficient number of restrooms; no plan in the event of an injury on the job; no effective training on heat exposure or heat illness; a lack of proper foot protection including steel-toed boots; blocked aisles; and insufficient lighting."
The Mira Loma warehouse handled shipping for a number of large retail chain stores, including Bloomingdales, Dick's Sporting Goods, Kohl's, Kmart, Macy's, Nordstrom, Office Depot, Sam's Club, Target and Walmart.
Heat waves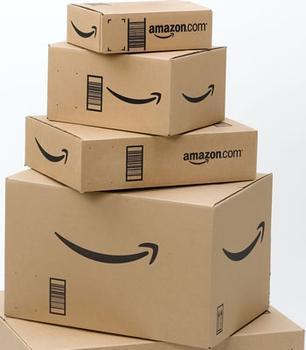 But Amazon, which for the most part has its own exclusive warehouses, has been collecting bad press for at least two years. Starting in 2011, Pennsylvania's Morning Call published a series of investigative pieces exposing the brutal working conditions in Amazon warehouses in the Lehigh Valley. In September 2011, Morning Call writer Spencer Soper reported:
"During summer heat waves, Amazon arranged to have paramedics parked in ambulances outside, ready to treat any workers who dehydrated or suffered other forms of heat stress. Those who couldn't quickly cool off and return to work were sent home or taken out in stretchers and wheelchairs and transported to area hospitals. And new applicants were ready to begin work at any time.

An emergency room doctor in June called federal regulators to report an "unsafe environment" after he treated several Amazon warehouse workers for heat-related problems. The doctor's report was echoed by warehouse workers who also complained to regulators, including a security guard who reported seeing pregnant employees suffering in the heat…. Heat prompted complaints about working conditions at Amazon to federal regulators who monitor workplace safety. The Morning Call obtained documents regarding the Occupational Safety and Health Administration's inspection through the Freedom of Information Act.

On June 2, a warehouse employee contacted OSHA to report the heat index hit 102 degrees in the warehouse and 15 workers collapsed. The employee also complained that workers who had to go home due to heat symptoms received disciplinary points."
Amazon has since installed cooling fans and air-conditioning in its Lehigh Valley warehouses. However, there remains ample (though often anonymous) evidence suggesting American Amazon warehouses are still very unpleasant places to work. Earlier this month, Gawker published a call for Amazon employees to share their stories. Though some respondents had positive things to say about their time at Amazon (while admitting "It's a job, not a career"), most stories were more along the lines of this one:
I have 3 major complaints. They lie to you when you get in the door. They set unrealistic goals. And breaks are very short.

I work at the Chester, Virginia warehouse. They paint this picture of it being a fun place. That you get to play games during breaks and have so much fun. The only games they play with you is mind games. That brings me to my 2nd complaint, unrealistic goals. They expect an incredible pace. I was in good shape when I got there, but I was NOT prepared for the miles of walking on concrete every day. My feet hurt so bad, I would have trouble going to sleep, I was in so much pain. My feet have toughened up, but the pay has not.

Another part of unrealistic goals is they have this bonus pay deal, where if the warehouse has no errors, you get a bonus in your paycheck. Of course that never happens and you NEVER see how the other warehouses do. They SAY other warehouses have better numbers, but they do not show you how the warehouses elsewhere calculate it. You just have to take their word for it, that the Chester Virginia warehouse is a bunch of asshole losers.
Criticism of Amazon work policies is not limited to its warehouses; last summer Business Insider (among other publications) criticized Amazon's policy of hiring short-term contractors rather than full-time employees for software development and other programs, claiming this results in lower-quality output and products.
Despite this, it's worth remembering that, as Mother Jones noted, such problems are by no means unique to Amazon, but affect countless low-wage employees in today's economy.