A new report from Experian, one of the three credit reporting agencies, underscores how student loan debt is negatively affecting a sizable segment of consumers.
The report shows that 13.4% of U.S. consumers, from the very old to the very young, are paying on a student loan balance, eating into their monthly cash flow and ability to save for the future. Student loans are the largest amount of non-household debt and are the fastest growing debt segment in the U.S. economy.
Since 2007, student loan balances have grown $833 billion and now total $1.4 trillion.
"Student loan balances are on the rise, which is a result of the increasing cost of higher education," said Michele Raneri, vice president of analytics, Experian.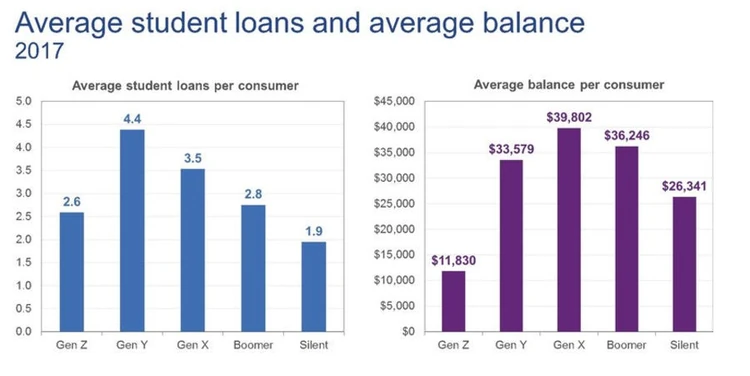 Tuition up 260% since 1980
According to Business Insider, college tuition costs grew 260% between 1980 and 2014, while the cost of everything else in the economy went up 130%. Most students find that without generous student aid or scholarships, they have to take out a student loan to get a college degree. And often, more than one loan.
The Experian report shows that students who borrow for college have an average of 3.7 student loans. The average student loan balance is $34,144.
There is also the suggestion that juggling student loans makes it more difficult to properly manage personal finances. The average VantageScore for consumers with at least one student loans is 650, while the national average credit score is 675.
Worth the cost?
Despite the financial hardships student loans cause, the prevailing wisdom is that they are worth it. Rod Griffin, director of public education at Experian, says the loans usually pay off in the form of higher income over a lifetime. But he says it's important for young people to understand the terms of their loans.
"Failure to repay even one of the loans or poor payment behavior could do long-lasting damage to your credit history and scores," he said. "Just as the value of your degree is measured over your entire career, how you manage your student loans will impact your financial future."
For students looking for ways to pay for college, the Consumer Financial Protection Bureau has created an online resource, that also includes a financial aid shopping sheet.