---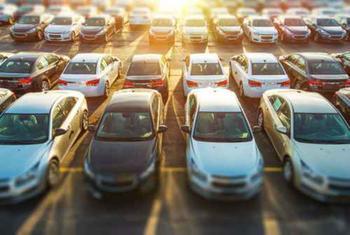 For a few months now, industry analysts have been talking about "peak auto." That refers to a point where carmakers have sold so many new cars that the market just can't keep absorbing them in the same number. At some point, it has to level off.
Well, it hasn't happened yet.
The analysts at Kelley Blue Book (KBB) have prepared a preliminary analysis of April's sales data and project monthly new car sales rose 4% year-over-year.
The current April record is from 2005, during the heady, easy money days of the housing boom. This April, says KBB, could beat it by 1.5 million units. KBB analyst Tim Fleming suggests it could partly be due to pent-up demand.
"Following a disappointing March, we expect sales to get back on track in April with SAAR (seasonally adjusted annual rate) in the mid-17 million range," Fleming said in a release.
Fleming notes that there was an increase in fleet spending, with businesses driving some of the demand. But he says you can't escape the fact that consumer car buying is at least holding steady, at a time when many in the industry have concluded the car-buying frenzy has passed.
Nissan picks up more market share
So what were people buying in April? KBB projects Nissan with the biggest gain in U.S. market share, rising 11.1% in April. What's notable about that is that Nissan did it by selling its cars, not the SUVs that have driven other brands' sales. KBB reports the redesigned Maxima and refreshed Sentra have made Nissan the growth leader for April.
Selling the most cars is Detroit powerhouse GM, but GM's market share is running in the wrong direction. It sold fewer cars this April than last and saw its U.S. market share shrink 3%.
Honda posted a strong sales gain, increasing its market share by 9.2%. Ford's market share rose 6.5% with Fiat Chrysler right behind, growing 6.3%
VW continues to lose ground
Volkswagen, in the process of resolving its diesel emissions cheating scandal, continued to lose ground in April, giving up a massive 6.8% of market share.
Consumers' recent love affair with SUVs appears to be cooling. KBB reports the compact SUV segment is still growing, but not as much as past months. April should see a segment sales increase of 4.6%, after increasing more than 16% in April 2015.
It's the same story with full-sized pick-ups. That segment should post an April sales gain of less than 5%, compared to a 12.3% April 2015 sales gain.
---