---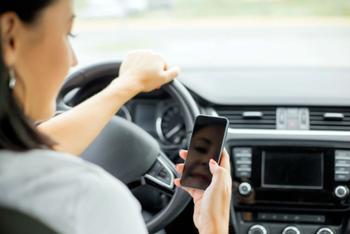 Texting has long been considered a threat to the safety of teens who drive, but another smartphone-related risk has recently come to light.
Nearly 70% of teens report using apps while driving, according to new research by Liberty Mutual Insurance and Students Against Destructive Decisions (SADD). And it seems teens may not have a clear understanding of just how dangerous app use while driving could be.
When asked to rank risky driving behaviors from most to least dangerous, teens said posting to social media apps or checking a notification while driving was significantly less dangerous than texting and driving or driving under the influence.
Researchers surmise that teens may perceive music and navigation apps as "utilities," which may cause them to see apps as less of a driving danger.
Beliefs Vs. Actions
To uncover teens real thoughts on issues pertaining to app usage while driving, researchers used implicit association testing -- a method that employs fast-paced word associations to unveil gut-level reactions.
It may or may not surprise parents to learn that what teens believe is often quite different from what they say and how they act. For instance, 41% of teens stated that using a GPS app while driving is dangerous, but 58% reported using them while in the driver's seat.
The case for music apps was no different; more than half of teens (64%) agreed that using music apps while driving is dangerous, but 46% still reported using them while driving.
Eliminating distractions
Experts say music and navigation apps aren't inherently dangerous, but how teens interact with them behind the wheel may be. Perusing a playlist or typing in an address on a navigation app, for example, may cause teens to become distracted.
To help mitigate the risk of app-related distraction on the road, it's important for parents to talk candidly with their teens about driving habits. 
Additionally, parents of teen drivers may consider taking the following precautions before handing their kids the keys.
Hide the phone. Teens may not be great at ignoring the siren song emanating from their phone (which is nearby while driving for 73% of teens). Parents can ask teens to keep their phones out of reach and on silent while driving.
Set directions in advance. Navigation apps can be invaluable tools in helping teens get where they need to go, but 42% of teens say they text while driving to get directions. Ask teens to chart their course prior to starting the engine or to pull over if they need to program their navigation app.
Set expectations. Having teens sign off on a Teen Driving Contract may help family members stay on the same page when it comes to driving rules.
---