---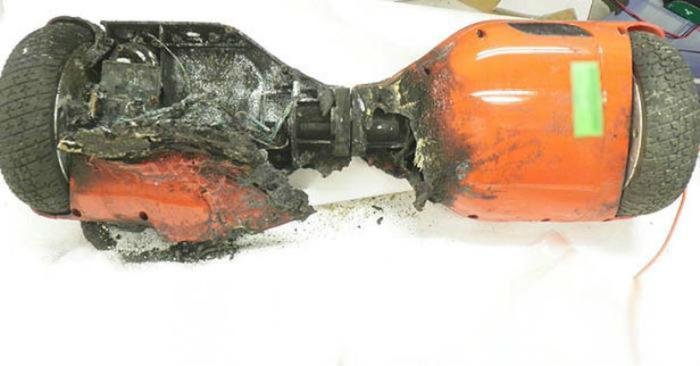 Amazon is offering full refunds on hoverboards amid questions about their safety. Federal safety officials are calling on other retailers to do the same while warning consumers that the hoverboards present both fire and fall hazards. 
The U.S. Consumer Product Safety Commission said it is investigating 39 hoverboard fires in 19 states. It commended Amazon for its action and said it is actively investigating "a number of companies that make or sell hoverboards" and urged consumers to return hoverboards purchased from Amazon and stop using hoverboards purchased elsewhere, at least for now.
CPSC Chairman Elliot F. Kaye said in a prepared statement that besides the fire hazard presented by the hoverboards' batteries, the number of serious injuries caused by falls is increasing rapidly.
"At first glance, it is easy to believe the risk of falling off a hoverboard is an obvious one and to dismiss those injuries as user inexperience or error," Kaye said, adding that the "current designs of these products might not take fully into consideration the different weights of different users, potentially leading to the units speeding up or lurching in a manner that a user would not have reason to anticipate, especially a first-time user."
"We are looking deeper into the design of these products to see if they present a hidden hazard that is leading to fall injuries that should not occur, even on a product that presents some risk of falling," Kaye said.
UL warning
Underwriters Laboratories (UL), meanwhile, issued a statement saying that while components of hoverboards, such as battery packs and power supplies, might be UL certified, there currently is no UL certification for hoverboards themselves. 
"To date, UL has yet to certify any hoverboards for safety," the safety testing organization said. "For technology such as hoverboards that use lithium-ion batteries, it is important to understand the interaction among components and UL has yet to evaluate any power supplies or battery packs in a hoverboard system."
Kaye said the presence of a UL logo on hoverboards "should not be an indication to consumers of the product's safety" and added: "In fact, any such mark is at best misleading and may even be a sign of a counterfeit product."
Serious injuries
Hospitals across the country are reporting spikes in children and adults being admitted with serious injuries after falling from hoverboards, Kaye said.
"Fall injuries can be serious and life-altering," he warned. "If you or your child continues to use this product, I recommend that you do so with a helmet and pads.  I have two very active young boys, so I very much appreciate the struggle sometimes to get kids to use safety gear.  But, wearing proper safety gear in this instance should be non-negotiable."
Kaye called it "unacceptable" that hoverboards are being sold in the absence of safety standards. Both UL and ASTM International, two leading non-profit safety agencies, are preparing to work on hoverboard standards but participation by manufacturers in developing such standards is voluntary. 
Safety tips
Kaye had this advice for consumers who want to continue using hoverboards:
Have a working fire extinguisher nearby while charging or using the boards.
Charge in an open area away from combustible materials.
Gear up before riding, which means putting on a skateboard helmet, elbow and knee pads, and wrist guards.
Do not use a hoverboard on or near a road.
Kaye said "all options remain on the table" as the CPSC and other federal agencies continue their investigations. 
Testing continues
The CPSC said it contines to test hoverboards, both new models and those involved in fire incidents at its National Product Testing and Evaluation Center in Rockville, Md.
The agency said it is "actively investigating" the safety of hoverboards made and/or sold by:
Smart Balance Wheel/One Stop Electronic Inc.
Smart Balance Wheel Scooter/Glide Boards
Hover-way Hands-Free Electric/Digital Gadgets LLC
Swagway Hands-Free Smart Board/Swagway LLC
Smart Balance Board/I Lean Hoverboards
E-Rover-Mini Smart Balance Scooter/LeCam Technology
Smart Balance Wheels/Kateeskitty
Hoverboard360.com
iMOTO/Keenford Limited
YOOLIKED
Smart Balance Wheel/Luxiyan and
Uwheels
E-Rover Smart Balance Wheel
Thanks
Keep an eye on your inbox, the lastest consumer news is on it's way!
Unsubscribe easily whenever you want
---