---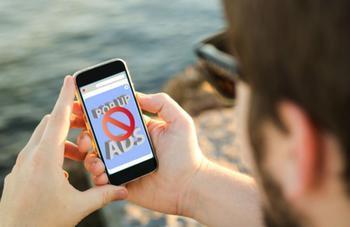 According to a new report, 419 million people (22% of the world's smartphone users) are now using mobile ad-blocking technology.
PageFair's numbers also indicate that 408 million people are using mobile browsers that block ads by default.
Smartphone users in China account for 159 million instances of mobile ad-blocking, while India is home to 122 million people using browsers that block ads.
Mobile ad-blocking isn't as quite as prevalent in Europe and here in North America, where there were 14 million monthly active users of mobile ad-blocking browsers as of March 2016.
Finding new approaches
Nancy Hill, CEO of 4A's, says these numbers validate a long-standing concern in the digital media industry. The report also highlights a need for advertisers to rethink their marketing strategies.
"Consumers are pushing back on mobile and online ads," said Hill in a statement. "Now is the time for advertising professionals and marketers to take a hard look at ourselves to understand why consumers are not responding to these types of ads, and figure out how we can correct the issue to better engage with the consumers we're trying to reach."
An earlier discussion, which sought the opinions of global stakeholders, delved into topic of sustainable advertising on the 'blocked web'. A report on the outcome of the discussion can be viewed here. 
---