Jewelry Television
Knoxville, TN
Consumer Complaints and Reviews

Paid for expedited shipping on 2/20/17 yet, no delivery and no one can tell me when or if it will be delivered. 3 calls and an online chat was to no avail. Chat person said maybe, I will be notified "in a few days". Maybe? Really? The cost of the stone is $1300 with the shipping.

My experience with the company was great. They were honest and prompt to respond to my concerns. The satisfaction team was amazing in making sure I was happy. Thank you. I will be using them in the near future for more great ideas in my jewelry journey.

When I called in to place my order for 2 items they said they would be delivered by 2/17 and charged my account right away. After inquiring when my next bill date would be for the 2nd installment I was told from the order date not the ship date or received date. I received the email for the order confirmation and a 2nd requesting feedback even prior to the item being shipped let alone received. After a few more days (well over a week at this point) I called customer service to find out when the items would be shipping. I was told by 1 person that one of the items was out of stock which was holding up the order. That person transferred me to another person who said the opposite and that my order was being processed at that very moment to be shipped and that he would expedite the shipping at no cost and it would ship the next day and I'd receive an email confirmation.
3 days later, no shipping confirmation and certainly no 2 shipping was done. Again, I called into customer service at which point I was told by now a third person that the order hadn't yet shipped because they needed to verify the name and address on my debit card with my bank and that hadn't been done yet. This is now past the 2/17 day of quoted delivery. At that point I told the representative to cancel the order altogether, which she didn't seem to care much about. Funny, when I went to check my bank account, at the very moment I was requesting her to cancel the order my account was charged for the 2nd installment. Thankfully all of the charges were reversed but what kind of a business operates that way? Not one I'll buy from that's for sure. I'll stick with HSN or QVC - I've never had any issues with either of them in the past.

MTV was featuring a set with a necklace, earrings and a ring for $79.99 for the Valentine's Day Special show. I entered all of the required information very quickly, added my credit card information and submitted the order and guess what? Error message popped up and said quantity not available, but I'm watching the show live and the presenter is saying there are still some available! So irritated! Tried to call customer service and NEVER got through! Will not be ordering from JTV again!

PLEASE USE EXTREME CAUTION if you choose to order from JTV. As of Feb. 2017 I have been a customer for 1 year now. JTV has to be the most deceiving companies I have ever seen in my life. Yeah, they may have a 30-day return policy but it's at the CUSTOMER'S expense. I should have returned more than half of the items I ordered. The quality wasn't good to begin with and the last few items I ordered looked like I got them out of a gumball machine, just embarrassing to wear!!! The sizing is almost always off on the rings, there seems to be no quality control whatsoever. I've received items that were obviously worn and returned and it did not state that they were pre-owned when I purchased them and I was charged FULL price.
Be careful when ordering online. When it says "Free Shipping Sitewide" check your cart because I have caught them adding shipping charges for each item on more than 1 occasion. I tried reporting this to customer service for 4 days in a row and nothing was done about it - when I asked if the customers who were ordering online would be credited for their error they put me on hold and I was disconnected within 5 minutes. I've had numerous "ghost" charges on SEVERAL items I've put on "stretch Pay" and have never been refunded a penny on it.
Furthermore, I have learned that they have "offsite vendors" so when you hear the hosts saying to "Hurry up and order" DON'T DO IT!!! They will replenish the stock within 24 hours by calling the "vendor". I've watched this happen with at least 20 plus items over the past year. They are false advertising and that is against the law!!! I've had lost shipments several times also - filing a claim is like pulling teeth with these people! They will do almost anything NOT to refund their customers. I don't like the fact that most of the items I have purchased have "MADE IN CHINA" on them - the quality is horrible! I prefer to buy American - thank you very much!
How do I know I can trust these reviews about Jewelry Television?
717,175 reviews on ConsumerAffairs are verified.
We require contact information to ensure our reviewers are real.
We use intelligent software that helps us maintain the integrity of reviews.
Our moderators read all reviews to verify quality and helpfulness.
For more information about reviews on ConsumerAffairs.com please visit our FAQ.

Buyers beware when ordering jewelry from JTV. Half the jewelry items I have bought have been returned because the high end quality of the jewelry is completely lacking. Was eagerly awaiting arrival of a heart and crystal necklace which wasn't even done in real silver which cost $52.00. It arrived with crystals missing and was dull in color. Ordered a fleur de lis necklace which was said to have expensive moissanite which is comparable to look of genuine diamonds. Had a price tag of $90.00. The pendant lacks sparkle and is smaller than head size of a penny.
Went to write a review on their site and couldn't because I only got a screen saying I was leaving a secure area and was unable to find anywhere on their actual site which would allow me to write a review. I love unusual gemstone jewelry and wish I could find a reasonably priced jewelry site which offers consistent quality on their pieces. It's so frustrating that JTV and several other sites selling jewelry only offer a 30 day return policy. Sometimes you don't wear a new piece of jewelry until a month after receiving it, and then something breaks or stones fall out, etc., the first time you wear it.

I am ** and I shop JTV. However the lack of racial diversity bothers me. JTV had only ** hosts, ** models... no people of color. What's that about? Other jewelry stations are very diverse. I will not continue to shop JTV if diversity is not a 2017 push.

I bought a Peridot ring and really liked it. Wore it a few times when one of the stones fell out. It was just over the 30 day period, so I contacted customer service. They told me they couldn't do anything for me since I didn't buy the extended warranty. (Also stating that my situation was a very rare occurrence. If that's the case, why buy the extended warranty? And if it's that rare, why not stand behind their product.) I really like the ring, and they were running a sale that had it greatly reduced, so I went ahead and purchased another one, with the warranty. I wrote a review for their site, explaining the stone fell out after a few wears, but it was never published. When I asked about that, they said all reviews go through an independent company who selects which ones to publish. Hmmm. I doubt mine will ever be seen. Buyer beware!

I had a very similar experience as another reviewer here. I tried to make an online purchase and after clicking to confirm the order the website redirected me to a page telling me to please try to complete the order again, but the money was deducted from my PayPal account. Now that I see this same thing has happened to other customers, I wouldn't bother trying to purchase again if this company doesn't care about fixing the issue.

I waited a while before I ordered anything from this particular company. I thought that I did hard that I could do to check to make sure good day will the ones that are wanted to order something fast. Well I finally did and they were the nicest on the phone when you're ordering but unfortunately we have a problem. There is nobody to call and if you call them when they're on TV live then mean and "I tell you we can help you get in touch with customer service." Well don't you think I tried 20 times. Never got back to me and then I find out that they go through a Thing Called live stream where they could be in California and where they connected to Good Day New York and we could walk away get off the air at any time and that right there scared me.
No way what I spent my husband spent for our anniversary gift to me I have a feeling I'm not going to get what I asked for. I'm going to have to keep what I got. He always tells me "stop buying jewelry" and I did stop for a while actually for a long time because I've been burnt buy almost all of them and one of them is also JTV. Well here I go again.

I love jewelry and I sometimes buy a lot of it. I don't need it to be expensive, but I do need the stones to be real. I need it to be well made. I found JTV and bought many things there. They were having specials on buying an item and paying for them in payments. So, I bought quite a few items. The payments were great for me, not only because it seemed easier to pay for, but I could bring some of these items home and check them out before I used all my money on a couple of items that weren't all that good and had to go back. But suddenly I got an error message. Then I didn't get a message. Then I did.
I finally called to find what was going on. I ended up with a rude, and I mean rude, person in customer service. She said there was a limit to how much I could put on payment plans. I asked if any of that was written anywhere, and no it wasn't. Then she said I had to pay an extraordinary amount of cash, right then, or they would cancel all my purchases. I couldn't even figure that out because for several months they had ridiculous errors on their site so that the pictures didn't go with the numbers and that didn't go with the description. I couldn't figure out anything with no information. I told them it was their fault and they should fix it without messing with me.
To make a long story short, this woman, after promising to call me and straighten it out, just cancelled all pending orders. She did it in such a way that I didn't realize it until much later when all items were put back and most were gone so I couldn't rebuy anything. I went around and around with them about how much I owed. I didn't get things they charged me for and told me to figure it out. I have never seen a company in such a mess. I have tried to use them here and there but I have been very careful.
I also know that so many of their new rules aren't written anywhere to read. After trying to buy a few things this year, I spent time on the internet trying, I had to call and ask questions. Then when I was finally really to hit buy, it told me they were having problems with something on the order. There was nothing on the order that was marked. After a couple of tries, I had to call and do it all over the phone. I haven't received this order yet so I don't know if I have another problem or not. The woman in customer care I am sure was not reprimanded at all. No one seemed to care.
My other complaint is the quality of their stones has gone down a lot. There used to be an unwritten rule that a certain type of diamond was not put in jewelry because it was too flawed. Now they are putting terrible diamonds in their items. Diamonds that are black with flaws. They started using white topaz instead which I approved of. Now I ordered a pair of earrings and both had terribly flawed white topaz also. They can't even keep small topazes clear. I am not sure at all that I will be shopping with them for much longer. They are going downhill in their quality too fast for me.

I purchased 6 rings from JTV. After 30 days one of the stones fell out. I will never order from them again. The rings said made in China. So I guess that's why their jewelry is made so cheap. They have good prices but the quality sucks.

I have only been a customer with JTV since Dec. 2015 and in that time, I have had too many issues with their automated ordering and payment system. So far, I have had 4 issues with ordering online. One of these times, I made a purchase online and wanted to pay by PayPal balance. As I tried to finalize the order, an error message had come up saying there was an issue with processing it and to try putting the order through again. I went through the process again, logging into my PayPal account, and I immediately noticed that the money for the order had been taken out of my PayPal account balance. Why was their automated system taking money, if the order had not been finalized yet?
I also discovered that their automated ordering system, on this second time trying to put the order though, tried to charge a credit card that I had on file with PayPal. Again the order had not been finalized at all, and I had not chosen "pay by credit card" in PayPal to pay for the purchase. I spend the next two days speaking with people from JTV and PayPal to try and recover the money for the purchase. JTV said they saw no order, so there was no money to return; PayPal said they could not do anything since it was the merchant (JTV) that made the charge and they have to reverse it. Finally, after 4 days, the money was refunded to me. Apparently JTV found the money in the system and returned it. Such absolute nonsense.
Out of stupidity, I guess, I decided to give JTV another chance, and I placed another order the following week. Here, again, another ordering or processing problem occurred, this was about 6 days later, forcing me to AGAIN contact CS to help rectify the problem. For this order, I was keeping track of it online in my JTV account. When I logged into my account on JTV to check on the status of this order, the order was in some kind of "payment reconciliation" status. I knew what this was, experiencing it before. I called JTV CS and was told the payment method I used to pay for the order, could not go through. I used a prepaid Visa and the money was there on the card. What JTV's automated ordering and payment system was trying to do, was charge me AGAIN for this order it already had charged.
The money for the order was "on hold" by JTV, according to the bank card company, so there was no need to charge me again. I had to call JTV, and the CS rep cancelled the order, which in turn, fixed the problem. Seems JTV does not care about their ordering and payment problems. Their automated system charges people for the order, whether the order goes through or not; tries to charge credit cards without orders being finalized; and tries to charge customers twice for orders already charges and all this before anything ships. It is such a terrible ordering system.
About the quality of JTV jewelry. I have purchased many things from JTV, most of it good quality. The last two orders I received, were below acceptance merchandise. One was a pair of lab created padparadscha sapphire stud earrings. They were on clearance. When I received them, I immediately could see the stones were different colors: one was a lighter pinky orange color and the other was a deep red storage color. How does a pair of earring, with only two stones to have to match, make it out of QA? I could see if it was a multi-stone bracelet, but two earrings? I should have just kept them, but was angry, so I returned them. The other was a set of 3 stud earring pairs, again on clearance.
Every single post, all 6 of them, were not only bent from the base of the earring in back, but looked like they were mangled, many bends in the posts. How in the world could JTV justify sending such garbage to a customer? It makes me think that JTV puts their problem, or defective, or customer returned merchandise on clearance, and hopes that the customer will just keep the junk jewelry, since shipping them back can be more that the items.
For a company that has been around for over 20 years, it acts like a new, immature company, with their problematic automated ordering/payment system and questionable sales practices. For now, I will refrain from ordering from JTV. Too many negative things have happened to make me want to do business with them, anytime soon.

I have purchased (and returned) several items. I had purchased an Ethiopian Opal Cross Necklace. When I went to clean it, it turned YELLOW. I have never had that happen, and I have lots of opals. I called JTV Customer Service and they said it would turn back - which it did (a little duller, though.) I still think this is a fake stone as I've NEVER had any of my opals do this before. I just have to assume that it is very cheap. I won't purchase from them again. The diamonds are dull. The stones go dull after a few months. (Had this happen with two Cor-De-Rosa Morganite rings.)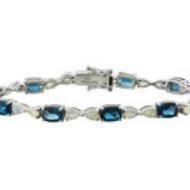 I purchased a London blue topaz and Ethiopian opal bracelet to match a ring purchased two weeks before this purchase. One opal stone fell out the first time I put the bracelet on. I put the stone back in. Two weeks later, a different opal stone fell out of the bracelet. I contacted JTV customer service via chat window. I was told that I could send it in for repair and the repair wouldn't cost anything because it was sent in before the initial 30 days of ownership. So, I returned the bracelet for repair. Instead of fixing the bracelet as I was assured could be done, they issued a refund. The problem is I offered to take it to a local jeweler to get a new opal stone to fix the bracelet locally, and JTV said just send it to them.
Now, I cannot get my bracelet back like I was told, and they cannot return the defective bracelet to me to have fixed locally. I won't ever be able to find a bracelet that matches my ring perfectly. If I had not returned it to JTV, and fixed it locally, I would still have the bracelet. They shouldn't lie to customers telling them they can have something repaired and then don't repair it. I am out a very unique bracelet!!! And, to buy something like this elsewhere will be impossible!

Not sure about all the other negative reviews but after reading them, I was horrified that I had a "ghost charge" on my account and was dreading calling and dealing with CS. I have to say I was very surprised. The rep called my bank with me on the phone and asked for the funds to be released and I received a confirm from my bank that they would be removed. Will this be a recurring problem? Not sure but I am very satisfied with the outcome.

I purchased items and returned them without a signature required, only to be told they had not been received. Also I had more than 1 item in the returns package, some were refund, a couple were "not in the package" with other items, so no proof of return therefore no refund. I received 2 letters on 2 different purchases saying that the "vendor" made a mistake and the gems were not real but synthetic. This was almost 8 months after purchase date. JTV said I could return it if I wanted but "that I should be assured the synthetic was of the same quality". Sent them back as well and of course another no refund to account. Recently they changed their annual percentage rate. For a $80.00 payment, $51.00 is interest charges. Rip off company, don't even bother with.

I order some jewelry 4/23. The "order taker" misspelled my name, address and item number. He guaranteed me delivery within 5 business days, which was fine. As it turns out, the item could not be located and the "warehouse" would not answer the company's emails for 2 days. I canceled as I was fed up. I decided to give them another chance, not that I like self-abuse. They said that they felt bad for me because of the grief that they put me through and they would knock off 10% off the price as well as next day my order to me. Well, I come to find out that they "lost" the order again. They also said that no money would be touched from my bank account until it was shipped. They hit my account immediately. I canceled out my account info immediately and requested all new account info. I did not want them to have accessibility to any info. Do NOT do business with this company no matter how good the product/prices look or you will get what you deserve.

I ordered a ring on March 2nd, 2016. It was supposed to be here on March 10th. It's March 15th and no ring. Called CS and a very nice woman Pam is trying to figure out what happened. It's apparently in Atlanta. Probably at our local slow, dead and swimming in the wrong direction post office. Home of ready to retire folk.
So at least THIS customer service rep. Pam is trying to find out what is going on with this delivery.
However, the last purchase from JTV.com got me a male employee with a pronounced East Indian or Pakistani accent. This purchase was "free shipping" but this man insisted that shipping was $6.99. I argued with him until I asked to speak to his supervisor and Presto Chango ~ He agreed it was 'free shipping'. I did ask a month later if JTV.com had outsourced their CS and was told, no and they never had a man of that description working for them. BIG LIE. I found out that they did and "he is no longer employed by JTV.com." But I had to dig for this info. Still waiting for my ring, though. I will have to cancel the order if it doesn't get here by March 20th. Ten days after it was supposedly sent. I have bought more than a few pieces from this site and haven't had any problems before. Hopefully, Pam will be able to find out where is my ring!

I ordered a ring online in February of 2016. For some reason, the order would not go through. I really wanted the ring, so I called to place the order over the phone. I asked the Customer Service rep to make sure the original order did not go through. She assured me that it did not, and asked me if I had placed an order yet in 2016. I told her I had not placed one since December. She said since my credit card had a chip in it, they required everybody to call in to place the order and would not let it go through over the internet so that they could update their database on cards with chips.
I checked my credit card statement an hour later and there were two charges on there for the one ring. I called Customer Service again, and again was on the phone with them for nearly an hour. They looked in the computer and swore that the order only went through once. When I explained about the credit card charge, they put me on hold for a long time. When they came back, they said they had checked with the credit department who assured them that that was a temporary charge which would drop off within 48 hours. Not only did it not drop off, but I received the ring twice, three days apart.
If that wasn't bad enough, the two rings were completely different from each other as far as the stone. It was supposed to be teal colored fluorite. One was bright shamrock green, and the other was so dark it was black with no color at all. I emailed them to complain about receiving it twice after being promised by three different people that the second order had not gone through. I waited four days for a response that did not come, so I emailed them again. I got a nasty response saying that they had already responded to me on Tuesday (which of course they hadn't). There was absolutely no apology for their mistake.
The email was very rude and they told me to send the ring back. I sent it back, and they did credit me for the ring, but they were also doing a fundraiser the day I ordered the ring and if you gave a $5 donation, they would take a percentage off your order, so I did the donation. They have not refunded that money despite me telling them that I in no way authorized two donations. This entire thing was their fault and they have been unapologetic and rude. Today, after demanding the donation be refunded for the third time, I got an email saying that these things take time and they expected it to be refunded back to me at some point. No idea whether I will get that money back or if they fraudulently took a second donation that I did not authorize.
You also can not trust the reviews on their website at all. If you post anything negative, you will not see your review posted. They only post the ones that cast them in a very positive light. I even sent a photo in of the two rings side by side so that people could see how inconsistent the color was. You will never see that review on their website because they do not want people to have anything negative to say. Very shady way to do business. I've had problems with them in the past, but this was the final straw. Avoid JTV!

I have ordered only one item online. When I checked my bank account, found out that I was charged twice for the only item I have ordered. I called customer service rep., which was very rude and even hostile, almost yelling throughout our conversation. When asked why I was charged twice for the item I have ordered, she said that, in fact, there was one time hold of the amount of charge but it looks that I've been charge twice until the bank release the amount of money. That was a bogus explanation! In fact, I received 2 items and charged twice. I called the customer rep. again and she hanged up on me! I called again CSR (customer service rep.) and they told me to return the items at their shipping and handling cost. The returning labels are not free and the post office doesn't take their words! I am asking for full refund, free S&H return and official letter apology. I will never, ever buy anything from them anymore!

I am highly upset that I didn't read these reviews before I purchased this ring. I ordered and received my ring in a reasonable amount of time. But as soon as I opened the package, tried it on, took it off, and the diamond was gone!! Can you imagine how I felt!! I couldnt believe it!! I immediately called customer service. They asked if I wanted to exchange it. I said, "No"!! The diamonds were cloudy as well. Guess that's what I get for shopping for quality with unqualified companies!! Be careful. I don't think these are real diamonds. If they were, the prongs should hold the diamond, right?

Ordered a 5.5 carat ring and received it on May 2015. However, in November 2015, due to a faulty prong, ( unknown to me) one small diamond fell out. I called JTV and they said just return it for repair. When it was delivered back to me I fully expected that the company had repaired the faulty prong and replaced the small diamond. The ring came back with the following information, "No stone available to repair". No other explanation was offered. JTV did not call me or seek to resolve the situation, they simply returned the 5.5 carat ring supposedly in the same condition in which it was sent to them. This company has your money and you have their faulty product. You have no recourse except to purchase an additional warranty to insure the ring. Had I purchased the warranty they could have helped me. I suggest you use a local jeweler that will stand behind your purchase.

I ordered an online jewelry business course that was advertised on TV ON SALE for $144.99. BUT, after looking at the website I found the same course is $119.97. I've been disputing this for over two 2 months. Finally, a supervisor returned my phone call. I was told there is no such online course offered, yet I was looking at the course web page as we spoke. The more expense course is JSONLNC4. The course on the website is JSONLNC1. She was either lying to me or completely incompetent. I'm not done with them yet, but they have definitely lost a longtime repeat customer.

I was looking for a certain gemstone ring and found JTV, and placed my order through flex pay on 10-23. I received a phone call from some lady at JTV 10/ 29, didn't even catch her name I was so upset. She told me that they were having problems matching up my address to the credit card, and I told her "you mean you haven't even taken the money out yet?" She said no, well she said she could call the bank and confirm the address. I told her "forget it, just cancel the order since now I didn't have enough money in the bank." I lied. I then called my bank and the address matches on my CC.
I then called JTV back and re-ordered the ring since I really want it and she said she wanted to get it for me at the same price, which I looked back and it wasn't, but it was basically under a few dollars so it really didn't matter. On 11- 2 I called JTV back as the order even though it said estimated delivery on 11-9 it still said processing and the money still had NOT been taken out of my account. Well the lady I talked to said since I confirmed the address she would contact billing and have the order expedited. I also was told that with brand new customers they sometimes had problems with the orders. Now after reading all these complaints I'm wondering IF I've made a mistake. I already have a nice "Wish List" on JTV. Now the order says delivery date 11-8, haha that's on a Sunday!!! If I get it on the 9th I'll be pleasantly surprised.

They change the dates of your purchase so you can't cancel the shipment. I placed an order on a day in Oct, and when I went back to my account, they made it look like the order had been placed 2 days before, and the item shipped on the following day. Which was 24 h BEFORE I placed the order. Additionally, they don't send you the PO number so again, you can't cancel the shipment. If this is not disgraceful (and most probably illegal) business practice, I don't know what is!

I have been shopping JTV for over a year and a half. I never had a problem with customer service till now. I will never give them my business again after spending over $10,000 already. I bought a moissanite ring for a birthday gift. They not only did not send me the ring in the picture, they sent me the wrong size. My friend gave me three numbers for a moissanite ring but her size was sold out on all three. A few days later a size six came in, which means it was a return. They tell you they don't sell returned items but they do. I have gotten about ten+ returned items. I got the ring and gave it to my friend for her birthday. It was supposed to have prongs holding the main stone. It even showed that on my receipt. It didn't.
It was also a size seven, not six. I wear a size seven and could fit on all my fingers. I can't fit in a size six. We went online and there was only one picture when I bought it, the same on my receipt. Now they had more pictures. I called customer service as I have had to do many times before, in fact too many times! They said since it is past the 30 day grace period I could return it for a 25% stocking fee! I asked if at least they could size it to the size I ordered since I should have noticed that it didn't have any prongs. They said no. I now have a expensive ring that no one has worn or ever will.
I'm tired of dealing with customer service for missing stones, a main stone that fell out of a $500 ring, getting returned earrings where the previous owner has changed backs, and the biggest problem I had was a pair of moissanite goblet earrings I bought. I lost one, so I ordered another pair and the new pair looked nothing like the first pair after buying three pairs from different inventories. I gave up and realized they just were making them worse as moissanite got more popular. They looked smaller and the end of the goblet prongs were folded over and just didn't look like the one I didn't lose. That was a crying shame because I wore them everyday. I ordered a different type and they don't have the sparkle like the other ones. I could go on and on. My last complaint is when I bought a loupe, some gem stones I bought had cracks inside.

Be careful with your orders. They tend to double your order and charged you but does not ship the other order. I have filed a complaint when I saw my order history with orders I did not make nor received. To date, I am very leery about their integrity. Lately, when I checked my order history, it was not found. I wrote an email to complain. Obviously, I have to think twice and check my credit charges. Sad!!!

I purchased several items on 8/9, received a phone call from Customer Service last week wanting to confirm my alternate shipping address. I explained to them I was shipping the goods to my office. They said they would allow it this time but in the future I would have to ship to my billing address or add my business address to my credit card. It is now the 18th and still no email confirming shipment.
I called them again this morning and they said they called me last week to confirm my alternate shipping address and I hadn't called them back. I explained to them that yes I did call them back. After being put on hold for an extended length of time someone else came on the line. I told her I just wanted what I ordered, again she stated I needed to confirm my alternate shipping address, I confirmed it a third time and she told me again that in the future I would have to use my billing address. I asked her "why then do you even have a spot to put in an alternate shipping address if you cannot send to one?" She told me that once I'm an established customer I can ship to an alternate address. By the time this conversation was over, I cancelled all my orders and will never shop there again. I'll shop at QVC.
I will say as irritated as I was, she was pleasant to me (which is why I gave them 2 stars), but their shipping policies and customer care follow-up are terrible. Explain how I was to know when placing my order that I couldn't ship to an alternate address? Nowhere on the order form did it say if you are not an established customer you cannot ship to a non-billing address. Totally crazy, and I've never heard of such a thing. What if this had been a gift? I will never shop there again. Way too stressful.

I bought a lot of rings from the company. There is only a short time you can return them under warranty, unless you buy the extended warranty blah, blah, blah. Just go to the jewelry store and buy a ring if you want a decent ring. Almost every ring I bought from them has lost stones or the finish has come off. It is just so sad. I bet I bought 10 or 12 rings from them. Bad investment. Don't go there. I didn't put an order number in below because so many of my orders have gone bad.
Jewelry Television Company Profile
Company Name:

Jewelry Television

Website:

http://www.jtv.com/