Wild Blue Satellite Broadband
Consumer Complaints and Reviews

We were advised by DirecTV to bundle with this company and save. Well the internet came first, then about a week later DirecTV came out, and said they couldn't service our area. Exede was extremely slow to begin with, but we assumed (which was wrong on our part) that the entire bundle was null and void considering that's how we signed up. Well it's not. Now they want us to pay a $350 cancellation fee for having it for only one week.
The customer service was extremely rude, and her supervisor was even worse. I was told I would have to CLIMB on top of the house to retrieve and return an item of theirs, or I would be charged an additional $150 for. This company is crazy. I wouldn't recommend them to my friends or enemies for that matter. I live in Georgia. I hope to warn as many people as possible!!! Stay. Away. From. This. Company. Or you will regret it!! The actual home service was horrible, the prices are actually kind of high, and the customer service reps are worse then you can imagine.

Months after returning their equipment, in a box provided by them, with a prepaid UPS label provided by them, I received a bill for 6 months of services. They admitted they received the equipment back but had no record of the call canceling the service or requesting the box to return the equipment. Then the collection calls started. How can I have received service if I have no equipment???

We received a flyer in the mail promoting super fast Satellite Internet from Exede/WildBlue. We called and were led to believe that we would receive internet speeds of 12 MBPS down and 3 MBPS up minimum. And we could expect speeds of up to 18 down/5 up on a normal basis. Before the installation staff even left our house I ran a speed test and I got 2.4 down and 1.5 up. Not even close to what we were promised! The install person said "That should improve as soon as the system recognizes your account". What a disappointment! Over the next month we called numerous times complaining that the service was not what we signed up for. We were even told on the phone that "you should be getting a lot better speeds than that!"
We complained several times within the first week and were told a service tech would come out and investigate/repair the issue. We waited for a week but never received a scheduling call for Chris ** to stop in. When called, Chris stated that when he received a trouble call ticket for us, he called and spoke with Exede's IT desk line and was told that there was no reason for him to visit as there was nothing wrong with our equipment. I expressed my frustration about me having to call him to find out why nobody ever showed up. We have been running speed tests daily to document the poor performance of the service and offered these documents to Exede but they were not interested.
After 1 month of service, I called to cancel service and stated that due to extremely poor service we did not feel obligated to pay the termination fee. After all, 90% of the time we were not getting anywhere near the speeds we were told we were going to get and a few times we were not getting any service whatsoever. I spoke with Heather (a supervisor) and told her the whole story and she said that the termination fee would be waived - but today I see on my online credit card transactions that we are being assessed the termination fee nonetheless. The company, in our opinion is a predator company and should be avoided at all costs. I will be calling the State Attorney General's office to investigate this matter further.

We signed up for Exede 5 months ago. Their service was very clunky. We could not access the Internet very easily and when we did get on it was very slow. It was definitely not what exede advertised. When we decided to cancel their service they charged $240 which is fine. I expected that. We sent the parts back in the box that they sent us and thought everything was done.
What I did not expect was over a month later exede took $300 dollars out of our account without so much as a email, phone call, letter, smoke signals, nothing. When I called them they said I did not return the parts to which I produced the receipt from the post office. They finally agreed that they had the parts in their possession and now say it takes 7 to 14 days to put the money back in our account. Why it was their mistake and I have to pay for it. This has been one of the most terrible experiences that I have had with their service and then dealing with their people on the phone. I would rate their service a -2 on a scale of 1 to 10 and their business practices a -10. They suck.

About 3 weeks ago, we called to cancel our internet service, because we found a better provider. Exede internet would only work sporadically, and when it did work, it would lag, videos would not load, and it would buffer every few minutes. Another issue we had was, somehow, despite the fact that our modem was off, somehow our data would be used up, even though nobody was home. After cancelling, Exede took $256.06 from my account. I have attempted several times to contact them, but I either mysteriously get disconnected, or my emails get ignored. At the time that I cancelled, Exede was told that they were no longer authorized to take any further money from my account. Despite being told this, they took the money anyways. I have had to cancel my card, and have the bank dispute the charges. This whole experience with Exede has been a nightmare. I would not recommend them to anyone. Please, avoid them at all costs!
How do I know I can trust these reviews about WildBlue?
635,598 reviews on ConsumerAffairs are verified.
We require contact information to ensure our reviewers are real.
We use intelligent software that helps us maintain the integrity of reviews.
Our moderators read all reviews to verify quality and helpfulness.
For more information about reviews on ConsumerAffairs.com please visit our FAQ.

We used Exede for 5+ years. When everything works, it is an acceptable service, especially if you have no alternative. However, when problems arise (this includes canceling service, see below), you are on your own and more than likely will be screwed to one degree or another. The short: use Exede Internet at your own risk and BE CAREFUL. Do not expect anything from customer service reps (even the nice ones). Do not expect advertised speeds. Expect phantom data usage and expect to be given the run-around at every corner when problems arise. Customer service can be decent, but problems they try to solve are often "rejected" by corporate--seriously.
The long: we used Exede for 5+ years and got along okay. It was nice to have high speed Internet, but we often used up our Priority Data by the second or third week of each month, especially as more and more services migrated to Internet-only. We even somehow used data when our modem was off during a two-week vacation. We were on the lowest (20G/mo) plan, and I'm certainly not entirely blaming Exede for us burning through data, but the phantom data usage raised a red flag. Liberty Pass worked fine for a year or so, but by the end of our subscription this past June, usually rendered even casual browsing almost impossible. Another red flag.
Thankfully an alternative came along this year. We went through the process of disconnecting our Exede service, then we're still charged our monthly fee a few days later. When we called again, the customer service rep said our previous request had "failed." We went through the entire disconnect process again, plus went through another process to get our monthly fee refunded. Our service is now disconnected, but our request for a refund, while accepted by customer service, was rejected by corporate because our customer agreement states there are no refunds for unused data. It does not matter that our first request came before our renewal date and that it was the fault of Exede that the request failed.
Part of the disconnect process also required us to send back part of the satellite dish, the power cords/supply and modem. It must be received by Exede within one month from the day you request to be disconnected. It has been 20 days since we sent the equipment back and Exede has no record of receiving the equipment. Thankfully, we have our UPS tracking number, so we may have a leg to stand on, but I would not be surprised if Exede finds a way to charge us $300 for not returning their equipment in a timely fashion. Again, BE CAREFUL. Read your customer agreement carefully and believe Exede will do everything they can to manipulate you into violation. Exede is as dishonest, ruthless and worthless as companies come.

The first complaint I saw on this site today says the same thing they are trying to do to me. They are trying to charge me $160.13 for a Tria that they say was not in the box. They send you a return box that has preformed foam in it to put in power cord, modem, and Tria from the dish outside. They first said they didn't get the modem, and then they said they didn't get the Tria, but then they say they got the modem and now they tell me to call back in 4 days to see if they can find it. Do not waste your time with these people. 10 Gigs will allow you to read your email and visit Craigslist once a day and that is it. My grandson came to my house and watched to full length cartoons and that used all my bandwidth for a month. I would not have known they were putting this bogus charge on my credit card had not Capital One notified me that they charged me $115.38 more than they charged me last month.

We have been with Wild Blue/Exede for quite a few years. Things have been fine until this past July. Our internet went out. When the technician came to check out the problem, he said a part needed to be replaced. Then he said that if we got a new dish we would have much faster speeds. We would have to sign a new contract and there would be a slight increase in cost. We decided would be worth it. We so regret that decision. There are no faster speeds. Since then we are going to our 10gb extremely fast. We have never listened to music, watched tv or movies. The only videos we watch are couple minute videos on Facebook. I have cut back on how much I am on the internet, even stopped going on Facebook on my computer.
I have called several times. They just tell me about what uses data. Kept trying to explain that don't use things that should be using the data and that we didn't have problem until new dish was installed. After the last call I went on chat and asked how much to cancel. They called and offered to take $10 off bill for 12 months. I accepted but said still didn't help with data problem. Have to hold off and deal with it for a while. Don't have extra $330 would need now to cancel. Will cancel when cost gets lower and won't sign up with Exede again unless they correct the problem. Wish we just had the old dish repaired. We had no problems with data then. Have already told one person who was talking about signing up not to do it. After being a customer for so long never expected to be having problems now. Very disappointed.

Absolutely the WORST internet company, I WOULD NOT recommend this to anybody. Had the worst experience since day one, when the technician arrived. Before having the tech come out to my appointment I told the rep to put on her notes to notify the tech before he came out, that my landlord did not allow satellite dishes to be bolted onto the building. Couple days later technician comes out, I notify him as well that my landlord does not allow satellite dishes to be bolted, he agrees and says okay. He takes about 6 hours doing who knows what... Once he leaves directv comes to install cable, since I set my cable and Internet to be installed the same day. I let them know as well not to put a dish as well. Directv lets me know that some random huge dish has already been installed on top of the roof in front of the apartment complex.
At this point this made me very angry because at this point my landlord will charge me for having this huge dish on top of the roof... I call via set at let them know what's going on. The supervisor tells me to keep the services active and to fax them over a copy of the lease stating I can't have satellite dishes so I did. I contact them a week later to see if they received it & No they didn't faxed it out 3 more times. Was finally fed up with how unprofessional they were so asked to speak to Corp. They also were so unprofessional. They also said they didn't receive it. At this point I just wanted to cancel wanted nothing to do with their services. I was charged 83$ for the first month that I didn't even use b/c they told me to disconnect everything but to keep my services active.
It took them about 3 weeks to refund me my 83$ because they refused to give it back and they also wanted to charge me early termination fees. As well as 163$ for the modem that's connected to the dish. I called Corp to have them refund me my money. They said they did and that I never return the modem so hours on the phone with them and several times calling they refunded me my money and comes to find out they did receive the modem. SMH terrible experience. Every single time I called these people it was a disappointment, aggravation, arguing back and forth because no one knew what I was talking about, and no one ever received anything. From the representatives to the Corp office are unprofessional, they need to be more organized. I hate this company...

Thankfully, I couldn't even become a customer. Their sales line says that 3 pm eastern is "outside standard business hours"! I called tech support twice and got routed back to that message. I guess they're good with their current customer base? Between their joke of a "sales department," questionable fees and charges (which I didn't have any opportunity to discuss), and the reviews I've seen here, I'd steer anyone away from a relationship with this "company".

Here are some FAQ I have seen that I have issue with... Are there any hidden fees?: This one got me -- I have been a customer of excede for 10 months now. I canNOT get a tech to come to my house and check out why I lose service at least 2X's a day. Why you ask, because it will cost ME $99, now they will give me the option to buy a service plan for $5.99 month but why do I have to pay them to take care of their equipment. I know that it is not a lot of money every month, but still it is their equipment not mine.
Here is another person who wanted service in their area. "Ha! I just clicked to see if it was available in my area. The message I got was due to the large volume of requests for this service, we have suspended all new service installations at this time?? They were answered with -- It's a good thing they are not selling more than they can provide for. No, this is not good!!! Here is why.
I do have the liberty 10 plan that gives me data after I use my monthly data amount up. So if they have a large volume in that area, be careful because this is what excuse you will get to the problem of a service that cuts in and out, "It is all the Traffic on the signal" again this is THEIR problem and I am not getting the service I pay for.
Now today I called to get someone out to check out if there is a outside issue. I was told once again I have to pay $99 to have them come out and inspect THEIR equipment or I can pay $5.99 a month, again I am paying for them to fix THEIR equipment. Sometimes you just want to scream, why,why, why!! I feel used and over charged for a service that can be fixed in my area, and they chose not to fix it. If I did have a choice for Internet in my area I would not have this service. I do hope that you will post this for others to see so that they really can make an educated decision, because I did not have any reviews that would warn me of these issues. Stuck between a rock and a hard place.

When I called to inquire about the service I explained my internet use. I watch Netflix and get on Facebook. Salesman assured me the 10gb plan would work for me. After having the service 10 days was at my data limit having only watched 2 hours of Netflix and using Facebook. I called to complain that I'd been grossly misrepresented about the data and also the service continually buffered. Slow and interrupted service. I paid 99.00 installation and 75.00 for first month. I'm not trying to recover that money. I've since received a bill for 404.08 an early disconnect fee. I'm disputing the charge due to poor service and being misrepresented about the data. Beware of Exede and Wildblue internet providers. Parent company Viasat Inc. I've filed a complaint with the Better Business Bureau.

I attempted to terminate my WIFI service with Exede in late May of 2016. An Exede rep recommended I wait a week to be sure I was satisfied with the new service. It was going to cost me $60 for early cancellation fee of contract and Exede would send me a box to return the modem. No mention of a camera. The following week, June 7, I canceled. My June Visa bill showed a charge of $70 from Exede. I assumed one month fee of $59 plus extra week. On July Visa bill there was a charge of $59. I called and was told this was the early cancellation fee. Aug Visa bill showed $139 Exede charge. I called again and was told I had to return a camera that was attached to the dish. The dish was on my roof. If Exede sent a tech out to remove it, it would cost me $95.
After much time spent on the phone with Visa and Exede reps and supervisors, I found I should have been given an option to either mount the Exede equipment on the roof or a pole in the ground & sometimes the tech fee of $95 is waived to remove it. After reading the contract, yes, I was responsible to return the camera and that Exede preferred to settle conflicts amicably. I wrote to the company and a month later received no reply. I offered during my many conversations with Exede to compromise and pay $50 for a tech to come out and remove their equipment since I never was offered the option of where to install their equipment or told I would have to return the camera. Finally, I hired someone to remove dish and camera at my expense and returned camera to Exede. Buyer beware.

Everything about this process, from my first experience with the representative, to be installation, to service ongoing has been nothing but a hassle and the people have been unsympathetic and unhelpful. I would never recommend this service to anyone not even my worst enemy. I move to an area just outside of "normal" internet service. I went up having to pay 25% more for just internet that I had paid for internet, cable television, and a home phone. That premium also came with the most awful service but I had ever experienced in the thousands of businesses I had had the occasion to deal with. I constantly went over my data, which we increased not once, but twice. Sometimes that amount was going over in only a few days. Ironically, when I traveled to Florida on business from Wisconsin, I saw one of the representatives on the airport shuttle I was on.
I asked him how much service was here. He replied "You can get 25 GB for 3995." That was 25% of what I was paying. When I called I asked them about it. They said that plan was "not available" in the area in which I live. Fast-forward one year. After experiencing horrible service and intermittent availability, as well as having to drive into town and use McDonald's while this because it was actually better, I moved across the country. They asked me if I wanted to move my service. That came with a fee of $100 on each end. I said no, I would like to cancel. Why don't you wait and see if the people that wants to move in wish to use the service? It turns out they didn't, and I asked them to cancel. At that point I was not presented with the option of anybody going to pick up equipment. Just told I would have to pay about $600, and why didn't I just go on this "vacation plan" that would take me to the end of my contract and then everything would be fine.
My contract ended and guess what? They charged me another month of $154. Now, they claim that those charges are valid, and, if I cannot return the equipment, they will charge me $300. I have never experienced worse service anywhere. These people must know that their business is a scam, because my average time on the phone with them was just under two hours. Five sets of calls to cancel, over 10 hours of my life wasted, and still no resolution. Do not do business with exceed or wild blue. It is not worth the hassle or aggravation, no matter what they promise.

When I switched to DirecTV, AT&T wasn't available in my area therefore I was directed to WildBlue/Exede Internet service. When they came out to hook everything up, the technician was friendly - but the service provided wasn't very good. When he installed the modem for my computer, he left wires exposed and no instructions were given other to say "this is your password to use the service".
Recently I called DirecTV since there was quite a change in my bill and it was suggested that I switch over to AT&T... which I did. The service was entirely different from WildBlue/Exede. The technician re-routed everything and cleaned up all the exposed wires, even Sat down to show me how to use everything... and this was all done with an impending Hurricane on the way!!! When I called to disconnect with the other internet provider, they charged me an early termination fee of $165. While I don't believe I should have to pay this fee for crummy hook-up let alone sporadic service, I'll do so just to get rid of them. I truly believe something should be done about this company before they're allowed to continue to operate.

Company contacted me and said they were partners with DirecTV and would be coming to install the equipment for Internet service. I never called them. Installed dish and DirecTV showed up 2 hours later and said they do this to everyone, it does not work at that location! When I requested they come get the equipment, I see they have charged my credit card for $365/month!! How did they get my credit card! I never signed up, never saw a contract, never agreed to anything! I have reported them to Federal Trade Commission and now they have sent my name to collection and told me to throw the equipment away?? What?? What kind of a shady backyard company is this place? RUN if they call you, show up or say they're a partner with DirecTV. That's not true, they are not legitimate.

We regularly hit our 10 gig limit no matter what. I have a cellphone plan with 4 users 2 of which are teenage daughters and do not go over our 3 gig limit. We do not limit data usage on cell phones but do tell the girls to be careful about usage at home on wifi. The usage calculations for Wild Blue internet are questionable at best. I will switch the second there is another alternative in my area.

I've been in a contract with wild blue for over 3 years. DONT USE THEM!!! I called today to cancel my service and was informed that I would still have to pay the monthly payment even though my service would be canceled. From day one of this contract my payment was deducted on the 3rd of every month. When I called on the 2nd cancel they informed me that I still will owe for the month of October because my payment was due on the 1st. They wanted to cancel my account and still charge me for service that I can't use. And inform me that my due date could have been changed to the 4th.
No one ever told me this. Why would I have it taken out on the 1st when I don't get paid until the 3rd? They are ripping off customers for their own good. They can charge for the two days they say I owe them but to charge me for a whole month for nothing is wrong. They are ripping people off! Its their way of forcing people to try to stay with their rotten service. How could people do this? I've had nothing but trouble with Wild Blue Exede from the very first day I started with this company. Those was the final nail for me. I strongly advise against using them at all! I hate for someone else to deal with this garbage. They don't deserve 1 star!

This service was totally unacceptable. The sales personnel totally lied about what they told you and lied even more about the information that they didn't tell you. The phone service never worked. The internet service worked for 1 night and then we were pretty much cut off. Calling into customer service to explain your issues was a joke. They want to send out a repair tech who comes out and replaces equipment that still doesn't work. They take your money and then charge you for more than what you agreed to do. They want you to pay for early termination for 2 years for service that worked for 2 days. I cannot believe that the government allows companies like this to continue to scam the hardworking people in this country. They wonder why the economy is going downhill so fast.

DON'T get this service!!! Had it less than ten days, stops working. Horrible customer service, this company wanted me to wait a week to come fix. The agent on the phone canceled my services. They charged me for the two years without my knowledge, withdrew from my account. And will not credit back my payment for first month use and we didn't even have use of it. Called customer service again for explanation refused to help. Bad bad bad business.

Exede internet is a joke!!! They promise it is a high-speed internet. They are lying. Videos won't play, pages won't load, pictures won't download. Exede is the worst internet I have ever experienced. Please don't get reeled in by the people at Exede like I did. I was never told that it was a contract service. Had I been told that I would have ran then. I have never had to have a contract with a internet service!!! I wish I would have read the reviews before even calling them let alone signing up with them. Please, I am begging you, do NOT go with Exede internet aka ViaStat aka Wildblue.

DO NOT EVEN CONSIDER DOING BUSINESS WITH THIS COMPANY! We are currently in the middle of a nightmare with ViaSat/Exede/WildBlue. (Note: The following information is personal opinion only, based on my personal experience with this company.)
On the morning of March 30, 2016, our ViaSat internet service was not working. That afternoon I called technical support and was told, after a modicum of long distance diagnosing, that my only options were to pay them to come out and fix THEIR equipment. (So THEY could continue to sell me their service.) I declined, said I would be canceling the service and was then transferred to the Customer Service department, where I was once again told my options - that I would have to pay to have them fix their equipment. (Please note that their equipment had failed in the past and been repaired by their technicians before at no cost).
At this time ViaSat was unequivocally told that we were done with ViaSat, and were canceling our service and would no longer be using them as our internet provider. This was stated as clearly as is possible in the English language. Imagine our surprise when the following month ViaSat again charged our debit card, which had been left on file with them to pay the regular monthly bill, for the month of April. ViaSat was then informed again (both by email and through their website communication/messaging page) that this service had been cancelled on March 30.
We then called our bank, put the charge in dispute and actually cancelled the debit card associated with the account. Can you believe this - ViaSat apparently contacted VISA, and was given the routing number of our bank account (HOW CAN THEY DO THIS???) and continued to bill us for the next three months, despite being informed multiple times that the service was cancelled. Note that not one byte of data has been transmitted by ViaSat since sometime before 4:00 am on March 30, they have been informed multiple times in multiple medias that we have cancelled our service, and yet we have had our bank account ripped off for a total of $181.74! We have actually had to empty our bank account to prevent this criminal company from stealing from it.
But it gets worse... To our relief, the bank dispute was resolved in our favor, and apparently ViaSat was held accountable for the $180.74. Imagine our surprise when we received a new ViaSat bill for $499.74 which included a threat of collection agency action, threat of additional legal fees, and threat of negative impact on our credit rating, but this bill did not specify in any way what this charge referred to other than Balance Past Due. A couple of days later we received a collection agency letter for $609.68! An attempt today to speak with a supervisor at ViaSat was terminated after waiting 20 full minutes. We will likely have to contact an attorney to resolve this matter. This is a horrible, unethical, cheating, slimy, underhanded enterprise, and we greatly regret we ever did business with them. Don't make the same mistake.

Just like everyone else's review, awful! It took me 4 weeks to get the internet to work in my home and then in 4 days I am all used up. I called to see what I can do and they informed me that it would cost me $345.00 to get out of my contract and the only other option is to spend $129.00 a month plus taxes to upgrade to the next level. Are you kidding me, what a bunch of thieves!

I too have had issues with them. Once you go over your allotted data cap. Your speed is throttled to the point you are wasting your time on the internet. I will stay with them until the contract ends. But once done, I AM DONE with this ISP. I like a lot of folks out there get their work via email. At times sit there waiting for the email to open. Clock is ticking. Here recently I have starting using the hot spot on my phone. LOTS FASTER so I am done faster. Would not recommend them to anybody at this point. BTW it took the installer 3 days to complete the install.

We had internet service with this outfit for 4 years, and for the entire time, we were charged for 10GB in less than a week! Then we would get slowed down to less than dial-up speed and be unable to do much of anything online. Except for during Late Night Free Zone, which would have an outage just about every night, so that was useless. We recently switched to Dish Satellite Internet and the difference is amazing. It takes us nearly a month to use up 10 GB of data. We have 50 GB per month for like $10 a month more than what 10GB was with Exede. Beware - Exede will rip you off!

I had the same experience as all of the above. My only differences I tried to cancel within the first 36 hours and was told I would have to pay a cancellation fee of $330. When I said "it's been under 48 hours", they said "too bad". Nasty customer lack of service and worst internet ever. My dial was faster!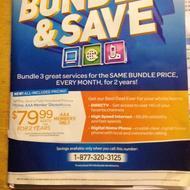 I inquired DirecTV for a bundle service with AT&T for $79.99. AT&T does not service our area so I was quoted $99.99 a month (a $20 higher price). Phone and internet service would be through Exede/ViaSat. Exede came and installed the internet service. Only after it was installed did I find out that you had a limited amount of data. DirecTV came out to install TV service and I asked about my phone service. Exede/ViaSat are the installers for phone service. I called DirecTV and the supervisor Joe would not notify Exede for installation of my phone. I then found that the DirecTV phone attendant sold me only internet $80 a month and DirecTV $40 a month, which is nowhere near $99.99 a month for a bundle. I canceled the service and Exede is charging me $344.52 for early cancellation. Do not get service from DirecTV or Exede.

We lived in a rural area of NW Oklahoma. There were no internet choices except that which would be offered in a package deal with television satellite. It would be either Direct or Dish, and Dish was contracted through Exede Internet. We were forced to move very quickly because of a family health emergency. We contacted Exede and Dish to disconnect. Dish was NO problem. Exede said they would send us a box to return the modem and other paraphernalia. When we received the mailing box at our new location, it informed us that we would have to CLIMB UP ON THE ROOF and take a part off the satellite dish called a TRIA.
We live a number of hours away from our previous residence. I have cardiovascular disease that prevents me from doing this, and I am certainly not to let my wife do this. We are late middle-aged people. After a very difficult conversation with company reps from Exede, our only choices are to pay $150.00 for the part or pay a company worker $95.00 to do it for us, but we have to be AT THE RESIDENCE when the worker shows up. Because we paid so many expenses for moving, we don't have that money to spare. The Internet service was unreliable, slow, sometimes unavailable, and if we watched any streaming video (YouTube or other) that would use up our allowable data limit, and the Internet would be virtually unavailable until the next billing cycle. So, needless to say we are VERY unhappy about this. Consider this a warning. Don't use EXEDE INTERNET SERVICE.

In all my years I've never ever seen a worse product, service, company - EVER! I ordered the 10G "max" package. If you watch movies this won't work for you. Two movies and you've used up your "allotment". What internet service has a cap on usage? Once you use the 10G you're speed is downgraded. Downgraded speed"? Heck the "normal speed" is HORRIBLE! They tell you they're delivering 12M, but try to use it. It reminds me of 56k speeds. Web pages paint extremely slow. Speed? If you can get it? Each morning when I woke up I had to reboot the modem, reboot my laptops and sometimes the internet would come up. Sometimes not.
After a bit more than a week of this HORRID service I tried to find a number to call customer service. I found chat on the website and asked for the number. Why they don't publish it on the website in an easy to find place is obvious - they don't want you to call. I finally got a woman on the phone which was a waste of time. All she did was disagree with me when I said the speeds were too slow. I know what "speedcheck.net" is. It wasn't 12M. She assured me it was. That was a waste of time. The next morning I woke up, couldn't make it work at all. All the rebooting in the world wouldn't make the modem connect. Frustrated I took the time to really search for the company that owned the cable pedestal at my street... I knew there had to be a better service and I found it! THANKFULLY I now knew I could get a cable provider.
So, with this information in hand I thought I could unwind my contract with Exede since I only had it for a week and I'd already called and complained about the service. That's Not Going to Happen. I called Exede. I explained that the service wasn't meeting my needs. I reminded them that I'd already called and we already had disagreed about the quality of the service. What company disagrees with their customer about quality of service? Anyway, I said I wanted to disconnect but was inquiring about whether they were going to charge me. Shockingly they were! I couldn't believe they were going to charge me the $15/mo for each unused month of the "agreement" (23 months x $15!) or $365!!! Are you serious? I'd only had the service for week. It didn't work. It therefore seems reasonable, at least to one that believes in customer service that we'd terminate and we'd part ways.
What better way is there to avoid reviews like this one? The fact is they didn't deliver the service, disagreed with me about the quality, the modem didn't work, and when I want to disconnect it you're going to charge me? The story doesn't end here... I ended my call with the service representative at that time because I had to run for a meeting so we didn't finalize the "disconnect". When I got home my service had already been disconnected. Mind you I had already paid for the month and they disconnected me without my authorization. Frustrated I called them back and asked that my service be turned back on since I still needed it until my cable internet would be installed. More hoops to jump through and then the service agent disconnects me as he's trying to connect me to the activation department! Are you serious? Again, I had to run to a meeting but tried again today.
Finally? Not so much... I got through the activation department today thinking at least I could get the service turned back on for the month I'd already paid for. By then my new service would be installed, I'd pay Exede their $365 early termination fee, and I'd be on my way... but no. It's not over!!! The woman tells me that in order to turn it back on I need to sign up for a new 24 month agreement!!! You simply cannot make this story up. I've never seen a more horrible service in all my life. Look, you won't like the service, it's beyond horrible, but if you sign up I warn you, you will like their "customer service" even less. These people should be out of business. This was a lesson learned for me. Take my word for it so you don't have to learn this lesson yourself.

I don't know if anyone's ever heard of this company but DirecTV represented them to us, the name of it is Exede internet. I got them so that I could do my online class and it's supposedly "high speed." I've had problems with it from day one and it constantly fails and is definitely not dependable AT ALL. I have called and complained a few times, only had their service for one month and when I called to cancel they say they are charging me $360 for an early termination fee because of a contract!???
Honestly when you've had the service for a month and called and complained several times, they won't send out a tech to come fix it and won't let you cancel without paying that much for Internet that has never worked is beyond ridiculous! Y'all share this so everyone knows NOT to get Exede! And on top of that they said the only way to get by without paying that fee is to go through corporate and it's been days since I emailed them and they still haven't responded! Most annoying and unfair company ever!???
Wild Blue Satellite Broadband Company Profile
Company Name:

WildBlue

Website:

http://www.wildblue.com/