Wild Blue Satellite Broadband
Consumer Complaints and Reviews

Thankfully, I couldn't even become a customer. Their sales line says that 3 pm eastern is "outside standard business hours"! I called tech support twice and got routed back to that message. I guess they're good with their current customer base? Between their joke of a "sales department," questionable fees and charges (which I didn't have any opportunity to discuss), and the reviews I've seen here, I'd steer anyone away from a relationship with this "company".

When I called to inquire about the service I explained my internet use. I watch Netflix and get on Facebook. Salesman assured me the 10gb plan would work for me. After having the service 10 days was at my data limit having only watched 2 hours of Netflix and using Facebook. I called to complain that I'd been grossly misrepresented about the data and also the service continually buffered. Slow and interrupted service. I paid 99.00 installation and 75.00 for first month. I'm not trying to recover that money. I've since received a bill for 404.08 an early disconnect fee. I'm disputing the charge due to poor service and being misrepresented about the data. Beware of Exede and Wildblue internet providers. Parent company Viasat Inc. I've filed a complaint with the Better Business Bureau.

I attempted to terminate my WIFI service with Exede in late May of 2016. An Exede rep recommended I wait a week to be sure I was satisfied with the new service. It was going to cost me $60 for early cancellation fee of contract and Exede would send me a box to return the modem. No mention of a camera. The following week, June 7, I canceled. My June Visa bill showed a charge of $70 from Exede. I assumed one month fee of $59 plus extra week. On July Visa bill there was a charge of $59. I called and was told this was the early cancellation fee. Aug Visa bill showed $139 Exede charge. I called again and was told I had to return a camera that was attached to the dish. The dish was on my roof. If Exede sent a tech out to remove it, it would cost me $95.
After much time spent on the phone with Visa and Exede reps and supervisors, I found I should have been given an option to either mount the Exede equipment on the roof or a pole in the ground & sometimes the tech fee of $95 is waived to remove it. After reading the contract, yes, I was responsible to return the camera and that Exede preferred to settle conflicts amicably. I wrote to the company and a month later received no reply. I offered during my many conversations with Exede to compromise and pay $50 for a tech to come out and remove their equipment since I never was offered the option of where to install their equipment or told I would have to return the camera. Finally, I hired someone to remove dish and camera at my expense and returned camera to Exede. Buyer beware.

Everything about this process, from my first experience with the representative, to be installation, to service ongoing has been nothing but a hassle and the people have been unsympathetic and unhelpful. I would never recommend this service to anyone not even my worst enemy. I move to an area just outside of "normal" internet service. I went up having to pay 25% more for just internet that I had paid for internet, cable television, and a home phone. That premium also came with the most awful service but I had ever experienced in the thousands of businesses I had had the occasion to deal with. I constantly went over my data, which we increased not once, but twice. Sometimes that amount was going over in only a few days. Ironically, when I traveled to Florida on business from Wisconsin, I saw one of the representatives on the airport shuttle I was on.
I asked him how much service was here. He replied "You can get 25 GB for 3995." That was 25% of what I was paying. When I called I asked them about it. They said that plan was "not available" in the area in which I live. Fast-forward one year. After experiencing horrible service and intermittent availability, as well as having to drive into town and use McDonald's while this because it was actually better, I moved across the country. They asked me if I wanted to move my service. That came with a fee of $100 on each end. I said no, I would like to cancel. Why don't you wait and see if the people that wants to move in wish to use the service? It turns out they didn't, and I asked them to cancel. At that point I was not presented with the option of anybody going to pick up equipment. Just told I would have to pay about $600, and why didn't I just go on this "vacation plan" that would take me to the end of my contract and then everything would be fine.
My contract ended and guess what? They charged me another month of $154. Now, they claim that those charges are valid, and, if I cannot return the equipment, they will charge me $300. I have never experienced worse service anywhere. These people must know that their business is a scam, because my average time on the phone with them was just under two hours. Five sets of calls to cancel, over 10 hours of my life wasted, and still no resolution. Do not do business with exceed or wild blue. It is not worth the hassle or aggravation, no matter what they promise.

When I switched to DirecTV, AT&T wasn't available in my area therefore I was directed to WildBlue/Exede Internet service. When they came out to hook everything up, the technician was friendly - but the service provided wasn't very good. When he installed the modem for my computer, he left wires exposed and no instructions were given other to say "this is your password to use the service".
Recently I called DirecTV since there was quite a change in my bill and it was suggested that I switch over to AT&T... which I did. The service was entirely different from WildBlue/Exede. The technician re-routed everything and cleaned up all the exposed wires, even Sat down to show me how to use everything... and this was all done with an impending Hurricane on the way!!! When I called to disconnect with the other internet provider, they charged me an early termination fee of $165. While I don't believe I should have to pay this fee for crummy hook-up let alone sporadic service, I'll do so just to get rid of them. I truly believe something should be done about this company before they're allowed to continue to operate.
How do I know I can trust these reviews about WildBlue?
609,949 reviews on ConsumerAffairs are verified.
We require contact information to ensure our reviewers are real.
We use intelligent software that helps us maintain the integrity of reviews.
Our moderators read all reviews to verify quality and helpfulness.
For more information about reviews on ConsumerAffairs.com please visit our FAQ.

Company contacted me and said they were partners with DirecTV and would be coming to install the equipment for Internet service. I never called them. Installed dish and DirecTV showed up 2 hours later and said they do this to everyone, it does not work at that location! When I requested they come get the equipment, I see they have charged my credit card for $365/month!! How did they get my credit card! I never signed up, never saw a contract, never agreed to anything! I have reported them to Federal Trade Commission and now they have sent my name to collection and told me to throw the equipment away?? What?? What kind of a shady backyard company is this place? RUN if they call you, show up or say they're a partner with DirecTV. That's not true, they are not legitimate.

We regularly hit our 10 gig limit no matter what. I have a cellphone plan with 4 users 2 of which are teenage daughters and do not go over our 3 gig limit. We do not limit data usage on cell phones but do tell the girls to be careful about usage at home on wifi. The usage calculations for Wild Blue internet are questionable at best. I will switch the second there is another alternative in my area.

This service was totally unacceptable. The sales personnel totally lied about what they told you and lied even more about the information that they didn't tell you. The phone service never worked. The internet service worked for 1 night and then we were pretty much cut off. Calling into customer service to explain your issues was a joke. They want to send out a repair tech who comes out and replaces equipment that still doesn't work. They take your money and then charge you for more than what you agreed to do. They want you to pay for early termination for 2 years for service that worked for 2 days. I cannot believe that the government allows companies like this to continue to scam the hardworking people in this country. They wonder why the economy is going downhill so fast.

Exede internet is a joke!!! They promise it is a high-speed internet. They are lying. Videos won't play, pages won't load, pictures won't download. Exede is the worst internet I have ever experienced. Please don't get reeled in by the people at Exede like I did. I was never told that it was a contract service. Had I been told that I would have ran then. I have never had to have a contract with a internet service!!! I wish I would have read the reviews before even calling them let alone signing up with them. Please, I am begging you, do NOT go with Exede internet aka ViaStat aka Wildblue.

DO NOT EVEN CONSIDER DOING BUSINESS WITH THIS COMPANY! We are currently in the middle of a nightmare with ViaSat/Exede/WildBlue. (Note: The following information is personal opinion only, based on my personal experience with this company.)
On the morning of March 30, 2016, our ViaSat internet service was not working. That afternoon I called technical support and was told, after a modicum of long distance diagnosing, that my only options were to pay them to come out and fix THEIR equipment. (So THEY could continue to sell me their service.) I declined, said I would be canceling the service and was then transferred to the Customer Service department, where I was once again told my options - that I would have to pay to have them fix their equipment. (Please note that their equipment had failed in the past and been repaired by their technicians before at no cost).
At this time ViaSat was unequivocally told that we were done with ViaSat, and were canceling our service and would no longer be using them as our internet provider. This was stated as clearly as is possible in the English language. Imagine our surprise when the following month ViaSat again charged our debit card, which had been left on file with them to pay the regular monthly bill, for the month of April. ViaSat was then informed again (both by email and through their website communication/messaging page) that this service had been cancelled on March 30.
We then called our bank, put the charge in dispute and actually cancelled the debit card associated with the account. Can you believe this - ViaSat apparently contacted VISA, and was given the routing number of our bank account (HOW CAN THEY DO THIS???) and continued to bill us for the next three months, despite being informed multiple times that the service was cancelled. Note that not one byte of data has been transmitted by ViaSat since sometime before 4:00 am on March 30, they have been informed multiple times in multiple medias that we have cancelled our service, and yet we have had our bank account ripped off for a total of $181.74! We have actually had to empty our bank account to prevent this criminal company from stealing from it.
But it gets worse... To our relief, the bank dispute was resolved in our favor, and apparently ViaSat was held accountable for the $180.74. Imagine our surprise when we received a new ViaSat bill for $499.74 which included a threat of collection agency action, threat of additional legal fees, and threat of negative impact on our credit rating, but this bill did not specify in any way what this charge referred to other than Balance Past Due. A couple of days later we received a collection agency letter for $609.68! An attempt today to speak with a supervisor at ViaSat was terminated after waiting 20 full minutes. We will likely have to contact an attorney to resolve this matter. This is a horrible, unethical, cheating, slimy, underhanded enterprise, and we greatly regret we ever did business with them. Don't make the same mistake.

I too have had issues with them. Once you go over your allotted data cap. Your speed is throttled to the point you are wasting your time on the internet. I will stay with them until the contract ends. But once done, I AM DONE with this ISP. I like a lot of folks out there get their work via email. At times sit there waiting for the email to open. Clock is ticking. Here recently I have starting using the hot spot on my phone. LOTS FASTER so I am done faster. Would not recommend them to anybody at this point. BTW it took the installer 3 days to complete the install.

We had internet service with this outfit for 4 years, and for the entire time, we were charged for 10GB in less than a week! Then we would get slowed down to less than dial-up speed and be unable to do much of anything online. Except for during Late Night Free Zone, which would have an outage just about every night, so that was useless. We recently switched to Dish Satellite Internet and the difference is amazing. It takes us nearly a month to use up 10 GB of data. We have 50 GB per month for like $10 a month more than what 10GB was with Exede. Beware - Exede will rip you off!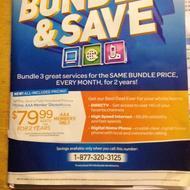 I inquired DirecTV for a bundle service with AT&T for $79.99. AT&T does not service our area so I was quoted $99.99 a month (a $20 higher price). Phone and internet service would be through Exede/ViaSat. Exede came and installed the internet service. Only after it was installed did I find out that you had a limited amount of data. DirecTV came out to install TV service and I asked about my phone service. Exede/ViaSat are the installers for phone service. I called DirecTV and the supervisor Joe would not notify Exede for installation of my phone. I then found that the DirecTV phone attendant sold me only internet $80 a month and DirecTV $40 a month, which is nowhere near $99.99 a month for a bundle. I canceled the service and Exede is charging me $344.52 for early cancellation. Do not get service from DirecTV or Exede.

In all my years I've never ever seen a worse product, service, company - EVER! I ordered the 10G "max" package. If you watch movies this won't work for you. Two movies and you've used up your "allotment". What internet service has a cap on usage? Once you use the 10G you're speed is downgraded. Downgraded speed"? Heck the "normal speed" is HORRIBLE! They tell you they're delivering 12M, but try to use it. It reminds me of 56k speeds. Web pages paint extremely slow. Speed? If you can get it? Each morning when I woke up I had to reboot the modem, reboot my laptops and sometimes the internet would come up. Sometimes not.
After a bit more than a week of this HORRID service I tried to find a number to call customer service. I found chat on the website and asked for the number. Why they don't publish it on the website in an easy to find place is obvious - they don't want you to call. I finally got a woman on the phone which was a waste of time. All she did was disagree with me when I said the speeds were too slow. I know what "speedcheck.net" is. It wasn't 12M. She assured me it was. That was a waste of time. The next morning I woke up, couldn't make it work at all. All the rebooting in the world wouldn't make the modem connect. Frustrated I took the time to really search for the company that owned the cable pedestal at my street... I knew there had to be a better service and I found it! THANKFULLY I now knew I could get a cable provider.
So, with this information in hand I thought I could unwind my contract with Exede since I only had it for a week and I'd already called and complained about the service. That's Not Going to Happen. I called Exede. I explained that the service wasn't meeting my needs. I reminded them that I'd already called and we already had disagreed about the quality of the service. What company disagrees with their customer about quality of service? Anyway, I said I wanted to disconnect but was inquiring about whether they were going to charge me. Shockingly they were! I couldn't believe they were going to charge me the $15/mo for each unused month of the "agreement" (23 months x $15!) or $365!!! Are you serious? I'd only had the service for week. It didn't work. It therefore seems reasonable, at least to one that believes in customer service that we'd terminate and we'd part ways.
What better way is there to avoid reviews like this one? The fact is they didn't deliver the service, disagreed with me about the quality, the modem didn't work, and when I want to disconnect it you're going to charge me? The story doesn't end here... I ended my call with the service representative at that time because I had to run for a meeting so we didn't finalize the "disconnect". When I got home my service had already been disconnected. Mind you I had already paid for the month and they disconnected me without my authorization. Frustrated I called them back and asked that my service be turned back on since I still needed it until my cable internet would be installed. More hoops to jump through and then the service agent disconnects me as he's trying to connect me to the activation department! Are you serious? Again, I had to run to a meeting but tried again today.
Finally? Not so much... I got through the activation department today thinking at least I could get the service turned back on for the month I'd already paid for. By then my new service would be installed, I'd pay Exede their $365 early termination fee, and I'd be on my way... but no. It's not over!!! The woman tells me that in order to turn it back on I need to sign up for a new 24 month agreement!!! You simply cannot make this story up. I've never seen a more horrible service in all my life. Look, you won't like the service, it's beyond horrible, but if you sign up I warn you, you will like their "customer service" even less. These people should be out of business. This was a lesson learned for me. Take my word for it so you don't have to learn this lesson yourself.

I won't bore you with a long and detailed explanation. I moved into a mountain community that had no internet service (came from a home with DSL). I called up the local Exede vendor/installer after doing some web research on speeds (obviously not enough research) which are critical to my home office and VOIP phone system. I was told I could expect downloads speeds between 10 and 17 Mbps. From day one, the speed range was between 1 and 5 Mbps. My computer wouldn't consistently work at those speeds, my VOIP phone system was basically worthless, and I was constantly plagued with system crashes. A complete and total disaster for me and more critically my recruiting business. I called the vendor/installed and never received a return call.
By the grace of God, AT&T decided to run fiber optic U-verse cable up our mountain and it became available to me in my fourth week in my new home. Consistent 40-50 Mbps speeds for $37/ month going to $70 after the first year. I of course cancelled my Exede service for non-performance of advertised speeds. They responded with $400+ fees in cancellation charges. I fought them through Capital One to no avail on the $313 termination penalty and on the one charge of $70.58 that Capital One backed me on because they were on the call when I cancelled the service. Exede proceeded to take that charge and turn it over to a collection bureau. I have been forced to pay this all off. Clearly truth in advertising, integrity, and accountability are alien concepts to the management team that runs Exede. I am sure we could put together a class action suit without too much trouble here. Where is Sokolove & Sokolove when we really need them?

My experiences, although limited, appear to be a cliff notes version of the other reviews placed on this site. I have only been with Exede/Wild Blue for two months, but already the infuriating arrogance and lack of either ability or willingness to help prevalent in their customer (dis)service department has become obvious. According to Exede, I used up 30 gigs of data in seven days, even though nobody in my family streams video. The customer service department apparently has no interest whatsoever in assisting customers. The barrage of totally insincere "I'm sorry" and "There's nothing we can do about that" responses is sickening. They are, however, quite capable of taking one's money. They are, in fact, quite adept at that aspect of their job. If any attorney decided to put these slime balls out of business with a class action suit, count me in.

I submitted a request via email explaining that I wanted to cancel my internet service. This was after having to put up with their internet that is equivalent to dial up internet. After my two year contract was up I wanted to cancel service. Anyway I received an email stating that someone would contact me within 24 hours to help with my request. Three days pass and I have yet to hear from anyone from WildBlue. I called them and stated the reason for my phone call and the woman proceeds to tell me that she can help with my request.
By the way they billed and charged me for the month because I supposedly didn't request to cancel my service before the billing period (false) I submitted in writing that I wanted to do so. They were the ones that did not follow thru. I explained over and over to the woman on the phone that I submitted in writing my wish to cancel. Long story short I will not be getting a refund even though I cancelled in writing before my payment was due. I cancelled my service as of today. So I pretty much paid for an entire month of service that I will not be receiving. Poor, poor customer service. This is how they reward a customer that paid their bill on time every month. Please don't get their internet. It's garbage and their customer service is terrible.

Never, ever sign up for Exede (Wild Blue Satellite Broadband)! You will be left with wifi that constantly goes down, incredibly low download speeds, inability to stream video, open websites or even check email. Their claims that their satellite service only goes down if there's thunder/lightening is completely false and that regardless if you have gone over your priority limit you'll still be able to check emails, etc. My service was installed three weeks ago today and so far it has gone down 47 times! The first time was within hours of it being installed. At this time I have only able to connect for less than a half-hour yesterday and never today. Because of a complete inability to get online I lost a client the day before yesterday which has cost me hundreds of dollars!
I am filing complaints with a number of government entities and want out of this bogus contract. I don't remember ever being told that I have to sign a two-year contract until after the satellite was installed. Plus, when I told them I wanted to use my own router/modem I was told I absolutely couldn't and that their service would only function with their equipment which is costing me $10 month. However, the first piece of communication that was sent to me via email included instructions on how to set your own router.
Exede has lied to me, failed to live up to their promised services and is one huge scam business. I don't even bother called tech. Why? It's a sham and I will continue filing complaints with every governmental entity until my contract is voided. I successfully filed a case against a government entity and after filed a second case with my local congressman I won my case. I don't give up when I've been lied to and been wronged. I don't have a money tree in my backyard to pay for garbage.

I had Wild Blue internet far too long because I thought satellite internet was all the same. HORRIBLE service in every aspect. It is slow then when you use the small maximum they give you they slow it down more. Seriously, dial up is faster. I probably could write a book and all the interaction I had with them to no avail. One time for six months every time it rained I had zero service and it took that six months for them to have someone come out and replace a part. Did they prorate the service I did not get. Of course not. Go with HughesNet internet. They have been wonderful. Wild Blue is the absolute worst satellite internet company you could ever deal with. If you go to them it is only because you are stupid.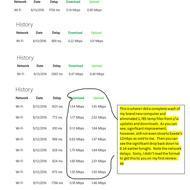 New Exede user as of 07/25 with 12 GB plan (with 12mbps download) and a brand new HP All-In-One 800gb memory computer. After 3 days of setting up the machine with Windows 10 and all other s/w and updates including virtual 365 windows apps and items like PDF tools, McAfee security, etc. and then, simply using standard Microsoft apps and surfing the net I didn't have too many issues with speed. Then 6 DAYS LATER! It basically came to a screeching halt on 07/31 with an email message that I had used my 12 GB already. I checked and the s/w updates for new computer had in fact used 12.01 GBs. Exede then put me on the "Liberty Pass".
So I began using Network Speed Tool tester (I used several to compare for accuracy) on Exede's speed which consistently shows between 0.11 and 0.17 until yesterday after a complete scrubbing of this brand new machine to ensure it wasn't the problem and the speed then went from 1.50 to 1.79 and has since then been dropping again bottoming out at 0.14 tonight. I'm keeping screen shots of each reading. I'm very very upset, unhappy and this service is worthless to me.
I - like everyone else - signed a 2-yr contract which of course you can't read before signing for an $80.00/mos bill. But they sure do a hell of a sales pitch! Since my Windows system chewed 3.2 GB, Chrome another 10, not to mention all the other apps, and all of the web pages I had to travel to get so much of the new s/w that 12 GB's is pretty valueless. Since I thoroughly explained to the sales lady how I was going to use this service and what I was going to use it for, obviously this package isn't what it was when it was sold to me. I also do not believe after two attempts to contact their tech's, that much will be accomplished except to hear them tell me to "buy more" which is very well advertised all over their FAQ's and help pages. If I had the budget, I might buy more just so I can at least keep job hunting.
May I also say to all the "smart" people out there on the web telling us commoners to "do your research" - well, first I couldn't since I had no internet service (duh!) to do the research on and my work policy and personal ethics prevent me from using work time and equipment. Additionally, I'm limited to an hour at the local library. So practically and logically speaking, doing my research was extremely constrained.
Anyway, this service has crashed at least 6 times over the last two days alone and I keep having to reset the router. The issue is the service I get does not even come close to meeting what was sold to me and since I'm the "beggar" now forced onto their Liberty Pass plan, there is little I can do on this service since it is running an average 0.15 Mbps download while on the net. It has for instance, taken me over an hour to maneuver to your website, going back and forth to my email to confirm your account, and then open the account and get this review placed.
So I'm just about done here. Tell me, who has the authority that I can go to open an investigation? Although since they are all over the web as being a bad company and for the life of me I don't understand why someone hasn't done something before - but this company needs to be accountable for their blatant false advertising. For cripes sake! This is satellite and if they can force me onto their Liberty Pass and manipulate my speed to unusable levels, they can certainly deliver the speed they sold me. Finally, according to the contract, I can't even get a class action suit going as Max suggested.
So CONSUMERAFFAIRS, give me a road to follow here. This company needs to be shut down and refund the thousands of customers locked into their service or forced to pay extortionist fee's to get out. Max is with me and I'm with him. Anyone else?

I ordered service, their installer left to lunch, NEVER came back and then they are trying to charge me. I disputed it with my cc & now they won't pick up their equipment. I believe we have enough complaints here regarding the same unethical business practices for a class action lawsuit. When you call them they hang up the phone or disconnect you and they behave as if they own the world. They lied from the very start. Who is on board to file suit??

Just to start 5 appointments to install service because of communication. That was the beginning of the worst company and service I have ever dealt with in my life. Service is bad and limited yes but knew what I was getting and the only option I have. They definitely price gouge because they can at 80, a mother, for 10 gig data at 12 mbps. Unlimited 1-5 thereafter. 800 ms ping. Here is where the real problem starts. Resetting services 4-5 times a week. Then 90 day warranty expires. Service dropped consistently for the next 3 months daily at the end up to 100 times a day. Company wants to charge me 100 to send a tech to fix their leased equipment I have had for 6 months. After 20 phone calls, hours of wasted time and still paying my bill, finally arranged for a tech at no charge. They then told me if it does not get fixed will let me out of contract. Tech replaced modem and re aligned the dish. That was 4 days ago. My modem has not worked all day today.
Only 3 days working and still reset 3 times that I seen. I made the call today to cancel services and want 250 to cancel and will not refund for poor service. The rep told me to file a formal complaint on the technician and MAYBE could send another tech no charge. Are you kidding me!!! I asked to speak to their supervisor. 45 minutes with the agent then took (no joke) 1 hr on hold to speak to the supervisor that was no help. In the end took half off early term fee at 125 with no service refund. How is this company doing this and getting away with it!!! Oh and by the way can't even spell my name right. I have tried to correct my name 2 times. I urge you don't go down this road. I would not believe a thing this company promises.

Lies right from the start... I deal with sales people all day in my profession, so I know that can certainly they sell things that don't exist, leaving the customer or the companies customer service team in a bad place. This particular sales person promised "all the data that you could handle". When the very unprofessional contracted installer showed up, he said "I hope you don't plan on streaming anything or watching movies". That should've been my first red flag.
The installation took around 4 hours. I opted for the pole mounted dish. THE GUY HAD TO USE MY TOOLS AND I HAD TO DIG MY OWN TRENCH because he was taking forever. After I provided him with two bottles of Gatorade, a few bathroom breaks and his countless smoke breaks, the dish was finally installed and aligned. Not sure if it was the lack of training or the fact that he was thrown into a technical field that he knew nothing about.
My wife got home and tried to use the internet and it barely worked. She called and canceled the next day. They gave us the runaround about cancellation fee and how we "signed" a two year agreement contract. Apparently during the installation, you sign an electronic agreement??? They can say anything they want, but most states require an ink signature on a piece of paper to qualify as a binding agreement. Being that Exede is a paperless operation, they probably don't have any signatures on any paper so the fees that people are talking about can be waived by arguing this point. Please people, be smarter than this company. None of their facts hold any water and they will take advantage of people that do not have a choice of ISPs.

This was the only service available to me when I moved to middle Tennessee a year ago. Now with a year under my belt I can give you my evaluation: Horrible reliability, very slow speeds, frequent outages, doesn't play nice with my Apple Time Machine, uses up data at an absurd rate, almost nonexistent customer service, sloppy installation, way overpriced. I finally have an alternative service available to me and I'll be cancelling this cruel joke this week.

Moved from Oahu Hawaii where I had Oceanic internet high speed for $50 mo. with unlimited movie streaming to Volcano Hawaii where I had to find another internet provider and found Exede/Wild Blue who said they service my area with the best internet. So I said "ok great". They came and installed the satellite. Fee for that and then said I have to be on a 2 Year agreement! I pay $73 mo for 10 GB and can only stream 1 1/2 Netflix movies per month before all my 10GB is used up in less than 1 day. How can that be??? Crappy. Scam. Poor, poor business!

Wild Blue/Exede Internet Service - Don't GO THERE! Worst internet experience of my life. It's expensive, slow and unreliable. Customer service is poor and the termination fees are stiff. Save yourself the pain and find an alternative...

OMG where can I start? DirecTV set this whole crazy thing up. Never even heard of this company... bad service or should I say no svc from the beginning. Called DirecTV. They washed their hands off the whole thing even if it was them who sent them to install internet. Called company right away within the first few days and got nowhere. Ended up cancelling svc and paying close to 500.00 in less than a month of crappy to put it nicely svc. Please whatever you do stay away from EXEDE internet. They are a nightmare. Customer svc from the reps to the supervisors are useless and so rude. I was called you people and hung up on. What or who speaks to customers that way?
When I called back to speak to a supervisor was put on hold for what seemed forever. The supervisor Nat was just as rude and useless as his reps. Was told I needed to climb or find someone to go on roof remove something off of the dish that needed to be return. If I did this job on the side or was in this line of work it wouldn't have been a problem, but to ask your customer to climb on the roof and remove something off your dish was just by far the stupidest thing to tell any customer. We don't know the proper procedure and are not trying to climb a ladder so 95 dollars to remove this piece--not the dish--a piece on the end of the arm of the dish. RUN as fast as you can.

So I got the bundle plan with DirecTV. After almost 3 hours of installation with this internet, it was the slowest internet ever. I quickly called the next day to cancel and they were wanting to charge me cancellation fee for less than 24 hours of services. So I asked for corporate email because I was not going to pay that fee. I sent a not so nice email to corporate stating that they are deff committing fraud because I received a contract with "my signature" (NEVER SIGNED ANYTHING). It was sent to me via email around 8 pm two hours after the tech left my home. Within 10 minutes I got a call back from corporate and spoke to a rep she waived my ETF fee. They sent me the boxes now they are trying to charge me saying they never received modem! Now working on this issue, but don't let them charge for ETF. Email corporate @ communications.legal@viasat.com...

Bought a home and asked internet provider how to transfer services to new address. Was told the installers would do everything at no cost. Took the plug in box modem and phone modem to new address and when installers came they had brought new ones. I called Exede and was told they would send me a box to return the old equipment. When it arrived there was a note explaining I had to climb up on the roof and remove part of the satellite dish equipment or be charged for it. I am disabled and use a walker and cannot go on a ladder. I had also already completely moved out and surrendered the keys.
I was told to have someone enter the property and take it off the roof. I explained that none of this was ever disclosed and there was ample opportunity for someone at Exede to tell me when I called to arrange to move services. Instead they decided to charge my debit card on file $179 for the piece they expected me to climb up on the roof to retrieve. I had already shipped back the box with the two modems and they acknowledge receipt of them. I had to fight with them for the last three weeks to get this money refunded. They claim they are going to process the refund but 20 days later and I've still not seen it.

Have had this service since the company was Wild Blue, until today. We were paying 80/month for 12-15G of data, with no cap from 1-5am. Not great but kind of okay. We considered switching to a Hughes net plan that cost the same but offered 50g anytime and 50g from 2-8am. I called Exede to see if they had a comparable plan. They offered me a 50% off 3 month trial of their Liberty 30 plan. 30g, no additional after hours data but you can still do web searches and email once you go over the 30g. I was assured that the only charges would be 1/2 of the $149 plan (74.99) for 3 months, plus the modem rental. My credit card bill came and I was charged $220 for the first month.
I called and the representative looked at the charges and said there had been an error and she would fix it. Fine, figured that would happen. Logged in to look a few weeks later and my account had not been credited. Called again. This time the rep I got was so rude that I asked to speak to a supervisor. Waited 30 minutes for the supervisor. She told me that they charge one month in advance at the non discounted rate, plus the half off month! So I paid a prorated amount and ALSO $149 for one month. She said the first person did not have the authority to make that offer. Was not able to get her to budge, let her know I would be canceling our service, which she did not seem concerned about, even though we had been customers for 15 years.
Called Hughes net yesterday, got a plan that is the same price but more than 6x as much data. They came out today, on time, installed it and I called Exede to cancel. When I explained the issue to the rep he said, "I'm glad you told me that because we are allowed to give 50% off for 3 months but no one ever told us that the customer is charged one month in advance at the non discounted rate". Never publicly complained about a company before but also never experienced anything so dishonest. Plus they aren't even competitive. Stay away!
Wild Blue Satellite Broadband Company Profile
Company Name:

WildBlue

Website:

http://www.wildblue.com/