Consumer Reviews and Complaints

On 7/29/17 I contacted DirecTV about our current service (a 9 year customer). They offered me Exede Wildblue internet for $30 a month with a 1 year contract. I agreed, BIG MISTAKE!!! Within 24 hours it showed I had used 9G of data, I hadn't used the internet yet, I had been using my mobile internet and received an email stating the usage of 9G, so I went to my Exede page and had a bill of $64.90. I immediately called Exede and DirecTV. Exede even told me that DirecTV tells customers this all the time. After numerous calls made to both companies on August 2nd,18th, and 25th, Exede said they will get back with us after an investigation and freeze the account, no money was due until they contacted me.
Waited until 9/5 to call them back and Exede immediately withdrew $344 from my bank account and said they would finish the investigation by the 12th and contact me. I never received a call. Called today (9/18/17) and was told there would be no refund, admitted that they knew DirecTV was misleading their customers and they just collect the money. So, in short, they have a scam going with Direct TV, they claim incredible use of data, (9G) when no one was even hooked to it, and when they were called out, demanded their equipment back and charged us $344. Neither Direct TV nor Exede will comment on this now. I was told not to call back to Exede, I am no longer a customer.

Where do I begin? This service is awful all the way around. They know that they have people in rural areas hostage and that they are forced to do business. Regular computer updates use almost all of your data every month. While there are unlimited packages all over the country, that is only in areas where they have significant competition. I had this service for over a year and then moved. After Being told that I could move it when I signed up, when it came time, they said it was several hundred dollars to move. I wanted to cancel. I was told it would be cheaper to "put it on hold" for the months I had left and then it would cancel.
Surprise! When the "hold" came off, they billed me $140 for monthly service that, while they admitted there was ZERO usage, would not refund. Then they said that I had to return the equipment installed at the home 1800 miles away. Also said that to have someone get it was $200. I never, in over a year, had a single nice thing to say about this company, their service, their people, or their customer service. DO NOT USE EXEDE UNLESS YOU HAVE NO OTHER CHOICE.

I have had this company for less than 60 days. I told 3 different people 3 different times what I needed in my service and why I needed it. No one listened because I never got a high speed modem, couldn't stream videos or Netflix or any other services I pay for. Speeds were so slow it took forever to do any work I had to do from home, which is where I work from during the week. The installer did a horrible job. We told him he could drill through our floor to run the wire from the basement to the main floor of our brick house so we could actually get a good signal on the modem and router (which we had to buy ourselves) and he never did, said he left us enough wire to drill a hole ourselves. He also installed the dish for the internet on our roof without ever asking us if he could drill holes in our roof, but wouldn't drill a hole where we would allow him to.
The only packages offered in our area are 12GB, 18GB or 150GB, which originally I got the 12GB and they said we used those up in the first 12 days, not sure how that's possible when we don't have speeds high enough to stream any videos or services. So I switched to 150GB and will never use all of that. They are unrealistic and cannot accommodate for the needs of their customers. DO NOT USE THEM. It's hard to understand any of their customer service representatives with accents and they can't help you, only repeat themselves. I would cancel if I didn't have to pay over $300 for terrible service. Such a ripoff!

This company is terrible. First I wasn't getting their service because I pissed off the man, by asking too many questions. Then they show up at the door on Saturday. My husband let them in. He wasn't sure what was going on. Then had to buy our own router. Never was told this. Never was told you only get 12 gigabytes a month, which is fine because I actually use the internet, for information and a word game. Well every month, they say I used them up, telling me, because of youtube. I do not go on Youtube. So tell them, "You are just trying to make me buy a higher monthly rate." Supposed to get billing information sent to my email. Never once have I received any billing information. And to use 12 gigabytes I would have to be on the internet all day. DO NOT USE THIS COMPANY. IT IS a nightmare.

After 1 yr of really bad service, slow speeds, data overages, extra fees and bad connections we switched internet providers, was even willing to pay the fee to end our contract early. After paying the final bill Exede took the payment out of our bank account twice. I called and was told they would credit the payment back to bank account in 2-3 business days.
A week later I called again and was told the money was placed on my Exede account (which I don't have anymore) and they would have to issue a refund which takes 7-10 business days. Asked to speak to a manager, got a supervisor who was worthless. Asked to speak with someone who could expedite the refund, there was no one. So, still waiting for my "refund". Would NOT recommend Exede if they were the only internet provider in town.
How do I know I can trust these reviews about Exede Satellite Internet?
882,235 reviews on ConsumerAffairs are verified.
We require contact information to ensure our reviewers are real.
We use intelligent software that helps us maintain the integrity of reviews.
Our moderators read all reviews to verify quality and helpfulness.
For more information about reviews on ConsumerAffairs.com please visit our FAQ.

I am truly shocked. I was looking up some information this morning and have been on a two hour odyssey of nothing but horrid, horrid reviews for Exede. Maybe I'm in the 'lucky few?' I've been a customer for very nearly two years now, and I have had an overall quite good experience. Has it been perfect? No, absolutely not. I've had outages, the wifi modem needs reset on its own terms at times, and I can't say that I've fully trusted the usage meter at times, but for the most part the internet works quite well for me and my family.
We live in the middle of nowhere, so our options are limited. I really did not want a service that does not offer an unlimited plan, simply because I like overkill on things. The Liberty 12 plan has been a good choice for me, and yes it gets INCREDIBLY slow at times, but it always picks back up at the low traffic times. My first year of the service, at New Years after only three months of having the service, I was essentially disconnected from the service as a whole for nearly two days. However I was still able to get to Exede's website. How is that possible? I'm not sure, but it was kind of fishy to me. I contacted them via email, and the next day everything was back to normal and the problem did not repeat the next year. That is the only time I've had to contact customer service in the entire two years and I had good, efficient results.
Honestly I'm not too into business sides of things, and you can believe me or not if you want, but I am a real customer and I can say honestly that Exede offers a very good service for my home that I am happy to get. Is it perfect? No, it's not. There are hiccups and downright frustrating things at times, but compared to no internet at all? I think I'll keep paying my bills.

I recently realized that I've been paying $60/month for their service that should have been terminated years ago when I switched to high speed from Verizon. Yes, I know, stupid of me. So when I call to finally cancel the service, the rep kept trying to convince me to keep the service after I'd explained many times that I had moved and my house was vacant.
So then they tell me that I have to return the modem (outdated since it was 7 years old), the box off the roof and the power cord (really? the power cord?). The modem was thrown away but the dish is still on top of the roof. Problem is, I would need to hire someone to try and retrieve it. If I don't return ALL of the equipment, they will charge me $300!!! Customer service is non-existent. They could care less if you're dissatisfied. All they want is to continue to charge your credit card. The rep that I spoke with wouldn't transfer me to someone higher, didn't know where the corporate office was and kept trying to tell me to keep the service. Stay away from this company. Go with someone else. Anyone else is better than these clowns.

How can Exede be smart enough to keep satellites in the sky yet be so incompetent dealing with its customers. Recently, I received an email from Exede warning me I had reached 70% of my 25GB data allowance. We had house guests coming so I went online to buy more data. Each time I connected to my dashboard the page crashed. A sign appeared saying 'Oops!! Please try again.'
After about ten attempts online I telephoned Exede and purchased extra data. I also asked if Exede would debit my credit card automatically for any data used in excess of my plan, i.e. like the water, electric and telephone companies have done for years but was told no. It's not the system. A couple of days later I received an email from Exede headed 'Your account is now in data restriction'. Yet another call to Exede to be told that in fact my account was NOT in data restriction and that I had plenty of newly-purchased data left. I asked Exede not to send emails saying I was data restricted when I wasn't but they couldn't do it. It's the system.
Shortly thereafter we couldn't get online. After running up and down the stairs turning modems and routers on and off as instructed by Exede, they said it must be due to weather. When I said the weather at my house was perfect, I was told it was the weather at their 'gateway' in Boulder, CO. The next day, still without internet, I called and went through the whole process again, only to be told it was now a problem between my Exede dish and the Exede modem and it would take EIGHT DAYS for anyone to fix it. I asked for a modem to be FedEx's overnight (like the cable companies do) but was told Exede wouldn't do it. Once again, it's the system.
Apparently, my family and house-guests needn't worry about being offline for eight days because Exede said it would credit me $20 for those 8 days offline. We live ten miles from town. I called a local IT company, who had a technician at my house within three hours. He verified the problem as not in my equipment and called Exede Support. They promised an tier two technician would call back within 30 minutes but, of course, never did.
Exede apparently subcontracts its service calls out to regional IT companies, presumably to the lowest bidder. Obviously, Exede does not care how long it takes one of these subcontractors to actually service one of its customers. I would never invest in a company, no matter how high-tech, with such contempt for its customers.
The Exede 'system' also required its support staff to try and sell monthly 'Easy Care' service contracts instead of paying per service call. I asked if paying a monthly fee would get me a service call sooner than eight days or a new modem overnight, but was told no. An Exede floor supervisor also said she couldn't get me a faster appointment or overnight a new modem. It's the system. Fiberoptic is coming up our road in the not too distant future. Will I think twice about ditching Exede? Would I recommend Exede to anyone else???
PS: This morning, we had internet service again. Did the weather over Boulder suddenly clear? Did Exede's dish suddenly wake up? Did Exede's modem suddenly spring to life? How long will we be online this time? Did Exede tell me the truth? Should I cancel the service call scheduled for next week? Many questions… No answers from Exede.

I have had nothing but problems... slow service. Or just plane don't work. I like others called Imed. To no avail. Stuck in 2 yr contract. Well was. And I did live up to my end but could not use well over 75 % of the time. Now that I want to disconnect they want me to climb on roof and remove the equipment. Observed. And informed them I am disabled. Or I can pay them 95 bucks or hire an outsider. I have never heard of any company charging for disconnect especially after living up to contract. So yes they say they disclose this (found this on line). They give the name of it in their spiel in begging but sure don't tell you it's in your roof and if you disconnect with us you will have to hire us or climb on roof.
So I quit. Sure that's how they get around that. Everyone like me thinks oh yes I know how return the equipment. And most of us have. With other companies at some point and NEVER have had to climb on Our roofs. I'm livid. I called yesterday to stop on the date of last day billing cycle Aug 11 2017 to turn off the service. They were not happy that I did this either again knowing I fulfilled the contract and actually a couple months over that. Gave me another spiel on if a card is not provided and monies owed (which) I owe nothing collection process to start. Not even an option if they FEEL I owe money to Ask me for it. I'm so upset by this. What to do. I'm disabled limited income. Own my home. And can't climb on roof. They were sneaky, deceitful, and very unprofessional. I will be filing a complaint with BBB and my attorney... signed Brenda ** (who did fill the Contract obligations).

Very slow internet, like dial up speed. They claim I use up all my Data in less than a Day. I was gone once from my home for almost a whole month. Came home and they claimed I used all my Data? I was not even home so that is impossible. I refuse to pay for them to fix equipment that is not working that I rent from them. My dial up I had before this service was about the same speed and that is no joke... Customer service seems nice but I get different info from different ones on same subject? I do not recommend this company at all. My contract was up over a year ago and they tried telling me I was still under the 2 year contract. I have been a customer for over 3 years. No honey. The contract was up at the end of the two years duh!!!

I received this internet service, it was an unusably slow connection, have been required to pay out a two year contract after reporting to the company within a matter of weeks that it does not work well. Now I am being charged for the dish as well which I have tried to send back: have spent hours on the phone with this company, just trying to send them their stuff back which they require but are not allowing me to do!

Speeds between 5 pm and 11 pm are 5kbps-60kbps. About 1/1000 of the advertised 12mbps. Trying to use the internet between these times is a joke! Packet loss is also a serious problem. During the rest of the day you can get decent speeds up to maybe 6mbps, but the 700ms - 3000ms latency plus packet loss makes it still pretty bad. Exede is an ok last resort option for internet. Check to see if DSL, fixed wifi, or 4g/3g are options in your area. If you go over your data limit they say they will limit your bandwidth, but it can't get any worse so there is no noticeable speed impact by going over your data plan.

Looking over my bank statement noticed two charges with Exede Wild Blue. Did not know what this was, called the bank who advised me to call them. Exede could not tell me anything as they could not find my account. I asked how they got my account info, they did not answer. This is a scam.

For 6 months we did not have internet access because the EXEDE installer never installed it correctly. We kept calling them asking about the problem. They told us to get a new modem which we did. Then they told us maybe we need a booster or extender which we bought... But nothing worked. So they finally sent out another tech which reported that nothing was hooked up, so we had been paying all these months with no internet access. They refused to give us a credit. After they hooked up the internet we still had trouble. Our service dropped almost every night after midnight. When we moved they refused to cancel the service. Said we would have to call back on our expiration of our contract. I told them we don't live there anymore and moved. Could they turn off the service? They said NO! The lady was very unhelpful and rude.

We have been using Excede since fall of 2016. We live in the rurals with no other option to us, and our past dealings with Hughesnet was terrible but it was not as slow and inconsistent as Excede is. They really hype up their service but what a major letdown it has turned out to be. If it is slightly cloudy out our service is sloooow and is constantly up and down. When it rains you can count on no service at all. Customer service has been friendly but there is no fix for the bad connection. Our modem is HOT at all times, and I mean very hot to touch and I was told this is normal. It's so hot that it is concerning so I unplug from time to time to cool it down.
We are paying $137-ish per month for 150GB which we barely tap into because the service is down more than up. We originally signed on for the 30GB but we're chewing right through that in no time yet when we switched to the 150GB we don't even come close to 30GB. So what's up with that? I think this whole company is just a scam.

WORKED GOOD FOR ABOUT 1 AND A HALF YEARS. Then just stopped working. Data is gone in 1 or 2 days. We don't even get to use it. I have 12 GB on my cell phone and now use it as a hotspot. I watch Netflix and weather channel. And never used all my data yet. They will not hit my credit card cause I replaced it. They would not fix it. So they broke the contract. Not me.

We live in a place in rural Missouri where we have to use satellite internet. We went with Exede and have been sadly disappointed. It has been a rocky road for the past 22 months, Exede kept telling us that we had exceeded our data. My wife and I took precautions to make sure we weren't using it, we made sure our cell phones would not connect and we were turning the modem off when we were done using the internet. YET, every month it was saying that we had exceeded our data. THEN... we switched to Hughes for satellite internet and we called to cancel Exede a couple days later. When I called it sent me to data department right away. It said that our billing had renewed two days previous and we had used all our data.
Let me explain that after the HughesNet guy took our dish down to place the HughesNet dish up five days prior to this call... How could that be possible??? How in the world could we use up internet service without our dish on the house? They have terrible customer service and you have long periods of hold time. It took me over an hour to cancel my service. I DO NOT recommend them and am extremely satisfied with their services.

With my discussion with the agent she basically told me that she was not or they were not trying to compete with the major network or Internet service riders. Their job was to route vied service only to the people in the outer lying areas. They can't get Internet service from reputable for real service providers and at the rate of their fee is extremely high and if you use or stream very much television or music or anything else using their data that they allow you to use they will shut you off so in my opinion that is discrimination just because I live in the country.

I have been scammed by Exede internet but have paid the company any money. The account was to be in my name but when we got this bill found out that it was in the wife name. Do not know how they got her card info. We did not sign nothing. Now they have turned us over for collections for $538 for the equipment. We have already sent modem back. The other stuff is on roof. I have a signed receipt where I shipped by UPS. I never did have my regular provider unhooked until I found out about this company and found out they are crooks. Hughesnet was listed on bottom of paperwork. They also have a ad running on television.

We had Exede for 2 years. During those 2 years we lost service Every time it sprinkled. We recently moved to a new house and could not WAIT to discontinue services with them. 2 weeks prior to our move I called their customer services, told them we are moving and will not be using their services anymore as of June 1st. The representative told me she noted this in our account and the only thing I need to do is call on June 1st, give them my new address and a box will be sent to return certain things they require to be mailed back to them. Ok.
June 1st I called, gave them my new address. They said I have 7 days to ship everything back once I get the box. Then I look on my bank account June 2nd. They took out a 77.00 payment from my bank account. Charged me for services for the month of June. They knew we had already cancelled our services with them. Why am I paying for services I can not use? I called, got a very unprofessional supervisor tell me they don't reimburse their customers. Why the heck. Now I'm out of 77.00. BEWARE BEFORE YOU SIGN UP TO USE THEIR SERVICES.

I ordered my Exede/Wild Blue satellite broadband service from a salesman at a festival. I was given a pamphlet with three choices of service to choose from. Liberty 12/GB at $49.99 per month. Liberty 18/GB at $69.99 per month and Freedom 150/GB at $99.99 per month. The salesman told me I could change between the plans at any time if I needed more GB of service. I ordered the service over the weekend and they installed the dish two days later on Monday 5/22/2017. I had ordered the Liberty 12 service for $49.99 per month. When I received my statement in the mail from Exede a few days after my installation of the dish it showed I was signed up for Liberty 10/GB at $59.99 per month. An extra $10.00 per month for less GB. I called Exede customer service three times and sent email to Exede.com/contactus to get my service changed to the plan I ordered.
I have been told that Liberty 12/GB is not offered at my address. I was never contacted about this before they installed my dish. I would not have accepted the dish with this plan. I'm not sure what to do now. I explained to them what my problem with them was but I received an email telling me that as far as they are concerned my case is closed. They expect me to pay an extra $10.00 per month on a two year contract with 2GB less data than I ordered from their salesman. If their salesman sold me a plan that can't be given to my address why do I have to pay for his/her mistake?

The most bizarre experience! I called to question my bill. Exede had been billing me for "Voice" from day one, March 2016. I had cancelled it that same month, which they did have in file. The first person I spoke with yesterday confirmed that but noted the ticket was issued but never completed. He was sending it to "corporate" and I would receive a call back within 2 hours.
8 hours later, I called back. It was very strange. Everything took forever. He didn't put me on hold, but he just typed away with someone from "corporate". Every time I asked to talk to the supervisor I was told "No". I accused them of using stall tactics. I think they just wanted me to give up. One hour and half later, I was given the ticket number for the refund $288, but that has to be approved by "corporate"! I was told all the supervisors were busy and they would call me back at some point to address my concerns. Nothing yet!

I filed a complaint against Exede Internet with the Federal Trade Commission after it charged my credit card upon cancellation of the service because the download speed times are ridiculously slow – typically 1 to 2 MBPS when it promises much faster speeds. I cancelled the service on April 4. Exede then charges my card for the entire month even though it should have refunded my card based on a daily charge. I spoke to a supervisor named Carol and she refused to refund my credit card saying that I agreed to pay for the entire month. I did look at the Exede contract. It's a 14-page single space document that is full of language that takes advantage of customers. Exede also requires customers to return the dish on the roof. Another predatory tactic to try take advantage of consumers by charging hundreds of dollars knowing that most customers will not go on the roof or hiring someone to go on the roof to remove the satellite.
My complaint with the FTC is based on the very unfair and one sided contract. Exede is violating the Federal Trade Act by taking unfair advantage of consumers. Every consumer who has been violated by Exede should file a complaint with the FTC so the FTC is aware of Exede's pattern and practice of unfair tactics in violation of federal law.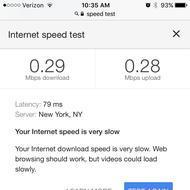 Worst Internet EVER!! Do not waste your money. I recently moved and inquired with DirecTV on a bundled internet package. They said they could bundle me with a satellite provider. They did not tell me who and I did not ask. I did however directly ask what speed I would be getting. They told me I would be getting at least 25 MBPS download which was faster than any other internet I had checked within the area so I agreed on this bundled package. It took two weeks before someone finally came out to install my internet. Before the installer left I ran a speed test and only came up with 4.05 MBPS. When I asked the installer about this he told me it was not his department and that "You can't trust those speed tests". After only one day I could hardly do anything online. It was totally useless and has been for this whole 30 days.
When I called and inquired they said I had used up all my primary data after only one day. How is this possible?? I have no Kids, I don't play any games and there are only two of us here that work outside the household every day. I have now had the internet for a total of 30 days and it has been totally useless. Can't watch Facebook videos, can't watch Netflix or Youtube. About the only thing I can do is go online on my computer for email and that is slower than my mom's dial-up internet back in the 90s was.
I called and asked what I needed to do to get out of this waste of money. They told me I would have to pay $380.00 to get rid of it. I don't understand how when I was told I would be getting 25 MBPS and nothing was even brought up about data usage at the time I signed up that they can expect me to pay to get rid of it. As far as I am concerned the service I was told I would be provided was not ever even close to be met or satisfactory so why should I have to pay for something I did not receive? I have ran speed tests over the last 30 days and screenshot each one. I have never seen over 3 MBPS and most of the time it's around .35 or .25 not even 1.0MPBS. DO NOT DO IT! GARBAGE.

We had regular Wildblue and were told that was going away and we needed to upgrade to Exede. From the very beginning it did not work and they refused to fix it. Eventually we were able to move where we could get real internet service and had to pay to get rid of them. I would be interested in a class action if one starts up.

When the service promised to me was not equal to the service I received I cancelled my service. I was told I would be charged $172 but then they pulled $380 out of my account. Now, a month later they have pulled another $380 out of my account because I haven't returned equipment even though I have now put in two requests for a box (and info) on where to return the equipment. That is a total of $588 they have stolen from me. I am unsure of how to recover this money.

I purchased just the Internet and the installer was scheduled for a 2pm appointment. I received a call saying he would be early, at 12. Our window was 12 to 2. He showed up at 4pm. He did the install, including a huge ugly dish in my front yard next to the street, which I specifically asked him to not do. When he said he was done I brought up Netflix and it was running so slow. I did a speed test and it showed it was running at 300Kb/sec. I told him it was running slow and he said it'll take a min to speed up and left. 2 hours after he left, I called customer service and told them what had happened. The lady told me I needed to wait 24 hours. So knowing I was being blown off, I waited 24 hours like a fool. It took 20 min to download 2 megabytes. My package is to run 25 megabytes a second.
Exactly 26 hours after the installation, I call and get hung up on 4x, I got 2 foreigners who were rude, one who refused to let me speak to a supervisor. He said it plain as day, not even implying it. 3 said there was nothing wrong with my service. One was a ** man and he was nice, friendly and helpful, named Andrew, but I got hung up on in the middle of him talking to me. He had noted that the speed was ridiculously slow, and was the only one to even look into the problem. After 3 and a half hours, I finally got a date for a tech to come back out and 'fix' it. Suddenlink has always been #1 in my book for jackass customer service, but no more. Exede Wild Blue in Texas deserves a medal for how ignorant, rude and unprofessional they are. Worst service ever.

When it was Exede I had no problems and then a couple of months ago the internet would not load. Was on the phone a total of 8 hours. Finally they sent a tech out and it worked for awhile. So far have called twice. Still this time still no internet, but they take your money. Worst internet company ever.

Wild Blue/Exede internet service is TERRIBLE!!! I've had less than one month and nothing but problems. DirecTV/AT&T bundled my TV and internet through Exede/Wild Blue. The internet is SO SLOW, half the time I can't even use the "pay per view" functions that DirecTV sold me because the connection speed is so slow. When asked about this, Exede tells that "Yeah, downloading movies uses a lot of data" and that I've used up the 12GB of data (no one mentioned that I even had a data plan) in 10 days which kicks me down to even slower connection speeds. Exede is more than happy to sell me more data and a better speed system for $169 PER MONTH though!!
They do not stand by their product, cannot provide better service at a reasonable cost. When I asked to be disconnected, I'm told there is a $345 disconnect fee because I'm breaking their contract. I've spent HOURS on the phone with both companies trying to resolve this. DirecTV says there's nothing they can do because they subcontract the internet to Wild Blue and it's their system issues. Wild Blue is telling me there is nothing they can do because they aren't the ones that sold it to me. Meanwhile, I'm stuck in a 24-month contract with an ISP that doesn't work and DirecTV features that I can even use.

We had Exede WildBlue for several years without issue. Then we moved, kept their service & signed a new contract. This company has turned into a total nightmare! Trying to illegally withdraw various amounts from our autopay account for items/services & equipment that we don't owe. Calling & emailing company for months on end absolutely nothing. Documents pertaining to Exede disappear from our computers & our computers are being apparently "blocked" from accessing online complaint forms. DO NOT EVER USE THIS COMPANY! If you have problems with Exede, send emails & make hard copies all contact. Record calls made to "Uncustomer Service". Send everything in complaint form to the FTC & your local attorney general.
Exede Satellite Internet Company Profile
Company Name:

Exede Satellite Internet

Formerly Named:

WildBlue

Website:

http://www.wildblue.com/