Consumer Complaints and Reviews

Speeds between 5 pm and 11 pm are 5kbps-60kbps. About 1/1000 of the advertised 12mbps. Trying to use the internet between these times is a joke! Packet loss is also a serious problem. During the rest of the day you can get decent speeds up to maybe 6mbps, but the 700ms - 3000ms latency plus packet loss makes it still pretty bad. Exede is an ok last resort option for internet. Check to see if DSL, fixed wifi, or 4g/3g are options in your area. If you go over your data limit they say they will limit your bandwidth, but it can't get any worse so there is no noticeable speed impact by going over your data plan.

Looking over my bank statement noticed two charges with Exede Wild Blue. Did not know what this was, called the bank who advised me to call them. Exede could not tell me anything as they could not find my account. I asked how they got my account info, they did not answer. This is a scam.

For 6 months we did not have internet access because the EXEDE installer never installed it correctly. We kept calling them asking about the problem. They told us to get a new modem which we did. Then they told us maybe we need a booster or extender which we bought... But nothing worked. So they finally sent out another tech which reported that nothing was hooked up, so we had been paying all these months with no internet access. They refused to give us a credit. After they hooked up the internet we still had trouble. Our service dropped almost every night after midnight. When we moved they refused to cancel the service. Said we would have to call back on our expiration of our contract. I told them we don't live there anymore and moved. Could they turn off the service? They said NO! The lady was very unhelpful and rude.

We have been using Excede since fall of 2016. We live in the rurals with no other option to us, and our past dealings with Hughesnet was terrible but it was not as slow and inconsistent as Excede is. They really hype up their service but what a major letdown it has turned out to be. If it is slightly cloudy out our service is sloooow and is constantly up and down. When it rains you can count on no service at all. Customer service has been friendly but there is no fix for the bad connection. Our modem is HOT at all times, and I mean very hot to touch and I was told this is normal. It's so hot that it is concerning so I unplug from time to time to cool it down.
We are paying $137-ish per month for 150GB which we barely tap into because the service is down more than up. We originally signed on for the 30GB but we're chewing right through that in no time yet when we switched to the 150GB we don't even come close to 30GB. So what's up with that? I think this whole company is just a scam.

WORKED GOOD FOR ABOUT 1 AND A HALF YEARS. Then just stopped working. Data is gone in 1 or 2 days. We don't even get to use it. I have 12 GB on my cell phone and now use it as a hotspot. I watch Netflix and weather channel. And never used all my data yet. They will not hit my credit card cause I replaced it. They would not fix it. So they broke the contract. Not me.
How do I know I can trust these reviews about Exede Satellite Internet?
826,885 reviews on ConsumerAffairs are verified.
We require contact information to ensure our reviewers are real.
We use intelligent software that helps us maintain the integrity of reviews.
Our moderators read all reviews to verify quality and helpfulness.
For more information about reviews on ConsumerAffairs.com please visit our FAQ.

We live in a place in rural Missouri where we have to use satellite internet. We went with Exede and have been sadly disappointed. It has been a rocky road for the past 22 months, Exede kept telling us that we had exceeded our data. My wife and I took precautions to make sure we weren't using it, we made sure our cell phones would not connect and we were turning the modem off when we were done using the internet. YET, every month it was saying that we had exceeded our data. THEN... we switched to Hughes for satellite internet and we called to cancel Exede a couple days later. When I called it sent me to data department right away. It said that our billing had renewed two days previous and we had used all our data.
Let me explain that after the HughesNet guy took our dish down to place the HughesNet dish up five days prior to this call... How could that be possible??? How in the world could we use up internet service without our dish on the house? They have terrible customer service and you have long periods of hold time. It took me over an hour to cancel my service. I DO NOT recommend them and am extremely satisfied with their services.

With my discussion with the agent she basically told me that she was not or they were not trying to compete with the major network or Internet service riders. Their job was to route vied service only to the people in the outer lying areas. They can't get Internet service from reputable for real service providers and at the rate of their fee is extremely high and if you use or stream very much television or music or anything else using their data that they allow you to use they will shut you off so in my opinion that is discrimination just because I live in the country.

I have been scammed by Exede internet but have paid the company any money. The account was to be in my name but when we got this bill found out that it was in the wife name. Do not know how they got her card info. We did not sign nothing. Now they have turned us over for collections for $538 for the equipment. We have already sent modem back. The other stuff is on roof. I have a signed receipt where I shipped by UPS. I never did have my regular provider unhooked until I found out about this company and found out they are crooks. Hughesnet was listed on bottom of paperwork. They also have a ad running on television.

We had Exede for 2 years. During those 2 years we lost service Every time it sprinkled. We recently moved to a new house and could not WAIT to discontinue services with them. 2 weeks prior to our move I called their customer services, told them we are moving and will not be using their services anymore as of June 1st. The representative told me she noted this in our account and the only thing I need to do is call on June 1st, give them my new address and a box will be sent to return certain things they require to be mailed back to them. Ok.
June 1st I called, gave them my new address. They said I have 7 days to ship everything back once I get the box. Then I look on my bank account June 2nd. They took out a 77.00 payment from my bank account. Charged me for services for the month of June. They knew we had already cancelled our services with them. Why am I paying for services I can not use? I called, got a very unprofessional supervisor tell me they don't reimburse their customers. Why the heck. Now I'm out of 77.00. BEWARE BEFORE YOU SIGN UP TO USE THEIR SERVICES.

I ordered my Exede/Wild Blue satellite broadband service from a salesman at a festival. I was given a pamphlet with three choices of service to choose from. Liberty 12/GB at $49.99 per month. Liberty 18/GB at $69.99 per month and Freedom 150/GB at $99.99 per month. The salesman told me I could change between the plans at any time if I needed more GB of service. I ordered the service over the weekend and they installed the dish two days later on Monday 5/22/2017. I had ordered the Liberty 12 service for $49.99 per month. When I received my statement in the mail from Exede a few days after my installation of the dish it showed I was signed up for Liberty 10/GB at $59.99 per month. An extra $10.00 per month for less GB. I called Exede customer service three times and sent email to Exede.com/contactus to get my service changed to the plan I ordered.
I have been told that Liberty 12/GB is not offered at my address. I was never contacted about this before they installed my dish. I would not have accepted the dish with this plan. I'm not sure what to do now. I explained to them what my problem with them was but I received an email telling me that as far as they are concerned my case is closed. They expect me to pay an extra $10.00 per month on a two year contract with 2GB less data than I ordered from their salesman. If their salesman sold me a plan that can't be given to my address why do I have to pay for his/her mistake?

The most bizarre experience! I called to question my bill. Exede had been billing me for "Voice" from day one, March 2016. I had cancelled it that same month, which they did have in file. The first person I spoke with yesterday confirmed that but noted the ticket was issued but never completed. He was sending it to "corporate" and I would receive a call back within 2 hours.
8 hours later, I called back. It was very strange. Everything took forever. He didn't put me on hold, but he just typed away with someone from "corporate". Every time I asked to talk to the supervisor I was told "No". I accused them of using stall tactics. I think they just wanted me to give up. One hour and half later, I was given the ticket number for the refund $288, but that has to be approved by "corporate"! I was told all the supervisors were busy and they would call me back at some point to address my concerns. Nothing yet!

I filed a complaint against Exede Internet with the Federal Trade Commission after it charged my credit card upon cancellation of the service because the download speed times are ridiculously slow – typically 1 to 2 MBPS when it promises much faster speeds. I cancelled the service on April 4. Exede then charges my card for the entire month even though it should have refunded my card based on a daily charge. I spoke to a supervisor named Carol and she refused to refund my credit card saying that I agreed to pay for the entire month. I did look at the Exede contract. It's a 14-page single space document that is full of language that takes advantage of customers. Exede also requires customers to return the dish on the roof. Another predatory tactic to try take advantage of consumers by charging hundreds of dollars knowing that most customers will not go on the roof or hiring someone to go on the roof to remove the satellite.
My complaint with the FTC is based on the very unfair and one sided contract. Exede is violating the Federal Trade Act by taking unfair advantage of consumers. Every consumer who has been violated by Exede should file a complaint with the FTC so the FTC is aware of Exede's pattern and practice of unfair tactics in violation of federal law.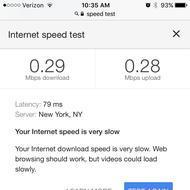 Worst Internet EVER!! Do not waste your money. I recently moved and inquired with DirecTV on a bundled internet package. They said they could bundle me with a satellite provider. They did not tell me who and I did not ask. I did however directly ask what speed I would be getting. They told me I would be getting at least 25 MBPS download which was faster than any other internet I had checked within the area so I agreed on this bundled package. It took two weeks before someone finally came out to install my internet. Before the installer left I ran a speed test and only came up with 4.05 MBPS. When I asked the installer about this he told me it was not his department and that "You can't trust those speed tests". After only one day I could hardly do anything online. It was totally useless and has been for this whole 30 days.
When I called and inquired they said I had used up all my primary data after only one day. How is this possible?? I have no Kids, I don't play any games and there are only two of us here that work outside the household every day. I have now had the internet for a total of 30 days and it has been totally useless. Can't watch Facebook videos, can't watch Netflix or Youtube. About the only thing I can do is go online on my computer for email and that is slower than my mom's dial-up internet back in the 90s was.
I called and asked what I needed to do to get out of this waste of money. They told me I would have to pay $380.00 to get rid of it. I don't understand how when I was told I would be getting 25 MBPS and nothing was even brought up about data usage at the time I signed up that they can expect me to pay to get rid of it. As far as I am concerned the service I was told I would be provided was not ever even close to be met or satisfactory so why should I have to pay for something I did not receive? I have ran speed tests over the last 30 days and screenshot each one. I have never seen over 3 MBPS and most of the time it's around .35 or .25 not even 1.0MPBS. DO NOT DO IT! GARBAGE.

We had regular Wildblue and were told that was going away and we needed to upgrade to Exede. From the very beginning it did not work and they refused to fix it. Eventually we were able to move where we could get real internet service and had to pay to get rid of them. I would be interested in a class action if one starts up.

When the service promised to me was not equal to the service I received I cancelled my service. I was told I would be charged $172 but then they pulled $380 out of my account. Now, a month later they have pulled another $380 out of my account because I haven't returned equipment even though I have now put in two requests for a box (and info) on where to return the equipment. That is a total of $588 they have stolen from me. I am unsure of how to recover this money.

I purchased just the Internet and the installer was scheduled for a 2pm appointment. I received a call saying he would be early, at 12. Our window was 12 to 2. He showed up at 4pm. He did the install, including a huge ugly dish in my front yard next to the street, which I specifically asked him to not do. When he said he was done I brought up Netflix and it was running so slow. I did a speed test and it showed it was running at 300Kb/sec. I told him it was running slow and he said it'll take a min to speed up and left. 2 hours after he left, I called customer service and told them what had happened. The lady told me I needed to wait 24 hours. So knowing I was being blown off, I waited 24 hours like a fool. It took 20 min to download 2 megabytes. My package is to run 25 megabytes a second.
Exactly 26 hours after the installation, I call and get hung up on 4x, I got 2 foreigners who were rude, one who refused to let me speak to a supervisor. He said it plain as day, not even implying it. 3 said there was nothing wrong with my service. One was a ** man and he was nice, friendly and helpful, named Andrew, but I got hung up on in the middle of him talking to me. He had noted that the speed was ridiculously slow, and was the only one to even look into the problem. After 3 and a half hours, I finally got a date for a tech to come back out and 'fix' it. Suddenlink has always been #1 in my book for jackass customer service, but no more. Exede Wild Blue in Texas deserves a medal for how ignorant, rude and unprofessional they are. Worst service ever.

When it was Exede I had no problems and then a couple of months ago the internet would not load. Was on the phone a total of 8 hours. Finally they sent a tech out and it worked for awhile. So far have called twice. Still this time still no internet, but they take your money. Worst internet company ever.

Wild Blue/Exede internet service is TERRIBLE!!! I've had less than one month and nothing but problems. DirecTV/AT&T bundled my TV and internet through Exede/Wild Blue. The internet is SO SLOW, half the time I can't even use the "pay per view" functions that DirecTV sold me because the connection speed is so slow. When asked about this, Exede tells that "Yeah, downloading movies uses a lot of data" and that I've used up the 12GB of data (no one mentioned that I even had a data plan) in 10 days which kicks me down to even slower connection speeds. Exede is more than happy to sell me more data and a better speed system for $169 PER MONTH though!!
They do not stand by their product, cannot provide better service at a reasonable cost. When I asked to be disconnected, I'm told there is a $345 disconnect fee because I'm breaking their contract. I've spent HOURS on the phone with both companies trying to resolve this. DirecTV says there's nothing they can do because they subcontract the internet to Wild Blue and it's their system issues. Wild Blue is telling me there is nothing they can do because they aren't the ones that sold it to me. Meanwhile, I'm stuck in a 24-month contract with an ISP that doesn't work and DirecTV features that I can even use.

We had Exede WildBlue for several years without issue. Then we moved, kept their service & signed a new contract. This company has turned into a total nightmare! Trying to illegally withdraw various amounts from our autopay account for items/services & equipment that we don't owe. Calling & emailing company for months on end absolutely nothing. Documents pertaining to Exede disappear from our computers & our computers are being apparently "blocked" from accessing online complaint forms. DO NOT EVER USE THIS COMPANY! If you have problems with Exede, send emails & make hard copies all contact. Record calls made to "Uncustomer Service". Send everything in complaint form to the FTC & your local attorney general.

I couldn't be more unhappy with the Exede internet / ViaSat service I have. The internet is terrible. It is sooo slow. I run out of my 10GB so fast I know only use it for email and a little internet searching and still can't make it through the month. I use my phone as a hot spot more than anything and don't seem to use hardly any GB's.
The process started with a terrible installation person putting the system where I didn't want it. Plus a terrible install. I have asked for help, asked for it to be moved and my house repaired and not reply, I called your office and complained and again nothing. I DON'T HAVE TIME TO DEAL WITH THIS, TERRIBLE BUSINESS. Please get this off my house and pay for the repairs. I truly wish I would have never purchased this with your company. I hope for your sake others have better success with your product, I will, as I have time, make all the negative comments I can to help others not have the same problems I have had. Please take care of this problem!

Data Cap Rip-off: I live in a rural area. Satellite internet is the only option. My plan is 10gb data per month and unlimited after midnight. For the last 5 months no matter my usage (I carefully monitor) a week before the end of the month ALL my data is mysteriously used up. Yesterday I had 3.7 gb left to use and downloaded a 430mb file. I streamed nothing else and the today they notified me I had used ALL my data cap. This happens EVERY month and they try to get me to buy more data. There is NO way to check the daily data usage and hold them accountable. I am now at 1.2mb per sec speed for the next week... again. I hope someone sues them for billions.

I have been a customer for a while, all of a sudden I started getting massages that my Exede was at 100 percent. It stayed that way the whole month but I still had to pay because they were so rude when I tried to explain to them that I could not get on internet and it had been that way. It is once again at 100 percent after a few days starting over the next month. I got 10 gb. I have never in 4 years got a warning and now very seldom use anything and they say it has already gone over. They are so hateful when you call. Not the same people I done business with when I started 4 years ago. One lady fussed me out. I hung up. She told me to just send my stuff in if I was not happy. That was the supervisor. I called several times because I really did not want to change and I thought I just got someone having a bad day. No the other person was rude too. So I give them a big thumb down.

Exede did not deliver the service that they offer to customers. I was so disappointed with their slow internet. We only use their internet service for one day. The technical support people was a big joke department. They were no help to me and my son. They didn't even check the problem on what causing the slow or hang connection. There were quick to suggest that we use the internet on daytime when not a lot of people are using it or just pay for an upgrade so we can get a faster service. On top of that everybody including the manager were so rude. I end up canceling it even though they threatened me with $430 charge for early termination. They insisted that it was on the contract I signed. I don't remember signing one.
After 2 months they are still charging me monthly service despite the fact that it was disconnected. I called about these charges and the manager admitted that it was a mistake and she would take out these charges. I requested her to mail me a revised billing statement but it's been a month after that conversation and I still haven't receive it. Bottom line this company is not true on anything they promised and we consumers deserve to be treated fairly because we are all paying them our hard earned money. Please include me if there will be class action lawsuit with this company in the future.

My experience with this company was beyond awful. The packages were too expensive for what was offered. No matter how little we were on the internet, or how few devices we had connected, they claimed that we used all of our high-speed internet in TWO days every month. I even changed my password to make sure that there was not usage I was unaware of. Still two days. The service itself was bad. We could only get signal in one half of our house, even with the most up-to-date router, etc.
Finally, after getting my fill of wasting money, I figured I would be better off to just pay the early cancellation fees than to continue paying for the plan. I was then informed by the company that I needed to climb on my roof and get a piece of their equipment from the satellite, or there would be a $150 charge for the piece. I told them I felt this was unsafe, as I have no experience in roof climbing or satellite connection. She told me that they could send someone out to my house to disconnect it, but would charge me $95 to do it. My whole experience with this company was just a huge disappointment! Very unsatisfied and would not recommend them to anyone!

When we discontinued Exede in mid-Dec. 2016, we returned the modem as requested. They also requested return of the dish component. Due to my handicap and inability to dismantle it as well as the mounds of snow around us (which continues all winter), I could not do this. The rep on the phone said, "ok" and nothing else was said. Now we received a bill for this of $150. When I called and spoke to a Jose (who I must add was almost nasty and rude), he informed me that they would have sent a technician to dismantle it for me. However, nothing of the sort was offered in December. I would have gladly complied as I don't want that dish in my yard anyway. Now, we are far from home until late March. Is this great customer service? I think not!

Their data usage counts are lies. On Jan 24th, I was no longer able to stream or watch internet TV. When I put in a customer ticket, their response was that I was on data restriction and that all I would be able to do is email, open smaller websites, etc. I was told that my data count started over at the turn of a new month. Well, it became February, and I have had about 3 hours of streaming and TV before they restricted my data again (it's the third day of the month). I have disputed their payment charges for the month because I'm not getting any service (or hardly any). I put in another ticket but have heard nothing. Even when I wasn't on "data restriction", their speeds were unacceptable. I don't have many choices in this rural area, and I already tried Hughes Net (they are worse, if that's possible).

We live in a rural area outside of Austin. Per DIRECTV we asked who covers internet in our area. They told us Wild Blue / Exede Internet. We found a plan called the Freedom 25 (25 mbps) and ordered service. We thought the 24 month contract was stiff but since options were low agreed. On installation day we were delivered 2.4 mbps and the most we got was 3.2 mbps. Through aggressive conversations with them (them not us) we decided to cancel service on that same day. We also asked for a supervisor to call us. Didn't happen.
Lo and behold a few days later we were charged $400.89 for a early termination charge. I can't believe they are still in business!! I also can't believe that this language of "up to" has not been banned as well. When you order 25 mbps and get 2 that is fraud! We seem to be going backwards in consumer protection from companies like this. Sending Corporate an email has a 0 success rate of them getting back to you. Warn your friends about this company.

I called to get Internet service and they guaranteed me that their service was super fast and I'll be so happy with it. So when the guy came to look at eight just bag the whole time that has passed it was and I asked the lady when I called in and the guy who is hooking it up if there is a guarantee if I was totally went happy with that you know within 24-48 hrs. If I could come canceled and they both told me yes and then when I called back they wouldn't let me. They don't follow through with what they say. They have you sign the contract and don't show it to you and then they email you the contract 48 to 72 hours later to read after you've already signed their board and you were already locked into their contract. The Internet service didn't work. It said I already use the fast Internet service within 24 hours and then it was gone so super slow that it wouldn't even work! Horrible.
I had to call three times before they would even give me the option to cancel. I don't have the equipment within 24 hours. They finally sent me the boxes but they think they're going to charge me the full disconnect charge of the full two years. I had to cancel my form of payment so that they can't and I'm disputing the charge. I specifically asked them when I signed up if it didn't work get in my area if I could cancel within a reasonable amount of time and now they are not following through with that. I specifically asked the guy when he got here to set everything up because I didn't realize they're affiliated with wild blue and I have wild blue before and it was not a good service and did not work where I live and I didn't realize it was affiliated with exede so I was worried.

Exede Internet. Proof is in the pudding! I am getting less than 1 MBPS on average. When I asked to cancel, their customer service says there is no guarantee of download speeds and I am contractually obligated. THEY ARE A JOKE! BUYER BEWARE! I am on their Freedom plan. They should call it You're under contract for $150 per month with download speeds less than 1 MBPS Plan. Still want Exede?

We have had Wild Blue for several years only because we didn't have any other options. I do NOT understand how after 3-5 days in the billing cycle, we have used 70% of our bandwidth. This has been a consistent problem. We very rarely plug into our "wi-fi" with them because we use our data plan on our phones. Two months ago we purchase a hotspot with AT&T. We don't use our Wild Blue bandwidth any longer but guess what? We are still at 70% after 3 days. We use our hotspot for everything... Netflix streaming, surfing, downloads, etc. After 6 days into the billing cycle with AT&T, we have only used half of 6 GB compared to Wild Blue, 3 days, and "using" 11+ GB. WTF??? This weekend we have decided to switch our service to AT&T and drop Wild Blue. We will see what kind of BS they put us through when we cancel. I hope to God there is a class action lawsuit in the near future!
Exede Satellite Internet Company Profile
Company Name:

Exede Satellite Internet

Formerly Named:

WildBlue

Website:

http://www.wildblue.com/