Consumer Complaints and Reviews

I purchased the 4 hour residential cleaning in July, but wanted to wait to redeem it until close to my pregnancy due date. The deal is set to expire October 20. Sometime in September, or before, I scheduled AWO Services to come and do 4 hours of residential cleaning on October 12 at noon. Less than an hour before noon on the 12, AWO contacted me to tell me that she had a family emergency and could not come. I asked her when she would like to reschedule for and she gave me the date of Saturday, October 15 at 11 am. On October 15 at 11:15, I texted and emailed her to see if she was still coming.
I never received any response from her that day or any day after that. I contacted LivingSocial on the 17th to request a refund as the service was never performed. The voucher was marked redeemed by the merchant on October 8, despite the service never having been performed. I told customer service on the 17th that this was incorrect.
Customer service told me they would escalate the matter and, on the 18th, I received an email from LivingSocial stating that the merchant had been contacted, and had verified that the voucher was marked as redeemed in error, and that the merchant would mark it as unredeemed so that I could use it. I contacted LivingSocial again on the morning of the 18th as, based on the prior issues, I am no longer interested in doing business with a merchant that does not think my time is important enough to let me know when she will not be coming for an appointment time that she rescheduled for.
I was told by this customer service agent that no refund is available, except in deal bucks, on any deal more than 7 days after purchase which, for a deal that can be used for 90 days, is a ridiculous policy, especially when the service is never performed. At any rate, I was also told that I should contact the merchant and have them mark the voucher as unredeemed.
It is ridiculous that I should have to do so when I have had a bad experience with the merchant AND LivingSocial has been told by the merchant that the voucher was incorrectly marked as redeemed; however, I did contact the merchant, and, in the first contact since Wednesday the 12th, she told me she had marked the voucher as unredeemed.
I immediately contacted LivingSocial and was told that the voucher still had not been marked unredeemed and, in order to get the deal bucks, I would have to call back "maybe tomorrow" and see if the matter had been marked unredeemed. It is absolutely unacceptable that (1) I will have to call 4 times to get deal bucks for a deal that never occurred because the merchant I was put in contact with through LivingSocial is unreliable, especially when I the merchant has already confirmed to LivingSocial that the voucher should not have been marked as redeemed; (2) that I was told to contact a merchant with whom I have had a poor experience, as it suggests that I, as the customer, am lying about whether the service was performed; and (3) that LivingSocial will not issue me a refund to my credit card for this poor experience with a merchant they have decided to do business with and put forward as a reliable servicer.
I will be telling anyone I can about this poor experience and recommending that they not use LivingSocial or AWO Services, as my experience has been that it is my job to get the merchant to do the right thing, and LivingSocial is failing to give me a refund when one is clearly due. I just wanted this to all be in writing and, since there is no option to email about a refund that I could find, thought this might be the place to do it. Hope its policies change and become more consumer-friendly.

I am disappointed in Living Social. I had purchased a restaurant coupon on living social in 2011 that had since closed down. I was not refunded my $30. Instead was given a $5.00 voucher... Only after I voiced being unhappy with situation. At least GROUPON has the decency to refund if a place closes down no matter how long ago you purchased it!! Always keep your customer happy. Think I will stick with Groupon from now on and they have far more INTERESTING deals and reliable Customer Care.

I bought a voucher from Living Social to have my roof looked at by Prestige Home Solutions. They did not show up, so I called and they said I had to get a refund from Living Social. Living Social said since it was past 30 days since I purchased the voucher, they could not refund my money but gave me a voucher to use at a later time. Tried using it today and it has expired. Not even a year old. Why should a voucher that you paid for have an expiration date. Never again will I deal with that company.

This is the second time in about 5 years that I have attempted to take advantage of the Me + 3 Deal offered by LivingSocial. It's also the second time it hasn't worked. And the 2nd time that LivingSocial has tried to say "too bad" instead of recognizing the intent and assisting in resolving the issue. To be fair, there was user error involved both times. The first time we tried, I was actually on a food tour of DC with a friend on a LivingSocial offer. While on the tour, we met another couple and started talking about a new LivingSocial deal for the tasting experience at Rogue 24. Despite being strangers up until that point, we decided to all go in on the deal together, to take advantage of the Me + 3 Deal on a LivingSocial deal that was still $100 at discount. The other couple used my link to purchase their deal, but purchased both of their deals together, not realizing it had to be 4 separate credit cards.
I called LivingSocial immediately, was able to give them the purchaser names and purchase dates of all 4 purchases, and explained the situation. They pointed out the error, at which point I asked them if they could grant the deal anyway, or if we could transfer the funds for one of the deals to another credit card, but they refused. Their solution was to instead offer to refund us the deals altogether, and just have us not visit Rogue 24. Odd? I thought so. Instead of giving us 4 deals for the price of 3 ($300 total) under the Me + 3 Deal, they preferred to return all our money and keep $0. Lesson learned during this experience: make sure to ALWAYS use 4 credit cards to purchase the 4 deals.
Fast forward a few years, and a friend and I purchased a Skydiving Deal through LivingSocial... again an expensive deal still at $159 at discount. My friend successfully purchased his deal using my personal email link (we had discussed doing this ahead of time in case we had other friends want to join us later so we could take advantage of the Me + 3) and I got the confirmation email. We purchased our deals in February 2016. It wasn't until June 2016 that we convinced two other friends to join us, primarily because we said that we could recoup some of the costs when a 4th person purchased the deal.
When the 3rd and 4th purchased their deals, I was concerned that I did not get the same confirmation email that they had purchased deals using my link, and I called LivingSocial a few days later to ask them about it. I made a point of calling immediately because I knew we had a 7 day window to request a refund on these deals if we were not going to receive the Me + 3 deal.
When I spoke to the customer service representative, she said it can take up to 30 days to process the refund. I said that was fine, but did it also take up to 30 days to get the email confirmation that a friend had purchased their deal using my link, because I had received the first email confirmation back in February almost immediately, and here it had been 2-3 days already. She said yes, and to just wait 30 days. I expressed further concern that 30 days would put me outside my window of being able to do anything about it, and she reassured me the issue was just that it needed time to process. Not surprisingly, the email confirmations never came, and never did the $159 discount. I called back in August, and attempted to email them. And called again on September 20.
The representative, Lauren, was polite throughout our call, but was providing me incorrect information. She kept claiming that after purchasing their deals, my friends would also have to "register" and after much back and forth of me asking her what they had to register for, she said a LivingSocial account. I told her that they all had LivingSocial accounts, and had all successfully purchased their SkyDiving deals using their LivingSocial accounts as I had all of their purchase dates AND voucher numbers. So I kindly told her she was mistaken and this was not the issue.
She then proceeded to assess the situation further and provide a new response, reading a comment that was apparently entered into my account from a previous call. I told her that the comment was incorrect and nobody had informed me they were entering such a comment, and again after much back and forth, she realized she was reviewing comments related to my first Me + 3 issue back in 2012 or 2013 (she told me the comments didn't have dates on them).
I finally interrupted and told her AGAIN that I was concerned the issue was that I had provided the wrong link to my friends, a link FROM LivingSocial in my email from LivingSocial, but varying slightly from another link in another email saying this is your personal link. She then agreed that yes, that was the issue, but that it was required that that link be used. I reiterated that I understood that, but that was why I had called in June (June 7 I believe it was - I have it in my records) within 7 days of purchase so that, if we had made such an error, we could request a refund and either repurchase using the correct link, or just not have our 4th friend join us, as they could not afford the full $159 deal.
After some additional back and forth, Lauren asked me to send an email with the names, voucher numbers, purchase dates, and any other supporting documentation to their customer support email, and gave me a Case # to use as the Subject line when I submitted. I sent that email on September 20. And I still have not heard anything back by email, phone, or otherwise from LivingSocial.
I have spent over $3000 on LivingSocial deals over the past 4 years, and obviously enjoy many of the deals they offer. However, my experience with Customer Service has never been pleasant. As with other reviewers on this website who requested refunds after having trouble contacting vendors or being refused service by vendors, I have also faced a lot of pushback from LivingSocial in offering these refunds. And furthermore, when they do offer the refund finally, they always try to give me Deal Bucks instead.
If they are unable to resolve this latest Me +3 issue for me in a very timely manner, I, unfortunately, will be shutting down my LivingSocial account, and spreading the word to my friends encouraging them to do the same. Groupon, Travelzoo, and many other sites out there offer comparable deals and much better customer service. And after years working in the customer service industry myself, I appreciate and fully believe that customer service makes or breaks a business.

I purchased a voucher from Living Deals in May for a hotel break. When I rang the hotel, no dates were available. I wrote to LivingSocial for a refund and was told they needed to contact the hotel. The hotel then offered dates in an upgraded room for an extra £100. To cut a very long story short, after many emails and fruitless telephone conversations, I wrote to Living Deals to tell them my contract was with them and not the hotel, they were unable to fulfill the contract and if I did not receive a refund I would go to the small claims court. This would have cost me £25 but I was determined to do that. A refund was then given. Moral of the story - don't ever buy anything via LivingSocial but if you do/have, always remember that LivingSocial are YOUR merchant and not the company that is going to provide the product.
How do I know I can trust these reviews about LivingSocial?
609,643 reviews on ConsumerAffairs are verified.
We require contact information to ensure our reviewers are real.
We use intelligent software that helps us maintain the integrity of reviews.
Our moderators read all reviews to verify quality and helpfulness.
For more information about reviews on ConsumerAffairs.com please visit our FAQ.

I purchased a voucher through LivingSocial to have my windows cleaned by 4 Seasons Window $ Blind in Boise, ID. After numerous calls which were not returned (this was over a two month period), one appointment for which he didn't show and a final phone call telling me his truck was in the shop and that's why he didn't show, but he would get back to me as soon as he had a vehicle, I called LivingSocial. I was told I was past the refund period and in fact the voucher was expired so there was nothing I could do with them. I was certainly welcome to continue trying to get the service, for which I paid, from the vendor.
I have since read several reviews of 4 Seasons and find that I am not the only one who has been cheated out of their money, either directly buying from 4 Seasons, or from buying a voucher through LivingSocial. LivingSocial should have some way of vetting the vendors they advertise, or withholding the money from them until the service has been provided. I feel I was not only cheated by 4 Seasons, but cheated by LivingSocial. I will not purchase any other vouchers from them and will recommend my friends beware. It appears this vendor has done the LivingSocial thing before and cheated customers, and LivingSocial continues to allow him to sell his services through them. I feel both LivingSocial and 4 Seasons are cheating people.

Purchased a voucher for house cleaning thru OCD Clean in Garner NC. Vendor would NOT return calls to make appt. Found vendor on Internet w/ similar name but different city. Said he had received numerous calls from LivingSocial customers. It was not his cleaning service, but thought the vendor in Garner had gone out of business. I immediately requested refund from LivingSocial. Too much time had elapsed so I could only receive Deal Bucks. Days later saw another LS deal for house cleaning services. Thought my deal bucks would be credited to purchase but they were not. No big deal but when I looked at my acct, the new vendor - Cleanpro, redeemed my voucher the VERY same day I purchased it. WTH? I didn't even have time to make an appt.
I have called LivingSocial NUMEROUS times over the past two months. I keep being told my concern has been 'escalated' and I must await their investigation. I now have @ $150 tied up w/ Living Social vouchers. No one there will call me back and apparently their house cleaning vendors are all scams. I don't want any more deal bucks. I want ALL my money back and LivingSocial should PAY ME for all the time I've wasted dealing with this crap. Buyer BEWARE. I think LivingSocial is just as crooked as the services they advertise.

Bought a home window washing deal from a local company back in June. Called to set up appointment, and when he didn't show, I called to check in. Had to leave a message. Called for three days before he answered his phone. He didn't have a reason for not showing, but rescheduled for the next week. Of course that put me past the 7 day cut off for a Living Social refund, but at the time I wasn't too worried - I actually really wanted my windows washed. Now it is three months later and he has been a no show four times and will not respond to phone calls. Said he was going through a divorce and had to cancel one to meet with his attorney. The last straw was him telling me his son was in the ER, but as I look through Yelp and our local business bureau reviews (which I should have done BEFORE I bought this deal), I see that he has used his son being in the ER as an excuse for multiple people over the last year.
I called Living Social today to try to get a refund - I do not want their Deal Bucks as I am rarely interested in anything they post. The person on the phone said no. I asked to talk to supervisor. She said no. I begged and pleaded and had a valid case that a reasonable human would have given a refund for - a guy who doesn't run a reputable business is different than me just not following through on the voucher. I asked how it's possible that the window washing company has a 97% thumbs up rating when 8 people have posted poor reviews on Yelp and 18 have posted poor reviews on the local Better Business Bureau. They said they didn't know, and there is no way for me to voice my "vote" for a poor rating as much as I have scoured their website. They didn't care that he was a no show and that he is not running a reputable company. There is just no way I will do business with Living Social again.

I purchased a voucher that included a photo service and digital photos. The service was provided but not the photos. The photos were the reason for the purchase. I called LivingSocial the first time and was on hold over an hour, and was told someone would contact me. I never received a call or email. I called a second time waiting over 30 minutes and then after being put on hold over 20 minutes was told I had to deal with the merchant direct. I explained I had tried every possible avenue to reach the merchant with no luck. They said basically, "Too bad." The worst part is they are still selling the same vouchers. Based on the other reviews I read, poor customer service is how this company operates. I wish I would have researched LivingSocial before buying anything from them. I will never do business with them again.

If you are a Groupon client then you expect a guarantee for purchased items and to be able to get a refund when you cannot use something because the promised service or item is not as described. This is not the case with LivingSocial and so a "deal" that you purchased is not refunded for any reason and you wind up with "Deal Bucks" even if you no longer want to do business with this crooked company. I have not pursued reporting them to the FTC because the amounts are small but they do add up and I am considering doing this at the present time. I really gave zero stars because there is no customer service.

I ordered a set of queen size sheets from LivingSocial. The sheets that arrived came with no labels or anything that would indicate the company or materials. They looked nothing like what I ordered and were really poor quality. They were so thin you could see through them and they had cheap, almost vinyl like stripes running down them. The FIRST time I called to return them, I waited over 40 minutes to get through. I was told that a return shipping label would be emailed to me within 24 hours.
I was also told that I would be out an additional $7.99 for return shipping even though the sheets I received were not the ones I ordered. Seems like a clever little racket they have going as the fine print says, "they are not responsible if you receive merchandise that doesn't match the description." What? What I order should always match how it's described! I never received the return label and called back for a SECOND time four days later. This time I waited 35 minutes to get through. The woman I spoke with promised me she was expediting the return and that I would receive the return label within 4 hours. She also said she would follow up with me the next day to make sure I had received it.
Another day past and I still did not have the label nor did anyone contact me. I call a THIRD time. Waited 35 minutes on the phone when it disconnected my call. Called a FOURTH time. Waited another 30 minutes and then spoke to the rudest customer service rep I've ever had the pleasure of speaking with. When I asked to speak with a manager she told me there were none there. You may save a few bucks ordering from LivingSocial, however, if anything is wrong with your order you will lose any money saved in the amount of time you spend trying to resolve the issue with the company. I will NEVER do business with them again and urge anybody reading this to spread the word.

LivingSocial apparently doesn't vet its vendors effectively, based on my experience with YesBobbleheads. They charged me a "mandatory" $35 fee beyond the advertised price. Worse yet, every time I've tried to contact LivingSocial Customer Service, they have "unusually heavy call volume" and a 30-40 minute wait - no matter what day or time I call.

I purchased 2 vouchers from LivingSocial in 2014, never got there in time for the promotional value but didn't see that as an issue as the "paid value expires in 2019". I went to the restaurant I bought the vouchers for over the weekend, they wouldn't accept them stating "we couldn't deal with them anymore, it's become impossible to get paid by them." I contacted LivingSocial to inform them that the restaurant would not accept the vouchers and requested a refund for the money I spent on the vouchers that I can no longer use. After spending well over 30 mins on hold, they told me "Not our problem, take it up with the vendor." I didn't pay the vendor I paid them. If anyone is responsible to refund the $30 I spent on this voucher it's them. I've spent a lot of money with them in the past, that will remain in the past. NEVER AGAIN.

The item I ordered is not even close to what I received. The return policy states I can return it and they will charge me $7.99 return shipping this on top of the $3.99 for original shipping. What a ripoff. Advertise items ship whatever you want then force their customers to pay return shipping, sound like a way to force you to keep whatever piece of trash the send you. And try and call their customer service ya right wait time online is over 30 minutes, just to have them tell you to ship it and surrender the $11.98 in shipping fees.

The product I ordered through LivingSocial stopped working a few days after I received it. When I tried to find out how to contact the vendor or get a replacement, there was no way to contact them. Even the customer support number on their website has a recording "this number is no longer valid." So I have to throw away the product I ordered because I can't report it to LivingSocial or even contact the vendor.

Tried several times to contact vendor of service coupon (right up to expiration date) with no response. Expiration date occurred on a Saturday and when I tried to call Living Social, the phone message said they were only open M-F. I called the following Monday, waited over 40 minutes for someone to pickup, and the rep there tried to call vendor and could not get through either. After another long wait and a talk with a 'supervisor' the conclusion was LivingSocial could not help me since the deal had expired. NEVER use LIVING SOCIAL again. Worst service ever. I had to call American Express to dispute the fee. THEY had great customer rep and service and a less than 1 minute wait time.

I ordered two vouchers back in April for a massage company. I tried booking with the company for two months. The mail box was always full, texts went unanswered, and the one time I was able to leave a message, it was never returned. I submitted for a refund on LivingSocial of which they denied because they said the merchant was still in business. They then marked my voucher's as redeemed.
I spent the next couple of months calling LivingSocial's so called customer service line. I called more than 15 times and was on hold more than 30-40 minutes each time and never got through. I finally waited one hour and got through and after being put on hold again for 20 minutes was told that they couldn't refund my money because it was past the expiration date. I told her that I had been trying to contact them for weeks prior to the expiration date and was told that there was nothing they could do. I've never encountered a scam this bad before! Somebody needs to do something!

I have a voucher obtained in JUNE. This is now September. The voucher will expire before I can ever use it. The code they gave me to use does not work. I have called their, so-called, Customer Service 13 times!!! Only to be left on hold, with irritating ads playing, for up to an hour and ten minutes!! I will.never buy from them again!!

LivingSocial is the bottom of the barrel. If anything goes wrong (my husband and I never received our packages because the sender misaddressed them) you will spend at least 45 minutes on hold only to be greeted by a rude, unaccommodating, and unhelpful attendant--not to mention liar. There is NO email or on-line chat support, only the phone number during business hours (they won't even tell you what time zone they're in--it's central). I placed so many calls about not receiving our packages and had to whine before they'd even consider refunding my money.
Finally they said they would, but I noticed on my credit card statement, they only refunded 1/2 on one of the packages....more phone calls, more unnecessary time for something that could have been handled expeditiously over the website or via email. Thank goodness Discover went to bat for me. One of the reps (after more whining) agreed to give me a $20 promotion code, which I found out later didn't work. When I called about that, the next rep said she gave me a $5 deal bucks....NOT--never showed on my account. I never had any problems with Groupon service when something went awry. NEVER AGAIN ON LIVING SOCIAL....This COMPANY should be reported to the ATTORNEY GENERAL in the state they are registered. Please join me in doing just that!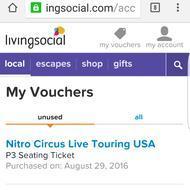 We flew from ORD airport, booked a hotel and car rental just to see the show. We received an email that the show is rescheduled due to bad weather, which I can understand. But I just wish LivingSocial should reconsider my situation and give me a refund since I cannot attend on the reschedule date. I spoke to Daniqua which is under supervision of Jaimee and she said that there is no way they can give me a refund. LivingSocial doesn't give consideration to their customers under any circumstances.

A couple of my vouchers expired. One was an experience with birds of prey and the car broke down - so I couldn't make the dates because of this, however, my money has vanished!!! Another voucher was for a window cleaning company, and by the time I could get a date, I had moved house! Please someone tell me why LivingSocial can just keep your money, just like that and OFFER NO REFUND at all??? A scandalous fortune is being made. Beware of restaurant deals and hidden charges for them and no resolve from LivingSocial. I just book with Groupon now for the record.

Yesterday, I ate dinner with my girlfriend at an excellent restaurant named Thai Spice. I used a Groupon for part of my purchase and paid the rest with my credit card. This morning, I received an email from Living Social asking how my experience at Mai-Kai was last night. Since I hadn't eaten there, I went into my account to determine if my voucher had been used and it had. I contacted Living Social about the problem and they stated that someone must have hacked my email account and it was up to me to investigate who did it or to contact Mai-Kai restaurant and see if they could help. They also stated that they were not willing to assist any further. What a two-bit operation! I have bought literally thousands of dollars worth of vouchers from them over the past 5 years and all they did was dump the problem back in my lap. I will NEVER buy anything from them again.

LivingSocial is fraudulent business. I purchased 2 vouchers for facials. The businesses went out of business before the voucher expiration dates. I tried calling LivingSocial several times. I stayed on the phone for over an hour each time and was not able to get a hold of anyone. Finally after waiting for 45 minutes, a dumb employee by the name of Samiera picked up the phone and told me that if it were her, she would never be purchasing online and from LivingSocial. She told me I had no recourse, as they are not responsible for businesses to go bankrupt. She was rude and unprofessional and extremely unhelpful. I WILL NEVER PURCHASE FROM LIVINGSOCIAL AGAIN.

Tried for over a month to contact LivingSocial about Zen Cleaners and their disregard to return calls and emails. They notified me that when the voucher expires (even if you have attempted to contact) they cannot refund a credit. This is FRAUD. I was told by the person on the phone that she wouldn't recommend any purchase from LivingSocial of these type of services. Why did they risk their reputation on this type of firm and then recommend you don't use them. What a scam.

I purchased a Costco Membership and never received the vouchers they state you will receive with the membership. Since May I have tried to contact them via their phone. The 800 number is disconnected and the other number provided you have an hour or longer wait, even though the message states you'll have a 10-minute wait. I'm guessing this is their tactic. They frustrate you enough that you finally give up on trying to acquire the vouchers. I will never again purchase anything from Living Social. I will stick with Groupon, never had a problem with them. My recommendation to others, stay away from purchasing anything from Living Social.

Purchased a couples massage in March 2016 for son & daughter in law. They weren't able to get an appointment scheduled at MRT Massage in Roseville, MN before "promotional date" arrived, MRT Massage indicated they were very busy. When they did arrive for their scheduled massage on August 20th, the business was closed. Contacted LivingSocial who called owner on phone number THEY HAD while I waited on other line. Customer Service Representative told me owner said he wasn't honoring vouchers from LivingSocial anymore, and I should contact him for refund. I tried to contact owner with phone number listed for him and got message they were busy and to leave message. VOICE MESSAGE BOX WAS FULL.

I had two vouchers with the same company. The company said they provided the service for one voucher after it expired (cleaning company did not keep their appointment). Living Social said companies can redeem the voucher anytime after it is expired, any complaints have to be taken up with the company. Basically when a voucher expires the money belongs to the company! When the company finally came out and did the cleaning they charged the unexpired voucher when they were suppose to be doing the work for the expired voucher. The cleaning work was horrible and they kept us waiting for four hours before they even showed up. Living Social said it wasn't their concern, any problems had to be resolved with the company. However, since I paid Living Social with my credit card, my bank said the dispute has to be with Living Social. Living Social promotes poorly performing business members and does not honor any guarantee of good work.

Unbelievably terrible service when/if you can reach them. I too have been a loyal customer of theirs for years and when a merchant told me they didn't serve my area, I had to pull teeth out to get a refund. I have always promoted them. No more. Groupon rules!

I bought a Livingsocial voucher for cleaning service with Perfect maids valid thru end of August. When I tried to book service in August, I found out that the phone for the business were disconnected. When I called Livingsocial customer service I was told the voucher had been used, but it never was. No one from the cleaning service ever set foot in my home. Very long wait on phone for customer service and no resolution to the matter. I will never buy again from Livingsocial as they do not stand behind their customer.

I purchased a gift certificate for a friend for detailing. When he called to make the appointment, the vendor said he would not honor the voucher because LivingSocial had refused to pay for the other vouchers he had honored. He told my friend to tell me to request a refund and that he (the vendor) would vouch for why he would not honor the voucher. Called LS on 6/17. Spend over 30 minutes on the phone with a very young sounding customer service rep whose name I, unfortunately, did not obtain. The kid said he tried to call the vendor and could not reach him until after 3 so would call then and call me back. No return call. Tried to call at 5:30 pm. Was told by recording it would be 10 min wait. Hung up after 20 mins of no one picking up.
Called LS on 6/18. Spoke to a different customer service rep who pulled up my account and said there was no record of my previous call and no case assigned to my account. Spent another 30 mins on the phone with her. She indicated that because I had not tried to receive a refund within 7 days of purchase, I was not entitled to a refund regardless of the vendor not honoring the voucher. She said she would credit my account with the amount I paid which is useless since according to this website, more and more problems are happening with LivingSocial vouchers.
I said I wanted a refund or wanted to speak to a supervisor. I was told I couldn't speak to a supervisor who would just tell me the company policy she had already told me. I asked for an appeals process. She repeated the same things over and over and rudely reiterated that I had bought it in July and it now August (apparently I am too stupid to read a calendar) so would not receive a refund. I indicated that I needed a refund because the vendor refused to honor the voucher but she would not listen and just kept repeating the same script. She said she would enter notes on my conversation and kept asking if I wanted LS credit. I kept saying "No I do not want LS credit I want a refund." In the end she issued the credit because she said I had no other option. I have since called PayPal who I used to purchase the voucher and hope that their customer service is better than LS's.

Erin HuffstetlerDeal Websites Contributing Editor
Erin Huffstetler is the Frugal Living Guide at About.com, and the founder of MyFrugalHome.com. If there's a way to get something for less, Erin will find it, and tell you about it. More about Erin→

Based in Washington D.C, LivingSocial specializes in local deals. You'll find vouchers for food, family outings, special events and travel. The site also includes a small shop with limited-time offers for merchandise and online stores.
What consumers say
Like Groupon, LivingSocial may have its problems but we don't hear about them. Is this a good sign? Probably so, but as with anything new, you should proceed cautiously until you understand how the system works.
Accessible customer support: Both email and phone support are available.
Clean interface: The navigation is simple and intuitive, and the site is devoid of unnecessary clutter.
Expiration notifications: You can request e-mail notifications when a voucher is about to expire.
Vouchers retain value: If a voucher expires before you get to use it, you can still redeem it for the purchase price.
Refunds: Refunds are available on some, but not all vouchers; and the refund terms vary from deal to deal.
Return fee: Unused shop items can be returned within 14 days of delivery, but you'll have to pay a $7.99 returns-processing fee.
Best for Bargain Shoppers, one-time users, occasional users, businesses
LivingSocial Company Profile
Company Name:

LivingSocial

Website:

https://www.livingsocial.com/