Consumer Reviews and Complaints

Meritage Homes in San Antonio is a really terrible builder. The homes they build are rushed and not put together well at all. They are very messy and irresponsible. I have found bottles and beer cans under my new grass that they put there instead of in the trash. LAZY!!! While installing AC of neighbor house they drove and parked in my frontyard leaving holes and tire marks that they never fixed after it being brought to their attention. The painting of our home was horrendous. Trim was painted with no lines at all. Just painted with it getting on the siding as well. They drew inappropriate pictures in pencil on my window frames and that was never fixed after they said they would clean that up. I've had so many problems with my new house that they would look at and sweep under the rug. So many emails back and forth about them wanting to come out and I would schedule appointments and they would not show up.
I had patches in my walls for over a year before I finally just fixed them myself because of them not coming out. I've had problems with my floors, paint, water leaks, windows, doors, cabinets, masonry, sod, fencing, hardware fixtures. They used the wrong color mortar that I paid extra for and instead of fixing it they just covered it with the right color and of course it is falling off exposing the old color. They put siding up that is not even painted. Talking with warranty department they just say, "Oh well it is past a year so it's not our problem." Of course during closing they said everything you wanted to hear. If it was for us not having a place to stay I would have not closed before this was taken care of like they promised they would when we moved in.
Meritage is all about themselves and getting it closed to screw over someone else. They are suppose to come back out before the year is over and of course that was not done. Just about every neighbor I talk to has the same experience. As soon as I can sell for a profit I will if possible to get out and get with a quality builder. As a first time home buyer Meritage has made this experience the worst ever. I hope others will buy elsewhere and stay away from Meritage Homes as they are one of the worst builders ever. Same can be said for their customer service. PLEASE CHOOSE WISELY AND BEWARE OF BUILDERS LIKE MERITAGE!!!

My husband and I had our home built in May of 2006. Since that time of residing in our home, we noticed how poorly the workmanship and quality of our home was built. We had issues about many defects in the way our home was built. Meritage has all of our complaints. Some things were corrected but as the years progressed more issues needed attention that was evident that the builders used materials that were not of good quality. We can name a few things: 20012, part of the roof had to be repaired which caused a leak in our bedroom. We were told that it was not covered under the warranty. In 2014, the kitchen sink was dropping, which they repaired. Unfortunately, it dropped again in July of 2017. The sink was not covered because they said it was over 10 years of the warranty. Our rebuttal was the repair was not done correctly within the warranty. We had to incurred another expense to get that fixed.
We had to redo some of the walls which was not painted evenly with the stucco style. The windows had to be resealed because the sealor the builder used was cheap and was not sealed properly. As a result, windows leaked and caused mold which had to be repaired and corrected. One of the vanity sinks have to be replaced due to scratches in the sink. We've been trying to replace it but have not been successful yet. Also the large mirrors have to be replaced due to gas escaping from the bottom which left the bottom of the mirrors black. Our house was built in 2006. There should not be all of these repairs to be done to the house. My husband and I would not buy another home from Meritage Homes. The houses appear beautiful but the quality is not up to par. We would not recommend them to our family, friends or associates. Considering the price we paid for our home, you would expect better quality. We are very disappointed!

Purchased a new build in the Orlando area. Very disappointed with the construction materials Heritage home uses. Paid extra for upgraded carpet. After 6 months the carpet has buckled twice! HVAC unit was installed with defective coils. Meritage will not pay for the $2000 repair. This issues are community wide. Garage carriage lights have faded away to the primer. Oven temp is off. The outside upper porch roof is some sort of spayed drywall. After a year of living in the home, some of the drywall has fallen off so you can see the nails. Overall paid over $300000 for new home with cheapest products in it. Also uses the cheapest aluminum fencing that code will allow. Easy to bend and doesn't hold up well. Wish I would have looked more into the reviews and not relied on what they told me. Would have chosen another builder. They don't stand behind their homes

We bought a home 2 yrs back with Meritage and the sales person walked us through our lot and quoted a premium price for the lot selling that there will be no home coming behind us back to back and there is land placeholder in between with trees left out to create privacy. This morning the construction guys cut off most of the trees and tried to pull out a tree whose roots were in our background underneath the fence and broke our fence. They tried to patch it up quickly when I starting questioning them if they took any permissions. The construction manager came with a lot map saying there is no such open area as per the plan and he does not any such thing. I tried to reach the sales office but had no luck with any response.
I tried to walk down to their sales office and one of the sales person ask me to "get out" or will call cops as she did not want me on in the office discussing this issue while selling to new customer making them scapegoats. 2nd issue: While under construction, we felt the drive way was too steep compared to any other drive way around in our community and when asked the construction manager, he simply said this is how you would get as is the land. Later I learned that they want to get around the work. They could have leveled the land properly and build the drive way in the right way but they choose to do it in what ever they felt like. I WOULD NEVER RECOMMEND BUYING HOME WITH MERITAGE EVER.

I see a 1.5 rating in 12/16, against gut feeling went fwd and bought, it has been my worst nightmare. First don't let them bully you, get a lawyer from the start of closing to protect you. Worth every penny, home quality - Everything is crooked, I mean everything lighting, walls, it was crazy on pre-closing, we were always bullied to sign all the way through. Our builder has 15 homes, very poor supervision, quality of home in 2017 Florida is just crazy poor, they don't care.
Their goal is pop up home, they will tell you warranty dept. will step in hahhh. It's taken over 2 month get solar still not running. 2 month to get a lawn issue fixed still. Doors don't close. They will not come in to shave, everything is a hassle. You will need to schedule your, I think they cheat on the quality and service to build a home that looks good but has poor quality or craftsmanship. Best part they are illegals building these homes. No safety harness. Work hard but Meritage hires them all... Do you think the money goes back to America or out? FYI the game is to get you to sign so the employee gets credit and his bonus. Be wise, inspect. Take time to look at what is being signed, don't be bullied to close. I didn't get a 250 a day fine.
How do I know I can trust these reviews about Meritage Homes?
885,935 reviews on ConsumerAffairs are verified.
We require contact information to ensure our reviewers are real.
We use intelligent software that helps us maintain the integrity of reviews.
Our moderators read all reviews to verify quality and helpfulness.
For more information about reviews on ConsumerAffairs.com please visit our FAQ.

Hi, my Overall experience with Meritage Homes so far is very very bad. I would strongly recommend not to opt Meritage Homes Builder in Massey Lakes or any other Community or Any State in USA. I signed contract 3 weeks ago and I'm scared what I have to go through by the time I complete my Home. They have restrictions like we have to pick same color cabinets throughout the house. If we prefer a particular Color & Level cabinets in Kitchen, we have to find same color for bathroom Cabinets and if we prefer to go for low level cabinets in baths & If unfortunately if we don't find same color as kitchen cabinets then we have to change the kitchen cabinets for the sake of keeping all cabinets same color though we like & prefer to have that particular cabinets in Kitchen.
Meritage Homes design Center prices are very high when compared to Highland Homes Builders (Pomona Community in Manvel, Texas). Highland Home Builders gave me 90% of the design center option prices even before signing the contract. But Meritage doesn't give any prices or will give wrong prices for few and later say prices are revised.
Salesperson will give a price for a product and Design center will give a higher price for the same product. (Since we already signed the contract with the earnest money, there's nothing we can do now except to pay whatever they say.) If you like something in model Home or Inventory Homes, Then Salesperson will say that's not standard, design center will add you later after signing contract. Now design center sometimes says we just stopped using that product and we will be compelled to opt something out of very very few options.
I bought House in Massey Lakes Estates, Pearland, Texas. Sales Manager (Daniel) doesn't care for the customer concerns or issues. He simply says, "Do whatever you can. We will do whatever we want to. That's not your home, it's Meritage Homes and it will be yours after closing so till then we will build it the way we want to. I am not worried that you paid earnest money and that's your dream home or first home." Also he blames us for not asking information about theirs interior restrictions.
They will behave nice until you sign the contract. After that they are worried about their profits only not even try to discuss options for your dream home or first home. So, beware of Meriatge Homes. From My personal experience Highland Homes is better in terms of Quality, Prices, Services, behavior and Freedom to pick things for our home. Highland believes and feel they are building our home but from Sales manager Daniel's words Meritage Builds homes which is easier & profitable to them and least bothered about the Real owner.

We just purchased a new home from Meritage June 2017 in Victoria Queen Creek AZ. Our kids play ball right across the street so we were able to frequently visit our home during building. A month before we were supposed to close and our new home was taking shape, we started measuring and planning for a new fridge. We measured a counter depth fridge mind you and had maybe 15 inches from the wall to where the fridge would stick out in the hallway to walk thru. Are you kidding me!! We contacted our super who came out and measured and said they messed up and will have demo from our pantry all the way to the pocket office and fix it. I can go on and on and on but the hundreds of mistakes and horrible craftsmanship but... I will tell you why I am writing this review in utter anger!!!!
My 9 year old son in his bedroom upstairs and had closed his door. His door handle failed and it locked him in the room. My daughter says, "Mom he really is locked in." I'm like okay, really I will fix this. I go up and OMG! His door was unlocked, yet when you try to open the door wouldn't budge. He literally was locked in his room! We take a deep breath so we try not to completely panic with our son locked in his room and start taking off the door handle. We get the handle off and then hit another road block! The screws are on the inside handle not outside!! So now we are passing tools under the door to our son and coaching him on what to do. He finally gets it off and yup the locking mechanism failed in the lock position. It was nothing shy of taking a hammer to it just to get it out of the locked position.
My poor baby was locked in his room about 2 hours. Are we one of the million who got a defective door lock, probably. However it goes to show you the cheap ** they put in the house. But we didn't pay a cheap price for the house and I am just furious! I did my homework before buying Meritage and ALL the big builder have bad reviews. They really do. We love our new home because there are 4 contents in the home that make it complete... my family. NOT because we got a quality built home.
A whole list of work orders to be fixed and I am hopeful they will, but tonight with my son being locked in his room just makes me furious! What if he was younger and couldn't comprehend taking the door handle off!! Just stay on top of them daily to fix what you need fixed before the warranty expires and don't let your super take the survey for you. Yah... He said, "Forward the email to me and I will complete it for you..." Are You Kidding!!!

They are so nice upfront. They are even nice up until you close. When your front porch starts sinking into the ground and you have a 9 inch gap between the foundation and ground you get a little concerned. Then the doors stop closing all the way in the house and the cabinets stop closing. Then you have water coming in from your fireplace. Do not make the mistake we did! Just say no!! We are looking at a class action lawsuit in our neighborhood. Spend the extra money and find an excellent builder.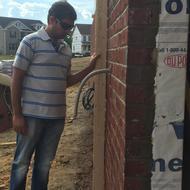 Meritage home builder constructed brick wall without following civil standards, please see the picture added in bottom of the pole, shows having big gap. That will be an indication that brick lifetime is less and it may fall down entire wall at any time since there is an issue at the whole bottom layer of the bricks constructed.

We bought a house in Sienna Plantation, Missouri City TX this year in January 2017. I am totally unhappy and dissatisfied with my experience of buying our first dream house with Meritage Homes. Few reasons to point out, firstly they use low-quality material to construct the house and service support post-closure is zero, don't even expect any kind of support after you move-in.
I had logged a complaint with Meritage Home service support on February 28th 2017 and it's June 02nd 2017 today and none of the issues are yet resolved- neither anyone from Meritage Home is even bothered to follow-up. I have been sending reminders and trying to call the warranty manager and he does not respond to the calls.
Secondly the design center has a team who has no clue what they are offering to the buyer based on the architecture. My sales person during the initial contract signing period mentioned the house had a small patio and made us to sign the contract without any measurements of the patio. When the house was complete the patio was not even 2 feet.
Also after signing the contract when I went to the design center- they offered me for a fan connection on the patio. I agreed to the connection with the fact that patio will be a standard one. The design center team had no professional expertise and knowledge who offered for fan connection on the patio not realizing the blades of the fan will hit the side walls if I fix a fan. To cover up this issue- they fixed a light in that area. I have attached pictures- which can tell- how crazy it was to offer a fan connection- when a fan cannot even fix in that location.
Any professional design team would have advised the customer- that the patio is very small and you can't fix a fan. Also, the sales team should have advised that this is not a standard patio- it's just a 2 feet concrete area outside the house. My personal experience- Meritage Homes is not the right choice to buy your dream house- they have made us totally unhappy with purchase of first dream home.

The Meritage warranty is not provided until closing. Be sure to ask for one prior to signing a contract. Basically, they don't like to take care of issues prior to closing. They want you to wait until the eleventh month, just before the warranty expires. Then they refuse to fix anything that is serious. Our slab was cracked before closing. The garage floor concrete cracked a week after closing. Our driveway was cracked at closing because they messed up the waterline and had to rerun it by boring under the driveway. They bored close to the surface and naturally, the first time we drove our car over the area, the driveway cracked along the exact line where the new pipe was run. Meritage refused to fix any of it. It's "normal".
Our stamped concrete patio was not pitched properly and directs water against our foundation. Naturally we did not discover that until we moved in. Meritage wanted to fix it by filling the voids, re-leveling the surface, and then re-coating the entire stamped concrete patio we had paid for with a cheap coating that looks like crap. Now our screened porch has stamped concrete and the patio outside is crap. When you read the Meritage warranty, the quality and method of any required remediation is entirely at Meritage's discretion. When you sign your purchase contract with them, you are explicitly accepting all of the terms of the substandard warranty you will not see until closing. I suggest looking for another builder.


We bought a house from Meritage Homes at Lake Preserve in February of 2017. From day one the process was a mess. Everything is rushed. Be careful what you sign. After we picked our upgrades, they gave us a new contract to sign. The new contract had an increase in the base price of an additional $2,000. Had we not noticed it, we would have paid an extra $2,000 because of their mistake. Their finance dept. sent us the mortgage docs for us to sign, it include a fee of $12,000. Another mistake that we noticed but they didn't. Our house came with standard tray ceilings that they had forgotten to do. We had to remind them. We paid for upgrades that they failed to do so until we pointed them out. We paid $9,500 for upgraded stairs, that they had to come back and fix because they didn't installed them right before we moved in.
The kitchen cabinets are all scratched, they look used instead of new. A wall in our kitchen is crooked. The foundation started cracking before we even moved in, according to them this is normal. The painters are a joke, two months after we have moved in and they still haven't finished painting the house. Two months after we moved in and we still can't use our master shower because it leaks water into the floor. Still waiting for them to come and fix it. Our second story floor is uneven. The builder said they can't fix it now until the 11 month. So for the next 9 months we are gonna be walking on a uneven floor. So much for a new house. The fresh air unit started making loud humming noise weeks after we moved in. I notified the builder, 26 days later, still waiting for them to come and fix it.
Less than 3 months after we moved in, the kitchen floor started cracking. On our second shower, they ran out of the original grout so they used a different color. Yes they left our shower with two different grout colors. Can't make this stuff up. You will be rushed to close. They will say that they'll take care of anything that has been completed by the time you move in. But you will be at their mercy, you will have to take time off from work to be there with the contractors. I would never buy another house from Meritage Homes.

I saw so many complaints about the house quality here. I even cannot close yet!!! The sales agent did a horrible job not to tell me the house was finished till April 21th 2017. Meanwhile, the director of finance at the closing department pushed me to close by April 28th 2017 and charge me $250 daily afterwards. When I tried to explain there was no way to close within one week because I needed to order home inspection and fix things and do a final walk through before closing, the director of the builder emailed to impose this $250 per day after April 28th though I was only informed the completion of the house by April 21st (Friday). His reason was simply because I had agreed to close in April long time ago. Then why didn't they finish the house earlier?
Can you imagine any other builder could be unreasonable and even behave like a criminal to push a buyer to close within one week after the house completion? Where is our customer's right??!! Horrible, horrible, horrible builder and sales people. I could not reach anyone to help. So I even contacted their customer service online to help me to reach the sales' manager to contact me, but the manager never contacted me either!!! What a bunch of gangsters. All they care was to take customers' money and our customers' right are totally ** to them.
I am still waiting for any response from Meritage to let me close in a normal pace instead of just one week. After knowing they would charge me $250 per day, I even dare not spend $600 to order a home inspection anymore. What a nightmare!!! I still don't know what to do now because nobody in Meritage responded to give me time to close. My mortgage lender only locked my interest till May 15th. Meritage is such a big company. Can't believe they can behave this way. Horrible, horrible!

Our Meritage Home buying experience: We purchased a home on June 11, 2015 in The Falls of Green Meadow in Katy Texas from Meritage Homes. More than a year later there were still some outstanding work to be performed in order to complete our home. We moved in before it was finished because we had sold our previous home and the estimated completion date was in May 2015. We were promised if we were to go ahead and close before all of the items were finished, the work to complete our home would be performed promptly. We were living out of a hotel at the time and thought our family would be moving in to the new home in May.
A little over a year later in November of 2016, Meritage told us they would need to remove most of our furniture to properly do the drywall and painting. So, they loaded up our furniture and stored it in two pods that were placed in our driveway. It was estimated it would take 7-10 days to complete the work. Clearly we were concerned about having a team or workers in our home for that period of time. We asked Meritage for assurances that this would be ok and safe. Meritage assured us with confidence these were professionals and it would be ok, they were fully insured/bonded. They even went on to say the vetting process was extensive and time consuming to be accepted on their vendor list. Meritage subcontracted the work out to Villarreal, a Texas based sheet rocking company.
The second day they were in our home my wife's engagement and wedding ring were stolen. This was a serious economic loss and a irreplaceable loss of memories attached to the rings of 20 years. We met with a figure head from Villarreal and a area manager from Meritage. Amazingly, Villarreal could not produce the last names of the workers. He said they had been busy and confirmed they commonly utilize day workers. One of these workers told my wife directly he had been recently released from prison and that they were not being paid enough for the work they perform. Villarreal's representative confirmed that might be the case or he might have just been bragging, but he did not know for sure since he didn't have their last names.
After the rings were stolen, we filed a report with the Katy police. They could only find 2 of the 3 workers from Villarreal after months of investigation. We found Villarreal very uncooperative and accusatory regarding our lost jewelry. The two workers they were able to find finally told the investigator they didn't do it, and that was the end of the investigation. After months of consideration, the official position of Meritage Homes is as follows: it is not our fault this is the responsibility of Villarreal, we are sorry, but it is our loss.

I moved here in June 2016, from a beautiful home in West Covina that I fully remodeled and lived in for 12 years. I thought buying new and living in a community would give me more time and freedom to spend with my children. So far that hasn't been the case at all. I have had so many problems with this house. And to be completely transparent, I just want to get out of this responsibility in anyway I can that makes the most sense. I am super unhappy here. From the beginning, my kitchen was so poorly done and incomplete when I moved in and it took months to get it to completion while I was living in it with two children under age 7 and a full time job. I had to take way too many days off of work to have work done in this house after I already moved in.
I lived right smack dab in between three other homes being built following mine as I was the first on the block here. I suffered so much dirt and dust in my home and on the exterior of the home. It looked like I live in a war zone. All my screens and doors were covered in dirt. It was tracked in my house. I had to put plastic over my carpets and furniture to avoid damage and really didn't move everything in to avoid damaging my furniture, rugs, etc. There were areas on the exterior of the home that were unfinished, missing screens, and damaged screens. I paid $1700 to pave my patio and $600 to add some artificial foliage that was damaged. My entire home needed to be washed down. I have had issues with the fixtures in my master bath and they had to go through a wall in my bedroom that was repaired so badly and still sits unfinished. This was over a month ago.
I have had issues with the bathroom mirrors not being properly mounted and the fixtures in my children's rooms not being properly installed. I currently have several rooms that have nails coming out of the ceiling and are progressively getting worse everyday. Last week, the windows, which I opened for the first time ever, in my sons room are not staying open. They are defective. I am literally in tears at this point when I think of every single time the builders send these incompetent workers to my home, take my time away from work and my family, and still leave the job incomplete or leave a huge disgusting mess behind for me to clean up. I am a single mom and I am extremely busy and NEVER have enough time!!! I have reached my threshold!!! I will be seeking out legal advice at this point as I AM MISERABLE HERE!!! The sooner I can get out of this community, the better off I will be.

A few months after closing, the foundation started moving. Doors don't close, tiles started coming loose, moulding separated, floor rising exterior brick cracked... Engineer (same "3rd party" that they hired to opine about initial build) tells us, "It's a good problem to have... They'll caulk it." Construction manager tells us, "My house has cracks too..." Corporate rep. says, "Home is performing as intended." We find new cracks and brick separation almost EVERY day. Buyer beware!!!

Want a home to get into quick? No problem! These people love to rush you into your poorly made home just to get their paycheck. My husband and I built our second home with Meritage within 2 years of building our first. (Our mistake) We recently added to our family and felt we should expand our home. We had such a good experience with our first home we knew this is where we wanted to go. This time we were given a new construction manager.
We had numerous issues along the way of building of our new home (one includes a misunderstanding on the "design center", the construction manager was unwilling to fix the mistake (which was on their end) and was very unprofessional responding back to our questions of what had happened. After coming to an "agreement" things were finally "settled", we have been in our new home for 5 1/2 months and we keep finding more and more problems. Carpet has already buckled, kitchen cabinets are all hung incorrectly, and this is only the beginning of the rushed job and laziness this company has provided for us.
One issue that we are running into this time around is the amount of tires on our vehicles that have popped due to the lack of cleaning the streets. We are on our third tire purchase in less than 6 months. They have refused to help reimburse any payments of any sort as it's a "construction zone" and they have people "who walk around and look for stuff in the road"!!! The trash from the workers that is in our lawn continuously being blown daily is unbelievable. My husband and I completely understand that things happen, but the lack of customer service after you get into your home and they get your money leads me to write this review of disappointment.

My husband and I purchased a Meritage Home a year ago; submitted our warranty list, walked through the home with their warranty person who contacted the contractors to contact us to schedule. We've had the unfortunate pleasure of NO shows, reschedules, to unauthorized internal cancellations, for tile repair in our laundry room.
Wisenbaker has zero respect for customer's time; time you've taken off work and/or rearranged your schedule to accommodate their workers. After finding out my appointment on (3/9/17) was cancelled internally I was in communication with (Jamila) supervisor whose department was responsible for canceling my appointment. She offered to reschedule at my convenience, but I requested to speak to a manager. I then contacted (Andrew) whom I was told is the district mgr advising my frustrations with his company; who wanted to figure out what he could do. I had to rescheduled and confirmed a Saturday appointment (3/19/17) at 9:00 am with Andrew who ensured he was personally handling and there would be no issues. I, NOT Andrew, Jamila or even a representative called to confirm my appointment for Saturday. I contacted Jamila after NO show at 10 am.
The contractors finally arrived over 3 hours later and left my laundry room a mess. I left several messages with Jamila and Andrew with no return call. I finally heard from Andrew on Tuesday (3/21/17) who advised he was on vacation and empty apologies. He also said he "wants to make it right". To say the least which is what he offered was completely insulting. The work was finally complete on 3/23/17. A job that was and should have been completed in 1 day, 4 hrs took weeks which includes NO shows and reschedules. This group is not well versed in what excellent customer service is let alone what good customer service looks like. Accountability starts at the top and Wisenbaker lacks it. If you're in the market for a home, or remodeling stay away from Meritage Homes and any of its affiliated vendors like Wisenbaker and others!

We are very disappointed with the building of our new home built 02-2017. The painting, sanding, and trimming is very sloppy, kitchen cabinets put up with chips, crack in the garage, doorbell doesn't work, the staining of the rails, and cabinets sloppy, ceiling and molding not smooth, and the door trimming very rough. This is our 3rd home by three different builders, and this is the worst of them all. So many imperfection by the company. We paid over 300,000 for our home but the work looks worst than a 100,000 home. What a disappointment.

Purchased our home July 2011. Upon purchasing our new home, we were not given the option to opt out of the solar system. Our system is by Sun Edison who is in bankruptcies courts now has not honored their warranty. Since Meritage made this a standard system with the new home they were notified of the system not making hot water and fresh air not coming into the home.
Sun Edison owns all parts that could fix this system not Meritage. They are responsible for choosing this company and not having any rights to the materials that were used on their homes they built. All parts need to be taken out of homes and rerouted to make home up to code without the system. Meritage by email stated that they would honor the warranty and fix problem. I put in my warranty claim 8/31/16. So far nothing has been fixed and all we have received is a letter stating they are trying to figure out what to do. Meanwhile our warranty gets closer to expiring. Looking for company to do a Class Action Suit!

Very poor craftsmanship. Cracked walls, crooked walls, molding pulling away from walls, damaged bath tubs that were purchased new but forced to have refurbished. Water damage that they were made aware of prior to finish construction but they chose to finish construction without addressing the water issue. Damaged cabinets, damaged refrigerator, 99% of mitered corners did not meet South Carolina construction code. We moved in in September. It is now March we still have blue marker tape throughout the house. We went to Chris ** via email and telephone calls explained our concerns. We were informed that it's a normal process during construction. So apparently Meritage believes that crooked walls, poor craftsmanship, water damage, carpet that's poorly installed, water leaks within the first two weeks of living in the home is all normal.
One of the worst construction outfits I have ever had to deal with. When you purchase a $500,000 home you expect excellent craftsmanship and you would expect that your issues would be addressed within a timely matter. So unfortunately for Meritage anybody that asked me I told them do not buy from them. They have poor craftsmanship. They build with low grade products and verbatim we were told "that's not how we repair things" in reference to a wall that was off by 3 inches. Their fix was to use mud to build the wall up so that it no longer looked crooked. Had they addressed her concerns from the beginning regarding worked 2 x 4's. Cracked 2 x 4's walls that were not even and mitered corners that were off by a quarter inch on every corner of my house. Had they done it correctly to start with we wouldn't of had to worry about the comment that's not how we repair things.
Basically when you purchase from Meritage homes you are lied to. You are informed that their way is the only way. You have people working in your home that don't speak English nor do they understand the simple phrase clean up after yourself, please do it correctly. After several phone calls, several emails, our home is still not finished to our satisfaction nor do I believe it ever will be. We were told when we signed that all of these issues would be addressed and taken care of within 30 days. We are going on seven months and I still cannot decorate my home because of all of the blue marking tape. If you are purchasing a home look elsewhere. Do not purchase a Meritage home.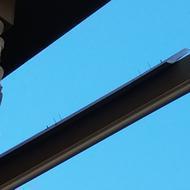 Construction issues -- gutter falling off. We bought a new Meritage Home in Charlotte 3 years ago. The gutter on 1 entire side has come off and hanging. I sent them an email and got a standard response that it is out of warranty. They further asked me to refer to homeowner's manual for care and maintenance of gutters. They don't seem to get this is a major construction defect and the gutters don't come off in 3 years. Or 15 years. I showed it to an expert and he says they used nails instead of long screws to hold these gutter. What a shoddy quality and horrible customer service.

We bought a brand new spec home from Meritage Homes in June 2011. Meritage Homes gave us two-year warranty. The hardwood floor in the house was hand scraped. So we do expect to see some unevenness on the hardwood floor. However by April 2013, we noticed severe unevenness of the hardwood floor near the kitchen area. It was just different from the rest of the hardwood floor in the house.
So at the end of April 2013, still within the warranty limit, I emailed the Meritage Homes-DFW Warranty Department. I told them the floor was moving up. I also told them I was concerned about the water leaking as the reason. Meritage Homes did respond to me immediately. Some people came to my house. I showed the people where the hardwood floor was moving up. The people, without using any tools, just by visual observation, said that there was no leaking. They said that if there was any leaking, the drywall near the problematic hardwood floor area would turn to black.
Since Meritage Homes determined there was no leaking, there was not much I could ask them to fix. We just kept being very careful about using water in the kitchen. I even sealed the line where the countertop and the backsplash join. However our hardwood floor just gets worse with more boards moving up. I cannot see any water, on the floor or under the kitchen sink.
Yesterday morning, I decided to remove one baseboard near the problematic hardwood floor. As soon as I remove the baseboard, I saw water coming out. Yesterday morning, I emailed Meritage Homes-DFW Warranty Department immediately after using the same email chain when I first reported the floor moving up issue to them in April 2013. I have not got any email response back from them. Yesterday morning, I also called Meritage Homes-DFW Warranty Department (972-580-6338) and left a voice message. I have not received any call back from them.
This morning, I called Meritage Homes-DFW Warranty Department manager Tom (**) and left a message for him. Tom called me back not long after. Tom asked me to text him my home address and some photos, and said he would send someone over to take a look. I texted everything he asked for to him. However, I have not received any calls from him since noon. I called Tom again this afternoon and left him another voice message.
It has been two whole days without having anyone from Meritage Homes to come out to take a look of the leaking. Because it is leaking, we have stopped using the kitchen water. Now we have to wash dishes and prepare food in our tiny laundry room. Life becomes very miserable. We just hope Meritage Homes can come out, take a look, and help to fix the leaking issue. I am writing this up to look for help. For any of you out there, if you have any ideas how we can get help, please let me know. Any suggestions would be greatly appreciated.

This website was created in response to going through the Meritage Homes - home buying process. If you have built a home with MTH, received misinformation during the home process from MTH agents, unfulfilled warranties, construction defects or pressure to sign a contract due to MTH sales paperwork negligence, this webpage is for you. I will be compiling all complaints so I can gather information to move forward with a systematic release of information to local and national websites, newspapers, state insurance commissions, Better Business Bureau, State Departments of Consumer Affairs where MTH have established businesses. Please join this Facebook page or send all questions to **.

We had been looking for a new home for awhile and were very excited about Meritage's floor plans and available lots. We purchased the home at The Preserve in Colorado. There were items that needed to be fixed prior to closing, but we were promised they would be taken care of "right away". We found more items during the 21 day walk through. That was 8 months ago and they still have not resolved the issues. Our counter is severely deeply gouged and has been since before closing, we are missing a faucet top in the master bathtub, the tile wall is bulging in the hall bath and leaking into the basement. NOT little things!!! We've heard every excuse in the books why they haven't been able to make the repairs. They won't back up what they say. If I would have known they were going to be this way, I never would have closed on the house. I trusted them to do what they said they would. They lied.

I have been in my home for three years. Meritage has to automatically contact all homeowners to repair stucco cracks since these homes are literally built within 3/4 months!! The house does not "settle" and by the time these cracks appear you are told it is out of warranty. I have had water damage to my property due to stucco cracks. I have had to pay $11, 400.00 to get them repaired. Please future homeowners do not buy the homes in Dr. Phillips. They have hurriedly built by different contractors, some good, some not. My staircase has been squeaking from day one. The upstairs floor boards are uneven and the bathroom fixtures are so cheap they keep falling off. Basically you have to redo the entire home once you move in. I used to live in a Toll Brothers property and I regret choosing Meritage. It is a shame Toll Brothers is not in Dr. Phillips!!! Whatever you do DO NOT BUY A MERITAGE HOME!

The construction Manager has been abrasive in person and on phone, turning new home buyer concerns and questions into major worries and stress and the model we were shown is not what Meritage is building. Guess I should've read the reviews here first. We toured the model of the Majestic and were advised that a spec home of that model had just had the slab poured and agreed to purchase it. After plumbing was added, very large cracks (thick enough to insert a coin in some places and uneven to the touch) appeared throughout the slab. We expressed concern about tile cracking down the road and moisture to the construction manager and he blew us off, saying that this was normal, and that all slabs had cracks and there was nothing that needed to be done.
He maintained this stance until we recorded a person laying tile in the neighborhood looking at it, stating that there would be problems later if a membrane were not put down first and that it was not standard in this neighborhood for a membrane to be laid. Then the construction manager advised that they would be doing a membrane. This should've been the response from the start. If it had been, our concerns would've been laid to rest immediately instead of making us question the quality of the home and the construction manager's competence.
When we noted that the shower stall in the master bath had been framed several inches smaller than what was in the model (and knowing this wasn't something listed as an option), the construction manager advised that what was done was wrong and would be even smaller after it was corrected to match the plans for the house. A difference of six inches smaller. When we questioned why it was different from the model we were shown, we were told 'the plans changed', that they could not match the model because it would 'compromise the integrity of the slab'.
When asked why it would affect the integrity of the slab in our home but not the model, we were advised "... the model was poured that way with the slab just like yours. However the difference is that we would have to chip and cut out the additional six inches on your slab which will negatively affect the slab..." Then the construction manager advised they could cut it out and re-do that section but the window would be off center and the slab would no longer be monolithic in that area and to let them know if we wanted to proceed. After consulting other professionals in the building industry who advised that it just needed to be anchored and inspected properly, we advised that we were okay with this change and to proceed with it.
The construction manager then advised that they 'were not going to honor the request' and the "size of the shower is not an error and is according to plan and we are not going to change it to match the model". We were never provided plans with dimensions for the spec home and had no reason to believe it would differ from the model in ways that have nothing to do with options. Really can't help but wonder what other surprises are in store for us over the next months.

In a new Meritage subdivision, called the Preserve. Specifically questioned sales manager about the possibility of fracking in the area. We were told no. One month ago we received notification from Great Western Oil and Gas informing us of plans to drill 10 horizontal wells under The Preserve with information that said they got rights in the late 90's. So now, off we want to sell our house, we will need to disclose fracking under the neighborhood even though Meritage Homes did not disclose to potential buyers. Speaking with a lawyer about a possible lawsuit.

I purchased my first house build by Meritage Homes at Parkside at Chilton Dr. Orlando FL 32836. Since then it has been the worst experience of my life. I think every year they rush to sell the houses before December 31st to meet their quota that they end up delivering imperfect housing. Hence, I ended up with the same and had to spend weeks to prepare the long list of items which needed to be fixed from the floor tiles, kitchen cabinets, plumbing, electrical, bathrooms, doors, lawn, garage, driveway and the list goes on. I have not been able to enjoy my $700K house since I bought it. I contacted the developer to fix the issues and after one year the repairs are still not completed.
I have not been able to have a normal life cause of construction crew in and out of my house for the past one year. I had to take time off my work to meet these people for which I have lost time, wages, and been in hardship due to slow progress over a year now. My life has been miserable and under lot of stress caused by this developer. After trying to get resolution for almost one year, last week I met with their representative at my house during which I highlighted few of my major concerns and wanted to resolve the issues. I just got their response in which they totally declined to do anything further. At the time of purchase Meritage Homes must have known that that they will be building a new housing in my backyard and a Public School but that was not disclosed to me. Had I known that I would have NEVER bought this house.
Then they shorted me 1250 square footage of my lot as they had community wall there of which I did not know and found out later during design selection it was too late then. When I complained about it they tried to compensate a small amount and on the total house price. I was not happy with it and they got me in a fix and I could not do anything about it. I kept asking them for one year and they finally replied and declined to compensate any further. This developer has taken advantage of my situation and left me helpless.
Secondly, I wanted privacy, so purchased a corner lot. I had to pay extra $15k for it. Four months later the developer started to build another community right in my backyard. There used to be nice tall nature trees and now they are gone and it is a flat ground. My privacy is gone. The next community can see right in my living room. The privacy wall which is there does not give privacy and it is not tall enough.
The worst of all, the entrance to this community is right in front of my living room. That means all the traffic going in and out will look inside my house and especially at night time the lights will beam in my living room. This has caused a tremendous stress on me. I have lost the privacy, safety, and enjoyment of the house. I have asked the developer to raise the wall by few feet to provide me that peace and he has flatly refused it. The developer is more concerned about making money and taking advantage of the people providing cramped houses on top of each other. Taking away the joy of house from me.

Joseph TruiniHome Improvement Contributing Editor
Joseph Truini is a home improvement expert who writes extensively about do-it-yourself home remodeling and repair, woodworking projects and tools and techniques. His work has appeared in several national magazines, including This Old House, Popular Mechanics, Country Living, Woman's Day, and Today's Homeowner. More about Joseph→

Meritage has built over 90,000 homes since its inception in 1985. All of its homes are Energy Star compliant. Meritage currently builds in nine states: Arizona, California, Colorado, Florida, Georgia, North Carolina, South Carolina, Tennessee and Texas. The company has been named Texas Builder of the Year five times.
Homes for seniors available: Meritage offers an "Active Adult" package for seniors who are still active and want to move into a vibrant neighborhood, not a retirement community.
Energy-efficient homes: Every Meritage home complies with Energy Star requirements, ensuring that homeowners will save money on their utility bills and reduce their carbon footprint.
Luxury homes available: Those interested in living in a larger, more luxurious home can order the from company's Monterey line of building plans.
Offers charitable contributions as well as homes: Meritage works closely with Homes for the Homefront, a foundation that secures safe housing for veterans and military families.
Financing options: Prospective buyers can apply for a mortgage online through MTH Mortgage, an affiliate of Meritage Homes.
Best for Meritage Homes is best for highly independent people, active seniors, people with special needs and environmentalists.
Compare Home Builders and Developers
Meritage Homes Company Profile
Company Name:

Meritage Homes

Year Founded:

1985

Address:

8800 E. Raintree Dr. Suite 300

City:

Scottsdale

State/Province:

AZ

Postal Code:

85260

Country:

United States

Website:

http://www.meritagehomes.com/