Consumer Complaints and Reviews

We are in the process of building a Maronda Home in PA. Scratch that, they have not broken ground yet, so we are not really building a house yet. We were told by the salesman that our completion date was the middle of July at our first meeting. Then at our next meeting he said, "To be safe let's put the date at the end of July." When we met again I asked him about the end of July date and he said, "To be really safe let's say the first week of August." It is the middle of April and they have not started anything yet.
The issue is we chose flexible buyers for our current house so we would not have to move, but now we are seeing the writing in the wall and we either will have to rent off of our buyers or move twice. The thing is we did not pull these dates out of the air. We made the mistake of believing the salesman. I am not sure what else we were supposed to do. This is our first home build and we talked to others that live in the plan. I have also not heard from the salesman in a while. I sent two emails and they are unanswered. He was great at communicating at the beginning of the process but now we hear nothing.

My wife and I first began looking at Maronda Homes in August of 2016. We didn't choose our model and go under contract until middle of November. Our sales associate Eddie **, at first, seemed eager, friendly, and ready to help us. It wasn't until later on during the selection process (upgrades, colors, etc) that we realized he was a practical joke. He was brand new to the company and didn't know almost anything. Even with the twenty plus years of reality experience with other builders that he arrogantly boasted, he still seemed like he was out of the loop with Maronda. Almost all the questions we asked he had to ask the other sales associate Lorena simply because of his inexperience.
Unfortunately my wife and I are barely in our 20s and first time home buyers, so we gullibly took his words and trusted him. Even though her and I did do our research before even thinking about building there were still some things we hadn't learned yet. The questions and concerns we had, he would just write them off and tell us not to worry about them. Foolishly, we listened.
After we told him we had a realtor, he turned into a little jerk. He stopped answering phone calls, emails and texts. I get it, there goes a percentage of his commission, but too bad you are an employee and understand that it happens. Ever since then, he's been salty with us. The latest issue and the worst is that after we signed the contract, we hadn't realized that our model had an available under truss hip screened lanai. The option was not in our selection sheet when our five-star sales associate went over it with us, so we had no way of knowing. It wasn't until later, via the internet that we saw our same model with the lanai added on.
We went back to Maronda and told Eddie that we would like to add the lanai to our upgrades. We already knew that it would cost us and additional $500 dollars like it states in the contract when the buyers want to add an additional upgrade after the contract has been signed. We were fine with that and took responsibility for not knowing beforehand. "Too bad", is basically what they said. He told us that our contract is done and waiting to be looked over by our local city permitting department.
Here's the thing, our lot is in an eagle zone (one of the things he didn't explain to us when we bought the lot!) and after taking a trip to city permitting they told us since the eagle nesting season doesn't end until mid-May 2017, they aren't even going to look at our permitting until then. So there has been an entire three month span where nothing is being done! Why can't the contract be changed/re-done? I don't understand. We spoke to Eddie who said we shouldn't even bring it up to his manager. What? That made no sense to us. We honestly figured it was because he was too damn lazy to write up another contract with the added change. We had our realtor call in and speak to Eddie, again.
Finally, our realtor spoke to the supervisor and he said no also. So my realtor asked for the next person in line, who supposedly happens to be a regional supervisor/manager of some sort. He gave my realtor his number, and we are still waiting to hear a call back from him after almost an entire month. We were even told by the other sales associate, Lorena, to just start another contract. WHAT!? What a ridiculous solution. Yeah, let me give you another $5000 deposit so you can pocket it and scrap my current contract. Seriously, what in the world.
What I don't understand is that this new added lanai is a whole $10,000 that they pocket. It's not like we want to change doorknobs the day before closing! I understand that engineers have to re-do the blueprints, etc but how is it not cost effective to do so? There is no way that the added change could cost them more than what the lanai costs! I can't find anywhere in the contract where it states that changes cannot be done after the buyer signs. I mean, that's literally the purpose of charging the buyer an additional $500 to any change they want to make after the selections have been done. Which is directly stated on the front of their paperwork!
If anybody could please shed some light here on what I could do. Is it worth getting lawyers involved? It's just a lanai that I want added to my home, that won't even start construction until possibly June, I mean, come on. If this is just the beginning, without even having to worry about my home being constructed, what happens during that time? Help.

The Sales Agent, Alyson ** is extremely unprofessional. She promised us items for our home and never delivered. After moving in, we found out from all the neighbors that their experience with her as well was horrendous. She has poor follow up skills, sells you with deceit and then gets very combative. We were assured by she that everything in the home would be perfect. We being out of state had a family member checking on the home and found several items such as cracked tile, incorrect backsplash installed, dented appliances, kitchen cabinetry damaged and very sloppy finish work. Alyson promised that she would be in attendance for the first walk through but she was not and demanded that we come in for the walk through.
Not only was the interior of the home a disaster, the exterior was just as bad. My realtor with over 20 years in the industry stopped the process of putting green tape on all the items that needed attention after we noticed that a door was in need of complete tear down including an entire interior wall and brought the "supervisor" Henry (Hank) and myself to the middle of the home expressing her concerns and asking him why he wasn't writing any of what we found down or using a tablet. His response was that he'd remember. That was a complete joke and thankfully we had good notes along with pictures. Hank is not fit for his role. He speeds through the development driving with his door open, jumps out of the car that looks like it's been through a mafia war and leaves it running as he frantically tries to do his job. This experience by far has been the worst ever!
The yard: the sod is literally thrown in, no guidance on how to maintain it. We have twisted our ankles numerous times out in our yard and the VP Jim ** refuses to discuss and reverts back to "Hank's" notes that are a mess of chicken scratch. We have our landscaping noted on our walk through. We've had to spend over $500.00 so far trying to correct the poor install of our lawn. We still have a tree on our property that Hank sent someone over to straighten out but ** will not address and it is a tilting eye sore. The exterior front of our home had to be done three times! The incorrect mantel was put in after what we saw with pictures was what we expected. The team changed the mantel and after three times of me the home owner standing supervising a sublet contractor it was finally correct. The driveway was sinking and had to be redone.
The VP Jim ** is unfit for his role. It has trickled down to everyone that we had/have to deal with. The warranty person Karen ** doesn't return calls, respond to emails and all situations that fall within our warranty are just denied and then we must fight. They send this man Jorge out and all he does is debate the items that are in question of repair and is extremely combative. The CEO Ted Brock was contacted and refused to speak with me. Look at his linked in profile. Speaks volumes about his experience as well and his picture of him reading a book!
This is our dream home. We paid cash for this. Cash!!! These individuals have no skills, are unethical and create havoc every chance given. Do not buy a home from them. We also had a home inspection as recommended from our realtor. Most would think a brand new home would not need that but our inspector found that the entire electrical panel needed redo. Lights tripping and hollow tiles that ** refused to cover repairing. We have documented everything. We have neighbors documents as well.
There's a pond here that is not being appropriately addressed and we have midge flies in our homes as a result. There is garbage everywhere from careless builders and food wrappers from every fast food establishment in our country. They point the finger at the developer and the developer points back at Maronda and we still look at this mess. DO NOT BUY FROM MARONDA!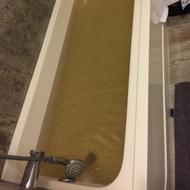 So sad to be taken advantage of by a major company. We just spent a fortune having a house built by Maronda Homes. Once we closed they have washed their hands of us. Several times in the first year during the warranty period, we provided examples of a needed repair to our water. The pictures below will show how bad our water is. No one should ever have to live with this quality of water. They agreed there's a problem, they consulted with an outside company and were given a fix that would cost $1800, but they don't want to spend anything so they said too bad. They called me on the phone to tell me they know that there's a problem. They consulted with a company who proved the problem and provided a fix, but it was never going to happen, it cost too much.

I am a real estate agent in Southwest Florida and just finished up with my first and last Maronda home deal. I warned my clients from the start, because of the bad reviews and against my better judgment I proceeded through this transaction with them. The house took just over 20 months from contract date to finish and the communication throughout the process was the worst I have experienced. They failed multiple inspections (some of the same inspections failed multiple times) and they always had what they believed to be a good excuse. They convinced the buyers to use the in-house lender to save on closing costs and the final figure wound up being more than $4000 over the original quote. The home itself is mediocre to say the least. Many flaws that they just did not address properly and now the clients are stuck with a house that already has cosmetic and functionality issues.
Because of the extremely long process they cause my clients to receive a higher interest rate and miss out on homestead exemption, which is a savings on taxes. It is impossible to talk with someone from their corporate office and even when I could get a hold of someone other than the sales rep, they always got very upset with me for calling and actually hung up on several occasions. In closing, you should know that this experience was so bad that I will refuse to ever accept another commission check related to a deal with this company. I honestly feel sick to my stomach just for being a part of the deal and I beg you to do whatever you can to choose another builder.
How do I know I can trust these reviews about Maronda Homes?
765,713 reviews on ConsumerAffairs are verified.
We require contact information to ensure our reviewers are real.
We use intelligent software that helps us maintain the integrity of reviews.
Our moderators read all reviews to verify quality and helpfulness.
For more information about reviews on ConsumerAffairs.com please visit our FAQ.

I purchased my home in Sebring Florida from Maronda Homes, 10 years ago. I was never told the home was sitting in wet lands. The drainage plans were approved by Sun 'n Lake District, so Maronda was cleared to build inadequately and as cheap as possible. Now all of the homeowners are living with a flood situation every time it rains. I have taken the matter up with Sun 'n Lake & Maronda, neither seem to give a damn. I have spoken to my County Rep. Mr. Ron **. His answer was "this is not a county problem, so please go away." So I have two suggestions for every home buyer, Don't buy a house in Highlands County Fl. or from Maronda Homes. They are both bad news.

I purchased my home from Maronda Homes 2014. My carpet in my whole house is bundled throughout my home which started to unravel just a year after purchase. The kitchen sink they installed was so cheap looking not durable at all. The tile installed is cracked throughout my bathroom and showers, the contractor came out twice within 2 months to seal it and it's still cracked. The garage door has stopped working 3 times within 2 months, the company they are hiring for cheap do not do a great job and when you call the office for repairs, the office manager Karen ** is so rude and unprofessional. She's very curt with a bad attitude when you call with complaints.
And finally the office manager of Maronda Homes Lisa in Palmetto Florida was very unprofessional. She is discussing my sale with other customers and she had no idea they were my friends. They came by looking at their models telling them I am a "Trip" when she was so drugged up on pain pills during the whole process of me purchasing my home. And I know this because she told me! Whole experience a total nightmare!

Built new Maronda Home here in Lumber Creek Division in Yulee, FL - took many months - 9 from contract sign to closing... Very slow building - always have excuses. Then closing date was given for November then changed to Dec then changed again and again. Unbelievable... Sales rep Barbara was very rude, nasty and unhelpful. Since closing on January 2016, we have had some warranty issues... A couple of very small issues have been taken care of... but I have bigger issues that need attention and they keep putting me off. Have reached out to the sales rep Fred - who also came and took picture for ac door unit to show VP and Matt (warranty supervisor) who never returns calls or emails or has said coming next week and never shows up.
Need master bathroom door turned - as seniors no room to close door easily because it opens into small area instead of opening out as another builder has done on their homes. Also suppose to have door over ac unit that is located in laundry area - story from Matt was ordered door and it was broken then was going to make something... Can't understand how other builder here has no trouble getting their ac doors. Also big issue is my front walkway is sinking. Can't seem to get anything done. Don't know where to turn... Don't have much longer before year is up. This is not our first built home but it has been the worst... Never, never would I recommend Maronda Homes... Please don't do it!

This was going to be the first house that my wife and I built together and I was very excited to start the process. After dealing with Maronda Homes I doubt that I will ever venture down this road again. It has left me with no respect for large home builder companies. We were blatantly lied to on more than one occasion throughout the selection process by our sales rep. We found out after the fact that our sales rep was brand new to the company and my family was the lucky enough to experience his ignorance. We selected many different items for our new Home including cabinets and carpet and after we signed our contract we found out that we would be paying extra for these items because they were an upgrade. Our ignorant sales rep told us to our face that it would be included in the amount.
Our sales rep also didn't know the specs for the specific neighborhood we were to build in and we were required to change our garage entrance a month after signing our contract. Maronda Homes wanted us to pay the difference for the change and I said absolutely not because that was their ignorant mistake. After fighting over the additional cost they decided to press on with the new plan even though my wife and I liked the first plan best. I was told my driveway would be wide enough for two cars to pass each other but after the plan change I was given a blueprint showing a single car driveway. Who would want a single car driveway that leads to a two car garage?
These issues were only the tip of the iceberg because after numerous phone calls and argument the house was still to be built. In June our sales rep told us he submitted the paperwork to the city for permits and when September rolled around and ground had still not been broken I called the city. They had no record of the permits ever being submitted. Lied to again! I spoke with the regional sales manager for Maronda Homes Greg ** and he was very rude and also dishonest about what was happening to my home. After speaking with this joker I had to pull the plug on building this house.
At this point we were 6 months into a contract and nothing had been accomplished or even started. I don't see how they can operate this way and stay in business. They would not refund our deposit and we will now be going to court over the whole ordeal. I beg others out there to really consider other builders because you are in for a horrible experience with this company. They have so many bad reviews and I wish that I would have listened to them before signing a contract with a dishonest company.

Seeing all the negative reviews I just had to write. We had built a new Maronda home in 2014. We have been in the home for a year. Any issues that we had which were nothing major were all taken care of. We are very happy with our home and have not had any more problems. As with all builders there will be buyers that have issues with a new home but then write a real bad review. All I can say that Maronda has been around for a long time and are reputable. I would build a Maronda home again. We live in Palm Coast Florida.

I have nothing against the owner but you have subcontractors that are rude, peeing off the roof, using my well water without permission. My pressure tank had to be fixed at my cost. Yesterday was awful. They all blocked our street. People could not get through including school buses since school starts today. The blonde lady said "Oh Well". Not the way to handle people who have lived here. You people don't care. I was made to move my mailbox and now I have a new one to be placed and it was up to Maronda Homes to move my mailbox not myself and now I am requesting that Maronda Homes place my new mailbox since I put up with my newly painted driveway which has to be redone from all the trucks and deliveries went over it, people parking in my front yard blocking people. I made the sod people move.
I know it is money for you. I was an employee of Port St Lucie Building Dept years ago and I never saw subs do what they do nowadays: very rude, garbage all over when there is a freedom bucket right there. My neighbors and I picked up most of the cans and papers. We have been here over 20 years - never seen anything like it. I am disabled and watching this house go up and rude subs you need to fix it. I can't wait to see the inside when my new neighbor moves in. I know you owners of Maronda Homes don't care but you need to.

If you are in the market for purchasing a new Maronda home buyer be aware, the workers drinking while on the job, then they put the beers inside the kitchen wall had to fish it out, mixer shower valve was leaking since we bought the house new, caused major issues in the kitchen. Have to replace cabinets walls, floors, mold on the sheet rock, mold in the closet, caulk is cracking throughout the house, tubs came with stains, stucco cracking. Need I say more.

I have lived in my town all my life and have built homes before. Maronda Homes has been around for a very long time and even lasted through the building slump when other companies went under. This being the case and not being able to afford to go with a custom builder we decided to use Maronda for our builder. Things started off great. The salesman was very friendly and helpful in answering all of our questions. We made many changes and upgrades to the house that were not usual for the builder to do. They started our house in a timely manner and things seemed to be ok until the last 2 months of building.
We drove to the house daily to see how things were going. Every time we did we found mistakes. Walls not attached to the trusses, broken water pipes in the foundation, missing cable outlets that we paid extra for, etc. We told the supervisor about the issues and he tried to get them fixed (so he told us). Two days before our closing I asked the supervisor if we needed to push the closing back to give them more time to fix the issues. He said he couldn't. That Maronda would not allow us to.
The day of closing the house was still not cleaned, the paint on the outside of the house was peeling off, the drywall looks awful, the master shower floor needed to be redone, the master counter is too short, the cabinets were chipped up, the front and back porches looked like a construction zone still (tons of stains on the concrete), the outside stucco looks awful, the driveway has a 2 inch lip (feels like a speed bump), plus so many other things were not fixed.
After moving in a week after closing (gave them some time to fix things, but they didn't) we noticed that the French doors in our enclosed den were not closing correctly. We found more drywall issues, and the A/C does not cool one entire side of the house. We found that they laid the carpet over rocks or what feels like rocks when you walk on them. To top it all off don't look up when you are in the great room. You can see every tape line that was done on the drywall. In calling the supervisor he gave me the numbers for the trades who had done the jobs and told me that I could call them to get things fixed. I guess he was done with me. I have been in the house for 2 months now and still have a long list of things that need to be fixed. Each time I get a company in to fix an issue they cut corners and do a half ass job. Then they give the excuse "Well this is cheap material" or "These aren't the best doors and toilets."
I also am having to use my own money to have the A/C rerouted to get air into the master bedroom and closet. The temperature difference is 5+ degrees and the air company says "Well Maronda designed it, we just put it in." An extra $500.00 I should not have to spend to fix the issue. Guess I should have done more research before going with Maronda for my house. To tell you the truth I HATE my house, and it is a shame after spending the amount of money that I did to build it.

We built our first home with Maronda. The wood frame was rotten. When I told them I was hiring an inspector they moved our close date up a month. By the time we were able to get back to our home they had already put the drywall up so no one could see the rotten broken wood frame. They threatened to sue us if we broke the contract. They insisted the wood was just treated wood. Two days ago our kitchen cabinets fell on my daughter causing a concussion and shattering all of our dishes including dishes that belong to my grandmother and mom. Both have passed. If I knew how to include photos I would. They have been posted on Twitter though. Do not buy a minor damage home. They are junk.
Maronda only cares about your money. If I had room I would go into detail on everything that has broken in the 9 months we have owned this crappy home. Huge carpenter ant infestation, doors, and windows don't close properly so constant insects in the house. Water contaminated, horrible poop stench in the back, bedroom damp smell - have to run dehumidifier 24/7. Horrible sound when we turn the faucets on. The list goes on and on. The stress has given me 2 heart attacks.

Purchased in the Hartman Ponds community in the Columbus, Ohio area. This is my first home and I couldn't be more screwed. My floor is uneven, my foundation isn't sealed properly and each spring it's like a bug stampede into my home, my neighbors are loud ghetto trash, the main water pipe in my downstairs has burst and I was told it was because of the horrible quality of parts, my windows are off track and I could go on and on. Maronda will not stand by their own warranties but they continue to quickly build these mass produced paper houses.

Please do as much research as you can on Maronda Homes before you foolishly decide to purchase from this horrible company. Their homes are mass produced garbage and you will never be happy with your purchase. Here are just a few tidbits to get you started, so you can decide for yourself and do more research. 1: They do not stand behind their warranties. You will be spending a ton of money to fix things they should be responsible for. 2: All of the "parts" to build the home are sub-par from the pipes to the baseboards. We purchased our home brand new in 2011 and have had to spend over 10,000 just to replace broken or damaged pieces.
3: For God's sake, don't buy in the Hartman Pond neighborhood. The person who used to run the model home before they closed up shop said that the reason they were doing so is because "Maronda created a new ghetto." 4: They lie. Hartman Pond is in the Columbus City School District. They will tell you it's Hamilton Local. Not only is it CSD but it's one of the worst CSD schools in the city. Run. 5: The "pond" is just a sewer drainage basin. It's ugly.
6: Maronda fails to upkeep their lots. Ticks are everywhere in the summer. You have to get the city involved just to get them to mow. 7: They are some of the rudest people you will ever meet. Once they have your money they could care less. 8: Did I mention the horrible quality of the homes? Yeah, it needs mentioned twice. 9: They don't seal the foundation/walls. Bugs can just waltz in because there isn't a good barrier to prevent it. 10: The soil has 0 nutrients. OSU tested the soil quality. Maronda sold off all of the top soil to Jones Topsoil before they built. You will never grow a good lawn unless you use a ton of chemicals or have it professional maintained and regrown. ZERO NUTRIENTS. RUN AWAY FROM MARONDA.

I cannot express enough how true the previous complaints are about Maronda. Simply put their homes suck. I should have paid more attention. They discouraged me from adding a pool to the mortgage and now I am stuck having to get another loan.

When I was first shown this lot at Aosta Valley in Walton, KY, the first thing I noticed as we were looking at the backyard to see where the property would end at was water that was leaching from the neighbors sump pump pipe. I asked Tim, "Would this be a problem to clear up?" and he replied that they would either pipe it underground or swell it off. So I agreed to purchase the lot. GUESS WHAT WHEN THE HOUSE WAS DONE BUILT AND IT WAS TIME TO TAKE CARE OF THE DRAINAGE, the people at the office in Ohio said no it wasn't their problem. And guess what else. When Tim the salesman at Aosta in Walton was asked if we had discussed the drainage situation, he replied that the discussion had never taken place. Folks just get everything in writing because some folks there are like politicians. They will tell you anything to make a sale.

I would not recommend purchasing your home through Maronda Homes, in particular Dartmoor Estates in North Huntingdon. March 25th 2105, we entered an agreement with Maronda Homes in Dartmoor Estates. One of the attractions to my wife in particular was the kitchen island at the model home at the Dartmoor Estates location. My wife inquired about the island and we were informed that this was the deluxe island. As we selected our upgrades, my wife selected the deluxe island. We asked the sales man several times that the island that he had in the model was the deluxe model and he confirmed. My wife even went back to the model with visiting family showing them the island letting them know that this is what she was getting with the sales man and never was informed otherwise.
On March 30th we finalized our upgrade options and again addressed that the upgrade that we selected was the island the salesman had in the model and again was informed that yes that was the deluxe island. On April 16th we had a printed copy that confirmed our selection that included the deluxe island. It was during this time that we also addressed the front porch of our home. We stressed the point that we wanted the home as the portrait on the internet and on the model brochure. The porch only has columns with no railing and is a walk off front porch.
On March 25th we signed a copy of the photo of the Harvard Model that we selected as a walk off porch with no railings and just columns. We even addressed this several times with the salesman to confirm that the home was going to be built as shown on the pictures of the model. We received an email from the salesman on March 31st that the porch was to be just the columns.
It was on Monday October 12th that upon a visit to the construction site that the island that was being built in the kitchen was in no way a replication of the island that my wife and I had been lead to believe we purchased. As I was leaving the construction site, I noticed porch railing kits lying in the garage. I ran into the salesman as I was leaving the plan. I addressed these matters with him as he informed me that they must be someone else's railing or a false delivery as he stated he confirmed that the porch would just have columns. I also addressed the island with him and he had no idea why it wasn't the island that we all thought. He stated that he would look into this matter.
Upon returning my call the salesman stated that it was due to code that the porch needed railings. This code only came into place because the porch was not built as shown on the brochure and/or internet photos that were signed. He went on to state that they changed sometime in March or April and that they also changed the type of islands that they were placing in the Harvard Model that we selected. The issue here was, we as the buying customer were never informed of this and given options.
The sales man stated on Monday October 12th that he would address my concerns with the Maronda Homes VP and that we would hear something the next day. On Tuesday October 13th, we heard nothing from the sales man or the Maronda Homes VP. On Wednesday October 14th, I contacted the salesman whom informed me that he had a meeting with his VP and I would be getting a call first thing the next day.
On Thursday October 15th, around 1 pm we heard nothing from the sales man or the Maronda Homes VP. I called the sales man and he stated that his VP would be calling us. We never received a call from the Maronda Homes VP that day. In fact, Friday October 16th came and by 12pm we had heard nothing from the VP. I called and finally was able to talk to the Maronda Homes secretary who informed me that the VP was out of the office and took a detailed message, she stated that he would contact me first thing Monday October 19th.
October 21st came and again about 12pm we had heard nothing from the Maronda Homes VP. I called at 12pm, 12:02pm, and again at 2pm. I finally called from a different number and was able to get the VP on the phone. We talked about my issues where he informed me that he stopped them from cutting the granite counters. He stated that they could build a different island and I informed him at this point that the island would now never fit in the kitchen. I let him know that I will run over to the construction site and measure the island. I let him know that I would call back within the hour. I went to measure and there was no way that the island that we selected would or could be placed into that home.
I called back several times before I was able to get a hold of the VP. I let him know that the island would not fit. I explained to him that this was the island that we believed was being placed in our home the entire time. He stated that it would not fit, the issue here I explained is had we known this, then we might have not upgraded the island or selected a different model home. I addressed the porch with the VP, as he asked me if I was crazy, how they would build a home with the porch on the brochure in Western PA.
As I explained how the sales man led us to believe that this was the island the entire time and that the porch was being built as displayed on the picture as a walk off, the Maronda Homes VP called me a liar. He stated that this was not what the sales man was telling him and could he go now to call the production team as I was holding back productivity, I requested that we have a meeting with the sales man Himself and his supervisor and he ignored my request. I asked for his supervisor's name and number and he informed me that I would receive a call from his supervisor the very next day and hung up. I immediately contacted the sales man who stated that he would call the VP and we should be getting some type of compensation.
Friday October 23rd, 24th, 25th, 26th, and the 27th came and went with no call from the Maronda Homes VP or his supervisor. At this point my wife and I were thinking this is just another broken promise from Maronda. On October 28th we sent an email to the salesman with several questions to include that the VP never called us back or offered any type of compensations. On October 31st we went to the construction site and had to get the key from the salesman. I stressed to the sales man that again I received no call from the VP to compensate nor received a call from this supervisor, I again stated that we should have a meeting. I informed the salesman of my conversation again with the VP. The sales man was dancing around giving us a garage door opener for the issues.
Island that we thought were getting upgrade cost: $2,190.00, Upgraded island counter top: $1,200.00. Front porch that we added as we thought would be a walk off porch, $8,990.00. Somehow, Maronda Homes, that does not total your resolution: chain link garage door opener: $495.00.

We are currently in the process of buying a home at Dartmoor Estates. The sales person told us throughout the process that the huge ditch that spans most of the yard would be filled in. Now a week from closing, they are refusing to honor that and my entire yard is a ditch. If we would back out of the deal now, we would lose our 8000 dollar deposit. I strongly recommend not buying from them.

I am in the process of building a home. It took 5 months before they broke ground. Hidden expenses and customer service is the worst I've dealt with to date. With the exception of one person. They only care about the bottom line and customer service is the least of their concern. I would NEVER recommend building a home with Maronda. Please look at other builders because I built a home with Centex and dealt with zero of the issues I'm dealing with now. Horrible builder.

Since we moved into our house over 3 years ago we have had problems. Our backyard being one of the biggest issues. We were told multiple times it would be fixed, it still looks terrible. We have huge trenches running all through our backyard. We cannot put a fence or a deck up because of these trenches. Maronda kept telling us that they were going to get to it when they had people in this area again. I have seen Maronda homes being built, there is one going up next door and nobody has fixed our yard. Another issue is our shingles. They told us to call the company that installed them. We did, multiple times. They will not return our calls and Maronda was still being no help.
Finally after 10 months, my husband went ape ** crazy on them and they gave him an email address to contact somebody about our shingles. They then sent us information about a pending class action suit regarding our shingles. So now we are supposed to wait even longer for that to go through! We should have known building with them was going to be a mistake when our original salesmen left the company during our building process and we never found out until we called their corporate office to figure out why he wasn't returning our calls. They never even bothered to assign someone else to us.

The lack of respect and professionalism towards me and my daughter got my daughter disappointed to the point of canceling the deal. The deceiving tactics were also a reason. Now, they also refused to refund the $500 deposit to her, after they say it was refundable.

I was told from the first time we looked at our lot that the drainage issue would be taken care of by Maronda. We moved in on Jan 8th and the issue is still there. We are now being told that this is a civil issue between me and my neighbor. I was told about a week ago that the manager in the West Chester Ohio office is now finally going to review this of course after he gets back from his vacation. Maronda had an estimate of 700 dollars to put a pipe in but someone in that office decided it was not their problem even though that was the first thing we talked about before we purchased the lot. What's so funny is I'm not going to cut a single blade of that tall grass growing through it and it just so happens to be right behind their new model home they are now building. Just can't wait for the customers to ask me about my swamp going across my backyard.
Updated on 07/19/2015: Finally got my answer on 7-16-2015 about the water drainage problem in my backyard. This answer came from the office in Westchester, Ohio. They said it was not their problem. Even one of their own management personnel said I got a raw deal and would help me anyway he could. It all started from that sales rep in Walton, at the Aosta site. I was told when I first looked at the lot the drainage issue would be handled by Maronda or I would not have even considered purchasing it. Just get everything down in writing before closing, Because after that you are at their mercy. It's always about the next house after they get their money.

Dear prospective buyers of a Maronda Home, I am very dissatisfied with the way customer service handles situations. When I called in March of this year about leaking pipes over the ceilings. They told me to find a plumber and pay. This has been a problem since my house was built. They had come to fix the same problems before once plus, the house is breaking outside. It is 10 years for structure and they do not want to repair the outside of the house, nor the faulty pipelines in the bathtubs that they only "repaired" and not replaced. I pay the mortgage for a home valued half for what mortgage is for. I am paying. Please consider carefully before buying a Maronda home. They do not care about your problems, only getting their houses to sell.

I plan to buy new home at curtis farm community, Delaware Ohio. When we sign up the contract in December, they gave me the closing date 30th June. After that they sell more homes and start to build more homes, so they not tell me new closing date until May 5th, and on May 5th they email me that my closing date will 30th July. The another thing that they give me reason because of weather condition to pour foundation. But the thing is that the foundation was done by February, so why they tell me the new closing date in May? I think they tell me lie about reason, the main reason is they sell more homes and they want to finish many home together. Thus Maronda home told me lie about closing date.

I recently had a new home built and I could not be any happier. Everyone was extremely helpful, caring, and willing to answer any questions at any time. From the office, to the construction site, everything was explained fully. We had our walk through with a gentleman who went over every detail with the new home and the warranties. He found some things that, "HE," was not happy with and did not meet his standards so he put them on a punch list to be fixed by settlement time. And they were done. He cared about his work, and the work that the other people were doing, and it showed.
So naturally I was shocked when I read these reviews. I ask anyone who has read a negative review to carefully examine what the complaint is and think about it in a rational manner.

I want to start out and say I read this review before we purchased our home. One thing I will say is they are a cheaper builder but that being said it's what we could afford. Our house turned out very well. When we had an issue the superintendent took care of the problem, the sales rep always returned or answered my calls. My advice would be that if you want a custom home then go to a custom builder, they all have problems. Yes there are spots they missed painting, and the granite is not the nicest slab I have ever seen but what do you expect for the price?
NOW PLEASE READ: We had got our pick on one of the last lots. None of the remaining ones had a great backyard but that being said one would think they could have showed us the nicest lot based on where the house would sit. A few weeks after we signed the foundation was down on the wrong location according to the print the rep showed us. Now I have to look at the neighbor's house every time I go outside and wonder - WTF didn't we take that lot.
I was angry and voiced my concerns throughout the whole process but there was really nothing anybody could. So with that being said, the reps sell you on the house, but if a yard is important to you then don't sign a thing until you have an updated copy of the print and you can get that from the municipality. Also I should not have had to pay and extra 3k for a side entry when a rear entry was not an option.

If you have a home built by Maronda Homes Columbus in the Ohio region or surrounding areas. Make sure "Bryan **" Maronda Home Builder Project Manager and RiteRug (Michael **doing business as Flooring Distributors) are not contracted to do your flooring. That would consist of Capet install, Wall Tile, Floor Tile, Vinyl, Laminate, Hardware, Kitchen Back Splash, Fireplace, Blinds or Mosaic designs - they are rip offs. The work is unprofessional cause they pay subcontractors below market value for their work. The installers are given a limited amount of time to do the best job they can.
If your experiencing any flooring issues within your home call and request a service call. If your out of warranty it will take a month or longer to get someone out there to repair your home flooring issue because your super "Bryan **" will not pay for us to come to your home. He does sneaky business with RitRuge and RiteRug doesn't care. Bryan ** was quoted a flooring repair price on a homeowner's home of approximately $445.00 by a Senior Account Mgr at RiteRug. When a new hire gave him a lower incorrect price for the same repair of approximately $195.00 knowing that was the case he got upset at the new hire cause he was told he was operating under "shady dishonest business practices." RiteRug stood behind him cause even though they were losing money they would make more money in the long run with other contractual properties. Check you flooring with Maronda Homes.

During a wind and rain storm on Sept 26, 2014 rain water came streaming into our Maronda home through the ceiling. I contacted a Maronda representative, who opened a work order for repairs from their vendor. I advised that based on the amount of water coming in the house that I would need to place a tarpaulin on the roof to prevent serious water damage to the ceiling and the contents of the home. The representative agreed and told me that I should work with their vendor, Artistic Roofing. After several attempts to contact them and on the advice of my insurance company, I finally contacted a local company to obtain a tarpaulin.
The local company responded within an hour for an emergency service and charged me $700.00. Maronda's vendor eventually made the repairs to the roof by securing the roofing material that was not installed properly around the turtle vents at no charge to me. While I am grateful they stood behind their work, and they apparently fixed the problem, they refuse to reimburse me for the cost of the tarpaulin because it was not installed by their vendor. Had I waited for the vendor who finally returned my call (by e-mail) three days later before installing the tarpaulin, there would have been extensive water damage to the property.
Maronda Homes Company Profile
Company Name:

Maronda Homes

Website:

http://www.marondahomes.com/