Consumer Reviews and Complaints

I bought a brand new 2010 Troy-Bilt riding lawn mower. After only a couple of years, seven to be exact the transmission is gone. Plus they told me the transmission are on back order. What does that tell you. I have replace numerous deck belts and blades on this mower. The cover to where grass blows out has been broken since year two. I cannot even found a replace cover. I will never ever buy another Troy-Bilt product again. That lawn mower should have lasted a lot longer than seven years.

Well designed mower. Quick and maneuverable. Has feature that when enabled allows mowing in reverse, otherwise a rear moving operation disengages the blade. I have about 3 acres and it takes almost an hour to mow... Love the mower.

Purchased a Troy-Bilt push mower brand new from Lowe's in Harrisburg PA. Had to return the mower immediately because of engine issues. Purchased extended warranty and then moved to Florida 2 months later and the mower goes out AGAIN! Lowe's in Florida insisted on sending the mower to the warranty company who said the blade which was bent which did not occur during one of the 2 mowings the mower was used for. Wants me to pay $389 to repair a $160 mower. Mower is returned to store and store offers a refund of the $25 warranty only. The brand new mower is sitting in the shed since it is a piece of crap. Will never buy another Troy-Bilt. I did complain to the Better Business Bureau about Lowe's though.

I've bought 3 weed eaters in the last 7 years. All Troy-Bilt. Same thing keeps happening, won't start or just stops working. I have also bought a troy bilt power washer, 2 years later pump goes out. So now I ask, stop building this ** or build it to last longer than 2 years. I will never buy this ** junk ever again. I also hope everyone can read this.

Model TB22 EC trimmer 2 yrs old. Without the battery hand held starter, my arm would have fallen off. This, from day one. My real beef is with the trimmer head. Installing new line is a PITA. Carefully following video instructions is no help. Trimmer line stops feeding within a couple minutes of installing. Various after market products are clutzy at best with heavy adapters. I'd love a product called, "hammer head" but it's not available for this model.
How do I know I can trust these reviews about Troy-Bilt?
881,173 reviews on ConsumerAffairs are verified.
We require contact information to ensure our reviewers are real.
We use intelligent software that helps us maintain the integrity of reviews.
Our moderators read all reviews to verify quality and helpfulness.
For more information about reviews on ConsumerAffairs.com please visit our FAQ.

5 weeks ago today... my Troy-Bilt 22hp XP Horse 46 inch cut riding mower had suddenly made a shrill whistling sound and then flames erupted from under the engine cover - nearly burning my face. This was followed by a BANG. Fire equipment was required to extinguish the blaze. Tractor was well maintained and was recently in the AUTHORIZED Repair Center for some minor electrical wiring damage that was caused by field mice--gnawing on a battery feed.
At the time, I had just completed the cutting of about 3/4 acre of grass and was driving it back to my house. Fire Officials were clueless as to how 2 large holes came to be present on the engine block. Well, one of them was caused by the 3 gallons of burning gasoline from the plastic fuel tank. The other was from the area of the cylinder wall that blew apart. Yes, I secured the area of about 50 feet circumference and found the chunk of jagged metal... A corner piece. Took photos of everything. That piece fit the hole... and is being maintained as evidence.
My Homeowners policy paid the difference for a replacement tractor... but I'm out my $1000 deductible. Can't find any attorney to take on this case... since Troy-Bilt is a China based company. AND... according to Troy-Bilt Legal... they knew of these case of fire and explosion and have done nothing to notify their customers. They even post and maintain a website of recent fires that are caused by their many products... not just riding mowers. I'd like to file a lawsuit. I could have been seriously burned, killed and my house aflame.

On April 23, 2017 I purchased a Mustang Fit 34, Troy-Bilt from Leonard's Ace Hardware in Russellville, AR. Mower was manufactured on 3/17. Less than 4 months later the machine shredded the transmission drive belt. We connected Troy-Bilt to find a dealer with the part. Called 3 different ones and ALL said they could not even identify the part. A second contact with Troy-Bilt got a list of supposed dealers that would "repair" and have parts. We contacted 2 of those and NEITHER serviced Troy-Bilt any longer!
We found online documentation that claims the drive belt has to be replaced by a PROFESSIONAL SERVICE person and requires removal of parts requiring custom tools. And yet we can't find a service/dealer in our area. Leonard's was NO HELP. I will be writing a review on them as well. They sold me the machine yet had no parts, could not supply me with a person that could/would repair. They would not take back the machine because it was "used!" That's why I bought it - to USE! It was used maybe 6 times. I suggest you NOT BUY ANY TROY-BILT product and do not buy anything from Leonard's Ace in Russellville, AR.

Received a Flex for Father's Day. Wife brought home and when opening the lawn mower attachment it looked like it was a dropped box. The front left caster was bent but still driveable. Machine felt like it was loosely built yet little did I know about future issues. After one year of use the actuator plastic engagement cable snapped off the round engager at the base. Called Troy Bilt and was referred back to Lowe's. Lowe's then wanted to charge me for shipping to a local authorized dealer. Took the machine to DEGENS and was met with the question "What kind of machine is that?" They never seen a Flex before.
After paying for a deposit of $100 for the service and a month later I was told to pick up the unit because Troy-Bilt would not cover the warranty. The reason was that the unknowledgeable mechanic told Troy Bilt that I used the machine as a BRUSH HOG. After numerous attempts to Troy Bilt they decided end the warranty. So now I have a base with no attachments. NEVER BUY A TROY-BILT PRODUCT. THEY WILL NOT FIX YOUR ISSUES.

Bought a 18" 42cc chainsaw and after a few hours of use the pull start broke. Bought new pull start as warranty was up and after 3 pulls that broke. Got angry and went to buy a Poulan. Couldn't give away the chainsaw. So I decided to phone Troy-Bilt about replacement part to get it running and I'm told it's obsolete and no way can I get parts and that it's now garbage. So I am Throwing away a chainsaw with less than 10 hours use on it. I will never buy a Troy-Bilt item again.

I purchased a Trimmer from the that can have attachments. The Trimmer Broke within 2 months, the Crank to start it broke on the back. I exchanged it at Lowe's. I decided to buy the Trimmer Plus Chainsaw and the Nuts that cover the chain just turned repeatedly so I literally had to take the oil Chain container off every time. I will NEVER BUY TROY-BILT products ever again.

I've owned this mower for about six years. It's always started on the first or second pull, ran pretty well and cut the lawn about average. About a month and a half ago, the mower started misfiring and stalling after about 20 minutes of use. After checking the plug and installing a new air filter, it still continued to stall after the motor would come up to temp. I took it to a local mechanic who told me it was a bad magneto. After a week and a half, he called me and told me he's exhausted every contact he's got and he cannot locate one-anywhere. I get on Troy-Bilt's website and try to find the part there. It's showing in stock and after an online chat to confirm the stock, I ordered it. It came in completely wrong. I contact TB, who email me a UPS label to ship it back to them. I then have to drive twenty minutes each way to the the UPS Store and wait in line there so I can return it. I then re-order it through Troy-Bilt and it comes in wrong again.
I again have to run to the UPS store to ship it back to them. After some research, TB refers me to Briggs and Stratton. Briggs email me a parts list and a picture of the magneto. I confirm that it's the correct part and I place an order directly through them. The part comes in- and it too is wrong. Not even remotely close to the magneto I need to replace. (I am now about 10 hours in on phone calls between Briggs and Troy-Bilt and a month in trying to get this part. A few hours running back and forth to UPS and multiple trips across town to borrow a mower so I can mow my lawn and then driving across town to return it).
I again call TB, the rep there told me he has the part. It's the correct one and he's going to ship it to me free of charge because of my troubles. Great! The part shows up. Wrong again! So, now it is confirmed that the part I need is not available through either Troy-Bilt or Briggs and Stratton and I now need to replace a six year old lawn mower that is in otherwise perfect condition. Troy-Bilt offered me a paltry 15% off the cost of a new mower and offered to ship it to me for free. Fifteen percent off, for hours and hours of frustration. Hours driving back and forth borrowing a relative's lawn mower and returning it. Hours going back and forth to the UPS Store to ship back incorrect parts. Needless to say, I am not happy with MTD, Troy-Bilt or Briggs and Stratton.

I purchased from Lowe's last summer a Troy-Bilt riding mower. I bought this mower because Sears wanted 100.00 to deliver a new mower. I wish I had paid the 100.00. I am actually afraid to use this mower. It shakes and rattles. It's awful. Had to have it repaired. This week he balanced the blades and something about a pulley and he said you get what you pay for. I'm still afraid of it still shakes and rattles. My Craftsman lasted for years and had 2 repairs on it. I miss it. Won't buy anymore Troy-Bilt products.

I purchased a brand new Troy-Bilt mower in Feb. 2016 from Lowe's. In May 2017 the PTO (Power transmission) cable snapped. A month later the steering shaft gear failed. When I inspected it, it was completely shorn and the steering wheel just spins around. I'm very surprised and disappointed at the poor quality of the mower, especially since it is so new. Too bad since I like the way the mower cuts grass, but I would not recommend that anyone buy a Troy-Bilt mower.

Bought a Troy-Bilt 42" Zero Turn Mower from Lowe's in June of 2016. The main reason I bought it was salesman said it had a 3 year full warranty. In less than a year I had to put 2 sets of blades on it and then in May of 2017 the starter solenoid went out and the deck broke at the chute. I called Troy-Bilt and they sent me to local business to repair under warranty. When I took it in Troy-Bilt refused to honor the warranty on deck. I will not buy another Troy-Bilt product.

I bought a Troy-Bilt Bronco riding mower in 2009. It was the biggest piece of junk that I ever owned. It threw or burned up a drive belt or mower belt at least once a year. I had a 15 year old Craftsman mower that I never replaced a belt on. I honestly bought extra belts and springs for this mower since it was constantly having an issue. I would like to say that my issues were only limited to belt issues but I also had issues with wheel joints as well. Do not buy Troy-Bilt riding mowers from Lowe's. Trust me -- you will regret it. Spend an extra $1000 and buy a John Deere as 240 model. That's what I did.

Purchase the new home and July 4th 2016 decide to buy me a riding mower Bronco Troy-Bilt and also a push mower. It's been a total of 11 months now and both of them are broken down. The riding mower spews oil all over the place and thick white smoke. The push mower also spews thick white smoke. I have had these two items less than a year. Find it very difficult to find a repairman to do in-home service. I'm having difficulties finding my receipt so I can't get any help but I'm going to keep looking for this receipt if it's the last thing I do.

3 years ago I bought a Troy-Bilt lawn mower from Lowe's. Every year I have had to take it in for new fuel lines, carb and spark plugs. I have done everything they told me to do for storing it to the fuel lines. The damn thing still will not start. Troy-Bilt or Briggs and Stratton say there nothing they can do for me. I WILL NEVER BUY A TROY-BILT PRODUCT OR SOMETHING WITH A BRIGGS AND STRATTON ENGINE IN IT. THEY ARE ALL A BIG PIECE OF **. Do not buy them!!!

I had a Troy-Bilt trimmer which was pretty good. The battery no longer holds a charge so I went looking for a replacement. The battery was not only discontinued but Troy-Bilt has no replacement! Basically, the only way to replace the battery is to buy an entirely new unit! The service representatives at Troy-Bilt confirmed that as well. So, while I will buy a new trimmer, it will not be a Troy-Bilt. If they did that with one model, what is to stop that from being their normal process?

I took my power washer in to be repaired and told to call back in a week. I called back and was told it wasn't back yet but she would look into it. Then I get a callback and she tells me it would be another week and it was covered under warranty and back in another week. I call the next week and was told it still wasn't back and was not covered. How can one person tell you it is covered and the other it is not covered? But the kicker is they want $369 TO REPAIR IT AND THE MACHINE ONLY COST ME $300 NEW?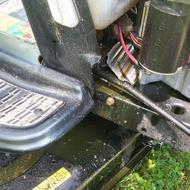 Purchases 2016 Troy-Bilt hydrostatic horse from Lowe's last May... had 34 days. Wouldn't move. Troy-Bilt did pay to have it picked up. Replaced drive belt. Cool. Now go out 2nd time this season. Mower made a funny sound but still was running. I cut off. Waited 20 minutes. Checked oil. Was full. So started up. Throttle half way and a heard a big clunk. Mower still was running. Cut off and looked under oil everywhere. Raised hood and a 6x6 piece of motor laying on deck. SMH. Problem now. When you call Troy-Bilt they send you to Kohler. Kohler sends you to dealer. Dealer says our hands are tied until warranty people. Meanwhile I said PEOPLE contact them. SMDH. Do runaround for over an hour. Finally Lowe's gets involved. Now waiting for 24 hrs for return call from warranty company. SMH. DO NOT BUY TROY-BILT. CRAPPY CUSTOMER SERVICE.

I purchased a brand new Troy-Bilt TB110 mower from a local dealer. Brought the mower home, open it up, read the setup instructions and proceeded to attempt to start it. Nothing. Checked the fuel line, checked the spark plug (good spark) and the intake. All seemed OK but the mower would not start. Returned the mower to the dealer and got another brand new TB110. Same exact problem!! It will not start no matter what I do. The product guarantees the mower will start in 2 pulls. I pulled 25 times off and on over an hour. There is no choke or throttle adjustment on this model because it is a 'ready start' foolproof system. Sadly I went online and found that this is a problem with Troy-Bilt mowers these days. Biggest piece of junk I have ever bought. It is going back to the store and I am buying a Husky.

Purchased a Troy-Bilt lawn trimmer last summer and it has been nothing but trouble. Hard to start, shut off in the middle of trimming (when it does start), three trips to the "certified service technician" and now it will not start again. Done with Troy-Bilt. A MONKEY WITH A CRAYON COULD DESIGN A BETTER TRIMMER. Thanks for nothing. I would have given less than one star, but your system won't let me.

Three years ago I purchased a 175 CC power sprayer from Lowe's and used it once. The next time I tried to use it but it wouldn't start. I spend $100 and have the carb rebuilt and use it once. Got it out again yesterday to wash the house again and it refuses to start. Junk - yes. I drain the fuel after each use and store it indoors.

Troy Bilt Horse XP riding mower - When cutting grass the lawn mower will run for about two rounds and then will sound like it is running out of gas and it will be full and then just cut itself off. Numerous parts have been replaced and this doing it. Has been like this for 2 years now and the mower isn't but 3 years old.

April of 2016 I bought a Troy-Bilt trimmer. After only 8 uses the head stopped turning. Took it in to a repair shop and was told the gears are worn out. There was no teeth left on them. Took it to Lowe's and got a replacement. Used it 3 times and put it up for winter. I followed the owner's guide for winter storage. Got it out for the first time this year and it will not stay running. It runs for a short time with the choke on, but as soon as you take the choke off, it dyes. I bought this piece of crap because of the reputation they had. Now I don't think it is worthy of setting on fire. BIGGEST waste of money I've ever had.

The steering shaft had to be replaced after one year of use and it's not repairable. The metal is walled out and welding will not hold to this cheap crap. The woman who bought it has very little funds and unfortunately bought it at a box store which do not sell equipment built for rural areas. Don't buy anything from a box store for your lawn if you live outside a city. Cheap disposable equipment I would not sell to a third world country much less Americans. Troy-Bilt products blow dead bears!

I bought two New Troy-Bilt mowers at the end of the summer in 2015, I have had nothing but trouble with them... The riding mower stays engage all the time or it won't engage at all. And now it runs on high because I can't get to go from fast to low. The push mower won't run at all, took it to the shop last summer and had it worked on and when I got it back it still wasn't running right and now it won't run at!!! It is a shame when you spend that kind of money on mowers that you can't even mow with. When you go buy something new you don't want to have something wrong with every time you try to mow!! I can't afford to have them fixed every time I need to mow!! And I can't afford to throw money away like that. So I got a new push mower I can only look and a riding mower that never runs right... Y'all's mowers are a piece of crap. That is how I feel about them!!!

First purchase... Out of the box and would not start. Took it back to Lowe's and after a laborious effort got another one. Amazingly, the engine started right off every time but on 3rd or 4th use one of the wheel locks (for adjusting the deck height) came loose and the deck was touching the ground on one side. After spending 2-3 hrs to fix, realized the deck got a little bent... The front cheaply-made plastic (apron) lost its shape and the whole machine does not move well.
Called Troy-Bilt customer support (located in Dallas, TX) - Rose had not any tech experience and her supervisor Amanda was super-defensive, interrupting me all the time... Just the wrong person to talk to. I will be taking the mower back to Lowe's and try to forget the whole nightmare. All in all, although the Honda engine seems very well built (strong, quite, efficient) the rest of the mower is just bad quality. Combining that with ugly customer service and you got me a lost customer FOREVER on any Troy-Bilt product.

Bought a Troy Bilt mower from Lowe's. Used it two times last season. Got it out for this season and it will not start. The couple times it did start, it would rev up and down and sounded horrible then would just die. Took it to Lowe's with my receipt (less than 10 months) and was told their policy was 30 days. How can you tell if a lawn mower is good in 30 days. Asked for an exchange to a nice model and would pay the difference. NOPE. It has to be repaired. Looked this particular model up online and saw it had hundreds of bad reviews. DO NOT BUY THIS PIECE OF CRAP! I will no longer shop at Lowe's or buy a Troy Bilt product.

I have a Troy-Bilt TB685EC, which came with the string loaded. I got it late summer last year, and used it a couple of times. Got it back out today and of course the string broke off inside the head. What a nightmare getting the tap head off! Once the string was removed, following the manual instructions explicitly, I struggled for more than 45 minutes to get the new string in. The manual stated to use 20 feet of 0.095 string. The spool would only accommodate about 12 feet, and it never did go all the way thru the housing like the manual says. So I threaded in from both sides, and that was an equal pain in the ass. Once that was accomplished, I was able to use the trimmer for about five minutes before the string broke off, inside the head again. I'm going back to Craftsman. The last craftsman I had lasted almost 15 years. This Troy-Bilt is a piece of crap!

ConsumerAffairs Research Team
The ConsumerAffairs Research Team believes everyone deserves to make smart decisions. We aim to provide readers with the most up-to-date information available about today's consumer products and services.
Troy Bilt created an innovative rototiller design in 1937 and continues to create quality equipment.
American built: Troy Bilt equipment is manufactured in the United States.
Multi-speed: The multi-speed transmissions provide better control during the mowing process.
Rear engine: Rear engine models offer a compact option for homeowners without a lot of equipment storage space.
Steel frame: A steel frame adds to the strength and durability of the riding mowers.
Financing: Troy Bilt offers financing for their riding mowers and equipment.
Best for Residential homeowners get a good combination of price and quality.
Troy-Bilt Company Profile
Company Name:

Troy-Bilt

Year Founded:

1937

Address:

5903 Grafton Rd.

City:

Valley City

State/Province:

OH

Postal Code:

44280

Country:

United States

Website:

http://www.troybilt.com/