Consumer Reviews and Complaints

There was a problem with the dishwasher draining with an HE error message. I used the chat service with Sears, they were to come over the next day with all the repair parts and fix the machine that day. When they came over, they had a cursory glance. Without checking anything with the machine, they said two pieces probably need replacing, they would order them, and it will take two weeks. When I called customer service, they were a nightmare. Their basic response was "That is the way we do it," and refused to connect me with a supervisor or give the number for Sears corporate. I have contested the financial charges. This ALMOST LOOKS LIKE BAIT AND SWITCH.

The service company has been here 8 times when they show up. Dishwasher has been out since June 12, still not fixed. They will not honor the warranty. I guess since they're going out of business they just do not care.

Each Times Sears Home Warranty send out A&E to repair. Excellent technicians who have tried everything and replaced numerous parts only to fail again. Last repair technician said, "If this doesn't fix it nothing will and tell Sears to do a deal with you for a replacement." Next day dishwasher failed again. 4 Calls to Sears Home Warranty - all promising to call back within 24 hours and arrange replacement. Never phoned back. Second last call lasted 45 minutes whilst dumbo on the line tried to work out what she should do. In the end I gave up and phoned in the next day and finally got connected with someone, James who said he would take care of it. Checked all the service records and could only go back for last 6 repairs as all previous had been wiped clean with no further details. Therefore in his mind that was my problem not his.
As such not prepared to honor any liability to help me replace the dishwasher other than saying they will nominate another repair service other than A&E who they might trust to do a better repair. I have no idea whether I will ever get any satisfaction from Sears, but as I have no intention of ever dealing with them again, probably won't matter. Today the dishwasher took 6 attempts to get it to work and I will do the sensible thing and buy a new one from either Lowes or Home Depot. I will also cancel my Sears Home Warranty renewal. I should have the Consumer Affairs reviews on Sears Home Warranty before ever signing up with them and saved myself a lot of aggro. Clearly my poor experience is a common problem.

I bought a dishwasher and refrigerator, Kenmore brand. After a couple times using the dishwasher I noticed a bad odor. I called the Jackson store and was told it was my fault as I didn't use the machine every day. Also the owner told me whoever hooked up the garbage disposal last year didn't do it correctly. The next day I noticed my wood floor was damaged in front of the machine. I called service. Took almost three weeks to get someone out. He said a bolt was loose from the factory making the machine leak. I noticed the machine is a lot noisier than before. Almost like the arm is hitting something. Never will I buy another Kenmore. I will stick to Samsung products.

My dishwasher started leaking recently. I found water spinning out from the shaft of the pump and suspected a failed seal between the shaft and the base pan.
Called Sears home repair, got an appointment for Wed 6/28. The person on the phone tried to convince me to buy the home appliance warranty that would cost $49/month but I politely declined. Few days before the appointment, got a call saying a tech has been injured and my appointment has been pushed out by one week. So the new appointment is 7/5. Got multiple reminder calls on my home phone and cell phone, along with email reminders.
Finally the tech came as expected. I described the observation and my speculation to the tech. He did a quick check and confirmed that the seal needs replacement. He also will replace the whole pump assembly because moisture has very likely gotten into the bearing. The total cost would have been $514. He immediately told me that I am getting 50% discount with a total home warranty contract. Then he explained the contract costs $69/month that will cover any repairs of all home equipment repairs.
I asked whether it makes sense to buy a new dishwasher if I don't want the total home repair warranty. He quickly helped me found a $399 dishwasher on Sears website. With tax, delivery, installation and disposal charges it would total to >$700. He immediately tried very hard to convince me to purchase the $129ish extended 3-year warranty. After I sternly declined all the offerings, and showed him Costco has similar dishwashers that offers free delivery, installation and disposal, we started to process the payment for today's home visit charge of $59. The payment process felt like taking forever. It was obviously a pretty antiquated system that requires doing same thing twice.
Of the ~45min the tech was here, less than 10 minutes was spent on diagnosing the issue and discussing the options. 40 minutes was him selling hard on those highway robbery crap and me repeatedly refusing them. The other 5 minutes was processing the payment. It was so irritating. Before he left, he wanted me to give him 9 or 10 rating for the visit. About 10 minutes after the tech left, he called me and told me that he forgot to close the service call. I wasn't sure what else I need to do in order to close the service call. He said he would bring somebody else on the line to finish the job. So I waited for him to bring the other guy online, and only to discover that was a after-service survey. I declined to participate because I need to go get my new dishwasher from Costco.
All and all, I got the clear impression that Sears must be super desperate and are pushing their service and repair guys super hard to sell those highway robbery crap. I wonder whether they may get a commission for any deals. In my humble opinion, when a company turns every customer service opportunity to aggressive cross selling with no regard of customers real interests, they are destined for doom in no time.
How do I know I can trust these reviews about Sears?
883,201 reviews on ConsumerAffairs are verified.
We require contact information to ensure our reviewers are real.
We use intelligent software that helps us maintain the integrity of reviews.
Our moderators read all reviews to verify quality and helpfulness.
For more information about reviews on ConsumerAffairs.com please visit our FAQ.

After receiving a very damaged new high end LG French Door fridge from Home Depot after a 3 week wait, we rushed up to Sears and bought the same fridge with a 3 day delivery. We were thrilled when they called and arranged delivery as scheduled. Here's where they dropped stars… Third party delivery guy made no effort to fit it through a door to kitchen (we paid extra for install and takeaway). Told us when we got it in to call and he'd come take the old away as he was in area all the time.
I removed the doors and drawers from the new fridge and walked it into the kitchen and installed it. Removed old and left on my front porch for him to pick up. I called delivery guy and he said he was right around the corner but I had to call Sears which I did, got overseas customer service and explained the fridge sitting on porch and delivery guy around corner. She scheduled pick up a week away. I stressed that he was around the corner, waiting for her direction, she agreed. At days end, I called again to hear it was scheduled for a week away. I will pay someone to take it away. It's too bad because this was almost a 5 star rating and I felt great contributing to Sears which is struggling. I need to purchase other appliances which won't be from Sears and I'll cancel my $500 maintenance contract as their customer service is beyond hope of ever being an effortless service call.

My Samsung dishwasher that I purchased at Sears on 3/31/15 has been broken since 3/17. I have had numerous (6 or 7) repairmen visits, with many, many parts replaced, only for it to break down that night or the next day. There were 3 service calls where Sears replaced parts. Sears says the contract requires 4 repairs with replaced parts. Why do they keep insisting on repairing a faulty designed Samsung dishwasher, only to have the same problem. It leaks water all over my floor and flashes LE, makes a horrible noise, and then turns off. In the last service call they ordered parts the cost over $900.00. Why do they keep putting money into a LEMON. I want a new dishwasher. Enough is enough. This is why I purchased an extended warranty, and all Sears does is fight with me & they keep sending out repairmen. The repairman, who works on dishwashers for 30 years, said that this is the worst dishwasher ever made.

We bought this Kenmore Elite dishwasher for over $800 in 2014. It has never really cleaned the dishes all that great (especially for what it cost), but the reason for this post is that in late 2016--it was barely two years old--it started not cleaning at all. We called for a repair (and they canceled on us three times before they came, telling us that the service person "was sick" on three separate scheduled visits two weeks apart). Finally, the guy came and said, essentially, that the inside drain valves were plastic/rubber and had eroded, which made the water drain right out as soon as it filled. The cost to fix it? $679! I explained that was the cost of a new dishwasher, almost. He sort of shrugged.
I'm so pissed. If I'd know the dishwasher was disposable, I would have bought a much cheaper one. Going forward, I am never spending that much on a dishwasher again and I'm doing my homework. And I'm never buying anything from Sears (this dishwasher was purchased along with several other items and the other Sears item--a Kenmore Elite--is equally terrible).

Having been a Sears customer for over 50 years, my husband and I sent back our charge cards to the CEO of Retail, because many of the company's products are now substandard and unreliable. Dishwashers are suppose to last 9 years. Since 2014 we have had to replace the sprinkler wands, door latch, dish rack sliders, and now the computer panel needs to be shaken to work. Sears has offered 10% on a new dishwasher (they always have this sale), or a service agreement for around $300/yr (we can buy a new dishwasher at $300/yr in 3 years instead of repairing an old one). We put away money for a few expected repairs, but so many major repairs needed in such a short time is alarming. Consumers have to put out a lot of money for a service agreement or to hire an independent company to service their products as they break down, even on top-of-the line products. American consumers are trapped.

I bought a top-of-the-line Bosch dishwasher and had Sears deliver and install it. I also purchased the Sears Master Protection Agreement that purports to provide the "Guaranteed BEST Coverage in the industry". It - in fact - does not. Two nights ago the dishwasher stopped and the control panel had an "E24" error message. I called the extended warranty number and the "technician" at the other end told me that this was caused by a blockage in the associated plumbing and was not covered by the warranty and that I should have a plumber look at it. So I called my plumber and he said, "there's nothing wrong with your plumbing, but the guy who installed your dishwasher did not do it right". So I paid him $150 to fix it and looked to Sears to reimburse for my out-of-pocket expenses.
After 2 hours on the phone and 5 or 6 different "experts" I was told that since the installation was over 12 months old Sears did not feel obligated to cover this cost, despite the fact that the installation was demonstrably faulty. Bottom line: there is a good reason - actually a VERY good reason - that Sears is heading the way of the Dodo bird. Poor service, poor customer support and little, if any, concern for their customer satisfaction. My advice: buy your appliances at Costco or Sam's Club. The sooner this dinosaur is dead the better.

Sears use to be a good place to buy appliances. Not anymore. I purchased a dishwasher from them. Four months later it stopped working. The repair people they send out don't care. The first appointment I had with them I requested they call me so I could open the gate to my driveway. They came, never called, just left a sticky note on mailbox. I rescheduled. The next time they were a complete no show. Rescheduled again. They came out this time said it needed a relay switch and has to order part. Had to contact them to find out if part had come in so they came out again said it needed another part so they have reordered another part.
I wish I had read these reviews before I purchased anything from them. I never will again. I don't see how they stay in business. My co worker said he purchased a fridge from them and had problems. And after the repairman had come out, it was not better but worse. You don't want to do business with this store trust me. Don't go there. Take your hardworking dollars elsewhere. I didn't mention the time I have had to take off work to meet these people trying to get this fixed. Beware.

I ordered with help from "live chat" on Sears website. He assured me they would install when they delivered the dishwasher and washing machine. AND I paid extra to have the old ones hauled away. They told me they could not install them. They told me it was an additional $130 to install dishwasher. So you don't mention that when you buy the $279 dishwasher? That there is an additional $130 to install it? That is a 50% markup, completely unexpected and downright criminal. But you take my money to haul it away knowing you can't hook up the new one? Customer service speaks fast, says the same paragraph over and over and is hard to understand. Overall a horrid experience. Don't buy here!

My expensive splurge on the top-rated all-stainless Kenmore Elite Dishwasher 12783 has become extremely upsetting. The dishwasher leaked underneath, causing some cabinet damage but luckily my floor is tile on a slab. A wonderful and honest repairman came out, and after an hour of careful diagnostics he was incredulous, told me he thought I should complain to Sears. First I decided to research a little, and after much reading it turns out I am not the only person having this problem with this high-end dishwasher. I am at a loss as to how to next proceed.
From my reading, it appears Sears hasn't yet recognized that this is a defect, and the repairs recommended are expensive - varying from technicians replacing the entire sump or the entire motor - yet the replacement isn't always solving the problem. I also read a few customer reviews stating they determined that a gasket was installed incorrectly (upside-down), and they ordered an inexpensive part and repaired it by themselves. I certainly don't want to be abused by Sears overcharging or incorrectly diagnosing the problem. All descriptions of this leaking issue sound exactly the same! A dishwasher of this caliber should NOT be having such a problem.
How do we customers get Sears to recognize this common defect and take responsibility for the repair? At this point we are hand-washing rather than paying several hundred dollars for a repair that genuinely sounds as if it should be a recall. Is there any way to gather forces to demand that Sears look more closely at what seems to be a common defect? Such a disappointment to purchase the top recommended model, be faced with a truly unexpected and expensive repair, & then find that many other customers are having the exact same leaking problem.

We purchase the Sears Kenmore ultra wash - quiet guard standard dish washer in 2007. In 2009 the circuit went bad. I call Sears, they said it's out of warranty. I paid 320 to replace the board, fast forward to 2-20-2017 that same board gone bad and now cost 425 to replaced. I am so dissatisfied with that brand, with 2 yrs the main board went bad and then went bad again. Not a well-made product, not a happy customer.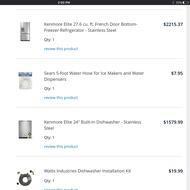 Had dishwasher for just over 2 yrs and we had water on our wood floors which were damaged. Called Sears, made a service call, had to wait almost two weeks for services to come out. When service person came out he said would cost $269 to repair and said it was the pump and also said "that is what you can expect." We paid over $1500 for what we thought was the best after talking to sears sales. You can't talk to anyone in the US about your concerns only someone from overseas that reads off a computer and not willing to help. If you think you're getting a quality product/service from Sears it's not the case today. I spent over eight hours on the phone and most on hold and being transferred, it's BAD. I even purchased the Sears Protection Plan, was told repair would happen on FEB 28 and the day of was told by the services to ask of a refund on service agreement because he was told not to service by Sears. Sears charged my credit card but will not service.

We have had services out several times and called their Customer Support. Nothing has helped our issues with this expensive dishwasher(Kenmore Dishwasher Model 665 12783J311). It does not clean well, the top tray continues to slide out when you open the dishwasher and the "small" holes in the rotating wash devices (2) continue to clog up. We clean the filter in the bottom every 3-4 days, clean most all the food off our dirty dishes and we still have these issues. Very dissatisfied with this product.

We bought a dishwasher in early 2015 to replace one that was around for roughly 10 years or more. The new fancy dishwasher came with all the bells and whistles and cost us well over a grand new. We bought a 5 year warranty too just to cover the thing. Then the troubles began... 3 months out was the first break down I believe it was. The washer wouldn't heat properly. They replaced a control board. A month later it wouldn't wash at all. No water. They replaced the pump. So we said, "Look, we want a replacement. There is no reason something this 'new' should breakdown in less than a year." We got a replacement. What they neglected to mention was it reduced our warranty value. Why? You see the warranty covered "up to" the amount we paid. They picked out some discount clearance 400$ washer without saying anything like this. They really screwed us over doing this.
Our washer got home and installed. Every month or two it was the same story. The washer would breakdown and not wash properly. They would then send a tech sometime taking in excess of a month to fix the washer. Then the cycle would repeat. Here we are today. We were so sick of it that we told them they were giving us a replacement. Customer support, I don't recall which department now, said they would do it. This is when we were first notified our warranty was only worth 400$ and why. My washer was suppose to be delivered on December 31. Which at that time I had already been more than a month without a dishwasher. When I called asking where it was they said it wouldn't be delivered until January 6 due to shipping delays.
So I am waiting here right now. Typing this up as I wait for a delivery. A delivery I might add which was suppose to be between 830am and 1030am. It is now 1210pm (just after noon), almost two hours past the delivery scheduled times. I called the Sears delivery line a while ago too to try to find out where things were. They said, "They must be running late with their deliveries. They have not called in to update us but if they do we will let you know." This is why we are never buy ANYTHING from Sears again. There has been too much trouble with them. Everything breaking, no accountability, and on top of that their own employees have told me that Sears uses refurbished parts. Now don't get me wrong. I don't have anything against refurb... if it works. My own paper shredder is refurbished and works great. If it is going to break down every month though...

My 3.5 year old dishwasher went flooding my kitchen and destroying my hardwood floor. The Sears technician said it was the motor and gave a repair estimate of $468.52! Since this is a single person household the dishwasher was used very lightly. I asked the tech how the motor could have gone so quickly and the response was, "It is a design flaw." Sears.com's response to me was, "Sorry, there is only a one-year warranty. Cannot help you, take it up with Kenmore!"

Sears chose an installer to put in my dishwasher Aug 3. The installer popped open the seam of my Cambria countertop above the dishwasher. They sent an examiner Aug 10 who said their fault, sorry, will repair. It's now Oct 27. I call repeatedly; Sears promises to resolve it and never calls back. This isn't debated; everyone agrees that the install wrecked the counter. They just won't authorize repair/payment. You would think that I've just dropped to ball right? No company would be this unresponsive to a concerned customer that they have wronged. Well, here's my efforts:
Order: #** July 29. Installation Aug 3, installer popped open the seam. Examination of damage Aug 10 by installers head plumber. Promised to get it repaired by Keith. No action, called Sears 1800-4974402. Case # ** assigned. No return call. 9/19 Sears Manager Christine assigned damage claim #245236. Will call 24/48 hours. No call. 9/21 Sears Manager Angel said she would check and call me back in 24/48 hours. No call. 9/26 Sears Manager Ephan called the installer with me on the phone. Mindy from installation company said they would pay. She contacted Cambria Company. Cambria sent a technician who took 50 photos and said it was installation damage. They arranged Innovative Services to repair. Innovative called the Sears Installer and found that the Sears Installer company was out of business.
10/18 Sears Manager Heather emp # ** said she was sure she could get authorization for repair caused by installer but her team had to review it. She would absolutely positively call back in 24/48 hours. Got a new claim # **. No call. 10/18 Sent email to Sears Customer Service asking for help. No response. 10/20 Sent twitter to Sears Cares; they didn't. 10/27 Sent letter to Sears Corporate Office in IL, Customer Service. 10/27 Called Sears Customer Service chat line. They said they are sure it will be resolved and I should just wait more.
10/27 called for Heather. Got Manager Lena. Lena claimed our call was breaking up and said call back. 10/27 Called back immediately. Lena is gone. Waited on hold for 40 min. Got Faith **. Faith said she'll need to look into it and there's not documentation as to why Heather didn't call as promised. Asked for reimbursement right now of $200. Faith said she needs to look into it, will call back next week Friday. In 8 days. Got a new claim # **. So my message is, don't let Sears in your house. I can't fathom why their customer service staff have no authority to pay to correct the damage that we all agree on. Instead I get sympathy for what has happened.

I will never shop at Sears!! We purchased a Bosch dishwasher. We paid for delivery and installation. The gentlemen who installed it, damaged our dishwasher in the process. I explained our situation to Sears. They explained that, because this happened within a year it was under warranty. They instructed I call Bosch. Bosch's technician came down, took pictures and videos. He informed me that our dishwasher got damaged from leaving Sears to when it was installed. Basically our dishwasher was installed properly. The water leakage ruined our kitchen tiles. I have contacted both Bosch and Sears. All I get is them blaming the other. This really upsets me. All we wanted was a dishwasher. Now we have a damaged dishwasher and kitchen tiles. Any advice would be appreciated.

Nightmare! Fraud! Cannot wait to hear of Sears' demise! I bought several appliances in 2011 for a condo in Phoenix-- stackable washer/dryer, refrigerator, dishwasher---every one of these broke --leaks, won't get cold, etc almost all at the exact same time. The repairs were $400-$500 in some cases. Now! the Kenmore Elite dishwasher I purchased in 2013 sprang a leak and destroyed the hardwood floor in my kitchen. I'm told the cost of this --both a leak and a failed computer panel would cost nearly $800 to repair!!! This just weeks after the warranty expired. There is no way this timing is a coincidence. This is a fraud, engineered "Planned obsolescence" timed just in time for the warranty to expire! Where is 60 Minutes to investigate?? NEVER, NEVER, NEVER shopping at SEARS again!!!

I purchased a stainless steel dishwasher from Sears in August of 2014... 2 weeks ago I received error codes E2 and F2. A technician came out and the motherboard needs replaced because water got into it... It's a dishwasher. The cost to fix $465 I paid $673. The sales person informed me that I should have purchased the extended warranty because the appliances now only last a few years. Seriously... Fleecing of America. This is my last purchase from Sears we have bought appliances for 30 years from Sears and this is the end. They could care less about customer service or their products. Apparently everything is now made by Whirlpool who will also be getting a review... Shame on you for making poor products.

After 1.1 years old our Kenmore Ultrawash went bad. We paid Sears $59 to look at it and tell us the motor was bad. I called CS twice and sent a letter to the "Executive Team". They did not respond and after a second notice, finally offered us a 20% discount. I called them back and a young person with no authority stated that he talked to his supervisor and there is nothing they can do. What about how I will tell everyone online about this? I am considering small claim court because dishwashers should last on average more than 8+ years. DON'T BUY FROM SEARS!!!

I bought a Kenmore Elite dishwasher in 2015. Within 30 days I discovered 2 problems with the dishwasher - 1 heating element corrosion; 2 - when opening the door, the dishwasher would make a loud crack and if it was not mounted to cabinet, it would fall over. After a lot of lying by Sears associates about appointments, etc., dishwasher got replaced. Within 2 month of delivery, the new machine started leak, it got repaired, then it started the same cracking noise as well. It got repaired. Now it started a leak from the motor housing. Sears tell me that an appointment is available only a week from now, and only a tech can determine if I have a lemon after 4 repair attempts. Dishwasher is in warranty still so I did not keep receipts. DO NOT BUY THIS $1000 PIECE of TRASH.

We ordered and paid for a dishwasher, to be delivered and installed by Sears, on Aug. 19. Delivery was scheduled for Saturday, Aug. 27. We were told we would be contacted by the installer on Friday to set up a time. When no one had contacted us by the end of the day, I called Sears to find out why. Long story short, it is Monday, we still don't have a dishwasher, and no one has contacted us. I have called numerous times asking to speak with a manager and have just basically been transferred to another know-nothing. When I finally said, "Ok, I give up, just credit my card and I will call Lowe's to get a dishwasher." I was told they "couldn't" do this. At this point I am strongly considering legal action. I have honestly never dealt with a less competent entity. Ever.

Our less than two-year-old Sears refrigerator was freezing up. I learned how to defrost it with a steamer but it was happening almost on a weekly basis so we had Sears Repair come out. I assumed it had something to do with defroster not working. Tech did not even open refrig. They held out a gadget they had and spent rest of time on their computer. Costs $99 just for them to come over. He handed me an estimate of $537, which listed a bunch of parts. The unit is less than two years old!

Kenmore Dishwasher, Model No. 58714023200A - We bought a new house in May of 2013, with all new appliances. In August of 2015 the Kenmore Dishwasher stopped working. The repair person told us it was the control unit, and that it wasn't worth fixing, that these models are known to have the control unit fail especially since it didn't have a surge protector (it is directly wired). We ordered a new control board on our own at a cost of $150 and replaced it. Fairly easy task. The dishwasher has worked until now (August 2016). We ordered another control unit which cost $200, and is apparently an upgrade on the original control unit. The dishwasher now works. I don't recommend this Kenmore Dishwasher.

Terrible machine. Completely unreliable. We purchased a Kenmore Elite 6 years ago. Eight breakdowns requiring repairs, four of which were due to failure of the electronics. If you are foolish enough to purchase a Kenmore, make sure that you also purchase the maximum warranty service.

I will never purchase from Sears ever again. I purchased a $500 washing machine with a $200 Master Protection Agreement 2 years ago. I just requested repair under the agreement because there's a mold smell in my machine that we can't get rid of. The representative told me that they won't fix mold in a washing machine. Technicians won't touch mold because it is a health risk... for them! I asked, what about the fact that their machine has a defect that is causing a health risk for my family? No response.
When they sold me the Master Protection Agreement, no one said, nor was it in any of the paperwork they gave me, that mold wasn't covered. It said: "unlimited service and no charge for parts; no-lemon guarantee; annual preventive maintenance check; produce replacement if your covered product cannot be fixed." I am incensed. With the hundreds of class action lawsuits about this exact problem, and having been told that mold was no longer a problem with these machines, I'm just speechless.

I saw this from an earlier post from Jeff in VA: "Model 665.12783k311. Have replaced the control panel and controller module 4 or 5 times at $350+ for parts every time. I have lost track of the exact number of times." Similarly to Jeff, we've had 7 repairs on this machine in 2 years and one week. 6 repairs occurred in the first year but the rule is that a certain number of parts must be replaced in order for it to be considered under the "lemon law" and lots of visits were different technicians without parts.
Who has the time to take so much work off? One tech tested a motherboard and wouldn't leave it in - so it didn't count towards replacing a part (lemon law) and just put it down as unable to fix. Ultimately the 6th repair "fixed" the unit. Here I am a year later and it broke again. A technician came out (7th visit now) and I spent $150 spent on a water valve (based on the dishwasher error code) but that didn't work. He said it could be the motor or control panel but can't be sure. So frustrating. Completely feel like we purchased a lemon and consumer reports rated this high.
Sears Appliance - Dishwashers Company Profile
Company Name:

Sears

Website:

http://www.sears.com/