Consumer Complaints and Reviews

Well, I see I am not the only customer that has issues with Republic Services. My husband and I have contacted them over 30 times over the last several years regarding missed pickups, yet it still happens at least twice a year. The worst thing is that I don't have any other service options because they have a contract in my city, so I'm stuck with horrible service. That's what happens when there is no competition. You pay top dollar for extremely unreliable service. Then, I have to make several calls and/or send multiple emails every single time this happens and nobody can seem to help resolve the issue; it just keeps happening.

Getting reliable and competent service from this company is impossible. There is a lack of customer service, care, consciousness, ability to make things right. I have had my recycled out for weeks. First they stated one week for pick up, then I would call and it would be the next week. After 3 weeks of this incompetence, I was assured by a higher up that it would be July 8th, 2017. A day late, due to the holiday. It was not picked up. Called the following Monday the 10th and guaranteed it would be picked up on Tuesday the 11th. Customer service did want me to know that my pick up day was last Friday. Really?? You guessed it. Didn't happen on Tuesday, guaranteed for Wednesday.
Same thing happened on Wednesday. This time when I called got another higher up and he stated he contacted supervisor in the field. A lot of good that did me. It's a week later and still not picked up. I also had trouble with the trash pickup. Told I could put bags out next to can and it would be picked up. I left 4 bags and they were not picked up. Called. Told could only leave out 3 bags. Driver could not take the 3 out of the 4 bags, he decided not to take any. Who does that? Recycled still left out, still being told the next day and never has happened. They never even offered for a refund of any kind. No responsibility to their customers. Never had anything like this happen - ever!! Find someone else, pay more, otherwise you will be sorry...

I will have to admit we were very unhappy with Republic Services. They had overcharged us for months!!! We were about to get out of our contract and looking for a new waste company! Our previous Account Manager was not helpful at all. Did not help us in any way! I contact management about our previous Acct Manager Ms Catherine **. She was very nice, caring and understood our problem. She connected me in with our new acct. manager Courtney **. She is the kind of employee every business needs. She answered all of our questions and kept us as a happy customers. She was willing to work with us and we were able to reach an agreement. Thank you Courtney so much for all your help! I will recommend anyone to Republic Services if Courtney ** is your Acct. Manager!!!

For the 2nd time in a month, Republic has failed to pick up trash on scheduled day. It has been sitting curbside for 4 days; when I wrote their CC, I was told I would be scheduled for pick up Wed. Why bother? My regular day is Friday. What's 2 more days in 95 degree heat? I'm sick of their canned, rote apology letter. I'm sick of my trash being the only one curbside for a week, waiting for this crap company to decide to do the job I'm paying them to do.

Not really shocked to see the Horrible rating for this company. One week they pick up just my recycling and the next week only my green waste. When I call to complain or have a special pick up, they want to charge $40. No, how about your lazy drivers actually do their job and pick up my trash. I wish we had a choice on who picks up our garbage. No way Republic Services should be in business.
How do I know I can trust these reviews about Republic Services?
828,308 reviews on ConsumerAffairs are verified.
We require contact information to ensure our reviewers are real.
We use intelligent software that helps us maintain the integrity of reviews.
Our moderators read all reviews to verify quality and helpfulness.
For more information about reviews on ConsumerAffairs.com please visit our FAQ.

There was a Recycle Pickup Scheduled today and my neighbors had lots of material on the curb. We spent hours collecting recycle materials and they never showed up. I am wondering if they will show up tomorrow, but if I go by experience they will not. So I have to go outside collect all the boxes and cardboards etc. and the container bring them back in the house. What a mess. They often skip the service.

It took 3 phone calls to get my service cancelled. Even though they picked up my containers immediately. Then I was sent an invoice for $36.00 ($18/container) for "container removal", several months later. Am I legally obligated to pay this fee for "picking up the containers"?

My garbage havent been pick for two days. I call on 3 days before the 4th of July to confirm the pickup date. They said they will pick it on Wednesday 5th of July. Again I call on Thursday 6th of July. They said they pick up today. Until now nobody pick it up. I later today to talk with emergency supervisor. He said they will pick it up on Friday 7th. They keep repeating the same story.

I was a customer for many years with Republic and in May 2017 I received a bill stating it was 83.00 for the next 3 months of services, this bill was over 20.00 more than the last bill and no explanation was stated on the invoice. A couple days ago I received showed I owed 67.40 which is normally close to what I would have paid for the billing cycle. I called them and it took forever to get a hold of anyone and I basically got nowhere with them. The Rep tried to tell me that the 67.40 was a canceling fee which I was never told about. I finally found the canceling info on their acct, and it stated that up to 45.00 would be applied to my acct if I cancel. The numbers do not add up here at all. I HIGHLY recommend not using this company. They will try to rip you off.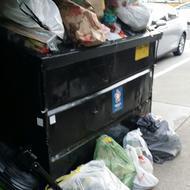 Recently, Republic Services took over from our previous vendor, whom we loved. We were promised a smooth transition with minimal hiccups. However, for the past 2 months it has been nothing but empty promise after empty promise. Our usual pickups are Wednesday and Saturday, but since Republic took over our service, they have missed far more Saturdays than they have serviced. Not only that, but each and every time they have missed a Saturday pick-up I have called and requested a make-up pick-up. Each time they have promised one and each time they have failed to deliver.
We are an apartment building, so trash piles up quickly. It is imperative that our dumpster is serviced regularly for health reasons. Yet, still, Republic has yet to make good on a single promise of theirs to pick-up our trash on Saturdays or for make-up days. I've talked to several customer services representatives and been refused to speak with any supervisor who may be able to help. Our previous trash company has graciously tried to mediate to no avail. There is simply nothing we can do to get Republic to do their job and are at wit's end.

We were happy with our prior company but the city of Los Angeles did changes and we are force to have Republican trash company as our vendor. The transition was two months ago and since then I have been calling them to pick up our trash for one of our property. We paid on time. We have a schedule pick up for Saturdays and Wednesday. Every Saturday the big dumpster is not pick up.
I call the company and every time I call they claim that they will escalate the problem to a supervisor and never get a callback. The trash dumpster was never pick up again and tomorrow is 4th of July and you can imagine how bad the trash dumpster will be. This is an apartment complex of 23 units so you can imagine how bad this is for us as owner of the property and our tenants to have all this trash all over just because this company is forgetting the Saturday trash pickup. This is the worst company I have work with. I wish the city of Los Angeles would let us pick our own trash vendor.

For 18 years we used Raritan Valley Disposal, NJ and never had an issue. Republic took over and all continued to be ok until June 23, 2018, when garbage was not picked up. I called and was told it would be picked up on Monday; it was not. I canceled service and wanted empty can picked up. When I called again, I was told it should have been picked up on Saturday, June 24. I called again and told it would be within 1-3 days. No pick up. Called again, and again, and again, and each time I had a different answer. Container was left outside all of this time, approx. 9 days, which is against the neighborhood regulations. I was finally told it would definitely be picked up on Friday, June 30. By 3 pm on Friday I called and was told that specialist would contact Mr. ** and get back to me. No one got back to me. At 4 pm, I called specialist who said there was a notation that if pick up was not on Friday, it would be Saturday, July 1. Naturally, it was not picked up.
I spoke to Jasamine ** on Saturday, who seemed to be knowledgeable. I told her that if pick up was not on July 1, I would NOT keep can in front of house again. Naturally there was no pick up. I would estimate that I spoke to at least 10 specialists, Tana, Jaqueta, Ms **, Shatasa, Jasamine, Jeffrey, etc. Charlotte, Indianapolis, Arizona. I have never in my life seen miscommunication like this. I was told they called dispatcher on many occasions, escalated request, etc. Oh, how I miss the small business personal service. I am now with a local company and know that I can call their office, speak to a person in my area if I have a problem.

My husband and I are customers of Republic Services. We had a mattress and box springs which we needed to get rid of. My husband called Republic in Kalamazoo on June 15th to see it they took large items. We were told to put both mattress and springs out with the regular garbage. They never took the items. My husband called again to reschedule (June 26), hauled the mattress and spring out of the garage on the new day and they never took the items. When he called to reschedule again (June 28), he was told "they didn't see the new reschedule". Third date, move the mattress and springs back to the curb and again no show.
We borrowed a friend's pick up and drove to the Republic dump site. My husband checked in, surrendered his driver's license and dumped the mattress and springs. To add insult to injury, the women at the Republic gave him the wrong driver's license back!!! We've paid ahead for the next three months. I would love to tell them where to shove their trash cans, however, we've also had trouble with their billing department. I doubt they have the capacity to refund our money.

On June 6th I paid for 3 months of service. Late Monday, June 19th, I received a robocall that stated my service route was being terminated as of June 30th. Until this time, I had no issues with Republic. When I called today, I was told that I would receive a refund by check 4-6 weeks AFTER the account closes next week! They did not pick up my garbage yesterday and the customer service rep was not someone I would have talking to my customers. I have to pay for other garbage pick up while they are holding my money. In this day of electronic communication, 4-6 weeks is theft!!! Do not pay in advance for several months of service!!!

Republic Trash in Winder, GA - This is the worse company I have ever dealt with for trash pickup. I have been missed so many times and calling in to complain does no good. I have not had my trash picked up in two week and I have called every day. If I had not already paid for three months I would cancel today. Can't talk to a manager and when I finally did I was promised that it would be taken care of by yesterday and I'm still waiting with trash piling up in my garage. I would never recommend this company to anyone! No one and I mean no one cares about the customer.

Approximately one month ago, my wife began receiving a service fee that was out of line with what we had been paying in prior billing cycles. When she questioned the customer service rep(s) that she reached over the phone, they assured her that the errant billing was a clerical error and to not be concerned and that they would correct the information in their system. Yet the incorrect service charge continued to show on our online account information and today things finally came to a head. Today the customer service rep du jour (anonymous), told my wife that we did owe the amount that we have been questioning and that no adjustment would be made to our account and that our account was suspended.
So another call was made and my wife reached a better informed, more reasonable rep and she explained what their system showed a billing error and promised to make the corrections and update our account, lifting the suspension and releasing us from potential collections agency harassment. Now that this has been "resolved", we have cancelled our account and will never return to Republic Services again. Wow, who has time for this type of a hassle?

I began my service in early 2016. My bill for 3 months trash collection at that time was $64 and some change. During the time I received service from Republic, there were many times that my trash was not picked up as scheduled and a couple times the person picking it up spilled trash in my driveway and just left it there. This bill steadily went up almost each billing cycle until I received my bill in may for June, July and August trash collection. It was $104.28. When I called the company to question this I was told that their cost had gone up so the bill was raised.
I live 2.5 miles outside of a small town. Residents of this small town pay $11 a month for trash pickup through Republic. When I questioned this I was told that the town has a contract with them for trash collection at this price. I canceled my service and immediately secured service with another company for $74 every 3 months. I had signed up for autopay when I started my service with Republic. The day I canceled my service, May 23, I went online and canceled the autopay. On June 9 Republic took $104.28 out of my account without authorization. I have made several phone calls and am still waiting for my money to be refunded. These people are at best, completely incompetent and at worst, complete criminals. I will burn my trash in my back yard before I will ever do business with Republic Services again.

Do not do business with this company. They will do an automatic renewal and when you call to cancel they don't answer their phones or and then they tell you have to wait until the sales manager call you back. The sales manager takes a week and a half to call you back. Then when you call him back he doesn't answer or plays like he never got your message. Adam **. Then they want to charge you a fee. They are all very rude and have no sense of customer service. Avoid this company with all cost.

Do not bother contacting this company. They do not return emails or phone calls. They fail to perform the most basic of garbage services, refuse to reconcile with customers and employ unprofessionals. In my opinion, they should lose their service contract within all Michigan counties.

This repugnant company has a monopoly in southern Nevada. Hence, they don't give a damn about their customers, only about their accounts receivables. They employ the nastiest, most inept, apathetic customer service reps on the planet. I have been unsuccessful in having my broken recycle container replaced for three weeks. When you phone in, the hold times are twenty-five minutes. They couldn't care less! They have a monopoly, so they treat their customers like the trash they collect. But, we're stuck with this garbage, garbage company. They're a monopoly!

To be fair, we owe them money but we haven't received service for a few weeks as they have taken our barrels. You're going to have to have more than a computer generated email for me to pay my bill. Your company has been charging me $75.00 a month. I called last week to cancel the service as I found many competitors at a third of your price. I negotiated the price with your Rep to around $27.00 dollars per month. You have been screwing me for a decade. So screw you Republic. You have all the money you are ever going to make out of me. I am changing vendors unless you step up and stick with the fair price you quoted.

Republic garbage pickup is provided by the city I live in. We pay for it on our utility bill each month. I contacted Republic Services to rent an extra trash receptacle. The charge was $5 per month, so I paid the full year's price of $60. Three times during that year, Republic sent me bills for trash pickup and stopped collecting my trash for 2 weeks because they said I had not paid for their services. Three customer service calls later, the issue was "resolved". A week later I got another bill for services. I cancelled my contract and had them come pick up their receptacle. It took them 6 weeks to come and get it and they sent me ANOTHER bill!! This company has no idea what they are doing. I would not use them unless I had no choice. I will not use them again.

Worst company ever!! This company does not have the capability to keep their records straight or provide an honest service. The agents when calling for help or service are horrible and antagonistic taking shots at their clients on a personal nature. None of the departments communicate with each other and their on-line system is utter crap! Certain areas of the area only have Republic Services as an option for trash service and this company takes full advantage of this; raising rates continually/randomly and not caring one bit the client. This company should take itself out with the trash!!

Horrible company!!! They take your money and your delivery fee but don't pick up your garbage. What a scam of a company!!! We signed up for them in April with service to start on May 5th. They picked up the garbage the first week. The second week they did not pick up our garbage. I called that day to find out why and was told 'probably 'cause the driver was sick or the truck broke down or something.' I then spoke to a supervisor who assured me that this is not how they operate and told me it would be picked up by 5 the next day which was Friday.
On Friday at 4:45 they still had not picked up our garbage. I called and spoke to a supervisor, who told me that I called in too late on Thursday to be put on Friday's schedule. He assured me that it would be picked up on Monday. Well it's Monday and they didn't come out. Go figure! I called at 4:30 and was told that the truck would be out that day, that it wouldn't be there until 6 or 7 (of course, after their office is closed). True to their nature they never showed up. In addition to their crappy pickup service, their call center is a mess as well. Expect to be on hold A MINIMUM of 15 minutes. (That should have been my first clue. Everyone's probably calling in to find out why their garbage hasn't been picked up.) When I set up the account I requested two garbage cans. Only one was delivered. When I called back I was told there would be another $20 delivery fee. I told them no, because it was their mistake. She assured me that she would waive the $20 fee.
A few weeks later I realized they did not pull the money from our account. I called and was told it had been paid. I told them the money did not come from our account. After pressing them about it, they finally gave me the account number that it pulled from. It was a Wells Fargo account but was not one of our accounts. In fact the account was not even close to any of our account numbers. I was told not to worry about it, that it had been pulled from the other account for almost a month, and they didn't notice it. I told them that was not right. They needed to credit that other account and bill me. They finally agreed.
They gave me the amount coming from our account, it was different from the original amount. I asked why, they explained there were prorated charges. They also mentioned two delivery fees of $20. I told them that I should have only been charged one delivery fee of $20. The first girl never did credit me the $20 as she told me she would. They are a bunch of liars and will tell you anything to get you off the phone. Stay away from this company!!!

You would think that a highly recognizable company like Republic Services would try to work with their customers. WRONG. I wished I had read all of the complaints but assumed the above. Never again. I canceled my service on 3/31/17 because I was moving and had my containers picked up on 4/6/17. I was billed for March, April and May. I paid for March but continued to be harassed to pay April and May. I have already been sent 2 letters from a collection agency with FINAL NOTICE and demanding payment immediately. I wrote several letters to Republic, gave then my new address twice and they still send these notices using my old address.
Like other reviews you can expect at least 30 minutes on hold and DON'T fall for their bait of if you would like a return call in the order you are in line, you will never get it. Also beware of the containers pick up fees. This is the same as 3 months of regular service. The garbage can is $22.00 and the recycling can is $27.00. What a complete ripoff. As far as the trash collection service I never had a problem. It is all customer service. All of this was over a six week period.

I have over the last 15 years used Republic Services for my trash removal and never, ever had a problem. If I changed a room around and threw out an old chair, washer, dryer... they took it. Something large, they took it as I paid the higher rate for that privilege. So this week I called as I threw out a couch that I broke up and a chair. They call me back and said "They took the maximum and I have to pay $45 per piece of bulk." I'm like what!!
A year ago you took a large lounger. When it wasn't taken with the regular trash I called and was told as long as I gave a heads up, it was fine and they would send another truck in a couple days because I pay for it. I'm paying a higher rate for that!! She flat out said "No we never, ever did that." Liars... They changed something to my account that I did not catch without notification to me. Still arguing with them. Hoping to find an old copy of invoice in my files to show them I always paid for that privilege of bulk item pick ups.

Cancelled my service. Was told $18 for a trip to pick up 2 trash cans. I was charged $45.90 to pick up them up. $18 for each and $9.90 fuel charge. Almost $50 to pick up trash cans. What a rip off. I cancelled because I was being charged $112 for 3 months of service. I went to a different provider and am being charged under $40 for 3 months. I guess the $45.90 is one last way to stick it to me. I will be talking to all my neighbors with Republic trash service to cancel.

Republic Services took it upon themselves to terminate my service. I did NOT request cancellation, and my bill was NOT late. They simply removed my can on Tuesday, May 2, 2017. After several calls and emails to customer service, they promised they would return my can on Friday, May 5. They failed to do so. I ended up having to establish service with another provider just so I'd have a way to remove garbage from my house. Do yourself a favor. Don't bother with this company. Choose another provider. Choose ANY other provider, because literally anything would be better than a company that throws away loyal, paying customers for no good reason.

On 05/03/2017 I cancelled my home service effective 06/06/17. I was informed at this time by the customer service representative I would be receiving a credit of $23.91 for the remainder of the billing period BUT I would be charged a $33 dollars per container for them pick up their own containers in the total amount of $66 at least at this point as I have not received a bill. I never received any paperwork, contract or anything to indicate I would be paying this amount upon termination of the services. I requested the customer service representative waive the fee. She said she was unable to do so. I said I would be submitting a complaint as I was never informed of a fee being required. She stated "I don't understand why as I just told you now?" If I had known there would be HIDDEN fees such as this, I would have went with another company as Blue Hen services my development and I found out later, they charge 50% less!

I called trash removal services Republic Services which I paid April 14th, 2017 I spoke to Malika. They guarantee me service the following Friday the 21st. They were also putting in request for new trash containers since I did not have one. The trash was never picked up on the 21st. They never left me container. I called back 12 o'clock on the 21st. I spoke to James. He put a note to dispatch asking them to come and get the trash. I asked why I did not have service. He said the person that took the order did not put it in correctly. I asked why I did not get a phone call letting me know. I have two broken ribs and a broken hip. Have a hard time getting the trash out there and would have to bring the trash back to the house due to HOA rules.
I called again Saturday. Another message was put to dispatch. Again trash was not removed. Now it's Monday May 1st. I called at 9 a.m. Spoke to a girl named Terry. She confirmed messages that were sent. I still not received a call back and the trash is still at the end of my driveway. I need her my trash service that I was billed for to be reimbursed for the week that I did not get service and I need my trash picked up.
Republic Services Company Profile
Company Name:

Republic Services

Formerly Named:

Republic Services - Waste Management

Website:

https://www.republicservices.com/