Consumer Complaints and Reviews

I have been complaining to the household waste services that they are illegally pyramiding late fees on my account. This is done by Republic Services by adding an additional late fee for the same payment period in success months such that late fees equal original servicing fees. In the past they also would lien property tax for payment and continue the amount due on their invoicing so that they would and could bill twice for the same service. I'm out hundreds of dollars. A few years back, when I complained, the City of Richmond finance person told them their practice was illegal yet they continue to do this to me and hundreds of other homeowners serviced in Richmond, California. As far as they are concerned, this is a good way to earn extra money and unless they are sued, they won't stop this practice.

We were forced to move from Waste Management to Republic by local county. After the service started, I set up Auto payment to take care of monthly bill in February 2017. Last week I received stop service notice for non-payment. When I log into my account, I see that auto payment is in place. When I called customer service (first attempt: 16 minutes wait, second attempt: 12 minutes) looks like they don't have anyone who actually responds to your call. I don't know what to do. The last letter says that service will be discontinued from next week.

Recently canceled service as I found that Waste Connections was $100 less per month and I wouldn't continually be harassed by the workmen begging for tips and asking why they didn't receive a Xmas gift from the owner of this company. I was fed up, did everything correctly to cancel, sent certified letter asking them to pick the cans and that I wish to cancel service. I gave them 2 months notice. I just received notice that they pulled monies for service I ended. I see this has been a complaint by others as well. They may be more reasonable than many other companies, but don't be sucked into service with them and don't do any long term contracts unless they guarantee on contract that price can not be raised more than a certain percentage within that time period.

As I read through the reviews of Republic, I see the same complaint over and over again... which is the same complaint I have. They seem to think cancelling a service is a way to make more money. I moved into my new home in October. I contacted Republic to start service. I found out that Republic was not one of our preferred service providers in our subdivision, so I called and cancelled. I got invoices for $75 for drop off container, pick up container, partial month service, service fees... and I never did or got anything from them. I cancelled the service before a container ever was delivered. So now after 6 months and 5 phone calls each month, I'm being contacted by a collection agency. How do I stop this insanity? My next step is to contact an attorney, and file harassment charges against them.

I signed a contract with Republic for 1 year and I had the same problems that everyone else on this site had (late OR NO pickup on scheduled days). Even so I kept the account for about 4 years and the original contract started at $65.00 monthly. By the end of the 4 years I was paying $148.00 per month. I Told them to pick up their container since we did not have a contract. The lady told me that I could only end the contract at certain times of the year. I explained that we had a 1 year contract and they should pick up their container because I had another trash service. She refused and told me that they would continue to charge me rental fees on the container. So I had to rent a U-Haul and return their container.
How do I know I can trust these reviews about Republic Services?
739,412 reviews on ConsumerAffairs are verified.
We require contact information to ensure our reviewers are real.
We use intelligent software that helps us maintain the integrity of reviews.
Our moderators read all reviews to verify quality and helpfulness.
For more information about reviews on ConsumerAffairs.com please visit our FAQ.

Unreliable service and inconsistent charges. I feel like this garbage service is holding me hostage and it doesn't matter how good my negotiation skills are with Republic. I am still a captive of this trash problem. Our dumpster is always full and I have bags of trash in my garage #HailSeason #Garage4CarsNotTrash. Our alley is in excellent condition and has been every week except one since January. We have been missed more weeks than picked up. I am tired of calling to complain, I cannot stomach any more excuses and I don't need an apology (although one would be nice). I just need a solution to this. I don't see any effort on Republics part to "make this right" and provide us some sort of option. It seems as if because it doesn't affect them on a personal basis they just don't care. Does anyone have any other trash company recommendations?

We canceled our trash & recycle pick up with Republic Services because we got a better rate with a local company. I paid the balance we owed and thought I was done, but then we received another bill of $30.47 to pick up containers. We have switched trash providers before and have never been charged for container drop-off or pick-up fee before. I told them we would not pay this ridiculous fee and the company said they would turn us over to collections if we did not pay. I called Better Business Bureau and they said I could file a complaint but if that is their company policy, there is not a lot we can do about it. We will never do business with this company again!!

I am moving in 4/17. I am paid up to 3/31/17. Received new bill, which goes from Apr. 1 to 6-30-17. I wanted to pay only for the month of April. Customer service said no that I must pay entire bill and wait for a credit minus $66.00 removal fee. I find this absurd. I have been a customer of Republic since they took over from Harvey and Harvey. I started out paying much less. Every bill is higher than the last one, with no explanation. Now it's up to 139.00. If I don't pay their removal fee they will send it to a collection agency. Can't anyone do anything about this. I cancelled service as of 3/30/17 my last pickup date so I am now without trash service until I move. I am in my 70's and my husband is 80 yrs. old. Goes to show how seniors are treated by this co.

Just a bunch of thieves!! Overcharge every chance they get. Worst customer service ever!! And then when they pick up your trash they throw around your cans like they are mad at it!! I can't believe the city made a deal with these scumbags!!

DO NOT USE Republic Waste Services! Cancelled my garbage pickup in January 2016 because there are cheaper services in my area. I had a $75 credit. Republic Services continued to withdraw funds, including an addition $175, even after cancelling online auto withdraw. I spoke to the company on 4 occasions over 2 months to clear up the matter, each time I was assured they would refund my money. They continue to withdraw funds.

I had no issues with them until the time I moved out of my house I was renting and cancelled services out of my name. I moved out on 12/2/16 and cancelled services that day. I was later billed in January for an attempt to collect the recycle bin. I called willing to pay if I needed to, but was told since I cancelled services on 12/2/16 that they would credit my account and I would not owe. I then received a letter from a collections agency on 3/4/17 trying to collect $115 from not paying a bill with Republic Services. I immediately contacted Republic where I spoke with Cecilia and she told me I had a CREDIT of $8.96 on my account and I should have not been sent to a collections agency. She told me she was sending an email while I was on the phone with her to Republic billing dept. and she told me to call back in a couple days.
I called back on 3/9/17 and was told they did not see a credit and "Cecilia" never put notes in on 3/4 or back in January! Since there was no documentation on their end the supervisor told me it is owed and I have to deal with the collections agency. She said she would look into it, but I am sure they will have no record of that either. I paid the $115 to avoid it hitting my credit report, but they have the worst customer service I have experienced.

Raised rates constantly until charging three times the going rate. Cancelled 12 days into billing cycle and received a bill for 102.58. Was charged a full month billing and a 36.00 fee to pick up their own cans.

Dear Blue Ridge Landfill, I would like to thank you for the other morning when my 10-year-old daughter was dry heaving in the car on the way to school because of the noxious gas odor coming from your landfill. Nothing like the smell of diarrhea and gas to wake you up in the morning. I think I speak for all of Shadow Creek when I say that we have had enough. Enough of walking outside and having an odor so offensive that sends you back into your house. Enough of laying in bed at night and wondering if you have a gas leak in your house and then realizing it's just the odor from the landfill seeping into your bedroom. Enough of not being able to walk my dog or take my children to the playground because the outside smells so bad. Shame on you for not fixing this problem long before it's made people physically ill.

Worst company ever. Has to be some of the dumbest drivers I ever met. I have a roll off at apt complex and instead of driver picking up old one full of trash they dropped a new one in front and left old one still full of trash. Had to call customer service which seems to be every week I'm on the phone with them for something a driver doesn't do.

Low price to get you started, changes without you knowing, try to cancel - republic really gets you then (cost you an arm and a leg). If you try and not pay the bill because you disagree, they turn it into effect you credit report within 30 days. This company should be investigated by the state of Michigan. DO NOT LET THESE CROOKS TAKE YOUR MONEY!

This is a "company" that needs to be shut down and ran out of the country. I'm a customer in Wayne County, Michigan. I have a small business and had a dumpster through this garbage company - big mistake! I've had their rusty dumpster out in front of my business for seven years. They claimed I signed a contract with them back in 2010, I don't recall signing any contract with them at all as I don't like to be tied into any sort of legal obligation without any good reason. My monthly charges started out at $58 per month, which has been steadily going up ever since 2010. My last bill in 01/17 was $109 for the month, oh they have it padded with all sorts of erroneous charges like environmental fees, refreshment fee $9? etc.
I tried quitting them a year ago and they never did "call me back". That's what they say when you want to discontinue their fraudulent scammer service, they'll have someone call you, they never call unless you threaten them with legal action. Don't call us, we'll call you BS. I tried quitting them again back in 11/16 and they never called then either. In 01/17 when I threatened them with legal action, one of their snide, sarcastic "account specialists" called and informed me that I couldn't quit as I had a contract with them. They said "we have your signature on it and you're locked in for another three years".
These SCAMMERS roll you in to a contract without your knowledge and renew it every three years without your knowledge and then try to hold you to it, I'm quite sure that is ILLEGAL. I told these people I simply want to quit, they threatened me with the balance of the contract ($3924), I told them what they could do with their contract and we could let a judge decide that if they wish. They said, "well there is a balance on the account for the last month" which they didn't render any trash pickup service whatsoever. I requested that the last month's charges be removed as we weren't using it and I had already informed them of that and for them to come pick up their dumpster. They said they would. They are liars. They did pick the dumpster up in a few days. This morning I open a letter from a collection agency dunning me for the last month. These SOB's turned me over to a collection agency damaging my credit score.
Allied/Republic needs to be investigated by State/Federal authorities for fraudulent business practices. Price-gouging, entrapment and fraud. I should have known with them operating under two different names, they were typical thieves operating under an alias. Judging by the reviews here, they've burnt many people. What are the authorities waiting for? P.S. Just found out the $9/month refreshment fee is for painting the dumpster, the bent up rusty POS dumpster, I was paying $9 a month for them to keep it looking nice? What a joke these people are.

I've been fighting this for one year. They continuously fail to pick up my trash and recycling bin. I put them out the night before. When I go out to see if they're gone they're still sitting here with a junk in them. It is now Wednesday it's still sitting out there. I called, they promise today which is Wednesday. Well I left it outside it's still there with the junk in them. I do have Door to Door Service apparently it's not working. I'm tired of fighting this. I have rheumatoid arthritis. It's very hard for me to maneuver these garbage pails. I wish somebody would straighten this mess out.

If you own multiple properties the billing system is not designed for such unlike water and electricity. At one of my properties with the new garbage system all the houses have to take the cans to the end of the street and then play fetch as the new trucks can not get down the street. They leave stuff behind now. Customer Service is horrible and they just put a lien on your house even if the billing issue is a mistake on the company's side. So basically they got you by the balls. I'm shocked that this system is one the people of Vegas tolerate. I am assuming as the used to Mafia type people running the town.

I was forced to use Republic waste for my trash pickup because it was put in my taxes. Now I have a problem with this company. They have not picked up my trash in two weeks! They keep saying they're coming but never do!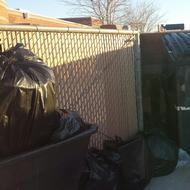 Republic Services is the major company used through the south of Nevada, for commercial and residential. Here where I work they have the bad habit of missing way too much, it affects me personally for I am one of the custodians. The garbage piles up and we have no more room. They are prompt to collect the expensive bill, but to do what they get the pay for. It a shame that there is no other choice for us.

Last May 2016, Republic was picking up our trash and their truck attendant knocked over the large trash bin. When attempting to pull the bin up it dragged and scratched my son's car. I have been on the phone with customer service, managers and met with people numerous times to review what happened and to see the damage and have been trying to resolve for 8 months. Also gave them an estimate. Nothing has happened and I believe they have no intention of fixing or giving us money to fix it. I feel at this point I need to get the attorney general involved, report to one of the news stations and install cameras so if something like this happens again it is caught on film. I'm tired of big companies thinking they can get away with things like this. I will do what I need to do to resolve this situation. Hopefully it will also help others who have had similar situations with this company.

It started with the break-down of the vehicle that we used to transport trash to the dump. Could not find a local company to pick up trash because we are rural. Finally find out Republic can do it. I go online to sign up in September. I got a stock email that someone would contact me in 24 hours. Over a week passed before I tried again. Same email. Three days later I called in. They set up service telling me they would drop my trash container in 5-7 days and my pickup day would be a Monday. 10 days later we still have no can. I email them. I get a response. It should be there in a couple of days and pickup will be on a Friday.
We are now a month into this process and my trash is piling up. Every three or four days I call in and each time it's something else. They don't know why I don't have the can. Once someone got hateful with me (I'm always nice to them) and said it takes more than a couple of days to get the can. It had been a couple of weeks by then.
It was the end of October before we got the can after it took them a week to find my house which by itself was ludicrous. Three miles from the interstate and one turn later our house is seen long before you get there, is the first house you see on our street, has the number on the house and the mailbox but they couldn't find it for a week. Oh, and the pickup day wasn't Monday or Friday. It is Wednesday. Right as we get the can we got our first invoice. They billed me for the month of October. It was literally the end of October when we got the can. We hadn't had service yet. I called and they acted like I was an annoyance but promised to credit the account.
Considering I had a month and a half's worth of trash piled up, the one can was not going to take care of the issue. I had asked for another can temporarily or a one time pickup of the extra trash. Every time I asked they acted like no one has ever asked for such a thing. They are a trash company and had no plan for how to solve this issue. It is the middle of January and it was today after numerous unanswered emails and unreturned calls that they finally agreed to pick up the extra trash. I have never encountered this level of incompetence and terrible customer service. If it wasn't for the fact that there's no other option for trash pick up, I would cancel in a heartbeat.

My former trash pickup service was bought out by this company. Since then, the price for pick up has steadily been going up! Past $30 as of this past year. During a rough time in September I was late on my payment. The company picked up their trash can in early October during the time my wife was having our baby. I went ahead and signed up with a local MUCH LESS EXPENSIVE service and called Republic to see what money I still owed. With no call back or further statements, I assume my account paid up.
Then three months later I receive a letter from them threatening to send my account to a collection agency! After several attempts I finally get a hold of a service rep who tells me I still owe money, including a trash can pick up fee AND a service suspension fee. The rep could not explain why they were charging a suspension fee on top of the other fees. I can understand having to pay for the labor and gas to pick up the can; but to ALSO charge a separate 'suspension' fee of $35 on top of that is ridiculous and makes no sense other than pure greed. So now, I am enjoying a much more reliable service from a Local 'mom n pop' service for only $21 per month!

Truck number 2002 written at the back of the truck. Lincoln Elementary School between 1:00-1:15 PM 1/13/2017. Truck driver is rude! I was driving in to the school pick-up area to pick up my son and the truck was making the round. I'm waiting for the truck to finish dumping the trash. The driver came out to push the 3 bins back to its place and his big arm waved like telling me to move like a boss because he will back up. He's face was grumpy and kind of angry. Did not even say thanks! Bearded old guy. RUDE RUDE RUDE!

In November my online account had a zero balance correctly since I pay ON TIME quarterly. In December it added 78.43 (which included late fees/admin fees) and a charge of 63.18. All of which was wrong since payment wasn't due until January 4, 2017. And total read 144.43. Called 12/17 and after many questions not being answered. Was told it was being taken care of. Was told system only updates once a month which turns out to be wrong since on 12/26 called again and told it was taken care of. 12/29 finally takes off another 66.00 leaving 113.43. Regular quarterly payment posts on 1/6/17. But still leaving the charges of 50.25 still owing.
Called again and was told credits hadn't been processed. Asked how come each time I call they tell me it is being taken care of and credits done. Got a hard time and told again it had just been entered. Asked why was I told for almost 2 months it was taken care of. Was then asked nastily if that was all I needed. So now after 2 discontinue notices and all these charges that seem to come out of the air account still shows balance of 50.25 and customer service is not even cordial. Told them each time I call I am told it is clear and taken care of and then it continues. Have never seen a customer service that is this rude. I asked was I the only one their system was doing this to. No response. Horrible customer service.

We have had Republic Services for about a year or so. We have never had any real problems other than drivers driving way too fast down our street. Until recently... The week following the Christmas holiday (so you know we had a lot of trash) my husband and I set the trash out at 430am that morning of our service thinking it was a normal trash day. So Wednesday came and went and our trash still stood (Now mind you, we live rural where there are lots of wild animals that would love to get into our trash. Not to mention it is colder than you know know what out here...NW Wisconsin). So we looked at our schedule and thought that maybe since we had a holiday on Sunday that they were running a day late. So we called and got someone in AZ I believe who reassured us that we were on the schedule and that they would pick up that day.
We waited and still no pick up so we called again. This time we got someone in NC advising us that would be picking our garbage up on Friday (Now our trash in the house is running over because we have no place to put it outside). So again we waited. At about 10am we called again just to be guaranteed pick up by 12noon.
Needless to say 12 noon came and went, at about 5pm we called again. This time my husband had had enough and was very upset and let the person on the phone know as much. This person proceeded to tell my husband that with the correspondence over the email between locations that we were said to be a no show with our can. So basically whoever came to get our trash said that our trash was not out on the curb. This was a flat out lie. That can had been out there for 3 full days. My husband let them know as much and continued to let him know that they had just lost our business to their competitors. This all could have been avoided but I do not appreciate being lied to, giving the runaround and then being called a liar.

They try to find anything to raise the price or charge you for stupid things like refreshing dumpster. $9 each. They raise the price and we have to keep calling them to change the rate. They charged us $55 extra because there was some trash over the line which was ridiculous. They don't give us no money back when it's empty. They should have called just us to inform us some bags were over the line we could have just stuffed, pushed down back in instead of charging $55. They are money-hungers. You want to get screwed than get this service. WE are canceling our service once our contract is over. Ridiculous company. I wished if I had looked at the reviews before. I wish there was negative star.

After the worst service imaginable, like having to call every week for the compost pick up, being instructed to haul more than ten bags to the front and then the back and then still no pick up, to be punctuated by eight days of calls end of season with no pick up of mounds of leaves, being told to wait for next year, I cancelled service. I wasn't a customer for a full year. Now, 21 months after canceling, I can't get them to stop calling me about holiday pick up changes and emailing me the same. Emails, calls, receiving assurance it would end only followed by their repeated harassment of calls. I've now contacted my state Attorney General and reported them to the Federal "Do Not Call" registry. I've never received such horrible service. Oh and they charge to have their bins removed! Never use them!

Of course, once contracted the company can do anything or nothing for their consumers, with no recourse available to the customer. Now, as there are no alternatives, my only recourse is to put what I believe is this useless post, and petition my town to change their contract. I think this will be to no avail anyway.

My account was cancelled by mistake. Clearly an error on their part. They took the trash and the can. I thought the can was stolen. My account was closed by mistake. They had to reinstate my account. After 8 calls and 3 weeks later, still no can... 8 calls... I called and told the supervisor if I don't have a can out in 24 hours, I will pack the truck and drop the trash on your door step. I'm holding for a response.
Republic Services Company Profile
Company Name:

Republic Services

Formerly Named:

Republic Services - Waste Management

Website:

https://www.republicservices.com/